Some of the links on this site may be affiliate links. This means, at no additional cost to you, I may be paid a small commission if you follow the links and make a purchase. Learn more here.
This Paleo meal plan will provide a simple plan to follow for healthy, nutritious, and nourishing real-food meals for two whole weeks. This sample meal list will get you started with a Paleo meal plan on a budget, because I know that following the Paleo diet can get expensive.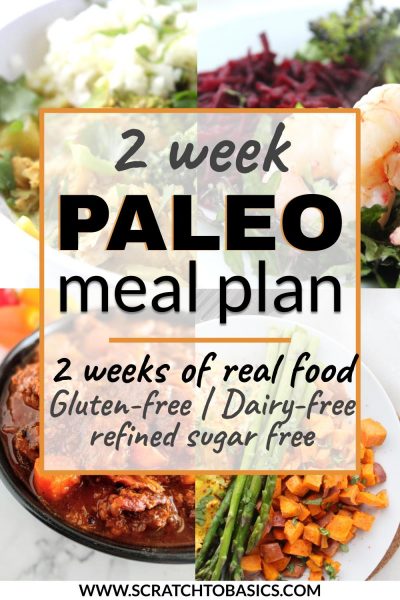 Each of the meals below is gluten free, Paleo, dairy free, and refined sugar free.
I've provided the recipe outline below. Get the full recipes and grocery list in PDF form here. If you decide you want weekly meal plans delivered to your inbox regularly, I recommend signing up for a meal planning service.
Benefits of Meal Planning
Meal planning has made life with young kids do-able without sacrificing the quality of our food. It's easy to cook dinner from scratch every night when I've got time and energy, but what happens when...you know, life happens.
That's where meal planning comes in. A meal plan provides a roadmap to follow to get healthy and homemade meals on the table for your family night after night.
Think of a meal plan like using the GPS to get somewhere. It's kinda nice to just follow the directions. Especially if you're trying out a diet that's unfamiliar (like clean eating, whole 30, Paleo, or gluten free).
MEAL PLANNING RESOURCES
Do a quick Google search for "meal planning" and you'll see I'm not the only fan of meal planning out there. And for good reason.
Meal planning helps people stick to their healthy eating goals, lose weight, eat better, spend less money on food, and reduce food waste.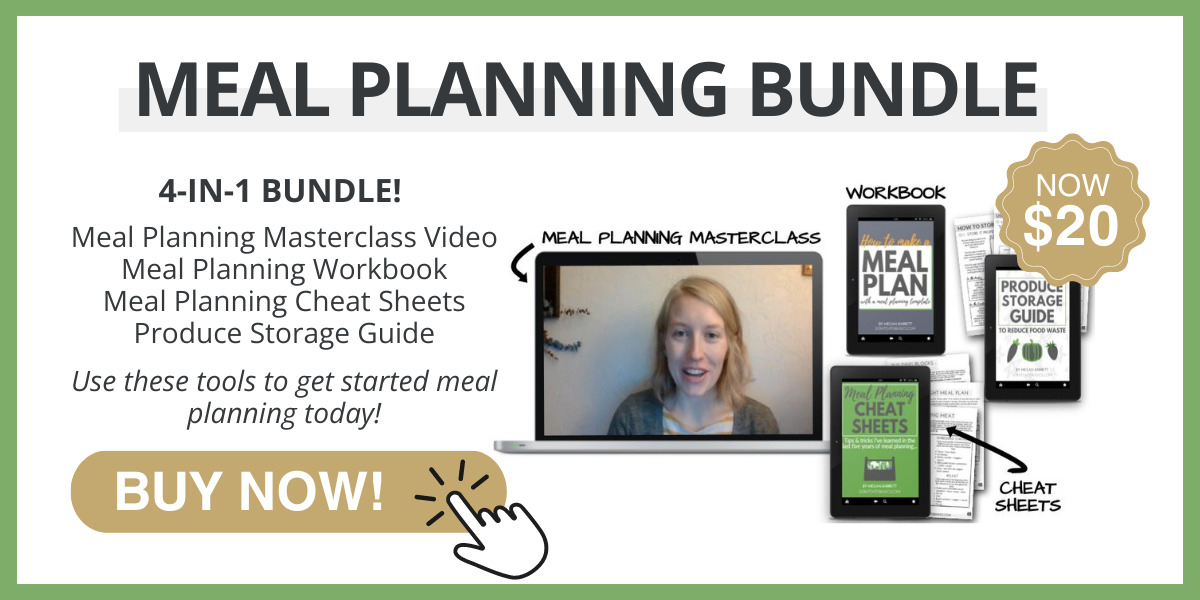 PALEO MEAL PLANNING SERVICE
When you're just getting started with meal planning, it's can be helpful (if not ESSENTIAL) to use a meal planning service. A meal planning service provides pre-made meal plans each week with a grocery list and instructions on how to make each meal.
While there are about a million meal planning services out there, I recommend these 5 meal planning services if you're looking for healthy, real-food meal plans.
My favorite on the list is Prep Dish. It's my favorite because Allison (the dietician behind Prep Dish meal plans) knows that when you prep food ahead of time, the stress of cooking just melts away. So she provides meal plans with the "prep" instructions listed separately.
So when you sign up for Prep Dish, each week you get:
4 Healthy Main Meals (Paleo & Gluten free)
1 Tasty Salad
1 Quick Breakfast
1 Easy Snack
Each meal plan always includes:
Organized Grocery List
Prep Day Guide
Dish Day Guide
They have options for Gluten-Free, Paleo, and Low Carb, but even if you don't follow these diets, I know you'll love them. Each recipe is made with real food and has tons of flavor.
It really can't get easier than this. Learn more and sign up here. If you've still got questions, read my in-depth Prep Dish review.
MEAL PLANNING TEMPLATE
If you'd rather make your own meal plan each week, grab one of these templates to get you started.
A few years ago, I realized I was doing the same exact thing each time I sat down and made a meal plan.
So I decided to make a template that I can just use each week, instead of starting from a blank piece of paper and labeling the same columns week after week.
Sometimes just shaving a few minutes off routine tasks makes it something you can stick with week after week.
2 WEEK MEAL PLAN WITH PALEO & GLUTEN FREE RECIPES
I created a two-week Paleo meal plan, because you asked for one.
You can get the recipes and complete grocery list here. Or just use this post as inspiration and find the recipes and make your own grocery list on your own.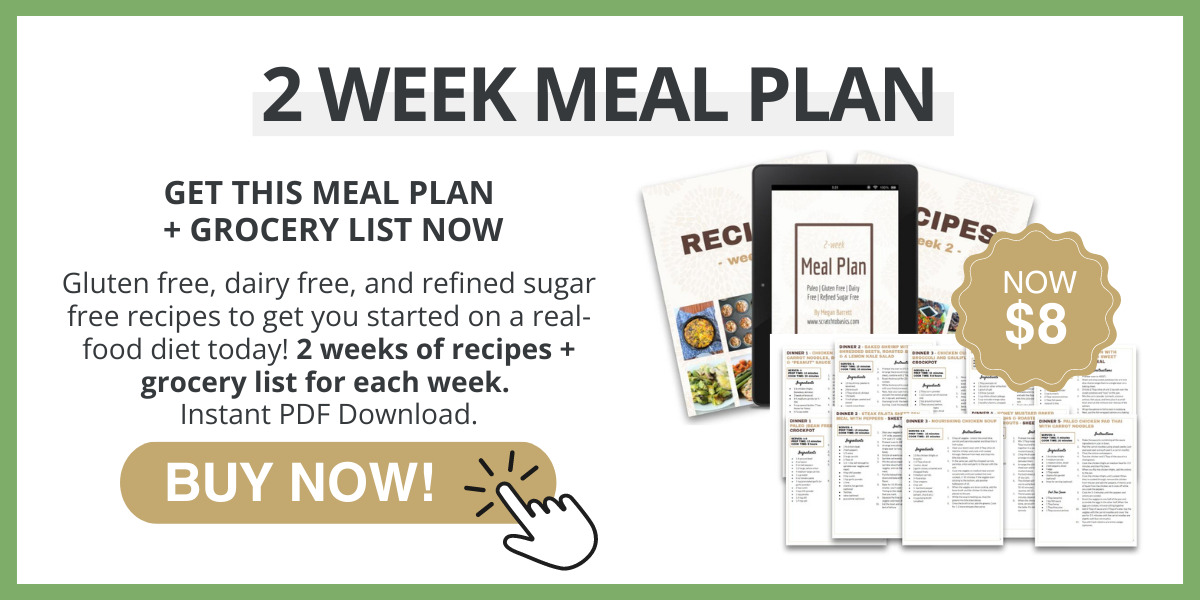 Each meal plan comes with:
1 breakfast recipe
1 snack recipe
1 dessert recipe
5 dinner recipes
Why only 5 dinner recipes for a 1-week meal plan? Because in my experience, one or two nights are typically leftovers, or free-for-all, or a family favorite dinner.
PALEO MEAL PLAN - WEEK 1

Breakfast: Frittata
Snack: Paleo Zucchini Muffins
Dessert: 3 Ingredient Avocado Chocolate Pudding
Dinners:
Baked Shrimp with Shredded Beets, Roasted Broccoli & Lemon Kale Salad
Crockpot Chicken Curry with Broccoli and Cauliflower Rice
Honey Mustard Baked Chicken Thighs with Roasted Brussels Sprouts
Curried Salmon with Asparagus and Roasted Sweet Potatoes
PALEO MEAL PLAN - WEEK 2

Breakfast: Paleo Pancakes with Blackberries
Snack: "Cheesy" Almond Crackers
Dessert: Dark Chocolate Almond Clusters
Dinner:
MEAL PLANNING TIPS
Meal planning is the first step towards kicking the stress out of the kitchen.
Then when you're in the habit of making a meal plan, the next step is to find items in your meals that can be prepped ahead of time.
Find a system that works for you.
Some people prep and cook all their meals on the weekend, then just reheat throughout the week.
Some people just do all the prep work ahead of time (like with Prep Dish) but cook the meals throughout the week.
Some people cook all the meat on the weekend and then just have to worry about the sides throughout the week.
Related: Ultimate Beginner's Guide - How to Meal Prep
Meal planning doesn't need to be complicated. In fact, it can be as simple as writing a few things down on a piece of paper your kids scribbled on earlier in the week.
OH, AND BEFORE YOU GO...
Don't forget to grab my complete collection of meal planning templates. Get the whole collection (11 different designs) and use the one (or two) that work best for you.
PIN THIS FOR LATER!