Some of the links on this site may be affiliate links. This means, at no additional cost to you, I may be paid a small commission if you follow the links and make a purchase. Learn more here.
---
When dinner time rolls around, do you feel a sense of dread over what you're going to eat?
Or maybe your schedule is so full that you know what you want to eat, but don't have time to make it. If you're ready for less stress around meals, this beginner's guide to meal prepping is just what you need!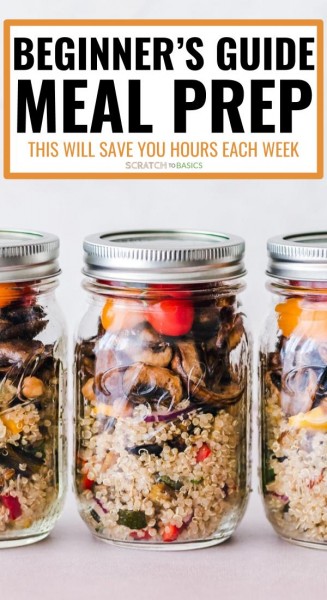 What you'll Find Here
What is Meal Prepping?
How to Get Started with Meal Prepping
5 Steps to Meal Prepping Success
Which Meals Should I Meal Prep?
Meal Prep Ideas
Meal Prep FAQ
what is meal prepping?
Meal prepping is preparing part (or all) of your meal in advance. The way this looks in your house might be different than in mine, but the idea is the same. We want to make cooking healthy food for our families EASIER and take LESS TIME!

Ready to save hundreds on your grocery budget?
Make a meal plan today!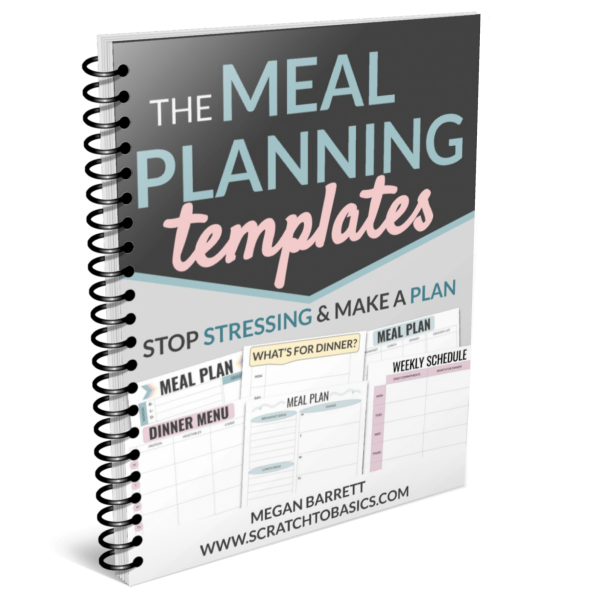 Get started meal planning and save hundreds every month with this bundle of meal planning templates. Opt in below to get this PDF delivered directly to your inbox.
How to Get Started With Meal Prepping
By identifying the cooking tasks you're doing over and over again, you can bundle up some of those tasks and you will save time.
It might not seem like a lot of time at first, but it will add up. And not only do you save time, you save mental energy.
Anybody else get overwhelmed by the amount of decisions you have to make each day? I do. And when I don't have to think as much but still get things taken care of? It's better for everybody.
As I go about my day, I try to think about ways I can be more efficient with my time. If I find myself peeling and chopping carrots for my kids at lunch every.single.day…DING DING DING.
What if instead, I peeled and chopped a big container of carrots on Sunday, before the week starts. Then I could just grab them throughout the week as I need them.
Here's another example. I make oatmeal for my kids at least 2-3 times a week. Instead of making two single serving bowls of oatmeal each day, I can make a big pot of oatmeal on Sunday and just reheat it throughout the week.
If it sounds simple, that's because it is. The hardest part is shifting your thinking and getting into the habit of batching some of your cooking tasks into a one-hour or two-hour long chunk of time.
5 Steps to Meal Prepping Success
Make a meal plan. Read about how to use a template to meal plan in this article. Use a template that works for you. If you prefer an Excel meal plan template, learn more about Excel templates available here.
Get some meal prep containers. You can use what you have to start, or get some like this that are glass and have separators. Mason jars work awesome for soup, too.
Set aside some time to meal prep. Look at your schedule and find 1-2 hour long openings where you can do a bunch of meal prep at once. Use a service like Prep Dish to help you figure out what you can prep ahead and what you can do day-of for maximum efficiency (and delicious real food meals).
Cook/Chop/Prep. This is where you do your meal prep work. If you're not sure what to meal prep, keep reading. Here's a free 7 day gluten free meal plan to show you how simple planning & prepping can be. Batch cooking is another tool for your meal prep toolbox that doesn't take long, but makes a HUGE impact.
Relax and put your plan in action. Think about all the time you saved and how easy it was to just follow the meal plan. Fewer decisions, happier you.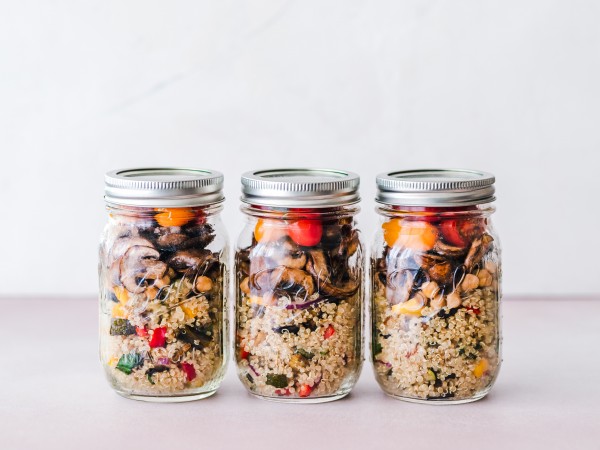 Which meals should I meal prep?
Ready to get started? Great. Now it's time to figure out which meals you should meal prep. Which meals do you feel rushed to get ready? Which meals do you get takeout more often than not? Think about the most stressful meal times in your week. Those are the best meals to meal prep.
Remember, the idea is to make more food at home and save time doing it (you'll likely save money, too, which is a nice bonus). Once you know which meals you're going to meal prep, think about where you have a 1-2 hour pocket ahead of time. Make a meal plan and try it out for a week. Adjust as needed.
Meal Prepping Ideas
Here are some ideas to get you thinking about what will work for your schedule and needs.
Breakfast meal prep
If you're rushed in the morning, consider meal prepping to provide easy healthy options on the go. Use your meal prep containers and grab a ready-made breakfast on your way out the door.
Make your own breakfast burritos. Make a bunch and freeze some for later, too.
Frittata or quiche. Make it on Sunday and pack individual slices for breakfast each day.
Pancakes/Waffles/French Toast. These are super easy to make a bunch at once and pull one or two out when you need it. Keep them in one big container, or separate them into smaller portions. These often freeze well, too.
Scrambled Eggs. You may not love the idea of reheated scrambled eggs. But if you don't mind, make a dozen (or two dozen) scrambled eggs. Keep them in one big container, or separate them into smaller portions.
Oatmeal. Instead of making one bowl at a time, make a big pot for the whole week. Then just reheat a single serving at a time.
Yogurt, fruit, and granola in a mason jar. Use the ratios that you like, make a few for the week in mason jars.
Lunch meal Prep
If you bring lunch to work, you'll save a significant amount of time making your lunches all at once. Then, divide them into your meal prep containers and you're ready. No more rushing to grab something on your way out the door, and no more being dependent on takeout.
Dinner Meal prep
Some people just eat the same dinner every night. They cook it over the weekend and dinners are done for the whole week. Easy-peasy. If that sounds like it would work for you, awesome! Do it! If you like a little more variety in your dinners, here are some ideas to get your wheels turning.
Freezer meals. There's a lot of recipes for freezer meals out there, but here are a few from Pinch of Yum to get you started. Once a Month Meals is an awesome service that helps you prepare a month's worth of freezer meals in a day.
Make double batches of freezable meals. Lasagna, enchiladas, chili, soup (not creamy soup) work well. Eat half for dinner tonight, freeze the rest for later.
Cook extra meat. Make a big batch of chicken (or ground beef, or beans) and season it mildly. My go-to "plain" seasoning is garlic powder and salt. This way you'll be able to use it in a variety of recipes throughout the week. Tacos, stir fry, soup, curry.
Chop ahead of time. If the only thing you do for meal prep is chop vegetables ahead of time, you'll save time and stress. Not only will you be able to just dump the veggies in the recipe when needed (kind of like a celebrity chef), you'll be more likely to use them if they're prepped and ready to go!
Snack meal Prep
Make a few snack options for the week so you can just grab them and go. If you have kids, pick some that are kid friendly and not too messy for car snacking.
Chop veggies like carrots, broccoli, celery, or bell peppers for a healthy snack. If you have healthy food ready to eat, you're much more likely to grab it and munch when you get snacky.
Hard boiled eggs. A great high protein snack, and easy to prep a bunch at once.
Crackers. I like to make up a double batch of these crackers when I prep my snacks. My kids love them, and I do to. High in protein, gluten free, dairy free. Yum!
Trail mix. Make your own trail mix for a custom snack. Make a big container with a few types of nuts and dried fruit. Then keep a few small mason jars with this trail mix in your cupboard. Grab and go!
Meal Prepping FAQ
What food shouldn't I meal prep?
Things that get soggy are on my never-make-ahead list. I really don't like soggy food, and I imagine you don't either. These things are on my do-not-make-ahead list. Of course, if you keep the salad dressings, sauces, and spreads in separate containers, they're back on the make-ahead list.
Sandwiches
Cereal
Salads with dressing
Fried foods
Noodles in soup
How Often do I Need to Meal Prep?
This depends on how long the food you're prepping will keep in the fridge. As a rough guide, I'd say most meals will keep in the fridge for about 4-6 days. So if you meal prep on Sunday, that means either plan a mid-week meal prep day, or freeze a few containers for later in the week if you think they won't last the full week.
Meal Prep For Beginners
Meal Prepping can save you hours each week. Make a plan, get some good tools, find some time to prep and get to work. You can do it!
And if you need a little help, check out Prep Dish!