Some of the links on this site may be affiliate links. This means, at no additional cost to you, I may be paid a small commission if you follow the links and make a purchase. Learn more here.
Using a meal planning app is one of the most convenient ways to make a plan for what to cook for dinner. If you're like me, you probably have your phone on you 90% of the time.
So using an app for meal planning just makes sense, especially if you've got kids who like to draw on any paper you leave lying around, like I do.
Keep reading for the 6 best meal planning apps for families.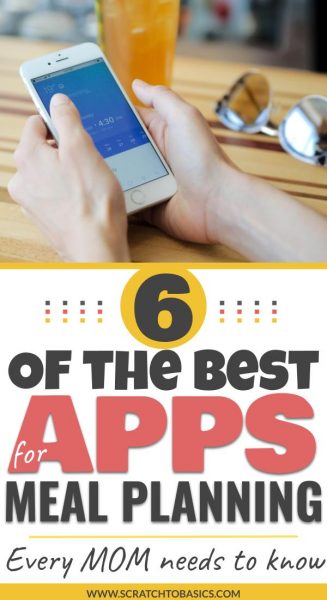 What is meal planning?
Before we get into the apps, I want to define what I mean when I talk about meal planning. Because you may be intimidated by it, and it's not scary.
I promise.
Meal planning just means taking a little time each week to think through meals for the week ahead. When you think through about meals ahead of time, you're able to make ONE grocery shopping trip to get ingredients for the whole week (or maybe skip the store all together and get your groceries delivered).
Related: Three Online Grocery Options To Keep Your Pantry Full Of Real Food
Meal planning ensures less stress around meal times, more time with your family around the table, and more home cooked meals. You get to plan out meals based on what you already have, what you're able to get, and what your family actually likes to eat!
Related: 20 Meal Planning Templates To Melt The Stress Away
Why meal plan?
Before you start to meal plan, figure out why you want to in the first place. Do you want to…
Save money?
Lose weight?
Focus on eating healthy, real food again (instead of the convenient processed foods?)
Spend more time with your family around the dinner table?
Try new recipes without being overwhelmed?
Related: How To Save Hundreds Each Month By Simply Making A Meal Pan
Figuring out why you're doing this will be a big motivator to come back week after week and continue on your path. Plus, after you do it a couple times you'll get the hang of it and the question of "What's for dinner?" will be an easy one to answer.
If you think a pen & paper meal planning template might work better than an app for you, grab my meal planning template bundle here!
Using A meal planning app to Plan Recipes For your family
Maybe the thought of sitting down and picking up a pen and paper makes you squirm and feel too out-of-touch with the modern digital world. If that sounds like you, these meal planning apps will be JUST what you need.
I tried out ALL of these meal planning apps to make sure they have a place to keep track of your meals for the week.
Instead of just a folder on your computer with dozens of recipes to try "someday", you can use these apps to create a meal plan for your week (or month).
Some of these apps even provide pre-made meal plans for a super easy meal planning experience. Oh, and just to get you started...here's a free 7 day gluten free meal plan. If you're looking for more of a done-for-you way to get started meal planning, I recommend using a meal planning service.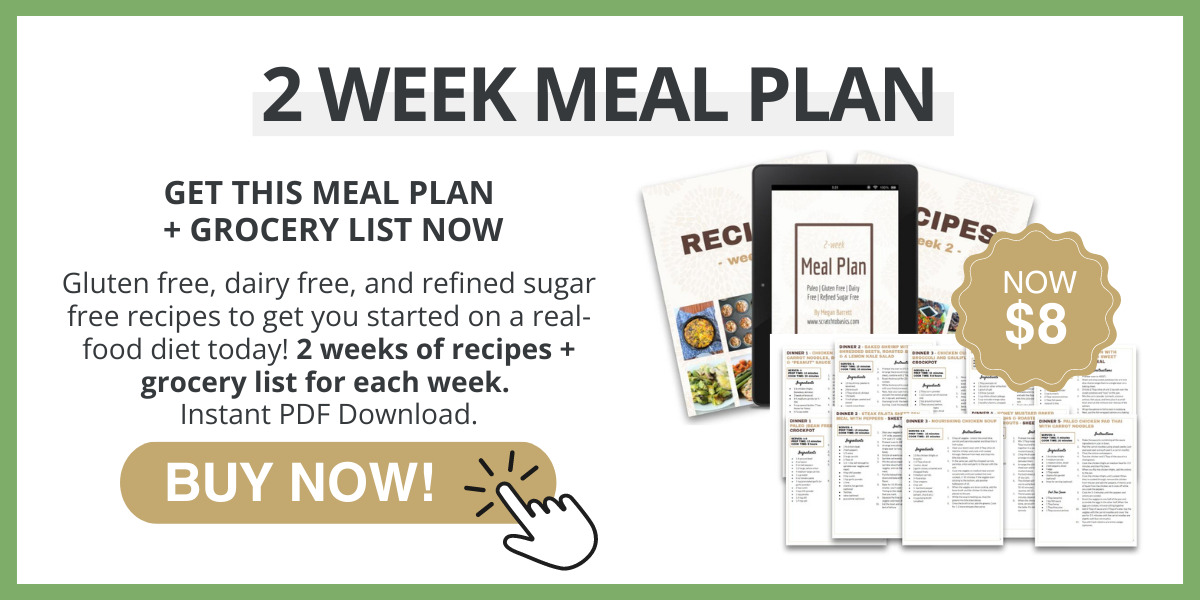 These websites and apps allow you to choose recipes you want to cook, and schedule your recipes in the app. Some of them even have the option to send your order to the store and pick it up later.
Some grocery stores even offer delivery these days (or curb pickup). We live out in the country a bit so these online grocery shopping stores work better for us (not many grocery stores will deliver to us).
Some of these apps have recipes stored within their platform that you make your meal plan from, and some just offer a place to store your favorite recipes from anywhere,
Related: Honest Prep Dish Review ( I seriously love Prep Dish).
There are both free and paid websites to help you plan your meals. All the options below at least have a FREE trial. Some have a fully functioning FREE plan (with an option to upgrade to their paid option for more features).
Here are the best meal planning apps for families that made the cut:
---
1. Plan To Eat
Pricing: FREE 14 day trial (no credit card needed to sign up), then $4.95/month or $39/year ($3.25/month).
Plan to Eat helps busy families get healthy dinners on the table.
Instead of providing recipes, Plan to Eat provides a place to store YOUR recipes.
Use their app to collect recipes from anywhere (any websites, cookbooks, or recipe cards) and plan your meals for weeks or months to come.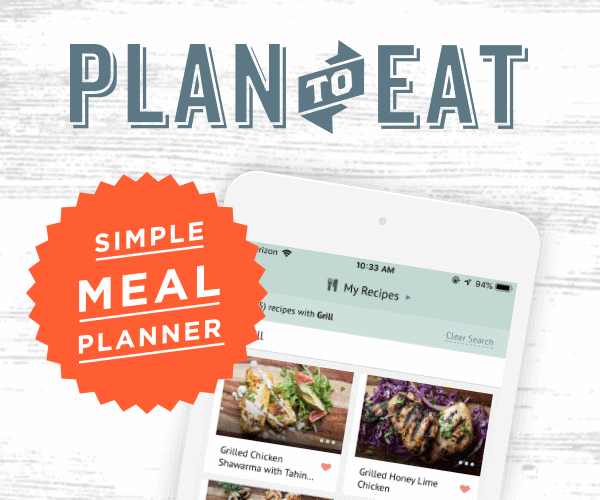 You get to decide when you want to eat your recipes by placing them on your calendar.
The Plan to Eat app will automatically create a shopping list based on the ingredients listed in your recipes in your meal plan. Select the date range of recipes you want to shop for and add them to the list or cross them off.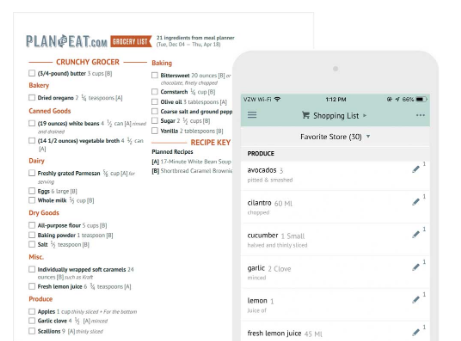 You can easily plan out meals for the week, month, or longer (and only get a grocery list for the dates you specify).
For those of us who continually forget to take the meat out of the freezer (ahem...that's me), you can set a reminder to do just that (or any other prep work you want to remember throughout the week.
Easily import recipes from most websites with the recipe clipper, or add your own!
---
2. Prepear
Pricing: Free and paid version. Paid version (Prepear Gold) has a 30 Day free trial, then $9.99/month.

Prepear is a great meal planning app for families. Their website and app work well together, providing an easy meal planning experience. It's an app and website
You can choose between creating a 1, 4, or 12 week meal plan. Filter recipes by time to cook, category, skill level, special diets, or allergies. You create a digital meal plan by choosing from a wide selection of recipes. Then they create a grocery list based on the ingredients in the meals.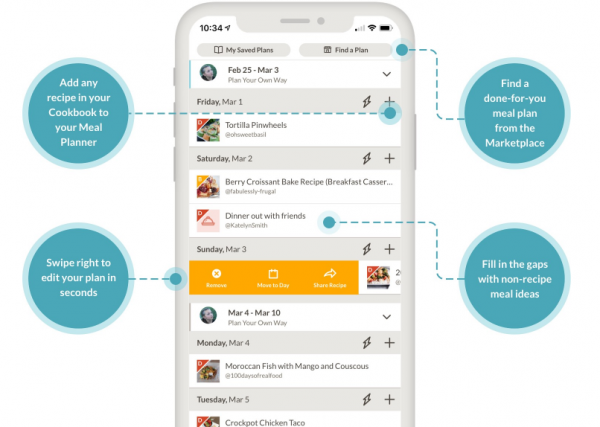 You can keep track of things you typically have in your pantry in their digital "pantry". So if you always have eggs, they won't add it to your grocery list (but they WILL add the other ingredients from the recipes you've chosen).
The great thing about Prepear is that you have a LOT of functionality with the free plan. If you want, you can upgrade to the paid version (Prepear Pro), which gives you the ability to re-use meal plans and use pre-made meal plans.
My favorite things about Prepear:
Calendar meal planner - keep track of which meal you'll be making each day.
Keep track of items you likely already have in your digital "Pantry".
Screen lock during cooking and shopping (screen won't go black).
You can send grocery list to Walmart from mobile app.
SO many features with FREE version.
---
3. My FreezEasy
Pricing: FREE trial then $12/month or $120/year
My FreezEasy is a meal planning app for freezer meals. They have a website and app where you pick and choose which meals you want on your meal plan.
They provide a shopping list for all recipes on your meal plan, along with prep instructions, recipes, labels and a thaw sheet. If you're new to freezer meals, grab these beginner freezer meal tools.
My FreezEasy has a wide variety of categories to choose your meals from, and an awesome drag and drop interface that makes creating your meal plan SUPER easy.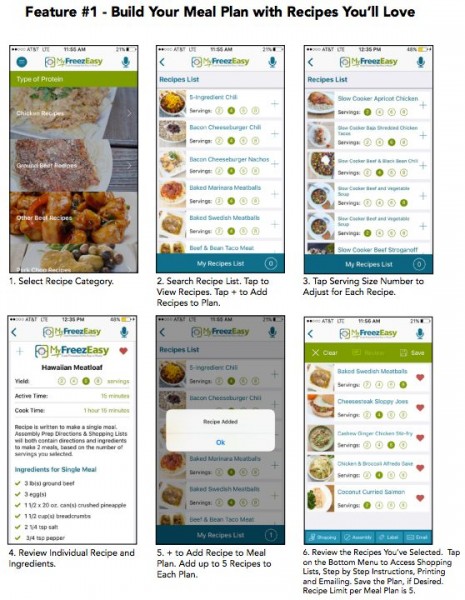 They offer pre-made meal plans in any category you choose (and you can customize these meal plans, too). So if you pick the "Paleo/Whole30" meal plan, and want to switch out a meal, you can definitely do that.
My favorite things about My FreezEasy:
Easy drag and drop interface. Move the meals from the list to your meal plan...no clicking back and forth.
Use their pre-made meal plans in any category you choose
Mobile App to build your meal on the go
Videos to walk you through the recipes
---
4. emeals
Pricing: FREE trial for 14 days, then 1 year for $59.99 or 3 months for $29.99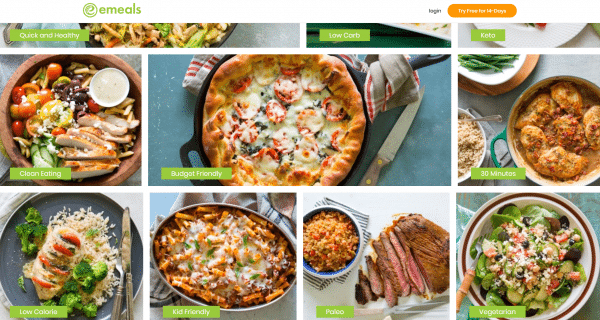 Ready to save 2-3 hours each week? If so, eMeals is for you!
Their website and app provide pre-made meal plans for dinners each week. For an additional fee you can add the breakfast and lunch meal plans, too.
EMeals has a variety of meal categories to choose from like Paleo, clean eating, budget friendly, etc.). You get to pick your meal preferences, and within those preferences, they provide 7 meals each week for you. You can switch meal plans, but you can't customize the meal plan.
EMeals is a great meal planning app for anyone who:
Wants a stress free way to get meal plans without taking the time to make your own.
Doesn't care about choosing specific meals as long as they fit in your diet/lifestyle.
So if you pick the Paleo meal plan, they give you seven Paleo recipes each week. You can create a shopping list based on those recipes (some or all of them). For the recipes I looked at, they provide a recipe for a main dish and a side dish, which is pretty awesome.
Grocery delivery is one more way eMeals strives to make meal planning easier on you. They offer the option to send your grocery list to Amazon, Walmart, Kroger, Instacart, or Shipt.
My favorite things about EMeals:
You can s

end the grocery list to Amazon, Walmart, Kroger, Instacart, or Shipt

Pre-made meal plans, so you don't have to think about it. If this is what you're looking for E-meals is awesome.
Optional breakfast and lunch meal plans as well
---
5. Cozi
Pricing: FREE and paid version. The paid version (Cozi Gold) has a 14 day free trial, then $29.99/year and covers the WHOLE family.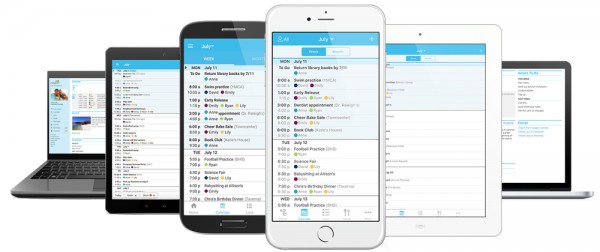 Cozi is a platform designed to keep your busy family organized and on the same page. Use Cozi for keeping your family organized. From meal planning to shopping lists, to sports schedules and to-do lists.
As a family, you share a username and password. The whole family can access it from any computer or phone. It has a calendar, to-do list, meal planner, and a family journal your whole family can access and share.
So think about this...you ask your husband to stop at the store on his way home from work. He knows to check the list on Cozi. You keep adding to the list throughout the afternoon as you remember more things you need. Then when he goes to the store, he opens Cozi and sees your shared list. Perfect!
The calendar syncs with your google calendar and you can view your schedule for the day along with what meal you're planning on making that night. I love this part!
The meal planning section is pretty great too. It allows for manual entry of a recipe, or you can import recipes from any website. Store the recipes in the digital "recipe box" and pull from it as you're making your meal plan.
Also, if you have a recipe open in Cozi, the screen will stay lit, even when inactive. No more worrying about getting your phone messy from unlocking it every two minutes.
My favorite things about Cozi:
Designed to be shared with the whole family. Easily access the account from any computer or phone

Import recipes from any website using the Add to Meals bookmark button

It's an awesome system to organize even the busiest of families.
Screen stays lit even when inactive, when a recipe is open (BIG BONUS)
The FREE version has great features. If/when you decide to upgrade, it's only one fee for the whole family.
---
6. Mealime

Pricing: FREE download of the app, can upgrade for $5.99/month to get more features
Mealime is an app-only (no website access) solution to meal planning. The Mealime app has a bunch of recipes stored within the app. Within the Mealime app, you can search for recipes, add them to your meal plan, and then create a shopping list based on the recipes in your meal plan.
Mealime then makes a shopping list for you based on the recipes you choose so you can shop once a week for a stress-free shopping experience.
WIth over 200 ways to filter the recipes, you can eat how you want to by setting your eating preferences (for food allergies, and like/dislikes).
Mealime's recipes are typically made in under 30 minutes, from start to finish.
Download the app, pick your diet, and specify any allergies and food dislikes. Then you'll pick your servings (2, 4, or 6) for each meal. From there you'll start picking the meals for the week. You can even set a reminder to make a meal plan at a certain time each week.
Have you ever been making a recipe...your hands have a mixture of flour, egg, and raw chicken on them and you forgot what the next step is. So you go to your phone and...uh oh.
You have to unlock it to get back to the recipe. So you either get gross stuff all over your phone OR you wash your hands, dry them, then go back to the recipe. Not quite ideal.
Mealime has an awesome hands free cooking mode. So when you're in a recipe, the screen stays lit on the step you're on until you hold your hand over the top of the screen so the next instruction will appear. No gross stuff on your phone. No pause needed.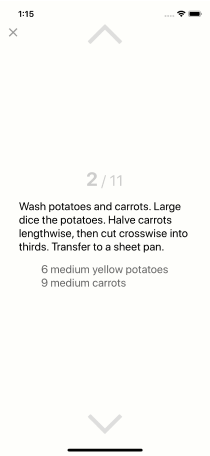 With Mealime Pro you get access to more recipes, nutritional information, access to previous meal plans, and priority email support. Upgrade to the Pro version for $5.99/month.
My favorite things about Mealime:
I love the step-by-step instructions provided in the app for each recipe in the hands free mode
The app is everything you'd expect it to be - simple meal planning and recipes.
---
Best Meal Planning App for Families & A few Meal Planning Tips
As you start meal planning and figure out which method works for you and your family, here are some tips that will make meal planning easier.
Pick an app from the list above that makes life easier on you and your family.
Consider starting to meal prep. Meal prep makes life even easier. Read more about meal prepping for beginners and batch cooking. For extra meal prepping support, check out my Prep Dish Review here (they COMPLETELY changed how I think about cooking throughout the week - in the best way possible).
Find a system that works for you. If you're a planner...plan, plan, plan! If you're not, just plan enough to keep the stress levels down. Develop a rough guide to get started. Instead of planning specific meals, maybe plan theme nights instead so you still have some flexibility. Like...Meatless Monday, Taco Tuesday, "Whatever" Wednesday, etc...
Remember your "why". Why are you meal planning in the first place? This will help keep you motivated and help you make meal planning a sustainable habit in your routine.
So...what do you think? Which is the best meal planning app for YOUR family? Let me know in the comments below!