Some of the links on this site may be affiliate links. This means, at no additional cost to you, I may be paid a small commission if you follow the links and make a purchase. Learn more here.
Here it is! I've been working on this pancake recipe for a LONG time. I tried a bunch of recipes online that were gluten free and grain free, and I just couldn't seem to find a recipe I REALLY liked. I wanted the flavor AND the texture to be amazing and still taste like a "real" pancake. These Paleo pancakes with almond flour and cassava flour definitely fit the bill.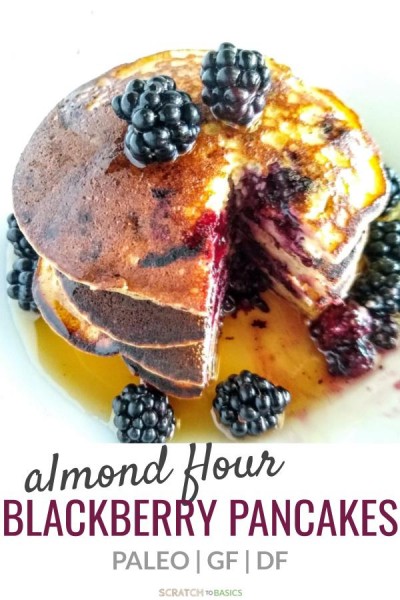 And bonus...I added blackberries to make them even more special.
You see...here in the Pacific Northwest, blackberry plants are extremely invasive and terribly prickly. Most of the year we fight them, cut them back, dig them up, and do everything we can to get rid of them. But in August....we LOVE those prickly annoying plants.
Because in August...they give us blackberries. Big, juicy blackberries. So I decided to put them in the pancakes. Feel free to use whatever berries you have right now. OR, just leave them out. It's up to you.
These pancakes use almond flour and are gluten free, low carb, grain free, and Paleo.
Related: How to Make A Frittata in A Cast Iron
Almond flour and Cassava Flour
I tried only using almond flour, and only using coconut flour. Neither were good enough. The coconut flour ONLY option was way too eggy. Then I found a recipe that used THREE flours. And I thought that was just a little too much (especially since I had just run out of coconut flour - one of the three I needed).
So I tried almond flour WITH cassava flour. And it worked. The cassava flour lightens up the texture so it's not too dense (like a lot of almond flour ONLY recipes are). They held together nicely and they taste AMAZING.
So here it is folks...a recipe for Paleo pancakes with almond flour and cassava flour.
Tools to make this recipe
How to make paleo pancakes with Almond Flour
step 1: mix all ingredients in a bowl
This recipe is super simple. And it starts with just mixing all the ingredients (except the berries) in a bowl.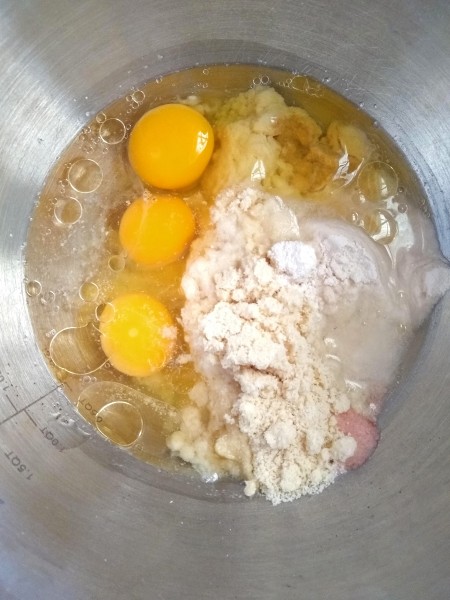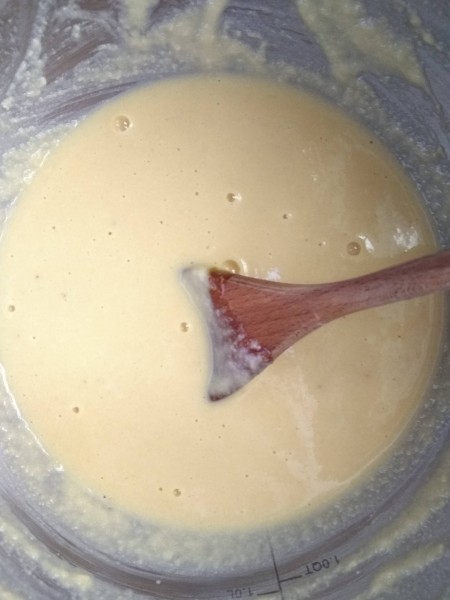 Step 2: fold in blackberries
Next, fold in the blackberries. Be gentle or you'll end up with pink/purple pancake batter. If that's what you're going for...mix away! You can use any type of berry here. Use what's in season for optimal flavor! It's blackberry season right now, so we're making blackberry pancakes.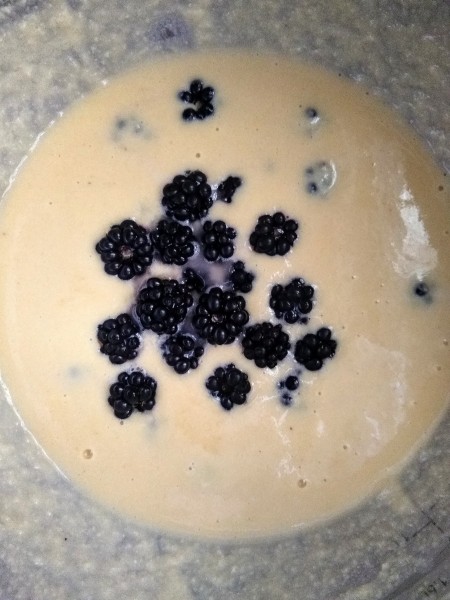 step 3: cook the pancakes & Serve
Scoop them onto your pan (at medium heat) with a ¼ cup scoop. Flip when the top gets bubbly, and press down. Cook for a few more minutes then enjoy!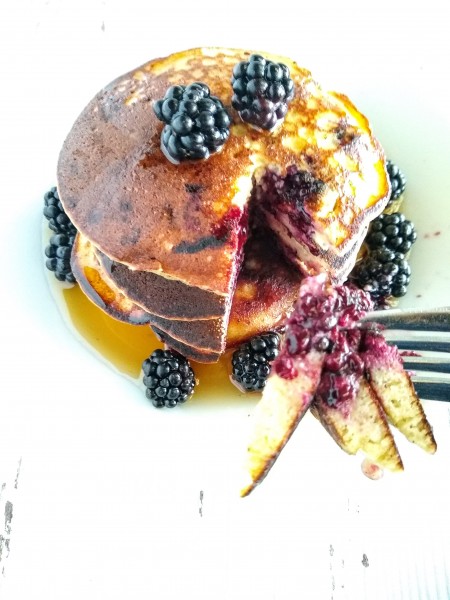 Want more Recipes?
Try making this delicious frittata to go with your pancakes to round out the brunch.
What about toppings?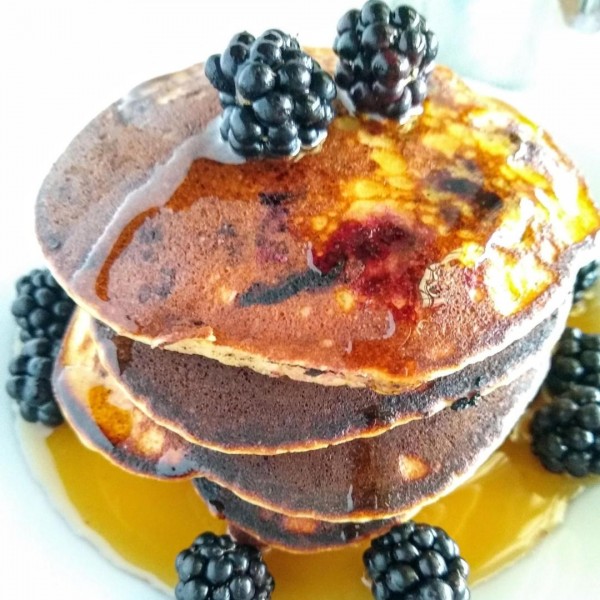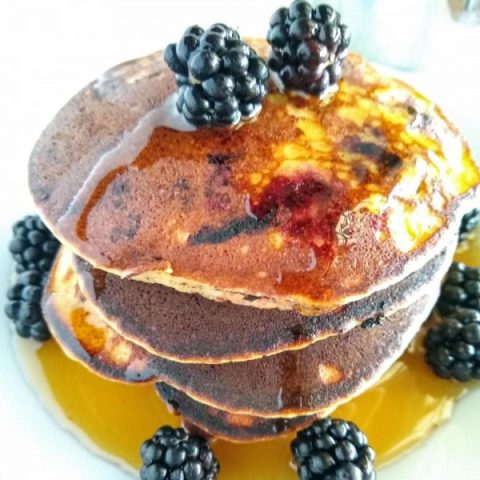 Paleo Blackberry Pancakes
A Paleo and dairy free pancake recipe using almond flour and cassava flour, with a bonus surprise of blackberries inside.
Ingredients
1 cup almond flour
¼ cup cassava flour
3 eggs
¼ teaspoon salt
½ teaspoon vanilla
½ cup water
1 tablespoon oil (we really like avocado oil)
1 tablespoon honey (or maple syrup)
½ cup - 1 cup blackberries
Instructions
Mix all ingredients (except blackberries) in a bowl.
Fold in the blackberries.
Use a ¼ cup scoop to scoop the batter onto your pan (medium heat).
Cook on medium for about 1 minute, or until the top starts bubbling.
Flip the pancakes and smash them down.
Cook for another 1-2 minutes.
Serve & enjoy
Notes
For your pancake topping, try almond butter and honey or maple syrup.
Nutrition Information:
Yield:

10
Serving Size:

1
Amount Per Serving:
Calories:

123
Total Fat:

9g
Saturated Fat:

1g
Trans Fat:

0g
Unsaturated Fat:

7g
Cholesterol:

56mg
Sodium:

81mg
Carbohydrates:

8g
Fiber:

2g
Sugar:

3g
Protein:

5g
don't forget to share this on pinterest