Some of the links on this site may be affiliate links. This means, at no additional cost to you, I may be paid a small commission if you follow the links and make a purchase. Learn more here.
This recipe tastes just like cheez-its, but there's actually no cheese in it. You're going to love these dairy free, gluten free, and keto crackers.
The recipe is simple and I'll walk you through it step by step in this post. It's made with just a few ingredients - almond flour, egg, salt, and nutritional yeast (for the cheesy flavor).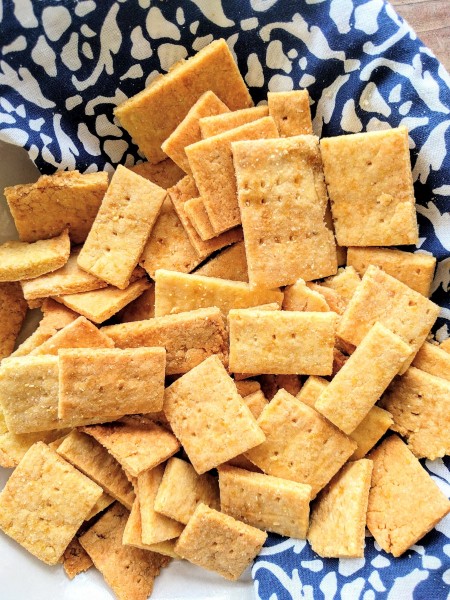 Better than Cheeze-Its
I used to LOVE Cheeze-its. As in, give me a box and you might not get any back when I'm through with them :). I loved the flavor, the saltiness, and the crunch.
But that was before.
That was when I didn't care what was on the ingredient label and back when I didn't know how easy making homemade crackers actually is. Now I know I can make these crackers that are even better than store-bought in just 20 minutes.
Cheesy crackers without the cheese?
Today we're making "cheese" crackers...without the cheese. How do you do that? Well, let me tell you. The cheese flavor isn't actually cheese, it's nutritional yeast.
If you've never heard of nutritional yeast, you should get some and see what you think. It gives food a cheesy flavor and it's loaded with B vitamins. In addition to making yummy crackers, we love flavoring our popcorn with it.
Tools needed to make your own Dairy Free Cheese Crackers
Mixing Bowl - Use your favorite mixing bowl - you don't need anything special here.
Mixing Spoon - Again, use your favorite mixing spoon (I'm partial to wooden spoons).
Rolling Pin

-

You'll use the rolling pin to roll out the dough.
Parchment Paper - You'll use the parchment paper to help roll out the dough and also bake in the oven.
Pizza cutter - I like to use a pizza cutter to cut the cracker dough into squares before baking in the oven.
Ingredients used in our almond flour cracker recipe
Almond flour - The almond flour ensures a gluten free cracker, and gives it a buttery flavor.
Nutritional yeast - This is one of our favorite kitchen ingredients. It's loaded with B vitamins, and has a cheesy flavor.
Egg - The egg keeps the dough together.
Salt - We love this salt because it's not stripped of the trace minerals like some salts.
How to Make Gluten Free & Dairy Free Cheese Crackers
These gluten free cheese crackers are really simple to make. With just a few ingredients, it comes together start to finish in 20 minutes tops.
Step One: Mix the Cracker Ingredients
Mix the ingredients of the almond flour crackers recipe together until the dough comes together and will hold its shape in a ball (see below). If your dough feels a little crumbly, just add a tablespoon of oil and it should come together.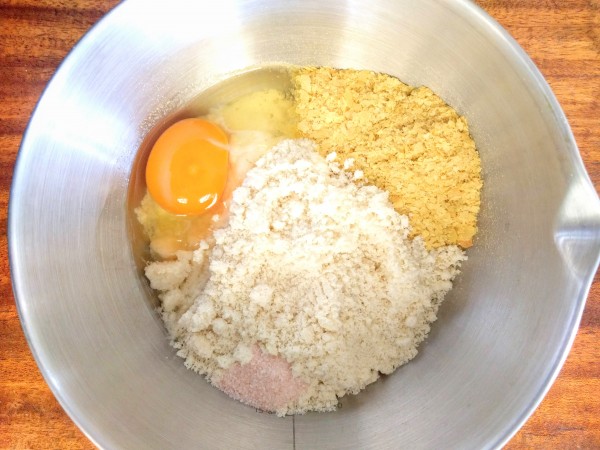 Step Two: Roll Out the Dough
Next we'll roll out the dough. If you sandwich the dough between two sheets of parchment paper, it won't stick to your rolling pin as much.
As you can see in the image below, the edges don't have to be perfect. Just try to roll the dough out so that it's about the same thickness everywhere.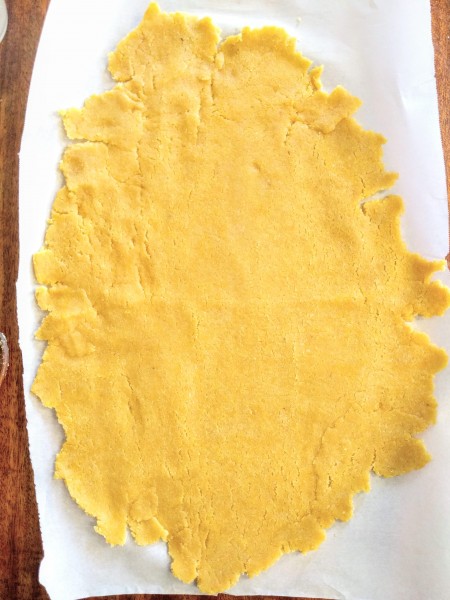 Step Three: Cut the Dough into Crackers
Once the dough is rolled out, use the pizza cutter to cut the dough into cracker size square. If you want a different shape...triangles, diamonds...do it! Who says crackers have to be rectangular?
The pizza cutter is a big-time saver in this recipe.
Side note: I love using these pre-cut parchment sheets. It saves a lot of time that you don't have to measure and cut pieces to fit the baking sheet.
Step Four: Bake Your Crackers
When I made my very first batch of homemade crackers several years ago, the recipe suggested I transfer each square individually onto the cookie sheet to bake them. It took a long time and they didn't really look like squares after that. More like lumps.
So I'm suggesting you bake them a different way, after many, many times making this recipe.
Once you have your piece of parchment paper with the dough cut into squares. All you have to do is transfer that whole thing (parchment paper with the dough on it) onto the cookie sheet. Lift on the corners of the parchment paper, set on your cookie sheet. And bake.
If you want to poke holes in the crackers with a fork, go for it. Sprinkle a little bit of salt and bake for 8-12 minutes until golden.
Note: If the dough isn't rolled to a consistent thickenss, the thinner pieces will be done cooking before the rest. If that happens, simply remove the thinner pieces as they're getting golden brown, and cook the rest for a few extra minutes.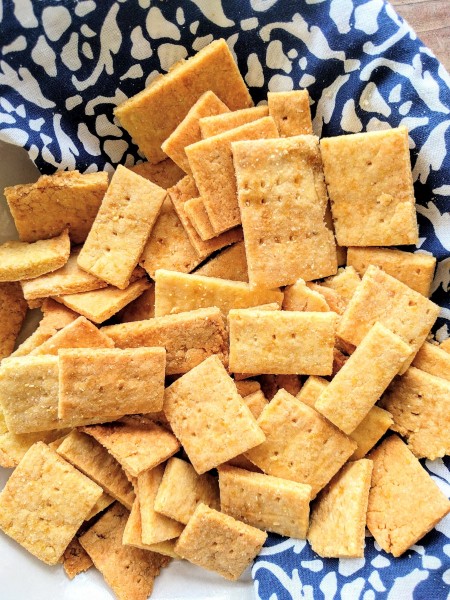 Now that they're cooked you can enjoy your dairy free keto crackers! Eat them by themselves, or with some avocado mayonnaise or hummus.
Related Recipes
Looking for more delicious recipes from scratch?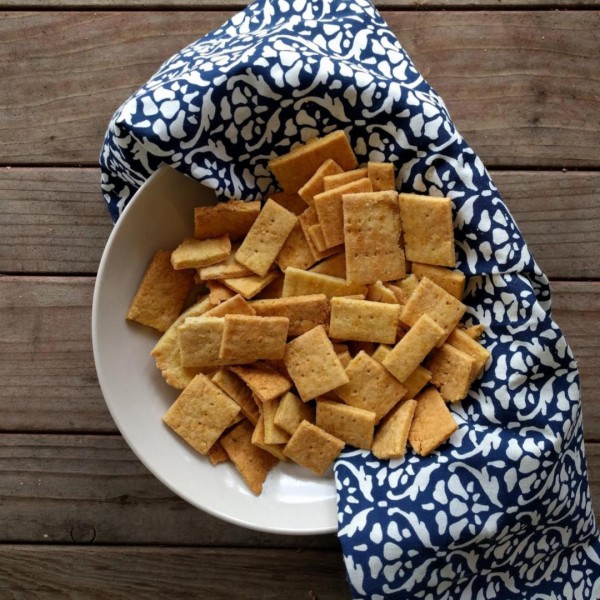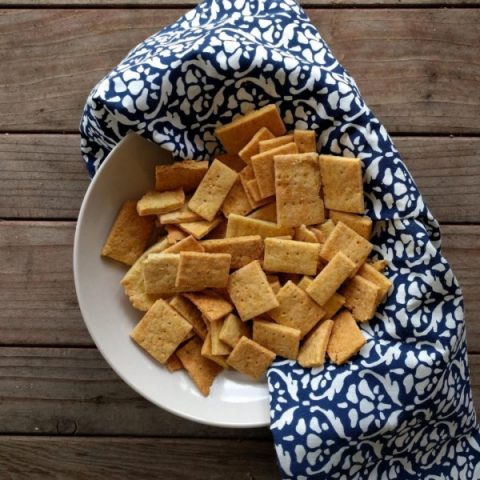 Homemade Cheese Crackers (Gluten Free and Dairy Free)
Ingredients
1.5 cups almond flour
1 egg
¼ cup nutritional yeast
½ teaspoon salt
Instructions
Preheat your oven to 350 (F)
Mix all ingredients together in a bowl
Roll out the dough between two pieces of parchment paper into a big rectangle to your desired thickness
Use a pizza cutter or a knife to cut the dough into squares
Transfer the dough to a cookie sheet (you can just leave the dough on the parchment paper when you transfer it over). Then sprinkle a tiny bit of salt on top
Poke the crackers with a fork if you'd like holes in the crackers
Bake in the oven for 8-12 minutes, or until slightly golden
Nutrition Information:
Yield:

5
Serving Size:

1
Amount Per Serving:
Calories:

231
Total Fat:

18g
Saturated Fat:

2g
Trans Fat:

0g
Unsaturated Fat:

16g
Cholesterol:

37mg
Sodium:

251mg
Carbohydrates:

10g
Fiber:

6g
Sugar:

2g
Protein:

11g
Save This For Later on Pinterest