Some of the links on this site may be affiliate links. This means, at no additional cost to you, I may be paid a small commission if you follow the links and make a purchase. Learn more here.
This peanut sauce with chicken, broccoli, and carrot noodle bowl is gluten free, low carb, and refined sugar free. AND you're going to love it! How do I know? Because it's packed with flavor, nutrition, and it has a mouthwatering, out-of-this-world-yummy peanut sauce.
I mean...what's not to love? This meal comes together in about 30 minutes and works great as a weeknight meal. You can easily use it for a prep recipe and eat it throughout the week.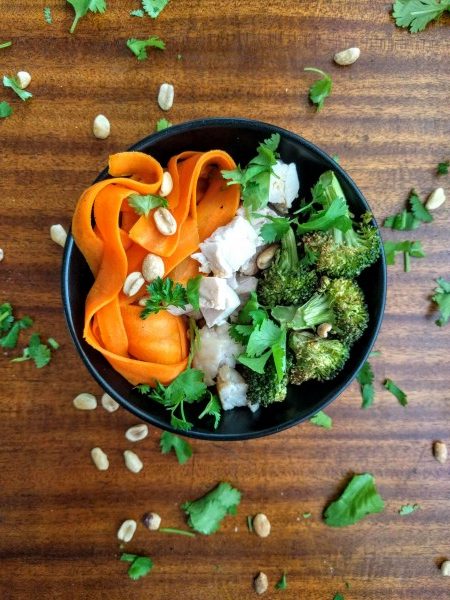 Why This Meal Works
This meal is full of nutrient dense foods. Peanut sauce is poured over the perfectly roasted broccoli, chicken, and carrot noodles. The delicious peanut sauce combined with the sweet carrot noodles will leave you wanting seconds...or thirds. No doubt about it.
Carrot Noodles
Carrot noodles are a simple (and delicious) way to add another serving of vegetables to your meal and get a boost of nutrition.
I don't have a spiralizer or any fancy tools to make the carrot noodles. I just use my hand-held basic peeler. If you want to make carrot noodles without fancy tools, no problem! Just peel the outside off the carrot, and then peel, peel, peel until there's no more carrot. Each piece that comes off is a "noodle".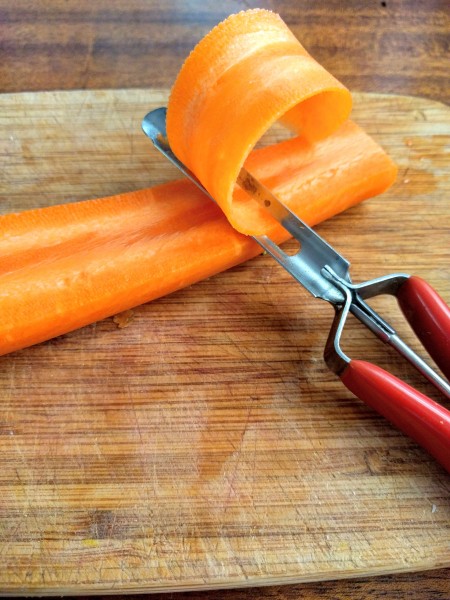 Better than Take-Out
Have you ever gotten Thai food take out and when you open the container, you see a rim of grease around your food? Yeah, not very appetizing. When you order take-out, you don't really have a say about what ingredients they use.
Sure, you could probably substitute broccoli for peppers, but the sauces likely have unhealthy oils and plenty of salt and sugar. So when there's a chance to get the flavor with more nutrition, I'll take it!
Read: What's Wrong With Processed Food?, 12 Things to Know Before Cooking With Oils and 10 Highly Processed Foods to Avoid
When you make food at home, you can make delicious food with better, simpler ingredients, and it will nourish your body. This recipe is table ready in 30 minutes. About the same amount of time it would take you to drive to the restaurant, wait for your order, and get back home.
How to Make This Peanut Sauce with CHicken & veggies bowl
Roast your chicken and broccoli in the oven on a sheet pan (or two). This recipe uses boneless chicken thighs. I like to season everything lightly with just salt and garlic powder. Roast the broccoli and chicken in a 400 (F) oven. The broccoli will take about 20-25 minutes, and the chicken will take about 15 minutes. The chicken thighs are done when they reach 165 (F).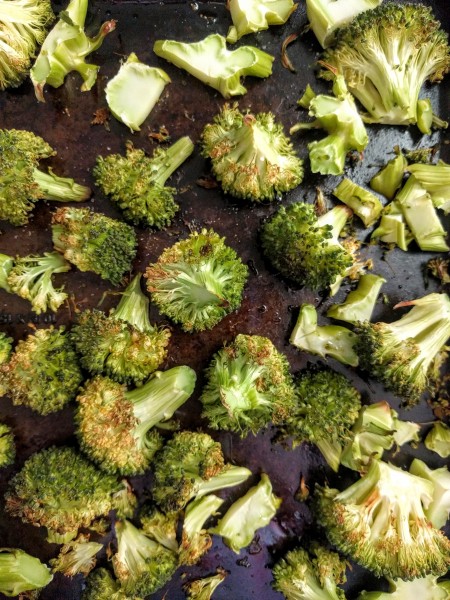 Remember, we have the yummy sauce to add on at the end so we only need basic seasonings right now. While the chicken and broccoli are cooking, peel your carrot noodles (remember you can just use a basic peeler). Set them aside in a bowl.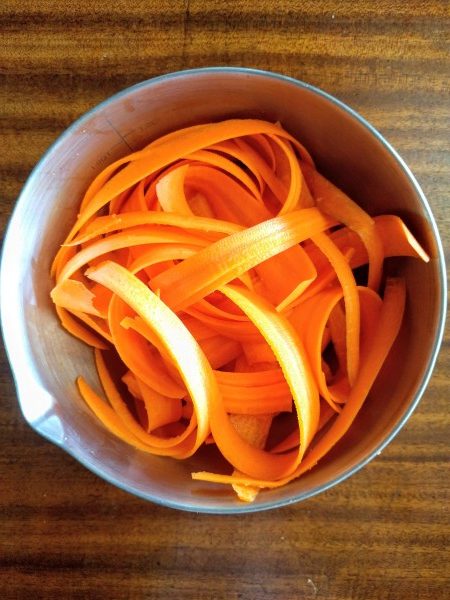 Next, get your sauce ready (or just pull it out of the fridge if you're like me and you have a fridge full of homemade sauces). Here's the blog post with more info on the peanut sauce.
As it is written, it's a kid-friendly sauce. But if you're a spice lover, just squirt some hot sauce in there.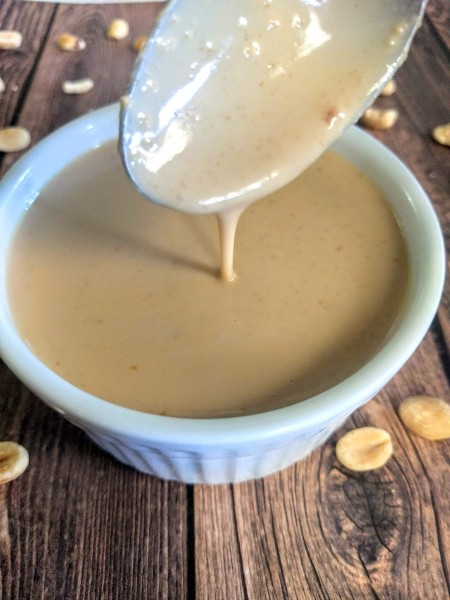 Now saute your carrot noodles for a few minutes until softened. I like them when they're not crunchy anymore, but also not super mushy. This usually takes about 5 minutes on medium heat. I use metal tongs like this to "toss" them while cooking so they cook evenly.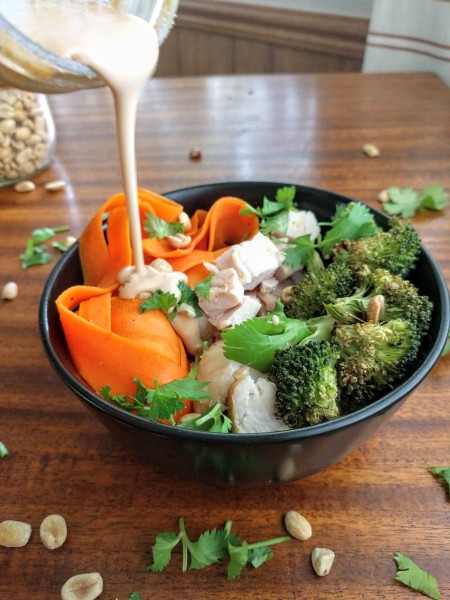 Now it's time to put it all together. Chicken, broccoli, carrot noodles, and peanut sauce. Maybe a little cilantro and peanuts on top? Yep. Yum, yum, yum.
Meal Prep Peanut Sauce with Chicken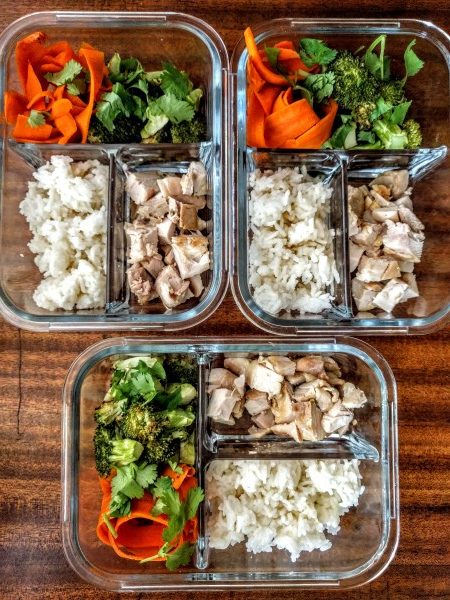 This recipe works great for meal prep, too. We love these containers we got on Amazon recently. We ordered a set of 6 and they've been working great for lunches throughout the week for my husband to take to work, and for on-the-go lunches and snacks for my kiddos.
Looking for more Healthy and Homemade Dinner Recipes?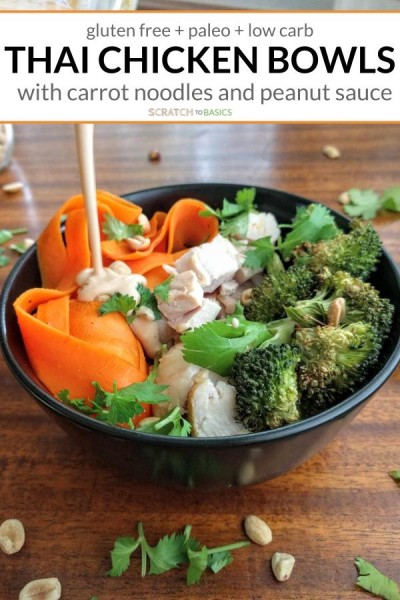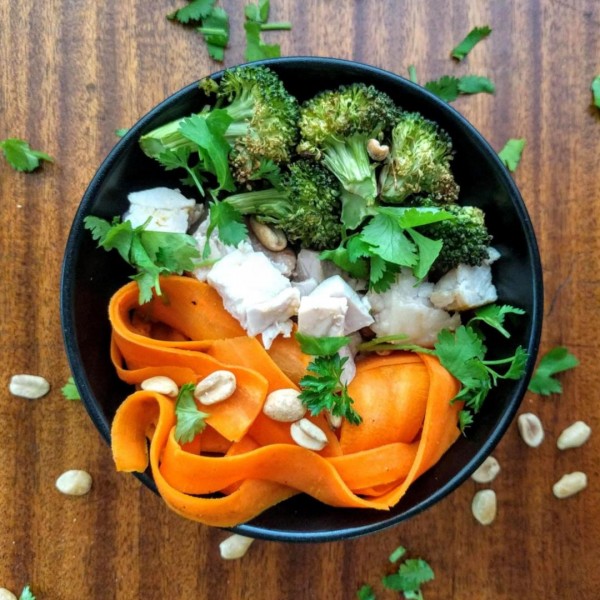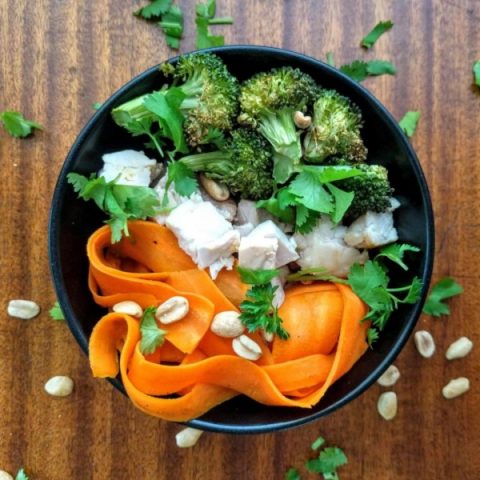 Peanut Sauce Chicken with Carrot Noodles and Broccoli
A delicious peanut sauce bowl with chicken, broccoli, and carrot noodles.
Ingredients
1 lb chicken thighs (boneless, skinless)
3 heads of broccoli
1 lb carrots
pinch of salt
1.5 cups simple peanut dipping sauce
1 cup peanuts (topping, optional)
Instructions
Preheat your oven to 400 (F)
Chop your broccoli into florets. Fun fact: the stems of broccoli are edible. Feel free to chop those too.
Put the broccoli and chicken thighs on two sheet pans (or one if you have room) in a single layer.
Drizzle oil over the broccoli, sprinkle both with salt and garlic powder.
Roast the chicken thighs for 13-18 minutes, the broccoli for 20-25 minutes.
While the broccoli and chicken are cooking, make your carrot noodles by using your basic peeler over and over again to make "noodles".
Make your peanut sauce (or take it out of the fridge if you already have it made).
Saute the carrot noodles on medium heat for 3-5 minutes, flipping with tongs so they cook evenly.
When the chicken is done cooking, let it rest for 5 minutes, then cut it into bite size pieces.
Put it all together with rice (optional), chicken, broccoli, carrot noodles. Top with peanuts, cilantro, and peanut sauce.
Notes
Use whatever veggies you have on hand, if you don't have broccoli. 
This is very customizable, make it fit your preferences and lifestyle.