Some of the links on this site may be affiliate links. This means, at no additional cost to you, I may be paid a small commission if you follow the links and make a purchase. Learn more here.
You walk into the grocery store, shopping list in hand.
You find the aisle that you need for that one last ingredient.
WHAT? It's out of stock?
When you go to the grocery store, you expect to be able to find what you need.
But what if you can't?
What if it's sold out?
Well, luckily there's almost always something else you can substitute. And you know what? I've got you covered.
Through the last couple years I've been working on healing my body by eliminating foods that don't sit well with my body. Through that process, I've learned how to be flexible in the kitchen.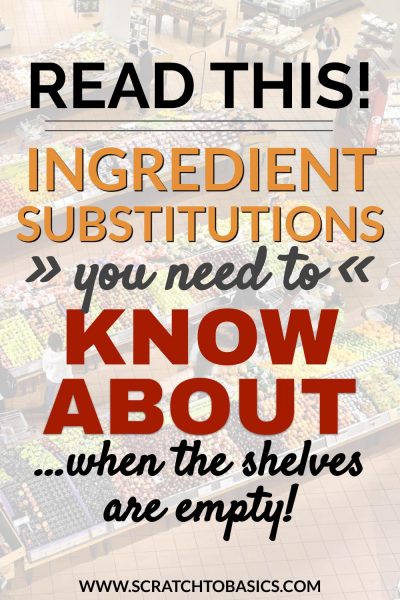 Currently in my local store there's an egg shortage, the flour shelves were empty, and the canned foods are running super low.
Did I mention we're in the middle of a global pandemic?
Even when I walk through the store, unable to find the items on my list, I didn't panic.
Because I know that no single ingredient is essential. And because I know there's always a substitute.
Even if things have calmed down by the time you read this, I hope you find value and exactly what you're looking for.
ingredient substitutions
I don't give exact conversions below because it honestly depends on what you're making. If you're winging it, you'll need to be okay with imperfection and be comfortable "guessing and checking". This means, add a little...check the consistency. Then add more if needed.
Remember, the idea is to get food on the table with what you have, NOT worry about making it perfect.
egg substitutes
For 1 egg, you can substitute:
Flax seed - 1 tablespoon flaxseed meal + 3 tablespoon water
Psyllium husk - 1 teaspoon psyllium husk powder + 3 teaspoon water
Gelatin - 1 tablespoon grass fed gelatin + 1 tablespoon lukewarm water + 2 tablespoon hot water
Applesauce - ¼ cup unsweetened applesauce (in baking recipes)
Mashed banana - 1 ripe banana (in baking recipes)
Silken tofu - ¼ cup (in baking recipes)
Flour substitutes
If you're using flour to thicken sauces, soups, or For all purpose flour, you can substitute:
Paleo flour blend - substitute 1 for 1 with all purpose flour
Gluten free flour blend - substitute 1 for 1 with all purpose flour
Coconut flour - you'll need MUCH less. Coconut flour is very absorbent. Start with ⅓ of what the recipe calls for, and go from there.
Almond flour - substitute 1 for 1 with all purpose flour. The texture will likely be different.
Buckwheat flour - substitute 1 for 1 with all purpose flour
Oat flour - buy pre-made oat flour or blend up oats in your food processor. Substitute 1 for 1 with all purpose flour.
Cassava flour - usually 1 for 1 with all purpose flour, but the texture will likely be different. Cassava flour is a lighter texture, and absorbs more liquid.
Cornstarch - best for gravy or sauces. Use half as much as you would flour.
Arrowroot powder - best for gravy or sauces. Use half as much as you would flour.
Tapioca starch - best for gravy or sauces. Use half as much as you would flour.
Rice flour - best for gravy or sauces. Start with half as much, and see how the texture seems.
Garbanzo bean flour - in quick breads & yeast breads, you can substitute up to half the amount of all purpose flour.
I love Bob's Red Mill for these alternative flours. We have a shelf in our cupboard with a ton of their bags of alternative flour. So, if the store shelves are completely empty of flour (like mine were last week), you've got options. Check out Bob's Red Mill flours here!
Oil Substitutes
Applesauce - works best in baking recipes. Substitute 1 for 1 with oil.
Butter, lard, tallow for sauteing meat and veggies.
Water - in sauces, usually water can replace oil.
Butter substitutes
Tallow, lard, oil - for sauteing, any of these work well, substitute 1 for 1.
Oil - for baking, usually can substitute 1 for 1.
Other substitutes
Yogurt and mayonnaise can often be interchanged in sauce & dinner recipes.
Lemon juice, lime juice, and vinegar can be used in place of each other.
1 teaspoon baking powder = ¼ teaspoon baking soda + ½ teaspoon cream of tartar
Buttermilk = Milk + something acidic (like lemon juice or vinegar). Let it sit for a few minutes, then use it in your recipe.
Italian seasoning can be replaced with thyme, and oregano.
Produce Substitutions
If you have a recipe that calls for fresh produce, typically you can substitute canned or frozen (especially if it's used in a cooked recipe).
This can hold you over if you can't make it to the grocery store and you're out of fresh produce.
canned food Substitutions
For canned items like tomatoes, look for alternative forms like tomato puree or tomato paste. I'm a huge fan of using tomato paste as a base because it's the most concentrated form of tomatoes. You can always add water to thin it out.
I use tomato paste to make pizza sauce, spaghetti sauce, BBQ sauce, and chili. In fact, we exclusively use tomato paste. No tomato puree for us (and no store bough pizza sauce, pasta sauce, BBQ sauce, etc.). We make it all starting with tomato paste.
This is just an example. There's about ten kinds of canned beans. If your recipe calls for pinto beans, likely black beans would work just as well.
more ingredient substitutions?
Well...what did I miss? Let me know your favorite substitutions and I'll add it to the list. Let's make this an AWESOME resource for everybody.
Don't forget to pin this for later