Some of the links on this site may be affiliate links. This means, at no additional cost to you, I may be paid a small commission if you follow the links and make a purchase. Learn more here.
This post will walk you through how to make Dark Chocolate Almond Bark (sometimes called bark thins) in your own kitchen. This recipe is a family favorite because of its versatility and how easy it is to throw together.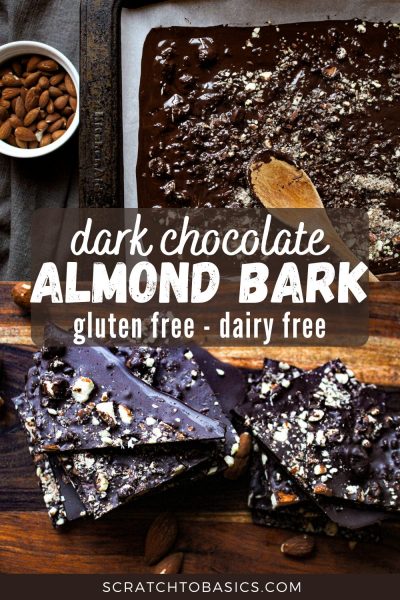 These dark chocolate bark with almonds would be great to give as a hostess or holiday gift, or (my favorite), as a way to add a bit of protein to your daily dark chocolate snack. Almonds + dark chocolate = healthy. Every day, in my book.
Related: 90 Homemade Holiday Food Gifts You'll Want To Keep For Yourself
What is dark chocolate almond bark?
It's basically a chocolate bar with almonds, often thinner than a standard chocolate bar with almonds. You can find it in the store (or on Amazon here). But my preferred way to get almond bark is by making it at home.
It's super simple, requires no fancy equipment, and is totally customizable (change out the toppings, make it as thick or thin as you want, and you can whip up a tray in minutes).
Ready to get started? Let's do it.
Tools used in This Recipe
Mixing bowl - Use what you have!
Rubber spatula - Use this to spread melted chocolate unto a parchment line cookie sheet.
Parchment paper or Cookie Sheet - This is used to put the chocolate on and let harden.
Ingredients in making Dark Chocolate Almond Bark
Dark Chocolate - One of the core ingredients of this dish.
Chopped Almonds - You can buy your almonds pre-chopped, or chop them yourself. I love the flavor of the roasted almonds.
Salt - I love the Himalayan pink salt, or sea salt. The flavor is just so much better, and it still has trace minerals inside it.
How to make Dark Chocolate Bark with Almonds
Like I said before, this chocolate almond bark recipe is super simple to make. Follow the step-by-step directions (with pictures) below.
Melt the chocolate.
Spread melted chocolate onto a parchment-lined cookie sheet.
Add toppings/fillings (this recipe uses chopped almonds & salt).
Harden the tray in the fridge or freezer then break it into pieces. Enjoy!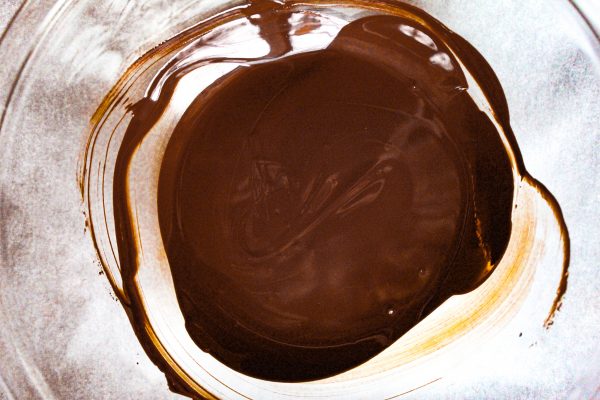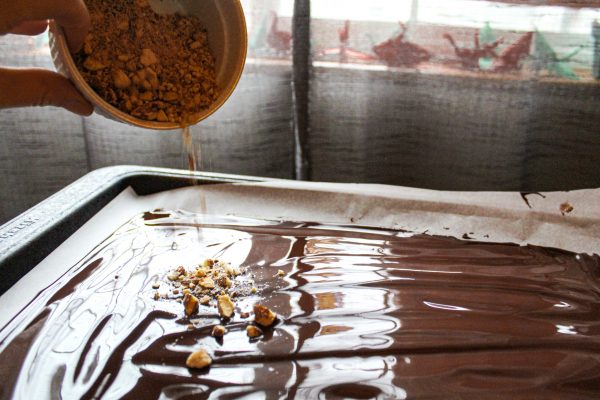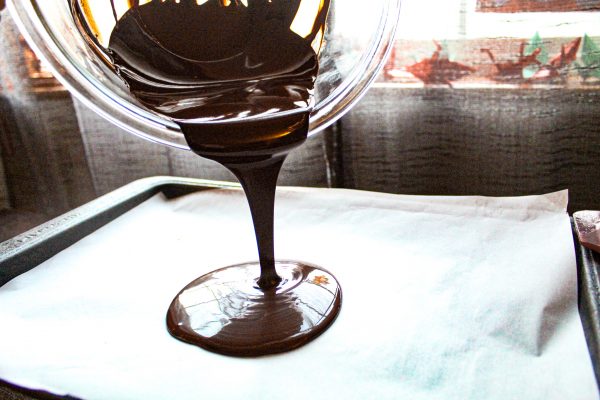 How thick should I make it?
If you spread the chocolate TOO thin (like paper thin) it might crumble when you pick it up. I like anywhere between ⅛" to ¼". The thicker it is, the longer it will take to harden.
Recipe Modification Ideas & Ingredient Substitutions
Chocolate: I like to use really dark chocolate in my recipes (this brand is my all-time favorite). If you prefer milk chocolate, or even white chocolate - use what you like.
Roasted Almonds (Topping): There are so many options for toppings. This specific recipe uses almonds and salt, but there are so many options.
Here are a few ideas:
Roasted almond & sea salt (this recipe)
Orange peel
Peanuts
Dried cranberries
Pistachios
Peppermint

Pumpkin seeds

Candied ginger
Peanuts with peanut butter swirled into the chocolate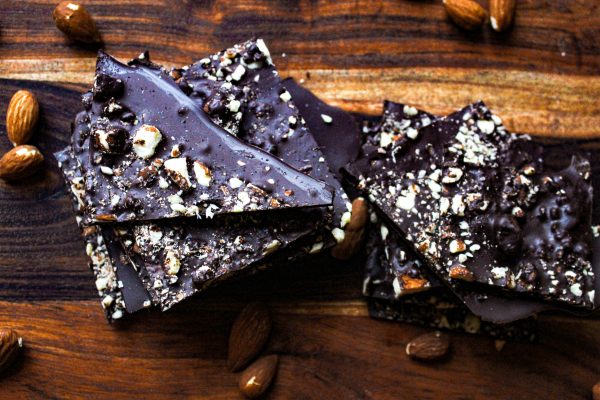 FAQ & Recipe Tips
What are the ingredients of almond bark?
Most store-bought almond bark contains vegetable oil, sugar, flavoring, and coloring. In this recipe, we only used dark chocolate, roasted almonds, and salt; these are more delicious and definitely healthier without those unwanted ingredients you get from store-bought ones.
What is chocolate almond bark used for?
This dark chocolate bark with almonds is ideal as a hostess or holiday present, or (my personal favorite) as a yummy and healthy snack.
Is this dark chocolate almond bark gluten free?
Yes! As long as you use gluten free chocolate and gluten free toppings, you'll have gluten free dark chocolate almond bark. Check the ingredient label on any store bought almond bark you find to make sure it meets your criteria.
Is this dark chocolate almond bark dairy free?
You can make dairy-free dark chocolate almond bark as long as you use dairy-free chocolate and dairy-free toppings. There are a couple dairy free chocolate bars I like to use. I like Hu Chocolate or Enjoy Life Chocolate Bars.
Make ahead & storage tips
You can definitely make this ahead of when you want it, and store it in the fridge or freezer. It should also keep at room temperature for a few days, but if you make it in the summer...it might get soft and melty on you (depending on the temp of the room).
Related Recipes
Here are a few other recipes you might end up loving as much as I do...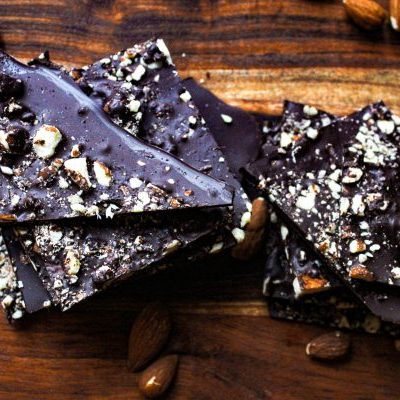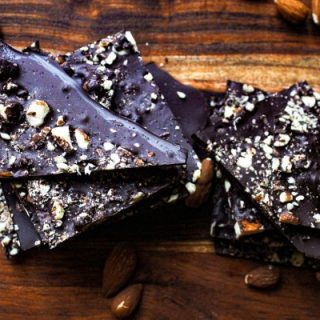 Dark Chocolate Almond Bark
Additional Time:
20 minutes
This recipe for dark chocolate almond bark is fast, easy, and is so delicious!
Ingredients
6 oz dark chocolate
½ cup roasted almonds, chopped
Pinch of salt
Instructions
Break up your chocolate bar into pieces & melt it (in a double boiler or in the microwave). Stir occasionally so the chocolate doesn't burn.
Pour the melted chocolate onto a parchment lined cookie sheet
Add chopped almonds & spread evenly over the top of the chocolate. Press into the chocolate & add a pinch or two of salt over the top - distributed evenly.
Place the cookie sheet in the fridge for 15 minutes or the freezer for 5 minutes to harden.
Take it out and cut with a knife, or break with your hands into pieces.
Store in an airtight container in the fridge, freezer, or on the counter.
Save This For Later on Pinterest