Some of the links on this site may be affiliate links. This means, at no additional cost to you, I may be paid a small commission if you follow the links and make a purchase. Learn more here.
Looking for a gluten free Pad Thai recipe without the sugar spike that comes with it? You've found it! This chicken Pad Thai recipe with carrot noodles is Paleo, gluten free, and dairy free.
And while the take-out joint on the corner likely makes their sauce with refined sugar and rice noodles that'll give you a big sugar spike, this one won't. Make it in 30 minutes for a weeknight dinner, or use it for lunches for the week.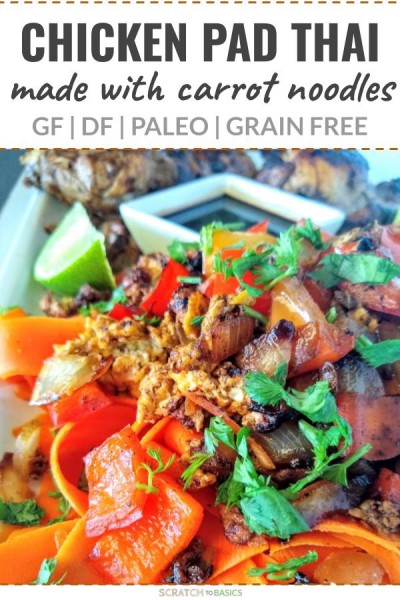 Ohhhhh Pad Thai. It's a staple in every Thai restaurant. Sometimes it's good, sometimes...not so much. But when it's good...YUM. It's good.
We used to make Pad Thai years ago, before we transitioned to a new style of eating (lower carb, no refined sugar, no grains).
And now that we're eating a little different, we just make the Pad Thai a little different. Same amazing flavor, just without the rice noodles and refined sugar.
Tools Needed to Make This Chicken Pad Thai Recipe
Ingredients to Make This Recipe
Chicken thighs - Juicier and packed with more flavor than chicken breasts.
Veggies (Carrots , Onion, diced , Bell peppers, diced) - Use whatever veggies you have on hand for your chicken pad thai.
Eggs - You may not have known that pad thai has scrambled egg in it, but it does.
Water - The sauce will take shape with water.
Tamarind paste - If you can't find this in your local grocery store, Amazon sells it. Make sure to find pure tamarind paste with no added sugar, like this kind. Tamarind is an African tree that produces pods with a brown pulp that is traditionally used in Pad Thai. It has a distinct tart taste that makes it taste so good!
Fish sauce - It gives the sauce a distinct, pronounced savory flavor.
Honey - Adds sweetness to your gluten free pad thai.
Lime juice - It adds a lovely touch of sour flavor to the Pad Thai to counterbalance the sweetness.
Coconut aminos -We use coconut aminos instead of soy sauce in this recipe. If you're having a hard time finding this in your local store, Amazon sells it. You can use soy sauce in a pinch. It'll taste close to the same, but a little saltier.
Cilantro for garnish (optional)
Limes for serving (optional)
How to make Gluten Free Pad Thai
Here's your step-by-step walk through for how to make your gluten free & Paleo pad thai recipe.
Step 1: Make the gluten free pad Thai sauce and the get your carrot noodles ready
To make the pad thai sauce, add all the ingredients in a jar or bowl and stir to combine. To make the carrot noodles, use a basic peeler and peel, peel, peel.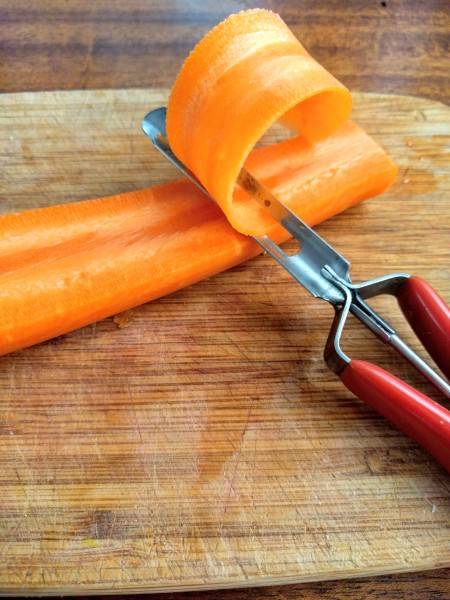 Step 2: Toss the Chicken in A little sauce
I LOVE chicken thighs. They're juicy and packed with more flavor than chicken breasts (plus they're cheaper). Toss your chicken thighs with 1 tablespoon of the sauce.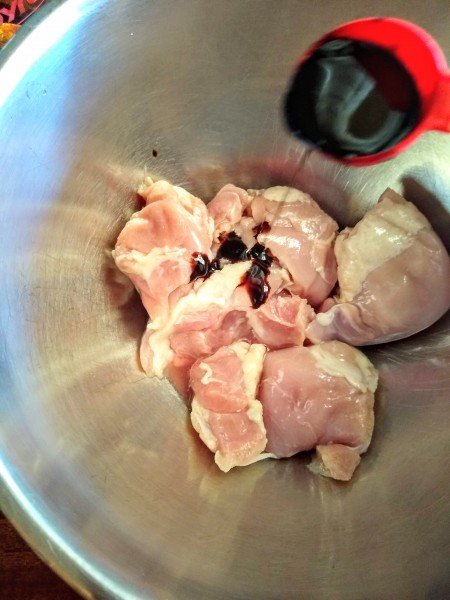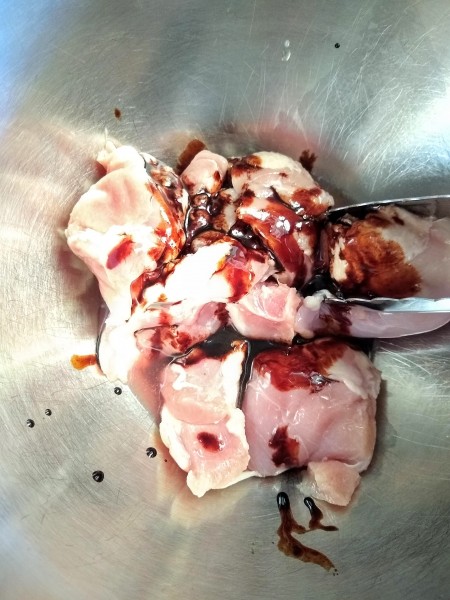 Step 3: Cook the chicken and onion
Cook the chicken in your pan (we use a cast iron and love it) on medium heat. Flip the chicken after 3-5 minutes. When you flip the chicken, add the onions.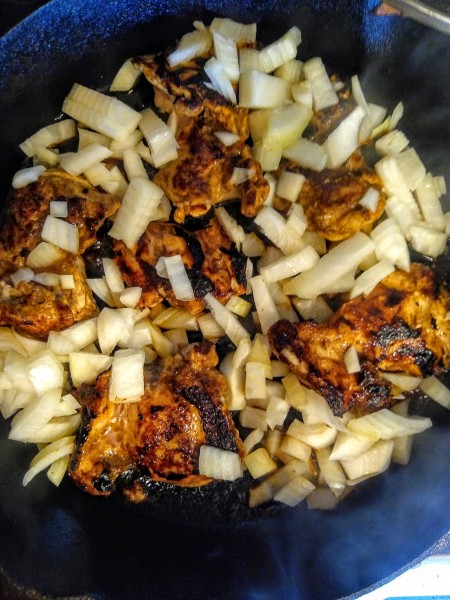 Step 4: Cook the peppers
When the chicken is cooked (according to internal temperature at 165 degrees (F)), remove the chicken from the pan and add the peppers.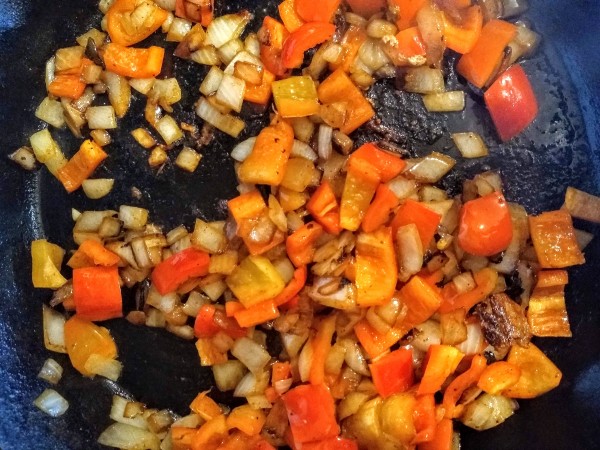 Step 5: Scramble the egg
When the peppers are done cooking, it's time to cook the egg. The best way to scramble the egg is to just scoot your veggies to the side and cook the eggs on one half.
This way you don't dirty an extra pan, and the eggs get to soak up all that great flavor that's sticking to the bottom of the pan.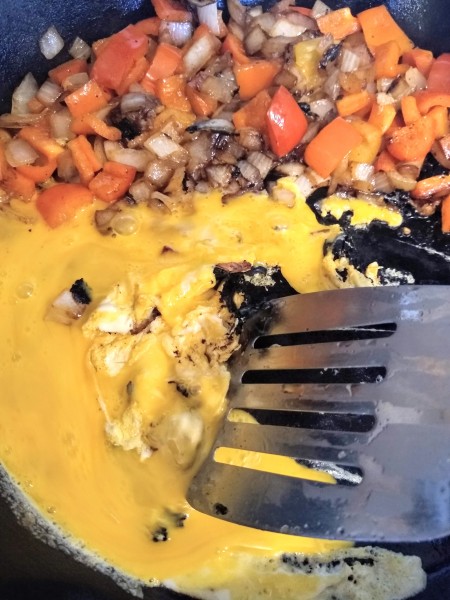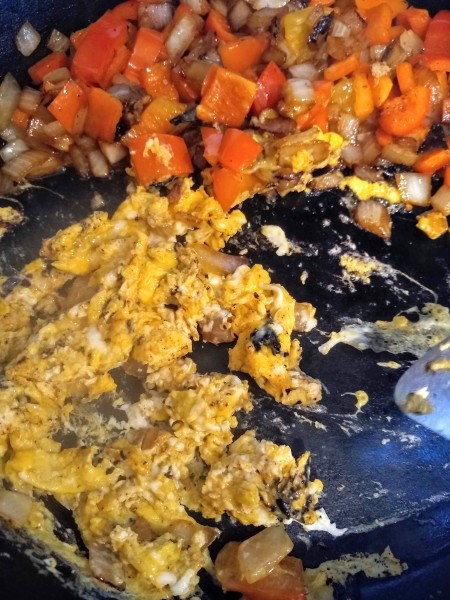 Step 6: Add the pad thai sauce and the carrot noodles
Almost done! Stir the egg into the veggies and add 3 tablespoon of the sauce, along with 3 tablespoon of water to the pan. Add the carrot noodles to the top of the veggies and put the lid on for 3-5 minutes to steam the carrot noodles.
Cook until the carrot noodles are how you like them. Personally, I like them when the crunch is gone, but they aren't soggy.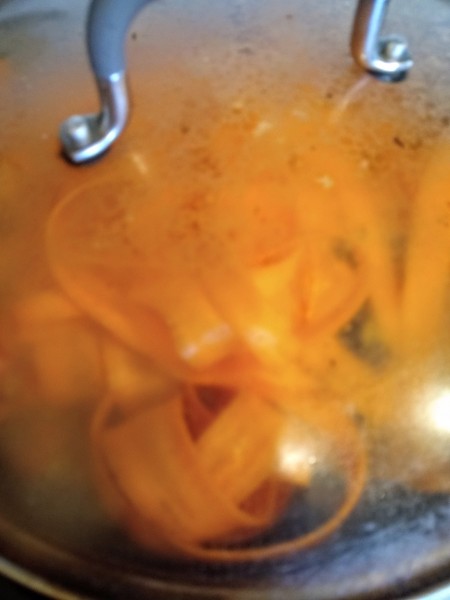 Step 7: Dish up and serve
Serve your meal with the remaining sauce for any sauce lovers at the table.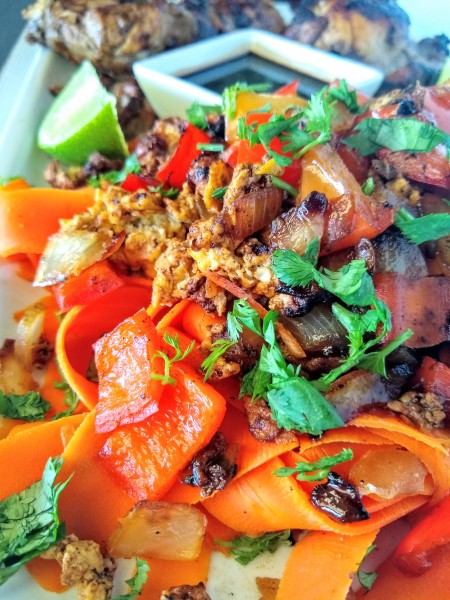 FAQ
Is pad thai gluten free?
There are gluten-free variations of the pad thai dish, but not all of them are - especially is soy sauce is used (many soy sauces have wheat in them). When you make it at home with this recipe, you don't need to worry about your health eating this chicken pad thai because it exclusively contains gluten-free components.
Is Pad thai gluten free at restaurants?
Probably not. They most likely will use soy sauce (which often has gluten in it) to make the sauce. Be careful because even if they say it is gluten free, they might not actually know what that means. I had a LONG conversation one time with the waiter at a restaurant about how soy sauce actually has gluten in it. He ended up telling me, "nothing we have is gluten free then".
Is pad thai gluten and dairy free?
Pad Thai is naturally dairy free, but is most likely not gluten free. Even though rice noodles are gluten-free, oyster sauce, or soy sauce in some Pad Thai sauces may contain gluten. If you make Pad Thai at home, make sure to use sauces that don't contain gluten.
Are rice noodles gluten free?
Typically, Pad Thai is made with rice noodles, which ARE gluten free. This recipe gives a boost of nutrition by using carrot noodles instead. If you'd prefer to use the standard rice noodles, go for it!
Related Recipes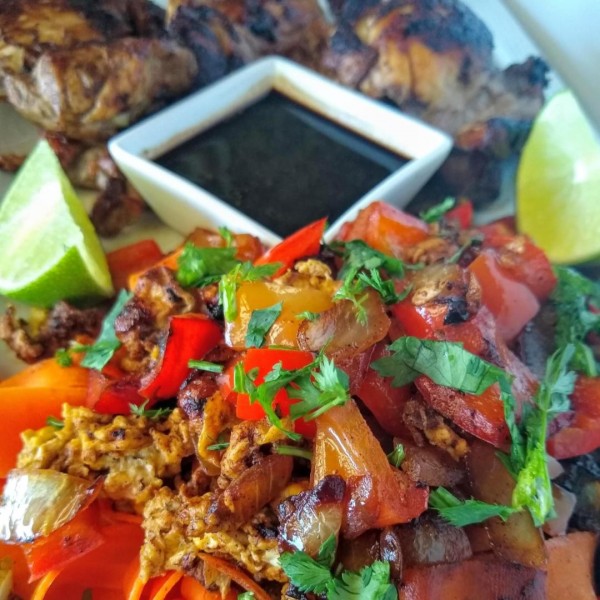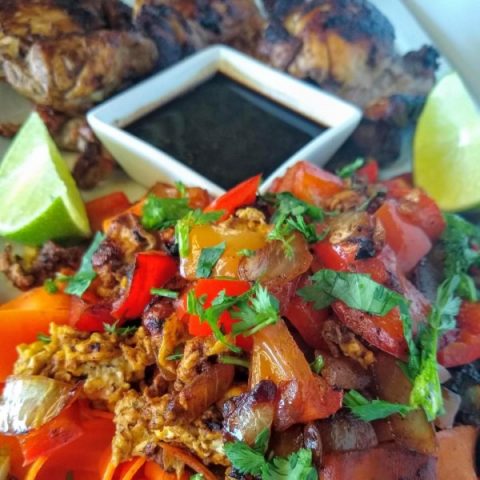 Paleo Chicken Pad Thai with Carrot Noodles
A delicious chicken Pad Thai without refined sugar or soy and with carrot noodles. A crowd pleaser everyone will love.
Ingredients
1 lb chicken thighs
4 medium carrots
1 medium onion, diced
2 bell peppers, diced
4 eggs
3 tablespoon water
cilantro for garnish (optional)
limes for serving (optional)
Sauce
2 tablespoon tamarind
1 teaspoon fish sauce
1 tablespoon honey
1 tablespoon lime juice
1 tablespoon coconut aminos
Instructions
Make the sauce by combining all the sauce ingredients in a jar or bowl
Peel the carrot noodles (using a basic peeler, just peel peel peel and each peel is a carrot noodle).
Chop the onions and peppers
Toss the chicken and 1 tablespoon of the sauce in a mixing bowl.
Cook the chicken thighs on medium heat for 3-5 minutes and then flip them
When you flip the chicken thighs, add the onions to the pan.
Cook the chicken thighs until cooked. When they're cooked through, remove the chicken from the pan and add the peppers. If there's a lot of liquid from the chicken, let it cook off while you cook the peppers.
Cook for 3-5 minutes until the peppers and onions are cooked.
Scoot the veggies to one half of the pan and scramble the eggs in the other half. When the eggs are cooked, mix everything together
Add 3 tablespoon of sauce and 3 tablespoon of water, top the veggies with the carrot noodles and cover the pan for 3-5 minutes until the carrot noodles are slightly soft (but not mushy).
Top with fresh cilantro and a lime wedge (optional).
Nutrition Information:
Yield:

4
Serving Size:

1
Amount Per Serving:
Calories:

407
Total Fat:

21g
Saturated Fat:

6g
Trans Fat:

0g
Unsaturated Fat:

14g
Cholesterol:

332mg
Sodium:

628mg
Carbohydrates:

22g
Fiber:

4g
Sugar:

13g
Protein:

35g