Some of the links on this site may be affiliate links. This means, at no additional cost to you, I may be paid a small commission if you follow the links and make a purchase. Learn more here.
If you're looking for a frittata recipe that's dairy free, you've got to try this one! I use broccoli, mushrooms and brussels sprouts in this dairy free frittata and provide tips on substituting for what you have on hand. Your whole family is going to love this healthy veggie loaded frittata for breakfast this week!
What's the difference between a quiche and frittata? Well, a frittata is usually made without a crust. It's cooked on the stove first and then finished in the oven, whereas a quiche is usually made with a crust and it usually has a lot of cream in it. It's usually baked completely in the oven.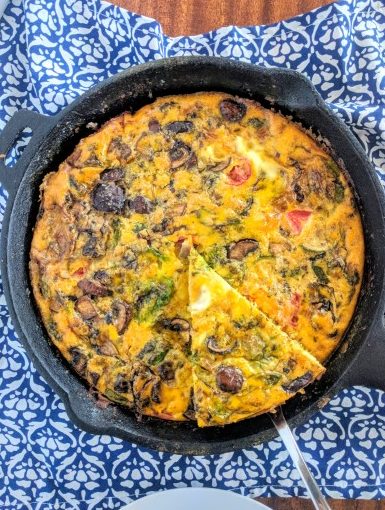 Here's what you'll need to make it:
Eggs: This recipe uses one dozen eggs - use the freshest you can find
Non-Dairy Milk: My go-to is canned coconut milk, but use your favorite dairy free milk (I recommend unsweetened, unflavored - whichever kind you use). I've heard of some people using broth, but I haven't personally tried this.
Meat: Bacon, ham, or sausage (optional)
Veggies: Cooked and seasoned veggies: mushrooms, brussels sprouts, broccoli, corn, greens, whatever you have on hand
Salt
How do you make a dairy free frittata?
To make a dairy free frittata, you follow the same process that you do when making a normal frittata.
First, you'll mix the eggs with your non-dairy milk. Once the eggs and non-dairy milk are mixed up you can start cooking the veggies.
Sauté your veggies in your cast iron until cooked through. I usually end up with about 2-3 cups of cooked veggies. You don't need to worry about measuring though. I like to cover the bottom of the pan and I usually try to get 2-3 different veggies in it.
Here are a few combinations of veggies that would taste great together in your dairy free frittata:
broccoli, mushrooms, brussels sprouts
zucchini, cherry tomatoes, spinach, onion
kale, sweet potatoes, corn
asparagus, red bell pepper, mushroom
roasted garlic, semi-dried tomatoes, broccoli
Oh, and you can easily add bacon or ham to any of these flavor combinations. In these pictures, I use broccoli, mushrooms, and brussels sprouts for my veggies. But you can use whatever you have on hand.
Once the veggies are cooked, put them in the bottom of your cast iron skillet and pour the egg mixture over the top.
If you're new to using cast iron pans, here's a three piece set with a small, medium and large option. We LOVE our cast iron pans and don't use any other frying pan. Read 11 Reasons To Get A Cast Iron TODAY to figure out if you should start using cast iron pans in your kitchen.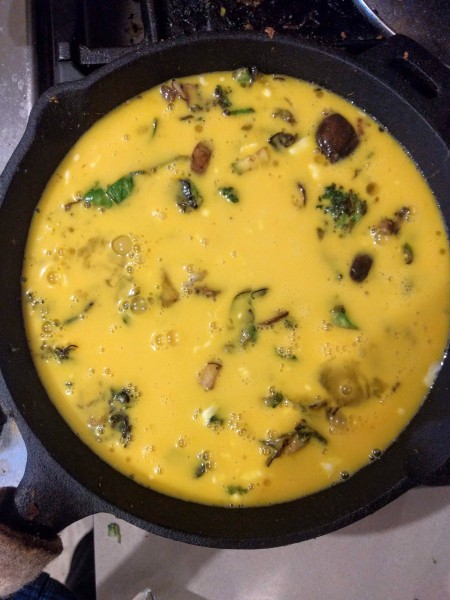 The cast iron will be hot from cooking your veggies, so the egg mixture will immediately start cooking when you pour it in. I typically put it in the oven right away. If you'd like, you can let it cook on the stove for a couple minutes until the edges start to set and then put it in the oven.
Transfer the pan to your 350 (F) degree oven and cook.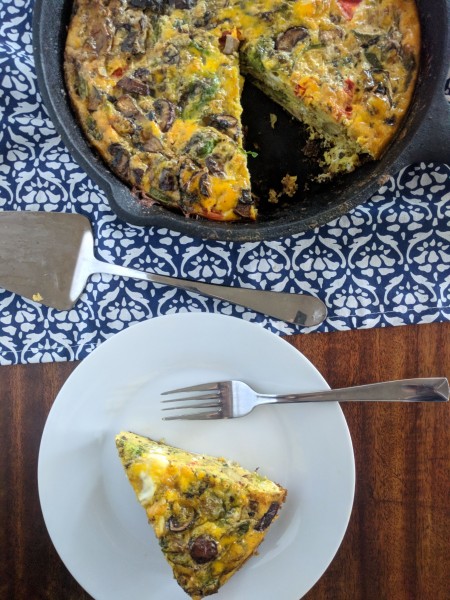 Recipe notes & tips
If you're using a smaller cast iron pan (8"), bake it in the oven for 25-35 minutes. If you're using a bigger cast iron pan (10'-12"), the frittata will cook faster. Check it around 10-15 minutes.
You'll know it's done because the center is set and slightly firm. You can jiggle the pan a bit and see if the middle is wiggly, or if it's set.
Be careful when you take the pan out of the oven, the pan will be very hot. We use leather handle protectors like this one.
How to store dairy free frittata leftovers
Can I freeze frittata?
Yes! You can freeze frittata. Just slice it and freeze the slices individually. Take a slice out the night before you need it and set it on a paper towel lined plate, or in a paper towel lined container. The paper towel will absorb any liquid from defrosting. It should be thawed and ready to eat by breakfast.
How long will it keep in the fridge?
I like to make a frittata at the beginning of the week, slice it, and eat it throughout the week. It should last about a week in the fridge, so if you're into meal prep, you can get your breakfast made for the whole week with this recipe.
What to serve with a dairy free frittata
This frittata is a high protein, low carb breakfast - complete with a variety of veggies. Really, it's my kind of breakfast (I don't do well with a high carb meal first thing in the morning). You can eat it on its own, or with a side dish.
Here are some tasty suggestions of dishes to serve with your frittata (or to use as a topping):
Toppings: fermented vegetables, salsa, hot sauce, ketchup, avocados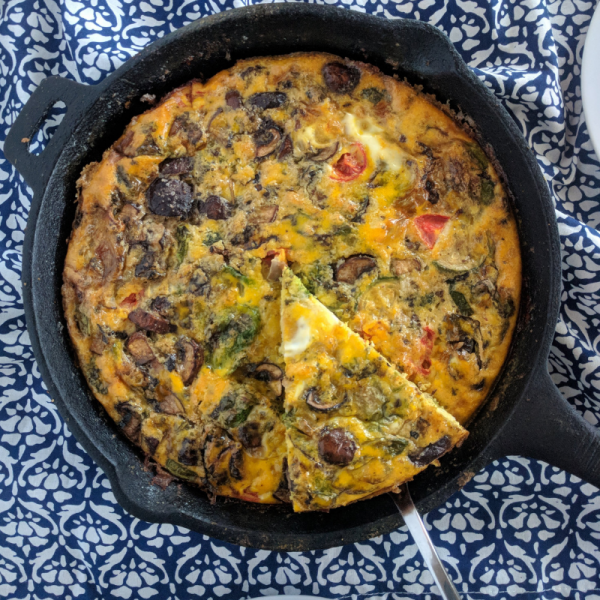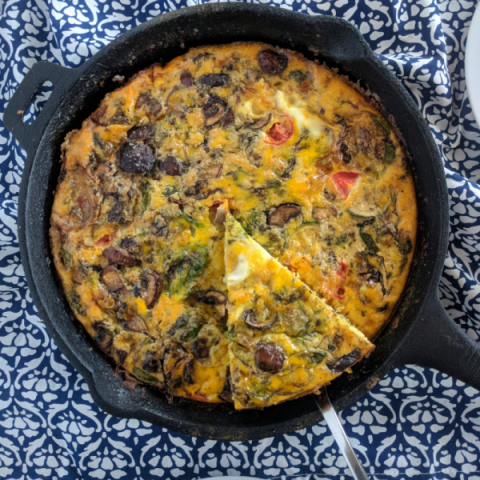 Broccoli, Mushroom, and Brussels Sprouts Cast Iron Frittata
A delicious frittata made with broccoli, mushrooms, and brussels sprouts, but can be made with any veggies (and meat) that you have on hand.
Ingredients
2-3 cups cooked filling (broccoli, mushroom, brussels sprouts for this version)
12 eggs
½ cup coconut milk
½ tsp salt
cheese (optional)
Instructions
Preheat oven to 350 (F)
Cook meat and veggies in your cast iron pan.
While the veggies are cooking, whisk eggs with coconut milk and salt until combined.
When veggies and meat are cooked, pour egg mixture over them.
If you're using cheese, sprinkle it on top now.
Put the cast iron in the oven and cook until the middle is set and slightly firm, about 25-35 minutes.
Notes
Substitute the veggies for whatever you prefer.
Nutrition Information:
Yield:

8
Serving Size:

1 slice
Amount Per Serving:
Calories:

149
Total Fat:

11g
Saturated Fat:

6g
Trans Fat:

0g
Unsaturated Fat:

5g
Cholesterol:

282mg
Sodium:

277mg
Carbohydrates:

1g
Fiber:

0g
Sugar:

0g
Protein:

11g
Don't forget to share on Pinterest!