Some of the links on this site may be affiliate links. This means, at no additional cost to you, I may be paid a small commission if you follow the links and make a purchase. Learn more here.
This frittata recipe is loaded with veggies and packed with flavor. Use this formula to substitute your own vegetables, or use broccoli, mushrooms, and brussels sprouts I did. Either way, cooking a frittata in a cast iron is a simple and healthy breakfast (or dinner) the whole family will enjoy!
What makes a frittata a frittata?
If you're wondering what makes a frittata different than a quiche, you're not alone. I've been making this egg dish in my cast iron pan and calling it a frittata. Then I did a little research and learned a few things.
A quiche is usually made with a crust (although you can make a crustless quiche), and it usually has a lot of cream in it. It's baked in the oven.
A frittata is usually made without a crust, with little or no cream. It's cooked on the stove first and then finished in the oven.
Related: Blackberry Almond Flour Pancakes
Just a Name
A name is just a name, though, in my opinion. We could call it a frittata or a crustless quiche. It's got a little of each going on.
This egg dish doesn't have a crust -> frittata or a crustless quiche
It has a little cream in the form of coconut milk -> frittata
I only cook it for about a minute on the stove and then it goes into the oven -> frittata
I've also used a pie pan and cooked it 100% in the oven. The only real difference is it will take longer in the pie pan -> crustless quiche
I'll stick with calling it a frittata, even though I only barely cook it on the stove.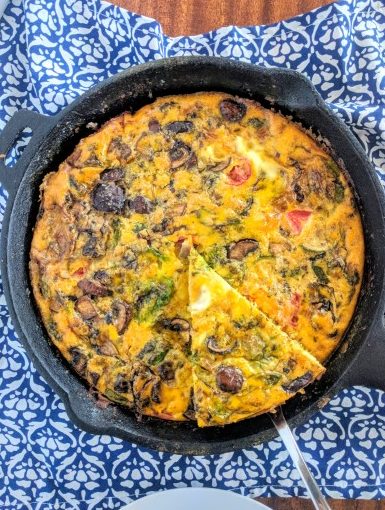 What goes in this frittata?
Eggs: This recipe uses one dozen eggs.
Milk: My go-to is coconut milk. Whole cow's milk would work well, too.
Meat: Bacon, ham, or sausage (optional).
Cooked and seasoned veggies: mushrooms, brussels sprouts, broccoli, corn, greens, whatever you have on hand.
Salt
Cheese: optional
How do you make a frittata?
Preheat the Oven
First, preheat your oven to 350 (F).
Get out your Cast Iron
Next, get your cast iron out. The pictures in this post are of our smaller cast iron. This makes a thicker frittata and it will need to cook a bit longer in the oven. Using the larger cast iron means less time in the oven, and a thinner frittata.
If you're new to using cast iron pans, here's a three piece set with a small, medium and large option. We LOVE our cast iron pans and don't use any other frying pan.
Related: 11 Reasons To Get A Cast Iron TODAY
Cook your veggies and meat
If you're using meat, cook that now. If you're using a cured meat like bacon or sausage, wait to season the veggies until you taste it after it's all been combined. We don't want an over-salted frittata!
Saute your veggies in your cast iron until cooked through (in the meat juices if you're using meat). I usually end up with about 2-3 cups of cooked veggies. You don't need to worry about measuring though. I like to cover the bottom of the pan and I usually try to get 2-3 different veggies in it.
In this round I used broccoli, mushrooms, and brussels sprouts. But you can use whatever you have on hand. Tomatoes add a nice sweetness.
Add the Egg Mixture
While the veggies are cooking, crack your eggs into a large bowl, add the coconut milk and salt, and whisk until it's well blended.
Once the veggies are cooked, pour the egg mixture over the top.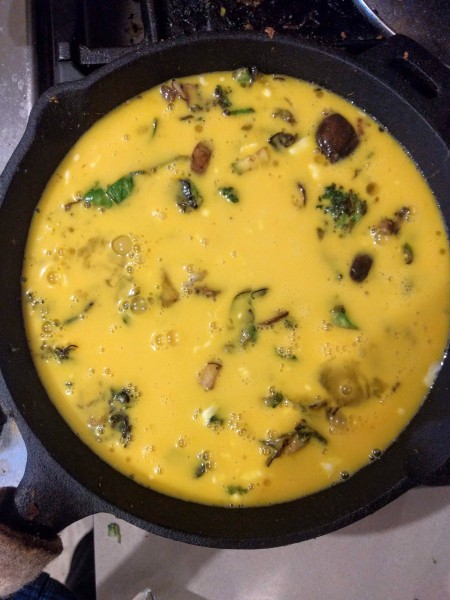 If you're adding cheese, you can sprinkle it on top now.
Bake the Frittata
The cast iron will be hot, so the egg mixture will immediately start cooking when you pour it in. I typically just put it in the oven right away. If you'd like, you can let it cook on the stove for a couple minutes until the edges start to set and then put it in the oven.
Transfer the pan to your 350 (F) degree oven and cook.
Cooking times:
If you're using a smaller cast iron with this recipe, bake it for 25-35 minutes.
If you're using a bigger cast iron pan, the frittata will cook faster. Check it around 10-15 minutes.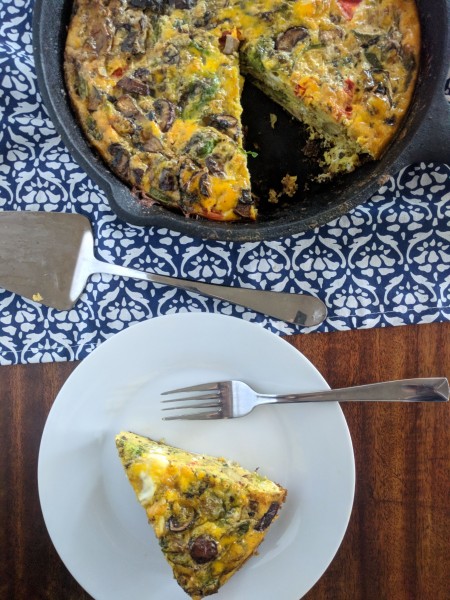 How do you know when a frittata is done?
Cook the frittata in the oven until the center is set and slightly firm. This will tell you the egg is cooked through.
Be careful when you take it out of the oven, the pan will be very hot. We use leather handle protectors like this one.
Can I freeze frittata?
Yes! You can freeze frittata. Just slice it and freeze. Take a slice out the night before you need it and set it on a paper towel lined plate, or in a paper towel lined container. The paper towel will absorb any liquid from defrosting. It should be thawed and ready to eat by breakfast.
This is a really healthy breakfast that you can make ahead for the whole week.
Topping Ideas
Here are some tasty topping suggestions:
fermented vegetables
salsa
hot sauce
ketchup
some form of avocados (guacamole, pesto, etc.)
Comments
I'd love to hear from you in the comments below. Did you try this recipe? What did you think?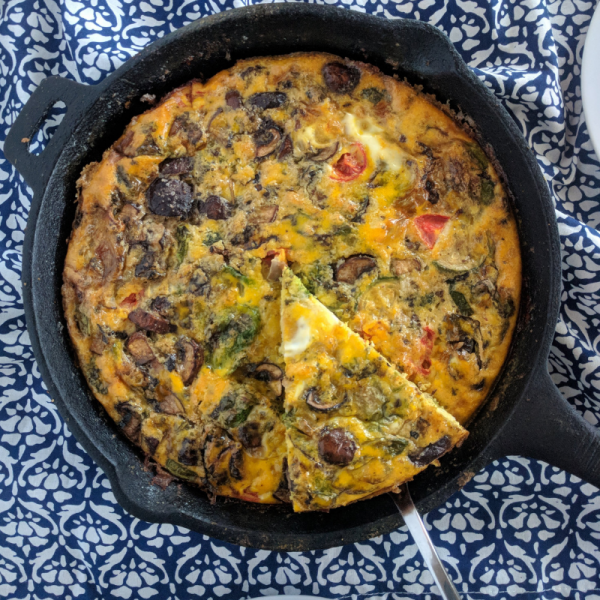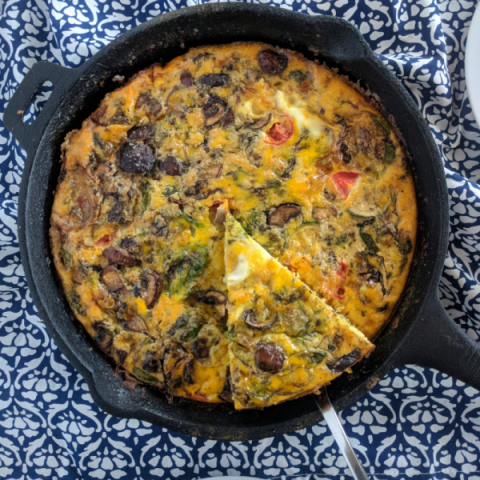 Broccoli, Mushroom, and Brussels Sprouts Cast Iron Frittata
A delicious frittata made with broccoli, mushrooms, and brussels sprouts, but can be made with any veggies (and meat) that you have on hand.
Ingredients
2-3 cups cooked filling (broccoli, mushroom, brussels sprouts for this version)
12 eggs
½ cup coconut milk
½ tsp salt
cheese (optional)
Instructions
Preheat oven to 350 (F)
Cook meat and veggies in your cast iron pan.
While the veggies are cooking, whisk eggs with coconut milk and salt until combined.
When veggies and meat are cooked, pour egg mixture over them.
If you're using cheese, sprinkle it on top now.
Put the cast iron in the oven and cook until the middle is set and slightly firm, about 25-35 minutes.
Notes
Substitute the veggies for whatever you prefer.
Nutrition Information:
Yield:

8
Serving Size:

1 slice
Amount Per Serving:
Calories:

149
Total Fat:

11g
Saturated Fat:

6g
Trans Fat:

0g
Unsaturated Fat:

5g
Cholesterol:

282mg
Sodium:

277mg
Carbohydrates:

1g
Fiber:

0g
Sugar:

0g
Protein:

11g
Don't forget to share on Pinterest!