Some of the links on this site may be affiliate links. This means, at no additional cost to you, I may be paid a small commission if you follow the links and make a purchase. Learn more here.
Slow cookers. Amazing, right? Dump everything in there in the morning. And by dinner time, your food is ready to eat. The flavors in this Crockpot Paleo Chili come together beautifully while they simmer in the slow cooker.
Most chili has beans...lots of beans. But not this one. This is a bean free Paleo chili.
Even if you're not following a bean-free or Paleo diet you'll love the flavor of this simple and healthy chili (and the ease that it comes together).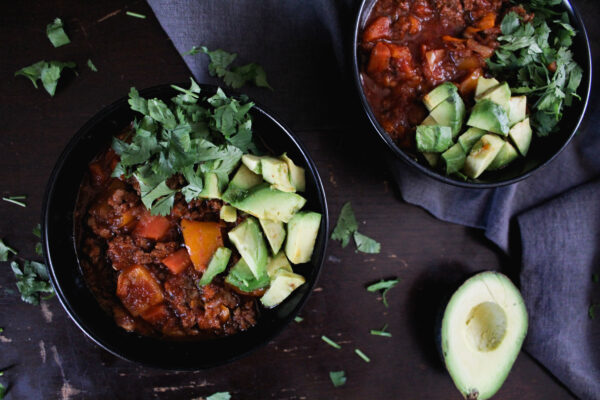 And, of course, you can always add a can of beans if you want them in there :).
Tools Needed to Make This Paleo Chili without beans
Ingredients Needed to Make Whole30 Chili
Ground beef - The main protein in this chili recipe is beef. Feel free to swap out ground turkey or ground chicken for the ground beef if you prefer.
Bacon - The bacon is an added flavor boost. You can omit it if you're in a pinch, but I highly recommend keeping it in.
Veggies: bell peppers, onion, carrots - This paleo chili has several veggies in it. I love the bell pepper, onion, carrot combo.
Spices & flavor - Tomato paste, granulated garlic (or garlic powder), cumin, chili powder, parsley, dill, and salt.
How to Make This Paleo Chili
There are three steps to making this recipe.
Cook the bacon: (tip: cook your bacon on a sheet pan in the oven (400 F) for 10-20 minutes...it won't splatter all over your stove). If you put the bacon into the slow cooker raw, the bacon will turn mushy instead of holding its texture.
Chop your veggies:
Cook in your crock pot: Turn the crock pot on, throw everything in there, and let it cook for 5-6 hours on low.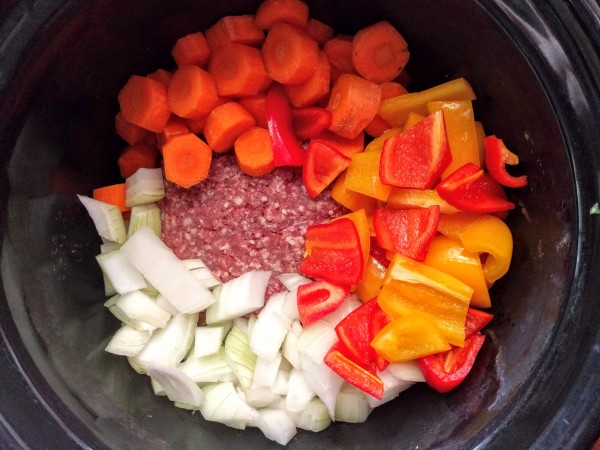 This chili only takes 15 minutes of hands-on time, and the rest is just passive crock pot cooking.
FAQ & Recipe Tips
Will any Slow Cooker work?
In a 4 quart slow cooker, this will fill the bowl about half way. So as long as your slow cooker can hold 2 quarts or more, it will work!
My crock pot has a timer on it, which is handy if you won't be home all day to turn it off when it's done. We've recently gotten rid of our slow cooker and instead opted for an instant pot (with a slow cook option).
What is a good substitute for beef in chili?
You can use ground chicken, ground pork, ground chicken, ground turkey, or ground bison. Use what you like best!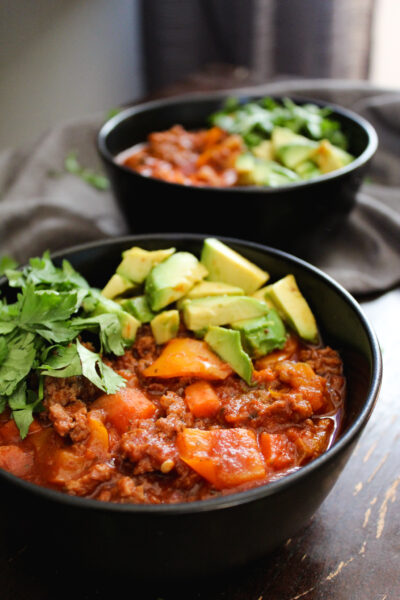 Do I have to cook the bacon first?
As I was researching slow-cooked chili, I learned that if you throw the bacon in raw, it will probably get mushy in the slow cooking process. So I cooked the bacon first so it keeps its texture. If you don't have bacon or don't want to use it, you obviously don't HAVE to use it. Make this how you like it.
What if I don't have all the ingredients?
I made this chili with simple ingredients, so I think you'll have everything you need already in your cupboard. But if you don't, try to make do with what you have. If you want more spice to your chili, add some cayenne pepper or your favorite hot sauce.
If you've got other vegetables (like sweet potatoes) go ahead and add them in, too.
What can I put in chili instead of beans?
This chili stands on its own using ground beef and bacon (without any beans at all), as you'll see once you make it (and taste it).
How do you thicken whole30 chili?
This chili is thick and delicious - the tomato paste keeps it thick. If you're hoping to thicken your chili even more, you can let it simmer uncovered, stirring occasionally. If you're following a Paleo or Whole30 diet and want to thicken it, you can use something like arrowroot or tapioca starch.
What chili does not have beans?
Beans are not used in an authentic Texas chili (also known as chili with carne). The original form of this dish did not include beans, onions, or tomatoes. Did you know that the original traditional chili which dates back to the Chili Queens of San Antonio, Texas during the 1860s doesn't really include beans? I guess that makes this recipe pretty authentic then, doesn't it?
Why do people make chili without beans?
Beans are problematic for some people as they can cause digestive issues like flatulence, stomach pain, or bloating. So making a hearty winter soup like chili (without beans) is necessary for some.
Related Recipes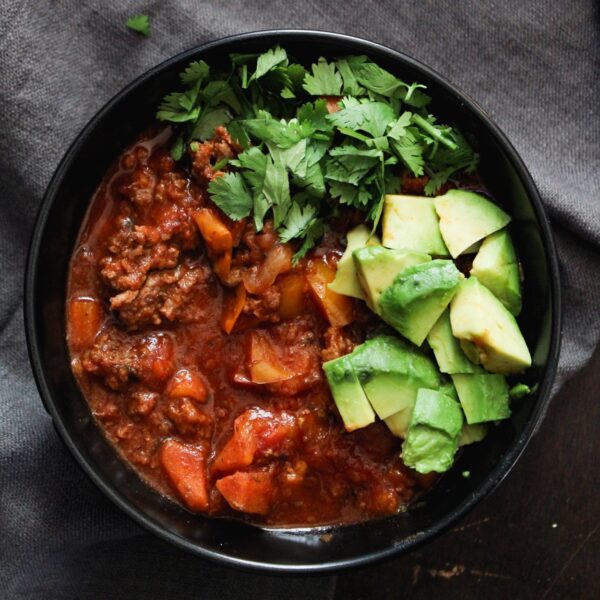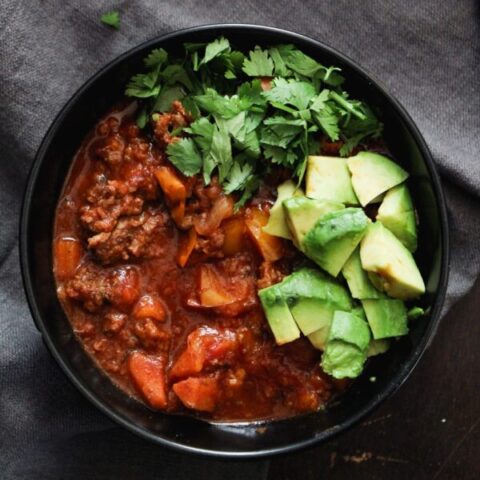 Paleo Crock Pot Chili
Total Time:
6 hours
15 minutes
A healthy and delicious Paleo crock pot chili to make tonight!
Ingredients
Meat:
1 lb ground beef
8 oz bacon
Veggies:
8 oz bell peppers
½ large yellow onion
4 medium-large carrots
Spices & Flavor:
1 cup water
6 oz tomato paste
1 teaspoon granulated garlic (or garlic powder)
2 teaspoon cumin
4 teaspoon chili powder
1 teaspoon parsley
¼ teaspoon dill
¼ teaspoon salt
 
Instructions
Cook your 8 oz of bacon (stovetop or in the oven)
Chop your 4 carrots (½ inch discs work well)
Chop and de-seed the bell peppers (8 oz). One inch strips work well.
Dice the half onion
Mix tomato paste, spices, and water in mixing bowl.
Add everything to the crock pot (raw ground beef, cooked bacon, chopped peppers, chopped carrots, chopped onion, and your tomato paste/water/spice mixture).
Turn on your crock pot and cook on low for 5-6 hours.
Taste and add salt, or hot sauce, as needed.
Enjoy!
Notes
Cooking bacon in the oven reduces grease splatter and shrinkage.
Substitute for different veggies if you'd like!
Nutrition Information:
Yield:

4
Serving Size:

1
Amount Per Serving:
Calories:

662
Total Fat:

41g
Saturated Fat:

14g
Trans Fat:

1g
Unsaturated Fat:

22g
Cholesterol:

157mg
Sodium:

1339mg
Carbohydrates:

21g
Fiber:

5g
Sugar:

9g
Protein:

53g
Save This For Later on Pinterest