Some of the links on this site may be affiliate links. This means, at no additional cost to you, I may be paid a small commission if you follow the links and make a purchase. Learn more here.
These sirloin steak sheet pan fajitas are table ready in 30 minutes with amazing flavor and easy cleanup. Try them today!
One pot meals are awesome, because there's only one pot to clean when dinner is over.
Sheet pan meals are the equally awesome. Except instead of a pot, we use a sheet pan (also known as baking sheet, or cookie sheet).
Related: 11 Mouthwatering Sheet Pan Dinners to Make Tonight
What You'll Get With This Recipe
With a sheet pan meal, or should I say with this sheet pan meal, you'll chop your veggies, put them on the sheet pan with your meat, spice it up, and stick it in the oven. Voila! Dinner will be ready for you 20 minutes later!
While it's cooking you can set the table or pour yourself a glass of wine and relax.
My goal for this recipe was to make a quick and delicious meal with easy cleanup. I wanted very few dishes to clean (who wants to do dishes all night long?) and a meal that cooked quickly.
Success!
These steak fajitas are really tasty and clean up is a breeze.
Use what you like, use what you have
I like mixing up the veggies in recipes a lot. And truth be told, I'm really bad at following recipes exactly. Do I want carrots with peppers? Or maybe onions with zucchini? I can be a little indecisive sometimes.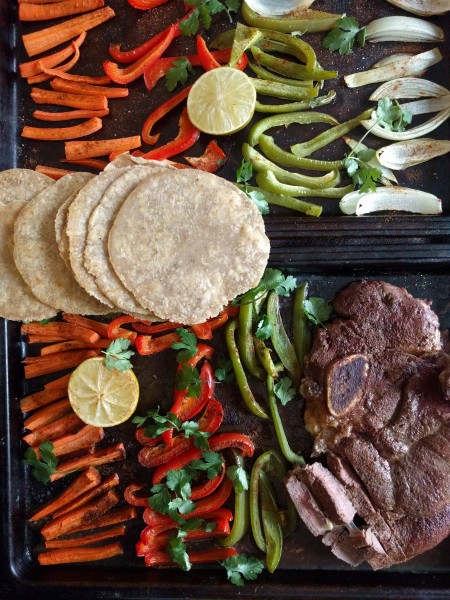 That reminds me about a funny story
I was taking one of those personality tests the other day. You know the ones where they give you two words and you're supposed to pick where you fit in the spectrum between them? Are you in the middle and neutral? Or are you on one extreme or the other?
Well one of the questions looked like this:
And I was sitting there thinking...am I decisive, or indecisive...hmm...decisive or indecisive? Then I turned to my husband and said, "do you think I'm decisive or indecisive?".
I quickly realized the humor in it, and then checked the far right indecisive mark. HAH.
Anyway, back to the recipe. You can use different veggies here depending on what you have on hand. If you have a favorite steak cut for your fajitas, go ahead and use it! I'm a firm believer in customizing recipes to what you like and what you have.
Steak Fajitas Three Ways
These fajitas can be made in a few different ways.
Fajita Salad. Get some greens, put the steak and veggies on top and you've got a salad!
Simple Fajitas. Get some tortillas (or make your own), and fill them up with the steak and veggies from the sheet pan.
Deluxe Fajitas. Make a few extra dishes (guacamole, rice, beans) to go with your steak fajitas. The extra dishes are optional, and totally up to you based on what you have time for.
Sheet Pan
No matter how you eat them, the cooking process is made super simple on a sheet pan, or in my case, two sheet pans.
Some people have the really big sheet pans, but I have the smaller ones (not the professional sheet pans). I really love the size I have because they both fit in my oven side by side, and it's awesome.
Tip: if you line your sheet pan with foil, cleanup is even easier.
Related: 24 Gluten Free & Dairy Free Sheet Pan Meals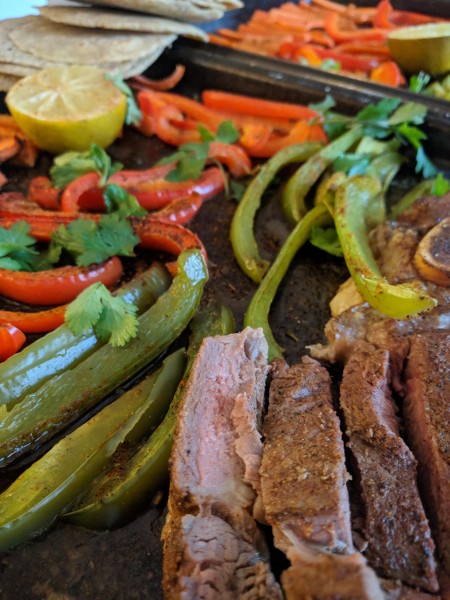 Mix Your Spices
This is an awesome spice mix to keep on hand for Mexican dishes. I've been using it in chili, enchiladas, on taco meat and in these fajitas. It's so simple to make a big batch and store it in a mason jar in the cupboard. Here are the ratios:
1 part garlic powder
2 parts cumin
4 parts chili powder
Related: 3 Ingredient DIY Taco Seasoning Packet
Chop the Veggies
The reason sheet pan recipes work is because all the veggies are cut to a thickness so that they cook around the same time as each other and the meat.
But if you leave huge pieces of carrot (that take a while to cook) put them on a tray with a thinly sliced bell pepper (doesn't take long to cook), it won't work the same.
I used bell peppers, onion, and carrots for this recipe, and my family loved the combination of flavors and colors.
I chopped the carrots pretty thin (¼" or less)
The bell peppers were somewhere between ¼" and ½"
I chopped the onion between ¼" and ½".
Related: Sheet Pan Veggie Fajitas With Cilantro Lime Sauce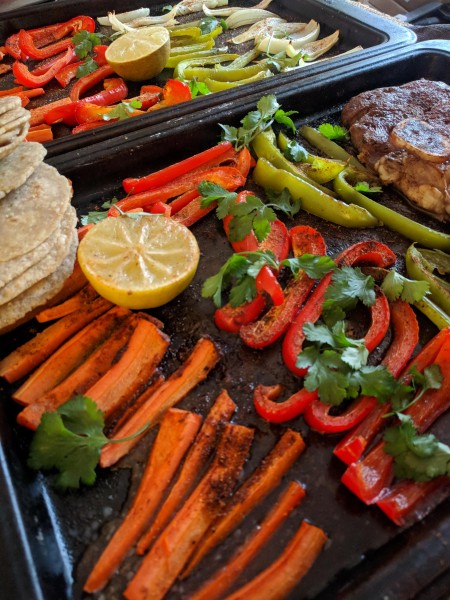 Sirloin Steak
This recipe uses sirloin steak, because it's what I had (did I mention I like flexible recipes?). I've read online that flank steak is a popular choice for fajitas. If you want to use flank steak, go ahead!
Leave the steak whole. Depending on the thickness and size of your steak, and how rare you want it, you may need to take it out before the veggies are done. This isn't all bad, because it'll give the meat time to rest before you need to cut into it.
With my sirloin steak that was about ¾" thick, and rather large, I left it in for the whole 20 minutes and it was cooked to a "medium", with a little pink in the middle.
Cook Everything On the Sheet Pan
Put the meat and veggies in an single layer on the sheet pan.
Drizzle oil and sprinkle salt over everything. Sprinkle the seasoning mix over the veggies and rub the remaining seasoning into the meat on both sides.
Optional: put the halved limes on the sheet pan before sticking it in the oven.
Cook in your 400 (F) degree oven for 15-20 minutes. Squeeze the lime juice over everything for a boost of flavor.
Eat and enjoy!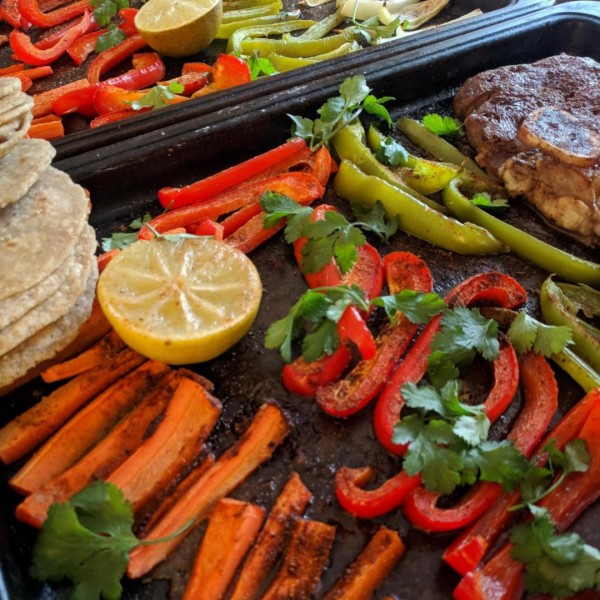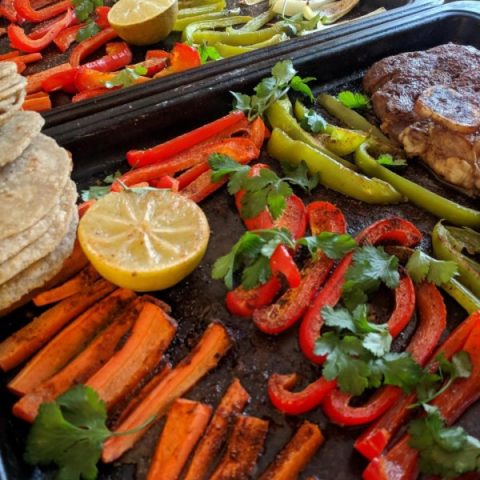 30 Minute Sirloin Steak Sheet Pan Fajitas
Ingredients
1 lb sirloin steak
2 bell peppers
½ onion
2 large carrots
2 Tbs oil
½-1 tsp salt (enough to sprinkle over veggies and meat)
4 tsp chili powder
2 tsp cumin
1 tsp garlic powder
1 lime
cilantro, for garnish (optional)
Instructions
Slice your veggies into strips – carrots about ¼″ wide, peppers and onions about between ¼″ and ½″ wide.
Preheat oven to 400 (F).
Arrange everything on your sheet pan in a single layer (or two, depending on the size you have).
Drizzle oil evenly over everything.
Sprinkle salt evenly over everything.
Mix the spices together in a small bowl and sprinkle about half the mixture over the veggies, and rub the rest into both sides of the meat.
Put the halved lime on the sheet pan, cut side down and bake with everything else for extra flavor.
Bake for 15-20 minutes. If your steaks are smaller, you'll want to pull them out earlier. Timing on the steak depends on the done-ness that you want.
Squeeze the lime juice over the cooked veggies and meat, then enjoy!
Eat the meat and veggies with tortillas or on a bed of lettuce.
Top with guacamole and cilantro (optional)
Nutrition Information:
Yield:

4
Serving Size:

1
Amount Per Serving:
Calories:

386
Total Fat:

24g
Saturated Fat:

7g
Trans Fat:

0g
Unsaturated Fat:

14g
Cholesterol:

104mg
Sodium:

449mg
Carbohydrates:

11g
Fiber:

3g
Sugar:

3g
Protein:

32g
Don't Forget to Share with Your Friends on Pinterest!