Some of the links on this site may be affiliate links. This means, at no additional cost to you, I may be paid a small commission if you follow the links and make a purchase. Learn more here.
I've made variations of this chicken bone broth soup with vegetables so many times. Each time with slightly different ingredients. And each time it's been delicious, healthy, and easy to prepare.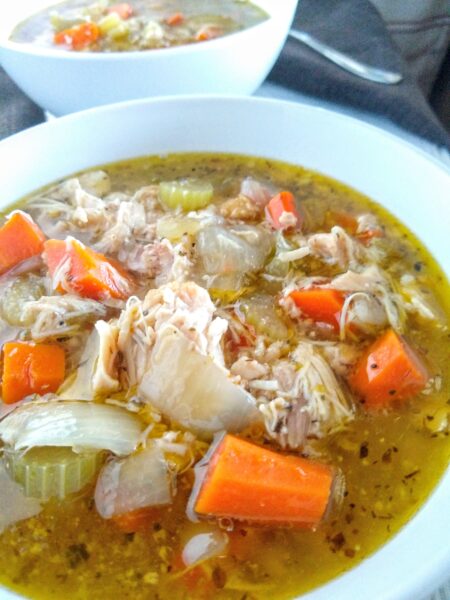 This is the best chicken and vegetable soup recipe because it is so flexible and I can just throw in what I already have in the fridge (leftover meat, leftover veggies that need to be used, and any greens I can find).
You can customize it with what you have on hand, and make it work for your specific diet (if you have one).
I like to think of a recipe (this one in particular) as a guide, because there's freedom with a guide. You can use what you like and what you have on hand. And you can adapt things along the way, based on your family's preferences.
Tools Needed to Make chicken vegetable soup recipe
Dutch oven, or big soup pot - We love using our dutch oven because, well, it's awesome. It holds a LOT of soup so I can make a double or triple batch without the pot overflowing. Plus, it can go in the oven (this is how I often make bread).
Knife & Cutting Board - Likely you have this already. I highly recommend using a knife sharpener every few months to keep your knives sharp. This one is just a few dollars and works great.
Bowl - to serve your healthy chicken bone broth soup with vegetables.
Ingredients Needed to Make Healthy Chicken Bone Broth Soup with Vegetables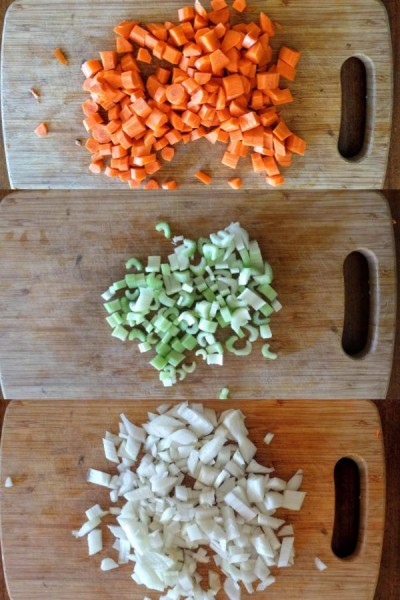 Step 1: Prep the Vegetables
Open the door to your fridge and look inside the veggie drawers. Practically anything you see can be used in this soup. Some of my favorite options are:
carrots (peeled & diced)
onion (peeled & diced)
celery (diced)
peas (add after the other veggies are fully cooked)
bell peppers (these tend to sweeten the soup, if you like that, go for it)
corn (add after the other veggies are fully cooked)
sweet potatoes (scrubbed & diced OR peeled & diced)
zucchini (diced)
To prepare the vegetables, chop them so that they're all about the same size. Then put them in the dutch oven with a little oil and a couple of hefty pinches of salt. Cook them until the vegetables have softened a little.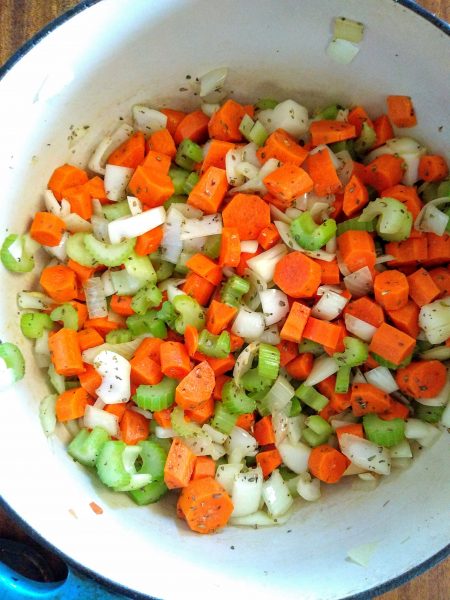 Step 2: Add Seasoning/Herbs
While the veggies are cooking, add a couple teaspoons of herbs to season the soup. I like oregano and thyme in this soup, so I usually do one teaspoon of each. Taste as you're cooking, and add more as needed.
If your family loves black pepper, add it now. My kids aren't fond of spice (much to my husband's dismay) so I use it lightly.
Step 3: Add the Bone Broth
We use our homemade bone broth for this soup. It adds so much flavor and nutrition. If you're vegan or vegetarian, vegetable broth will work just as well. And if you don't want to go through the hassle of making your own bone broth, there's a powdered form available here (use code BASICS10 for 10% off your order).
And if you'd rather just keep a bunch of cartons on hand in your pantry, my favorite shelf-stable liquid bone broth is Kettle & Fire.
Related: See my Kettle & Fire bone broth review here!
After the vegetables are cooked, pour in the bone broth so that it covers them by about an inch. Taste and season with more salt, pepper, and herbs, if needed.
Let it heat up to a simmer.
Step 4: Pause for a Taste
As you're cooking, taste frequently. This is one of my favorite parts of cooking, to be honest. I love tasting the flavors as the meal progresses.
If you're new to this taste-as-you-go method, you might be wondering how in the world do I know what taste preferences I have? Well, it takes practice and experimentation. Use recipes as a guide, and try to add something new and see how it goes.
Make cooking feel fun and free :).
This is a great time to taste the veggies, too. These last few steps don't take much time, so you want the veggies to be cooked and hopefully not mushy. Taste one to see how it's doing.
If it needs a little more time, boil it for a few minutes and taste again.
Step 5: Add the Protein
If you have cooked turkey, chicken, or sausage, this is a great time to throw it in. Alternatively, you can use cooked beans or lentils for a vegetarian option. Add your cooked protein of choice when the vegetables are cooked.
Step 6: Add Grains, Greens, Peas, and Corn (optional)
Grains are optional in this soup. I've used rice, quinoa, and noodles before and they all worked well. If you're using grains of any kind, cook them before you put them in, and add them just before you're ready to serve. That way they won't get too mushy.
For a Paleo soup, omit legumes and grains. This is also when you want to add vegetables like corn, peas, or greens.
How to Make Chicken Bone Broth Soup with Vegetables
The process is simple.
Take several different vegetables, cooked chicken, bone broth (homemade or this bone broth powder use code BASICS10 for 10% off your order), throw it in the pot and BOOM!
You're done.
It's always delicious, always hits home, and is ALWAYS so quick to put together.
I love this soup, you guys. Can you tell?
Not only does it taste great, but it's also quick and easy to prepare. Especially if you're using leftover chicken from a previous night that's all ready to go.
Okay, let's get cooking.
First, get out your dutch oven, or big soup pot. We love using our dutch oven because, well, it's awesome. It makes our food taste amazing, and you can use it for so many things...soups on the stove or homemade bone broth. You can even use it to make bread.
Related: Minimalist Kitchen Essentials - The must have tools for your kitchen.
Here are the steps to make this quick and easy chicken bone broth soup with vegetables:
First, saute the veggies in the dutch oven
Next, add herbs and salt
When the vegetables are softening, add the broth and cook until the vegetables are cooked completely.
Finally, add the chicken and frozen peas (if you're using)
It's a one-pot meal!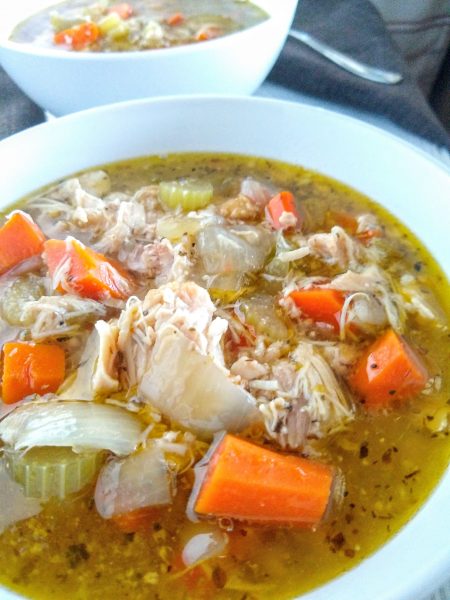 We've found that leftovers are especially delicious for this chicken bone broth soup with vegetables. The flavors get even better from the extra time sitting in the fridge.
All done! Time to eat the best chicken bone broth soup with vegetables ever!
Make sure the soup is hot. Then taste and season as desired, and serve.
FAQ & Recipe Tips
What can I add to chicken bone broth soup with vegetables to make it taste better?
To make your chicken bone broth taste better, you can add spices, herbs, seasonings, aromatics, and healthy fats. But don't overdo it.
Spices and herbs can overpower the taste of your soup if not used in the correct amounts. Hence, taste and season as you cook.
How do you add flavor to chicken and vegetable soup?
As mentioned above, by adding herbs, spices, and healthy fats (in this recipe, we use bone broth) you can amp up the flavor. Fresh herbs will give more flavor than dried, generally speaking.
Do you cook the chicken before putting it in the soup?
Yes. Cooking the chicken first before adding it to the soup is safer and tastier as it adds richness and an extra umami element to the flavor, plus it also improves the taste and color of your soup!
How long does this chicken bone broth soup with vegetables last in the fridge?
This soup should last 3-5 days in the fridge. You can make a big batch over the weekend and use it throughout the week for a quick grab & go lunch.
If you'd rather freeze it, it'll freeze well, too. One note about freezing this soup: if you freeze the soup with noodles or grains, they will likely be quite mushy after defrosting and re-heating. A work-around is to keep those separate until serving.
Is this a Whole30 vegetable soup?
Is this soup compliant with Whole30? It is if you omit grains and legumes. If you'd like some carbs in the soup, opt for sweet potatoes instead. That would also make the soup Paleo friendly.
Related Recipes
In addition to this healthy chicken and vegetable soup recipe, I highly recommend these other soups for easy weeknight meals your family will love.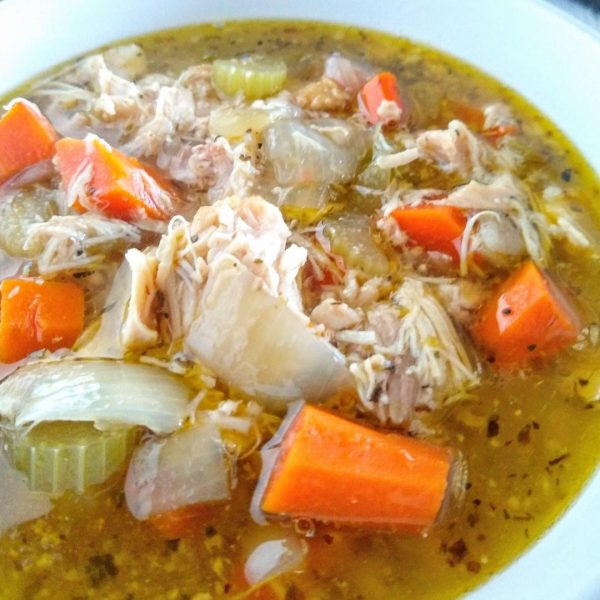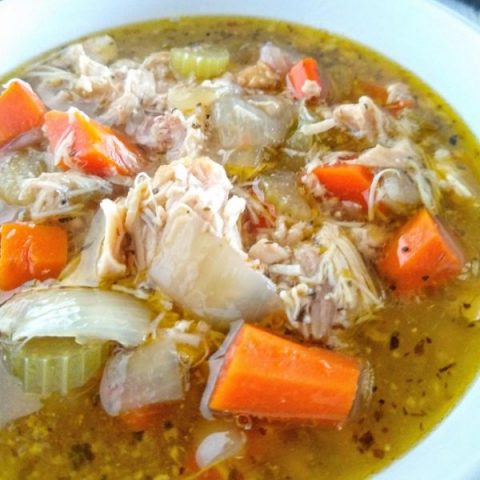 Quick & Easy Homemade Chicken Vegetable Soup
Enjoy this simple & delicious chicken vegetable soup - make it in minutes today!
Ingredients
3-4 cups chopped vegetables (carrots, onion, celery, etc.)
1 tablespoon avocado oil
¼-1/2 teaspoon salt
1 teaspoon oregano
1 teaspoon thyme
¼ teaspoon black pepper (optional)
3-4 cups bone broth
2 cups cooked chicken breast or thighs
Cooked grains, rice, quinoa, or noodles (optional)
1 cup soft vegetables (peas, corn, greens, etc.) (optional)
Instructions
Prep the vegetables by chopping them until they're about the same size.
Put the vegetables in the dutch oven or soup pot with the oil and salt.
While the veggies are cooking, add the herbs to season the soup.
When the veggies are just about done cooking, add the bone broth to the soup so that it covers the veggies by about an inch.
Heat the soup to a simmer.
Taste and add more salt, pepper, herbs, etc. if needed.
Add the cooked chicken, grains/rice/quinoa/noodles (if using), and soft vegetables (if using).
Wait for everything to get hot and then enjoy!
Notes
This soup is really versatile so use what you have in your fridge! Taste as you go and add more seasoning, as needed.
Save This For Later on Pinterest