Some of the links on this site may be affiliate links. This means, at no additional cost to you, I may be paid a small commission if you follow the links and make a purchase. Learn more here.
Make some of this delicious two ingredient homemade hot chocolate mix (without powdered milk) and keep it in a mason jar all winter long. By making your own hot cocoa mix, you'll be avoiding the preservatives in the store bought packets AND you won't be forced to run to the store when you've got that hot cocoa craving.
When you make it at home, YOU get to decide how sweet it is. Are you a dark chocolate lover? Or does semi-sweet sound better? With this hot chocolate mix recipe, you get to decide!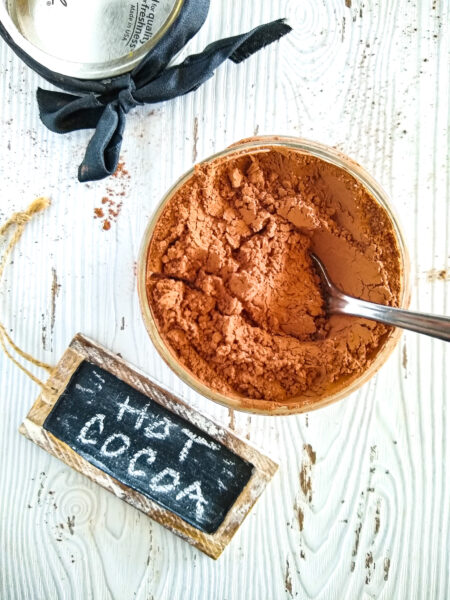 Make your own hot chocolate mix
With the shorter and colder days, the craving of a homemade hot chocolate drink can be satisfied with this hot chocolate mix (no powdered milk needed).
I've never been much of a tea drinker, or a coffee lover. But hot chocolate? Now that's a different story. Give me a mug of creamy & perfectly sweetened hot chocolate and I'm a happy lady. These days I've been spicing my hot chocolate with my homemade chai mix.
This post will provide a basic recipe for hot chocolate mix that you can adjust as needed (or just use it as is).
I grew up drinking the hot cocoa packets. But these days I like my chocolate a little darker. Plus, I think we can all do without excessive sugar, preservatives and artificial flavorings that come in those packets.
How is hot chocolate powder made?
The kind of hot chocolate powder mix we'll be making today is similar to the store's version, except ours doesn't have preservatives, excess sugar, or artificial flavorings in them. This recipe is also made without any milk powder. I like to add hot milk to my hot chocolate to give it a creamy boost. But this allows for you to use any milk of choice - coconut milk, almond milk, or dairy. Whatever you prefer.
The store bought hot chocolate powder is made with cocoa powder, some form of sweetener, often dehydrated milk powder, and a handful of other ingredients that we don't need for a homemade version.
Tools to make this hot chocolate mix
How to make hot chocolate mix?
This recipe uses only two ingredients...cocoa powder and sweetener. Collagen powder is an just an added bonus. Not necessary for this to taste amazing.
Cocoa powder
Sugar (use whatever granular sweetener you like...coconut sugar, monkfruit sweetener, white sugar).
We love using this collagen protein powder (it's from grass-fed cows & is certified glyphosate free) in our hot chocolate for an extra boost of protein. Use BASICS10 for an extra 10% off.
Put the ingredients in a bowl, stir, and then store in a mason jar. If it sounds simple, it's because it IS simple.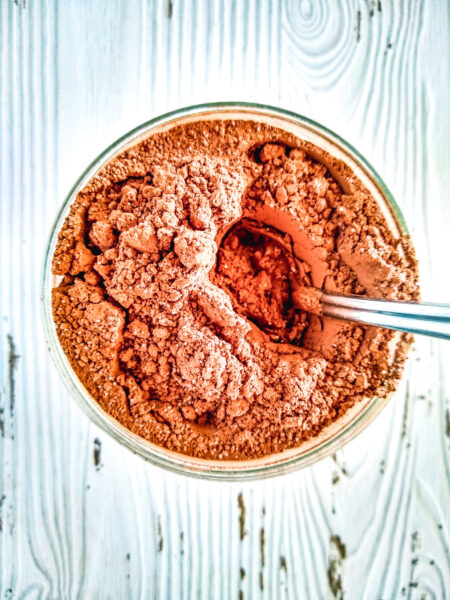 Benefits of cocoa powder
If you're looking for a reason to keep up your chocolate habit, continue reading. Keep in mind that these benefits are for 100% cocoa powder. Sugar has zero of these benefits, and in fact causes many health problems. So the more sugar you add to your cocoa, the fewer of these benefits you'll be receiving.
Also, when cocoa is processed into chocolate (like the bar you see in the candy aisle), it changes things and doesn't have quite the same effects. So let's talk about cocoa.
Cocoa is rich in polyphenols, which are naturally occurring antioxidants and have been linked to reduced inflammation, and improved blood sugar.
Cocoa contains calcium, copper, and magnesium...important minerals for our bodies.
The polyphenols in cocoa have been found to improve brain function and blood flow.
The flavanols in cocoa may have cancer protective properties.
Want to know about more benefits of cocoa powder? Read this article, and this one.
All Hot Cocoa Mixes are NOT Created Equal
In our house, we like our hot cocoa much darker than the store. If we have a store bought mix, we often add extra cocoa powder. If you are looking for a store bought option, I've had this sipping chocolate and absolutely loved it.
I'd caution you to check the ingredients if you're buying a hot chocolate mix from the store. You might be surprised at what's in there. Many have corn syrup, dairy products (not great if you have a dairy sensitivity or allergy), and plenty of unpronounceable preservatives.
It's simple enough to make your own. And you can customize it to your liking.
How to use hot chocolate mix?
Use it on a cold day to warm you up, serve it at a party, or scoop it into a mason jar as a homemade holiday gift.
Make a mug of hot chocolate
Of course, one option is to make yourself a mug of hot chocolate. But first you need to decide if you want to add water or milk (coconut milk and almond milk work great for this recipe). Or maybe both? The more milk you add, the creamier it will be.
Add two heaping tablespoons of your cocoa mix to ½ cup of liquid. If you want to make it even more special, add a few drops of vanilla extract and some coconut whipped cream.
If you're looking to add some spice, start with 1 teaspoon of this chai spice blend for each mug. Taste it and add another teaspoon if you want more spice. If you like it super spicy (like my husband), add a dash of cayenne. Here's the full recipe for chai-spiced hot chocolate (with pictures)!
I like to add a scoop of collagen protein powder for even more good reasons to drink it. This is the kind we buy, and absolutely love it (use BASICS10 for 10% off).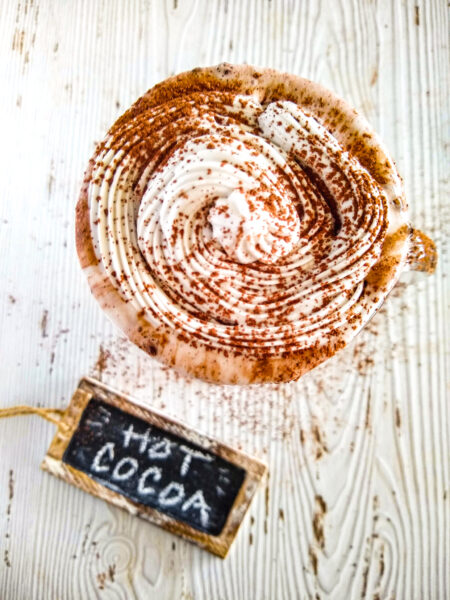 How do you heat milk for hot chocolate?
To heat the milk, you can use a microwave or a small pot on the stovetop. Heat the milk until it's hot, but be careful not to burn it.
If you're serving hot chocolate at a holiday party, use a crock pot to keep it warm.
Give a mason jar of hot chocolate mix as a gift
This homemade hot chocolate mix makes a great gift. Put it in a mason jar, tie a pretty ribbon, make a label with instructions for how much liquid to add, and you've got an awesome gift!
Related: 90 Homemade Food Gifts You'll Want To Keep For Yourself
FAQ
How do you make hot cocoa for kids?
I make hot cocoa for my kids by following the recipe in this post. This hot chocolate recipe will give a darker hot chocolate than the store-bought packets (or the hot chocolate from Starbucks), so if they're used to more sweetener, prepare them in advance or offer more honey or sugar.
What is the difference between chocolate milk and hot chocolate?
One difference is that chocolate milk is served cold (usually) and hot chocolate is served hot. You could make hot chocolate milk if you use all milk for your liquid. Usually hot chocolate is cocoa powder, sugar, water, and maybe a little bit of cream. This recipe gives you flexibility to make it how you like it.
Are hot cocoa and hot chocolate the same?
Technically hot chocolate should be made with melted chocolate, and hot cocoa is made with cocoa powder. But since we're looking for a powdered mix to keep in a mason jar, this recipe uses cocoa powder (and as much milk as you want to add to give it the creamy-ness you'd get from melted chocolate).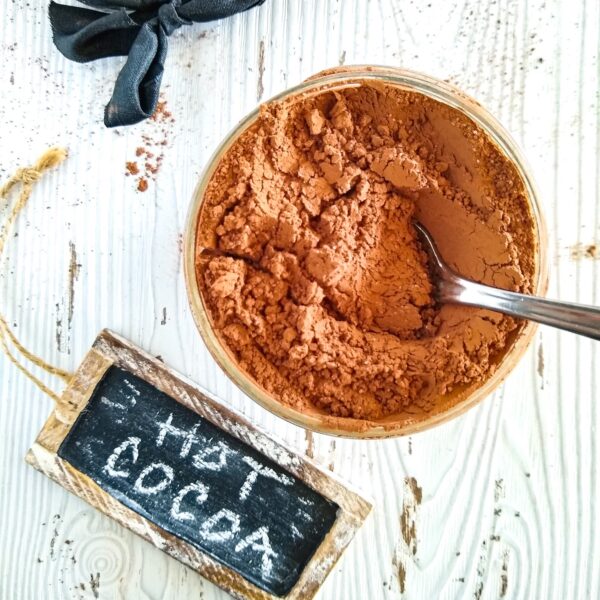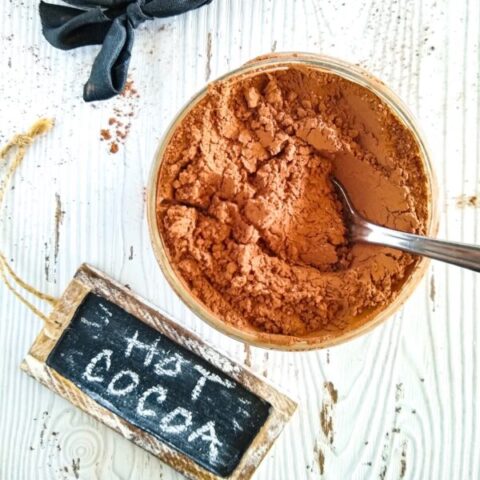 Hot Chocolate Mix (Dairy Free)
An easy dairy free hot chocolate mix with only two ingredients. Make a big batch for the winter, or give it as a homemade holiday gift!
Ingredients
1 cup cocoa powder
3 Tbsp sugar (coconut sugar and monkfruit sweetener work well too)
collagen protein powder (optional)
Instructions
Mix cocoa powder and sugar in a mason jar or bowl and stir to combine.
To make a cup of hot cocoa, add two heaping tablespoons of the cocoa/sugar mixture to ½ cup of hot liquid, with collagen protein powder (optional). I recommend at least 50% milk for a creamy, rich cup of dark hot chocolate.
Notes
Non-dairy milks (like coconut milk or almond milk) work well with this recipe.
This recipe makes a dark hot chocolate mix. If you prefer it sweeter, add extra sweetener to taste.
Nutrition Information:
Yield:

10
Serving Size:

2 Tbsp
Amount Per Serving:
Calories:

61
Total Fat:

1g
Saturated Fat:

0g
Trans Fat:

0g
Unsaturated Fat:

0g
Cholesterol:

1mg
Sodium:

6mg
Carbohydrates:

9g
Fiber:

2g
Sugar:

4g
Protein:

5g