Some of the links on this site may be affiliate links. This means, at no additional cost to you, I may be paid a small commission if you follow the links and make a purchase. Learn more here.
Make some of this delicious two ingredient homemade hot chocolate mix without powdered milk and keep it in a mason jar all winter long. By making your own hot cocoa mix, you'll be avoiding the preservatives in the store-bought packets AND you won't be forced to run to the store when you've got that hot cocoa craving.
When you make it at home, YOU get to decide how sweet it is. Are you a dark chocolate lover? Or does semi-sweet sound better? With this hot chocolate mix recipe, you get to decide!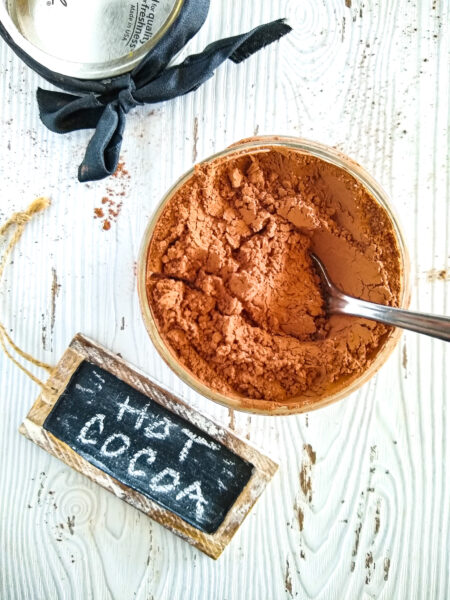 Tools to make this hot chocolate mix recipe
Ingredients to Make Dairy Free Hot Chocolate Mix
This recipe uses only two ingredients—cocoa powder and sweetener. Collagen powder is just an (optional) added bonus. Not necessary for this recipe to taste amazing.
Cocoa powder - Is the main ingredient in this recipe. Cocoa gives a rich chocolatey flavor–perfect for a hot drink. Try this 100% Cocoa powder.
Sugar - Use whatever granular sweetener you like...coconut sugar, monkfruit sweetener, white sugar.
Collagen protein powder (optional, but adds a nice health boost). I've been using this brand for a while now. Use the code BASICS10 for an extra 10% off your total purchase. I love that it's sourced from grass-fed cows (and it's certified glyphosate free).
How To Make This Hot Cocoa Mix Recipe
The hot chocolate powder mix we'll be making today is similar to the store's version, except ours doesn't have preservatives, excess sugar, or artificial flavorings in them. You won't find any milk powder in this recipe, either.
With the shorter and colder days ahead, the craving for a homemade hot chocolate drink can be satisfied with this hot chocolate mix made with simple ingredients (no powdered milk needed).
I've never been much of a tea drinker or a coffee lover. But hot chocolate? Now that's a different story. Give me a mug of creamy & perfectly sweetened hot chocolate and I'm a happy lady. These days I've been spicing my hot chocolate with my homemade chai mix.
This post will provide a basic recipe for hot chocolate mix that you can adjust as needed (or just use it as is). Put the ingredients in a bowl, stir, and then store them in a mason jar. If it sounds simple, it's because it IS simple.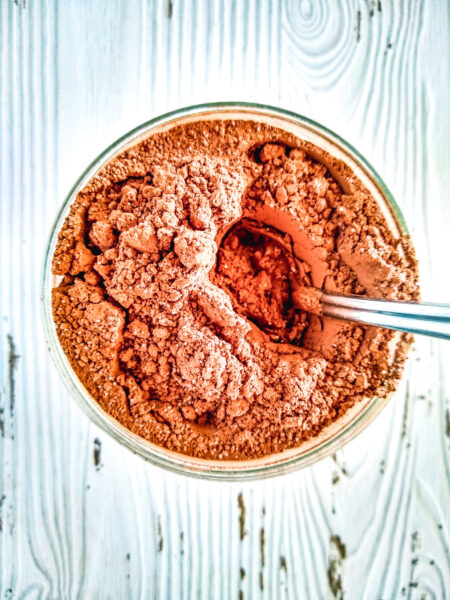 All Hot Cocoa Mixes are NOT Created Equal
In our house, we like our hot cocoa much darker than the store. If we ever buy (or are gifted) a store bought mix, we often add extra cocoa powder because it just tastes too sweet 99% of the time. If you ARE looking for a store bought option, I've had this sipping chocolate and absolutely loved it.
Before buying another hot chocolate mix from the store, I recommend reading the ingredient label first. Many have corn syrup, dairy products (not great if you have a dairy sensitivity or allergy), and plenty of unpronounceable preservatives.
It's simple enough to make your own. And you can customize it to your liking.
Make up a cup of the hot chocolate without powdered milk
Choosing Your Liquid: First you need to decide if you want to add water or milk (coconut milk and almond milk work great for this recipe). Or maybe both? The more milk you add, the creamier it will be.
Add two heaping tablespoons of your cocoa mix to ½ cup of liquid.
Ingredient Substitutions
Cocoa Powder: This is the star of the show. Use 100% cocoa (or cacao) powder.
Sugar / Sweetener: Sugar - Use whatever granular sweetener you like...coconut sugar, monkfruit sweetener, white sugar.
Extras (To Add More Flavor)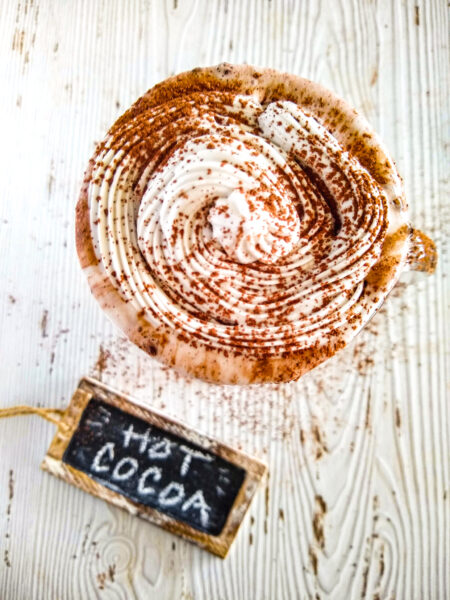 How to give mason jar hot chocolate as a gift
This homemade hot chocolate mix would make a great gift.
Here's how I'd do it:
Make the hot chocolate mix (a big batch)
Divide it into mason jars and put lids on
Tie a ribbon around the neck of the bottle to fancy it up.
Make a label with instructions for how much liquid to add, and how much powder to put in each cup...attach it to the lid of the mason jar, or hole punch and tie it onto the ribbon.
Voila! You've got an AMAZING homemade gift. Pair it with some cozy mittens and a festive mug, and you're good to go.
Related: 90 Homemade Food Gifts You'll Want To Keep For Yourself
FAQ & Recipe Tips
How do you make hot chocolate powder?
This recipe tells you how to make hot chocolate powder (and then how to use the powder to make the drink). Mix cocoa powder and sugar - and there's your hot chocolate powder!
What is hot chocolate mix made of?
This hot chocolate mix recipe has only two ingredients (with the option of a third - collagen protein powder). The store bought versions often have powdered milk, excess sugar, and lots of preservatives. We're keeping things simple.
Is hot chocolate Mix just cocoa powder?
Cocoa powder is 100% cocoa (unsweetened). I suppose you COULD use that as your hot chocolate mix, but it wouldn't be sweet at all. This recipe is really simple (with just two ingredients) - cocoa powder and sugar.
Is Hot Cocoa Mix the same as hot chocolate mix?
Is hot cocoa the same as hot chocolate? Well, I use these terms interchangeably, but technically hot chocolate is typically made from melted chocolate and hot cocoa is made from cocoa powder.
How do you heat milk for hot chocolate?
To heat the milk, you can use a microwave or a small pot on the stovetop. Heat the milk until it's hot, but be careful not to burn it. If you're serving hot chocolate at a holiday party, you can use a crock pot to keep it warm without burning.
How do you make hot cocoa for kids?
I make hot cocoa for my kids by following the recipe in this post. This hot chocolate recipe will give a darker hot chocolate than the store-bought packets (or the hot chocolate from Starbucks), so if they're used to more sweetener, prepare them in advance or offer more honey or sugar to their cups.
What is the difference between chocolate milk and hot chocolate?
One difference is that chocolate milk is served cold (usually) and hot chocolate is served hot. You could make hot chocolate milk if you use all milk for your liquid. Usually hot chocolate is cocoa powder, sugar, water, and milk if you'd like some. This recipe gives you the flexibility to make it how you like it.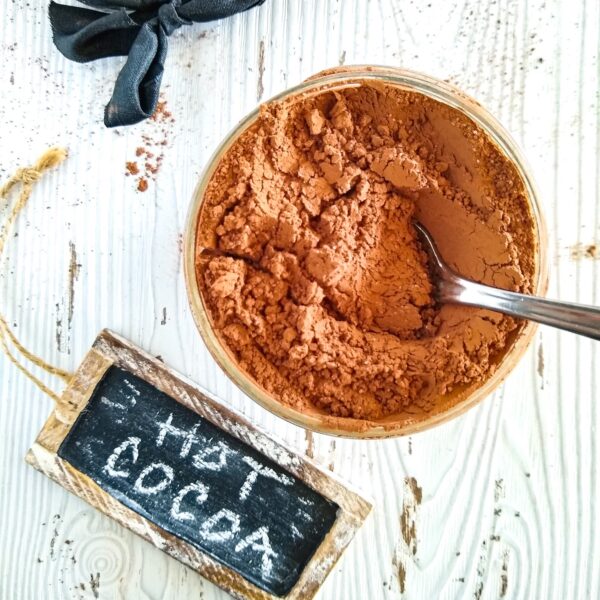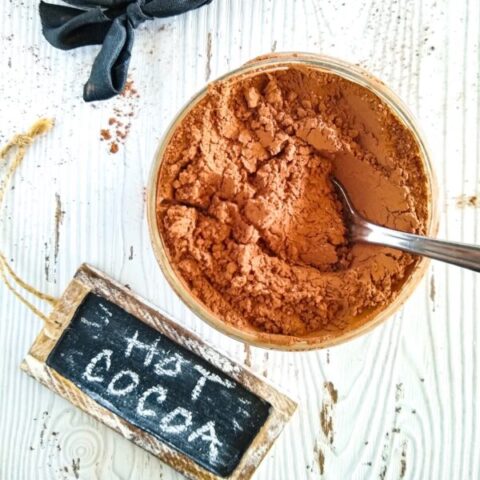 Hot Chocolate Mix (Dairy Free)
An easy dairy free hot chocolate mix with only two ingredients. Make a big batch for the winter, or give it as a homemade holiday gift!
Ingredients
1 cup cocoa powder
3 tablespoon sugar (coconut sugar and monkfruit sweetener work well too)
collagen protein powder (optional)
Instructions
Mix cocoa powder and sugar in a mason jar or bowl and stir to combine.
To make a cup of hot cocoa, add two heaping tablespoons of the cocoa/sugar mixture to ½ cup of hot liquid, with collagen protein powder (optional). I recommend at least 50% milk for a creamy, rich cup of dark hot chocolate.
Notes
Non-dairy milks (like coconut milk or almond milk) work well with this recipe.
This recipe makes a dark hot chocolate mix. If you prefer it sweeter, add extra sweetener to taste.
Nutrition Information:
Yield:

10
Serving Size:

2 Tbsp
Amount Per Serving:
Calories:

61
Total Fat:

1g
Saturated Fat:

0g
Trans Fat:

0g
Unsaturated Fat:

0g
Cholesterol:

1mg
Sodium:

6mg
Carbohydrates:

9g
Fiber:

2g
Sugar:

4g
Protein:

5g