Some of the links on this site may be affiliate links. This means, at no additional cost to you, I may be paid a small commission if you follow the links and make a purchase. Learn more here.
In today's world, there really is nothing you can't get cash back for -- yes, even for your groceries! But how do you decide which of the many grocery rebate apps are best for you? If you've been wondering...Ibotta vs Rakuten...which is the best grocery rebate app...keep reading to find out.
If you try to use too many of the various cash back apps, you'll take forever to reach their minimum payout levels. On the other hand, if you choose the wrong one you risk not getting back as much in grocery rebates as you could have gotten!
Let's take a look at two of the most popular cash back apps out there, Ibotta vs Rakuten.
WHAT IS IBOTTA?

Ibotta is most commonly known for being one of the best grocery rebate apps since it started out as primarily a groceries-only cash back app. Early on they distinguished themselves from many cash back apps by focusing on an area where these apps were lacking -- namely, food.
Now, however, Ibotta has expanded its cash back/rebate offerings considerably. You can get cash back at almost any store you can imagine. Plus, right now you can get a $20 welcome bonus with this link.
HOW DOES IBOTTA WORK?
Ibotta is a really straightforward app to use. For the most common way it's used - on grocery trips - you'll want to install the app on your phone.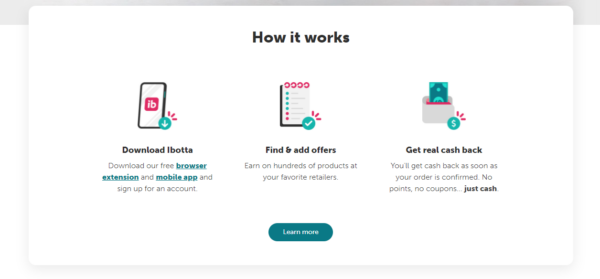 From there, you can browse the app for rebates on what is on your grocery list, claim (or save) those offers that fit what you need, and you'll grocery shop as usual. Alternatively, you can obviously search for a rebate while you do your shopping if you prefer!
When you get home, scan your receipt into the app (by taking a picture), and your account will automatically be credited with the rebate amounts.
In more recent years Ibotta has also added a way to earn cash back while shopping online. You can shop through the app on your phone to access your desired store's website, or you can install the browser extension and shop online as usual. Either way, you can activate site-wide cash back that will automatically credit to your account when you checkout.
To get the browser extension, go to the Ibotta home page and click "Get the extension" in the upper right hand corner.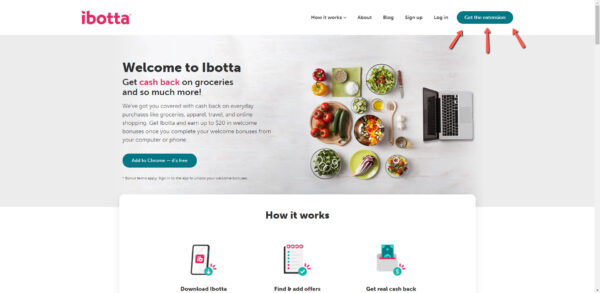 WHAT KINDS OF REBATES ARE AVAILABLE FOR IBOTTA?
Ibotta has reached a point where if you can buy it, they likely have a rebate for it!
They broke into the scene starting with grocery rebates, but they've expanded to include clothing/retail, takeout, auto parts, jewelry, and even travel-related savings.
POTENTIAL SAVINGS WITH IBOTTA
This is going to depend on how you shop. If you're diligent and remember to use the app regularly, you can expect to reach their $20 minimum account balance to get your payout in almost no time.
That said, your savings balance may be at the mercy of what's available when you shop. You might try waiting to make some of your purchases until a rebate is available, but sometimes you just really do need something now and can't wait! They've really expanded their rebates on "any brand" grocery items especially, making it a lot easier to earn cash back on those everyday items.
Another thing to note is that many of the rebates found on Ibotta are for more brand-name products, and still might not bring the price down to compete with the generic or store-brand option. So if you are constantly one to buy the store brand over the name brand, especially on budget-friendly food staples, you may find the rebates harder to fit your style and as a result, you'll reach those savings goals a little more slowly.
MINIMUM PAYOUT FOR IBOTTA
You'll have to reach an account balance of $20 in order to get your payout from Ibotta.
You can choose to either transfer your account balance to PayPal or Venmo (and subsequently, to your bank account), or you can opt for a gift card for a retailer of your choosing instead.
WHAT IS RAKUTEN?

Rakuten is an online shopping rebate provider, that acts via a browser extension or phone app to automatically give you cash back on your account. This isn't quite a grocery rebate app in the same sense as Ibotta, however, because it is not capable of use for in-store grocery shopping.
HOW DOES RAKUTEN WORK?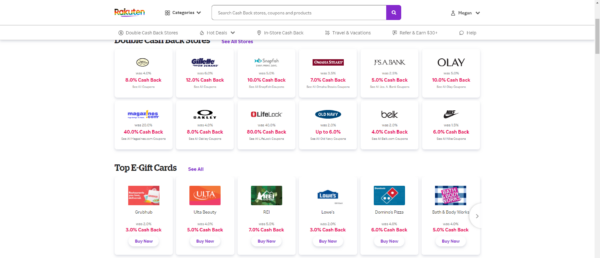 It's similar to Ibotta in that you'll want to install their browser extension or smartphone app in order to get those rebates. You'll either activate the site-wide cash back via the browser extension, or you'll shop via their phone app and it will automatically activate that cash back offer when it's available.
Again, it is noticeably different from Ibotta in that you likely won't be finding rebates on milk and eggs, but you will find them on your new sneakers or your Christmas shopping. Rakuten partners with a very long list of online stores to offer cash back.
Rakuten also often holds "double cash back" days or specials across select stores, Black Friday deals, etc. These can be a really nice boost to your account balance!
POTENTIAL SAVINGS WITH RAKUTEN
Your savings are going to depend on how much you shop. If you are super frugal and hardly buy anything, even for gifts, you'll likely find it hard to really build up your rebates/savings balance in a shorter time frame. If you buy everything online and shop often, you'll see your account balance increase much more quickly.
You'll also need to remember to activate the cash back when your shopping through the browser extension on your computer. It will typically show a pop-up to remind you, so make sure to click to activate it!
MINIMUM PAYOUT FOR RAKUTEN
Once your account cash back balance reaches more than $5, you can expect your "big fat check" on the next payout date (see below). This means a minimum of $5.01 before they'll send you your savings in a usable format.
You'll notice in the chart on this help page that you only get paid out quarterly from Rakuten. This means that if you reach the minimum payout level one day too late, you'll wait until the next quarter's payout date before you see that money.
Another thing to note: just because you completed a transaction doesn't mean the savings are valid to Rakuten yet. You'll have to wait until your checkout is completed and cleared before it counts towards your cash back balance. If you miss the cutoff on approvals, you'll also be forced to wait for the next payout date.
To get your payout from Rakuten, you can choose to move the money to your PayPal account or to receive an actual, paper "big fat check," as they call it. They more recently have "Cash Back For Change" on their site, which allows you to give some of your cash back earnings to charity.
IBOTTA VS RAKUTEN - SHOULD YOU USE ONE OR BOTH APPS?
When you compare Ibotta vs Rakuten side by side (you may see this in older articles as comparing Ibotta vs eBates, prior to the Rakuten name change), you'll find that these two grocery rebate apps are really quite different.
If you do a lot of online shopping, you'd be wise to compare the cash back amounts for each of these apps side by side before doing your shopping -- it's not uncommon for one app to have a different cash back amount than the other, even at the same retailer. Choosing the rebate app that offers the higher cash back amount is obviously going to help you earn more money faster!
There's also the consideration for keeping things simple, however. If you'd prefer to just keep plugging away and earning towards just one savings balance from your rebates, Ibotta is the app you'll want to go with.
FINAL THOUGHTS ON IBOTTA VS RAKUTEN
Is Ibotta worth it as your one-stop rebates app? Yes, it absolutely is!
This is definitely the more versatile grocery rebate app of the two. You'd be hard-pressed on Rakuten to find an online store that sells groceries, but even then, you'll often find that grocery/food purchases aren't eligible for their cash back offers (unless you are able to find a gift card to a restaurant you regularly visit).
While both of these rebate apps work in pretty much the same way, you'll have a harder time making Rakuten fit your everyday purchases too, whereas Ibotta almost came into being to do exactly that.
Overall, the part that matters the most is that you're being smart with your money. A big part of that is not making purchases just so you earn cash back -- if you weren't buying it already, you are guaranteed to be spending more than you're saving!
To ensure you're saving everything you can, grab my Ultimate Money Saving Cheat Sheets here. You'll find dozens and dozens of unique and out of the box ideas for saving money - starting TODAY!
PIN THIS FOR LATER!