Some of the links on this site may be affiliate links. This means, at no additional cost to you, I may be paid a small commission if you follow the links and make a purchase. Learn more here.
Does this sound familiar?
"Hmm...dinner is getting close. What can I make for dinner tonight? Do I have any meat that's not frozen? (no) What vegetables can I throw together real quick. (not much) Okay, I need to defrost the meat, slice the veggies, season the veggies, throw them in the oven, make a sauce to go with everything and get it on the table in 30 minutes...ready…set...GO!"
-OR-
"Hmm….dinner is getting close. What's on the meal plan? Oops...forgot to meal plan. What's in the fridge? Oops...didn't make it to the store yet. Hmm...Where can my husband stop on his way home from work to grab us food that's sort-of-healthy and not terribly expensive?...ugh"
Keep reading for my honest Prep Dish review and how it's taken the stress out of weeknight dinners in our house.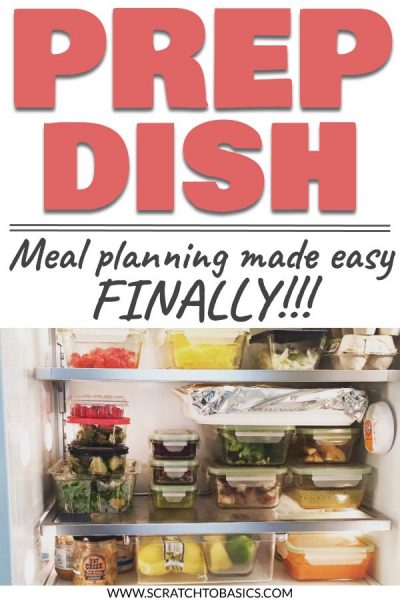 Are you ready for dinner time to be enjoyable and NOT stressful?
Maybe you've tried other meal planning services, but you still haven't quite found "the one". Keep reading about Prep Dish. It might be the EXACT thing you need.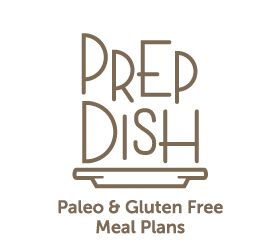 what is Prep dish?
Prep Dish is a subscription based meal plan service developed by chef & dietitian Allison Schaaf.
Prep Dish meal plans were created by Allison to help save you time and put home-cooked meals on the table. No meal time stress. No more answering the question, "What's for Dinner?".
Honestly, it's completely changed dinner time in my house.
Prep Dish is more Than just a meal planning service
I've been writing about meal prep and meal planning for a while now...like the Ultimate Guide to Meal Prep, and the Ultimate Guide to Meal Planning, and How to Meal Plan with a Template, Oh, and 20 Meal Planning Templates To Take Stress Out Of The Kitchen.
If you can't tell, I like meal planning (and talking about it). You see...I'm a list girl, AND I'm a foodie. So naturally, meal planning would be something that's easy for me to get on board with. It's the magical place where my list love meets my food love.
But the one thing that I couldn't ever figure out was how to make it *feel* easier. How do I make it so that the meal planning actually helps reduce the stress, instead of creating more stress. It used to feel like my meal plan was just a big list of "projects" I needed to do each week.
Before I signed up for Prep Dish I would loosely make a meal plan, go shopping for the ingredients, and then each day as dinner got closer, I would start to think "Oh I should probably get started on dinner".
Every day at 4:30 I would start thinking about what I needed to do to get dinner on the table. Most often this included chopping vegetables, cook the meat (hopefully I remembered to defrost it), make a salad and any sauces and dressings we'd need for the meal. Often with hungry kiddos tugging at my legs.
But then I found Prep Dish
When I first heard about Prep Dish, I was super skeptical. Which really isn't surprising...because...you know...I write about meal planning, and meal prep. What could this thing teach me that I didn't already know?
Well, it turns out, quite a bit! I learned that when you ACTUALLY do the meal prep, everything changes. Prep Dish gave me a system. An organized structure that my old way of meal planning was lacking.
If you're anything like me, you sign up for stuff you think might help but never actually get around to trying them.
But something psychological happens when we sign up for things. We think, "oh good. Now I've tried that." Even though you haven't actually tried it. And eventually when nothing is helping, you start hopelessly thinking..."I've tried EVERYTHING".
The truth is...to try something you actually have to...you know...TRY IT.
How does it work?
When you sign up for Prep Dish, you'll receive a weekly email with everything you need to make healthy, real food dinners all week. You get Gluten Free, Paleo AND Keto meal plans each week.
After a couple of hours of prep on the weekend (or when you have time), all of your meals are ready to cook throughout the week. Meal time stress is replaced with a healthy, whole food meal made by YOU!
When I signed up for Prep Dish, I promised myself that I would follow their method 100% for one week and see what happened.
So I did.
And what happened?
Well, I used the Prep Dish framework and prepped for an hour on Monday while I was making dinner for the night. By the end of the hour, I had a full fridge ready to go. And I had every meal for the week half way done.
It. Was. Awesome.
Here's an image to give you an idea of what my fridge looked like after the prep work.
Note: This is NOT my fridge. I started to take a picture of my fridge because it was full of prepped containers, but my fridge is in desperate need of a deep clean. And I didn't want to gross you out. So this picture is courtesy of Prep Dish.
What do you get?
Each week you will get an email with the following:
Recipe list - 4 dinner recipes (each serves 4), one breakfast recipe, one dessert recipe, and snack suggestion
Grocery list for all the recipes (labeled with which recipe needs each ingredient so if you're omitting one recipe, you can adjust the grocery list appropriately)
Prep day instructions - Everything you need to do (in organized fashion) to make the recipes throughout the week.
Cook day instructions for each recipe.
How much time does it take?
The first week you'll get a "beginner" menu to get you used to the process. It has less than one hour of prep work. After that, the prep work is closer to two hours. But they always provide a "quick prep" meal plan along with their standard meal plan.
In my one hour of prep I was able to:
Chop peppers and onions for fajitas and sprinkle with taco seasoning (of course I used my homemade taco seasoning recipe).
Chop cauliflower and green beans, and toss with salt, pepper, and oil.
Roast sweet potatoes in the oven for later in the week.
I chose to do the prep work while I was making one of the meals. Here's a picture of my oven being used to its full potential!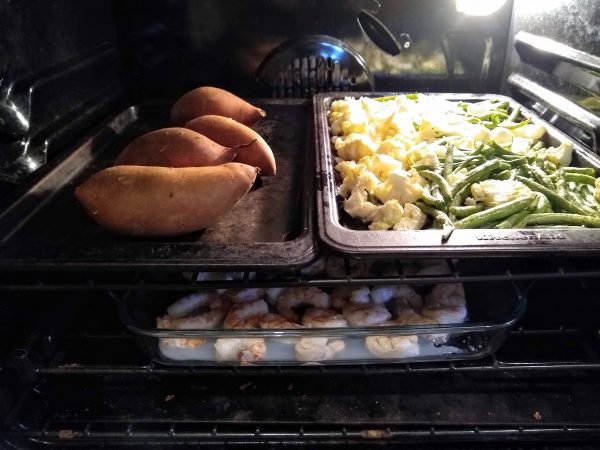 And while it's a subtle difference between starting the week knowing you have all the ingredients you need to make your meal plan happen (what I used to do) and knowing you've already chopped the veggies and seasoned them. It feels completely different.
It's like starting a race at the half way point! Way easier.
My First PRep Dish Week
The first week I tried Prep Dish, the four meals they gave me were:
Chimichurri salmon with roasted cauliflower and green beans (I used shrimp instead).
Chicken with asparagus and mushrooms
Flank steak fajitas (I used my own taco seasoning packet)
Flank steak with sweet potato and chimichurri sauce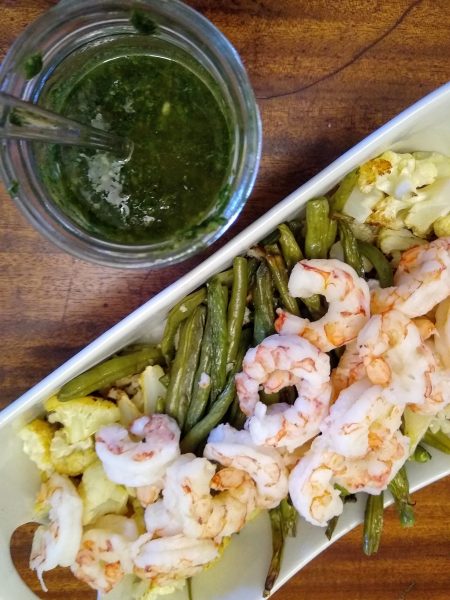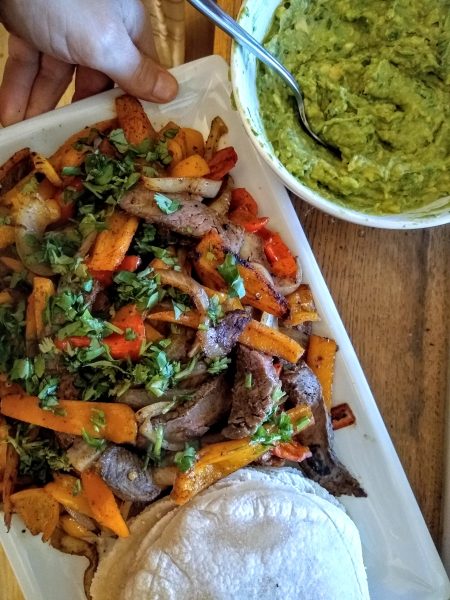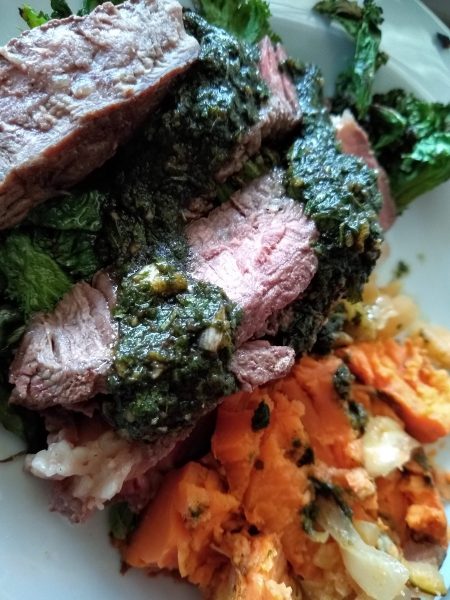 Are the recipes Good?
Yes. Definitely yes. And I'm picky. Ask my husband. I'm a terrible person to go out to eat with. Because I always talk about how the flavors weren't balanced, or there was WAY too much pork in that taco and not enough sauce (I said that phrase two days ago. No joke).
As a kid I was a super picky eater...I would have been happy living off of noodles, mashed potatoes, and mac n cheese. Nowadays, my pickiness comes out in different ways, but I guess it's still there.
Because while I'll try any vegetable and we eat a huge variety of food in our house, I'm picky about it tasting awesome. If I go out to eat, I want the food to taste as good as I can make it at home. Because if it doesn't....then what's the point of spending all that money!?
Related: How to Save Hundreds By Simply Making A Meal Plan
Usually when I use a recipe, I end up adding more salt, or more seasoning because there's just not enough flavor. But not with these recipes. And I'm SO happy about it.
Is it right for me?
So how do you know if it's right for you? Well for one thing, take it for a spin for two weeks and see what you think.
Prep Dish is right for you if you:
Feel the burden of dinner each night and would like for cooking to be a little easier
Want to follow a pre-made meal plan
Are following a Paleo, Gluten free, or Keto diet and struggle to find recipes week after week that A) taste AMAZING and B) work with your diet.
Want to save money on groceries (because following a meal plan will save you money).
Are ready to start meal prepping but you don't know where to begin.
Prep Dish is NOT right for you if:
You don't want to prep your food ahead of time. Note that this doesn't mean you cook everything on one day and have to suffer through soggy leftovers all week. You PREP once, then cook each day.
You want to make your OWN meal plan.
Don't want to eat real food, and would rather hit the drive through all week.
If you eat a standard American diet with tons of bread and pasta, this will be an adjustment. Because Allison's recipes are nutrient dense, nourishing meals with quality protein and lots of vegetables.
Try it for two weeks. Like. Actually try it. Follow Allison's plan and her method. See how it works for you.
You might be surprised at how different weeknight dinners feel when you don't have to start from the beginning! I think you'll have more enjoyable dinners all week that taste delicious, with less stress!
Make it work for you
Of course, as it is with anything, there are changes you can make to ensure this works for you. Changes you can easily make:
Make a swap. Swap out a recipe for one you'd rather make - either one part or the whole recipe. Example: One recipe was a chimichurri salmon, cauliflower and green bean recipe and I swapped out salmon for shrimp. Also, instead of buying a taco seasoning packet, I used a recipe I already had.
Prep day: If you don't have two hours to prep in one day, move things around in your schedule or break it up into two one hour chunks. You should be able to find one hour to focus on healthy food. If not, you're probably too busy. Consider doing the prep while you Netflix at night!
Add more: While I don't think you need to, you can always add another side.
How much does it COst?
Prep Dish has a free 14 day trial. Click here to sign up. I encourage you to take the first two weeks and actually give it a try. Try it and see what you think of the Prep Dish method.
When you sign up, don't forget to use the code: SCRATCH10 to get $10 off your annual subscription.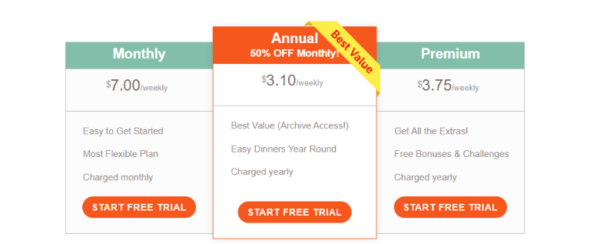 Life After Discovering Prep Dish
After discovering Prep Dish, I spend a couple hours one day a week chopping, seasoning, and doing as much as I can ahead of time. So instead of the stressed out crazy lady I used to be, now this is a typical weeknight...
"Hmmm….what's for dinner tonight?...Oh yeah, we're having curried chicken with roasted broccoli and carrots. Let me just pull the prepped veggies from the fridge and put them in the oven. Oh, and here's the sauce I already made. I guess all I really need to do is cook the chicken. That's easy. So what should I do for the next thirty minutes….hmmm……*sits and twiddles thumbs*"
If you're ready for stress free weeknight meals, use the code: SCRATCH10 to get $10 off their annual plan.