Some of the links on this site may be affiliate links. This means, at no additional cost to you, I may be paid a small commission if you follow the links and make a purchase. Learn more here.
Pudding made with avocados? Really? Yes, really! This avocado chocolate pudding recipe is so simple, and has become a fan favorite in our house.
Using avocados as a base for chocolate pudding might sound different, but if you try this chocolate avocado pudding recipe you'll see why it makes perfect sense! You get a creamy texture from the avocado, and rich flavor added from the cocoa powder and honey.
This easy recipe is like a grown-up, healthier version of a snack pack pudding!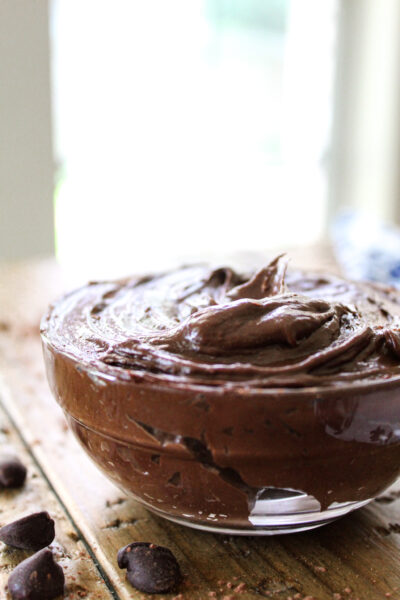 Tools to easily make creamy avocado chocolate pudding
Ingredients to make your healthy chocolate avocado pudding
This pudding is made with three (four if you add the salt) ingredients and couldn't be simpler to make!
Avocados - You'll want them perfectly ripe - or a little over-ripe.
Cocoa powder - Get this 100% cocoa powder (or cacao powder)
Honey - I use this raw honey. It's unrefined and has a great flavor! For vegan chocolate pudding, swap the honey 1:1 for maple syrup. I've tested this and it works great.
Salt - We use this salt because it still has trace minerals that aren't in refined salts.
How to Make avocado chocolate pudding
Get your equipment and ingredients ready and be prepared to taste something incredible in just a few minutes!
Add all your ingredients to the bowl of your food processor, stand mixer (or to a mixing bowl if you're using immersion blender)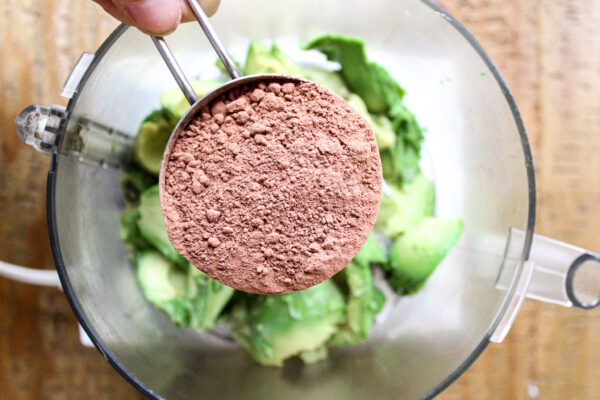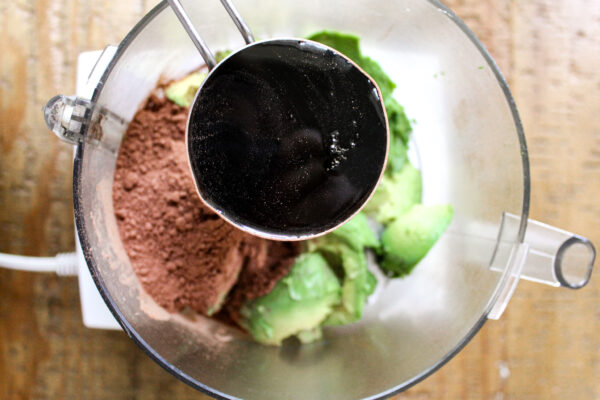 Blend all the ingredients together. And then enjoy!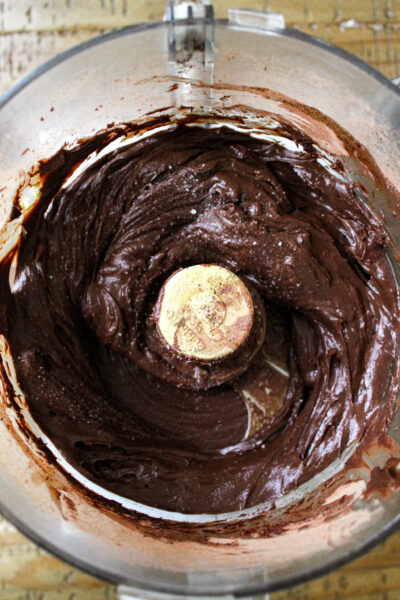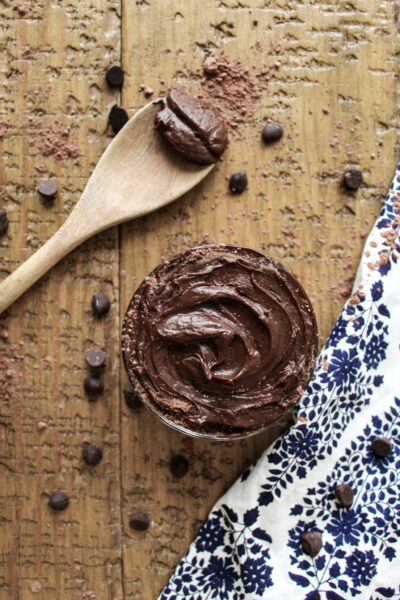 Yes, it's really that simple.
Here's a tip: If you use an immersion blender or stand mixer, put the cocoa powder in before the honey. That way you won't get a giant puff of cocoa when you turn on the blender (or mixer). Trust me on this one!
Recipe Tips & FAQs
How to make this chocolate avocado pudding vegan?
If you want to make this pudding vegan, just swap the honey for maple syrup. It's an easy swap and won't take away any of that great flavor.
Is chocolate avocado pudding the same as chocolate avocado mousse?
Is there a difference between pudding and a mouse? Usually, yes. But using avocados in this recipe gives you a rich, creamy texture that tastes amazing. Many of the chocolate mousse recipes you'll find on Google use melted chocolate instead of some (or all) of the cocoa powder. I find this recipe to be plenty rich as it is. I feel confident calling it avocado chocolate mousse as it is written here.
WHAT'S IN store bought CHOCOLATE PUDDING?
In case you're wondering what ingredients make up boxed chocolate pudding you see on the shelf at the store, I'll tell you.
The "Jello" brand of boxed chocolate pudding has the following ingredients:
sugar
modified corn starch
cocoa processed with alkali
sodium phosphate
and less than 2% of:

tetrasodium pyroposphate
natural and artificial flavor
salt
artificial color
mono- and diglicerides
red 40
yellow 5
blue 1
Obviously, this pudding recipe is simpler, healthier, and just all around better.
HOW TO STORE YOUR chocolate avocado PUDDING
Your pudding will keep well for 3-5 days in a mason jar or these glass pudding jars. Honestly, I can't seem to keep it in the fridge long enough to know when it goes bad. It's too good! And we eat it up fast. If you end up with too much from the recipe, I have frozen/defrosted the pudding with no noticeable flavor or texture difference.
Interested in more tasty treats?
Avocado Chocolate Frosting (same recipe, but used as frosting - so versatile!)
Vegan Coconut Milk Chocolate Almond Ice Cream
No Bake Gluten Free Peanut Butter Chocolate Bars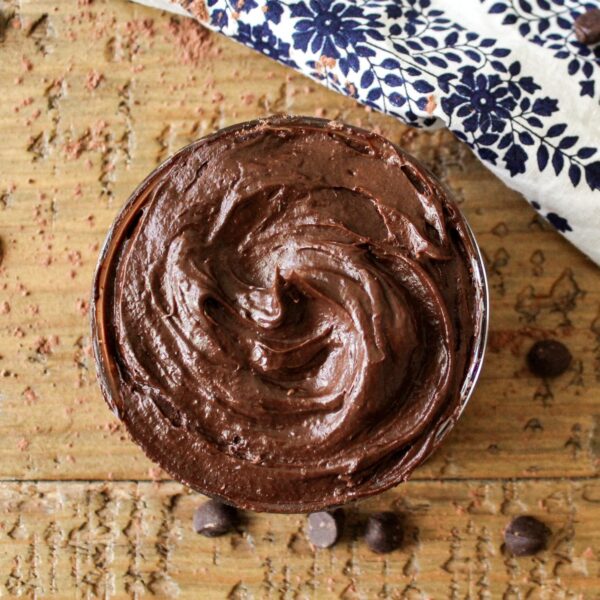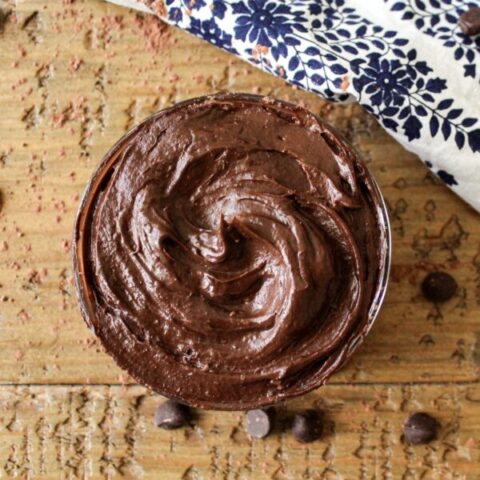 Avocado Chocolate Pudding
Homemade chocolate avocado pudding is easy to make with just three simple and healthy ingredients.
Ingredients
2 large avocados
½ cup cacao powder (or cocoa powder)
½ cup honey or maple syrup
pinch of salt (optional)
Instructions
Using your food processor, stand mixer, or immersion blender, blend the avocados, cacao powder, and sweetener until smooth.
Eat right away or store in fridge for 2-3 days.
Notes
For vegan chocolate pudding/mousse - swap out the honey for maple syrup with a 1:1 ratio.
Nutrition Information:
Yield:

8
Serving Size:

¼ C
Amount Per Serving:
Calories:

180
Total Fat:

8g
Saturated Fat:

1g
Trans Fat:

0g
Unsaturated Fat:

6g
Cholesterol:

0mg
Sodium:

21mg
Carbohydrates:

28g
Fiber:

5g
Sugar:

19g
Protein:

2g