3 Ingredient Homemade Avocado Chocolate Pudding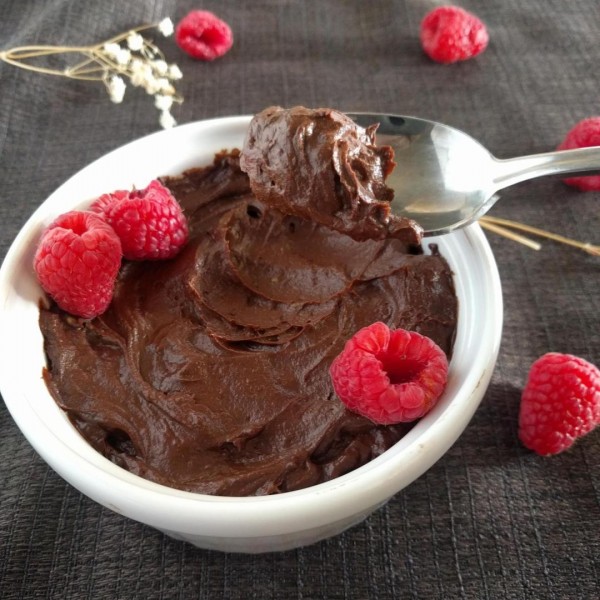 Some of the links on this site may be affiliate links. This means, at no additional cost to you, I may be paid a small commission if you follow the links and make a purchase. Learn more here.
Pudding with avocados? Does that make your brain hurt a little? It makes perfect sense to me! And if you try this recipe you'll see why.
I remember eating pudding snack packs when I was a kid. I loved the chocolate flavor. Not so much on the tapioca for me, though. This homemade chocolate pudding is like a deluxe, grown up, healthy version of a snack pack pudding.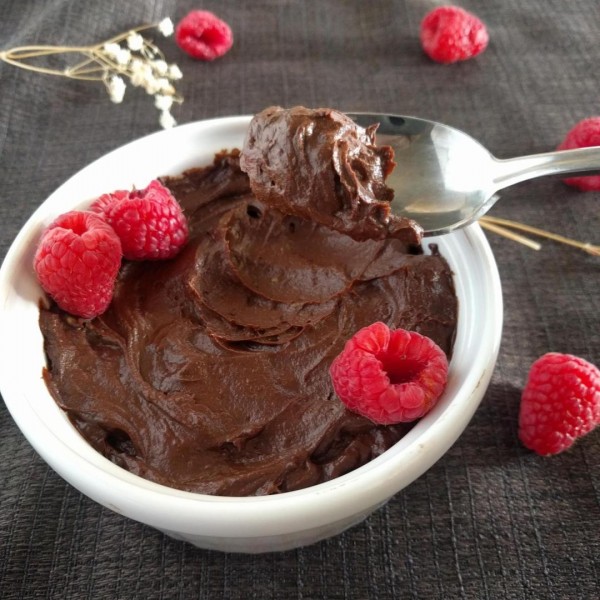 Homemade Chocolate Pudding
But pudding is not just for kids. At least this pudding isn't. It's made with wholesome ingredients and sweetened naturally.
Call it What you Want
I struggled for a while about what to call this creation. Frosting? Mousse? Pudding? Chocolate…dip? Let's talk about how I settled on pudding.
Frosting
Initially I was thinking it was more of a frosting recipe. You could TOTALLY use it as a frosting. In fact, I think I will the next time I make a cake.
But then I started eating it by the spoonful, and realized I wouldn't shouldn't do that with frosting. Also, this pudding isn't as sweet as most frostings (one of the reasons I love it).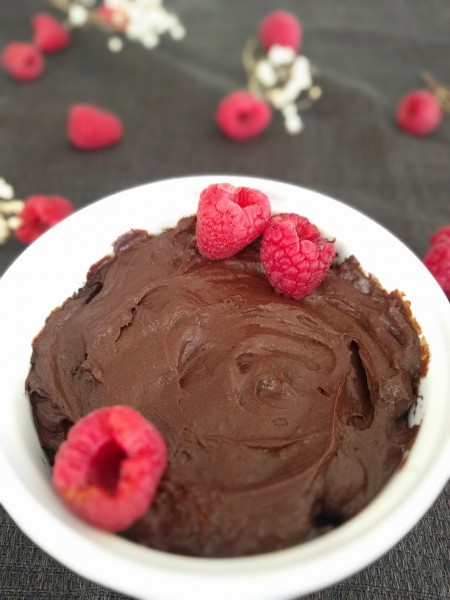 Mousse
Maybe it's more of a mousse recipe. Yeah, you could call it that.
It tastes amazing enough to be called mousse. Put it in some little fancy glasses and put it out at your next party.
Typically mousse is a little fluffier and more whipped. This pudding isn't really whipped. You could fool me by calling it mousse, but maybe not chocolate mousse experts.
Chocolate Dip
And then I thought about calling it chocolate dip. That gets the idea across…dip things in it and eat it…kind of like fondue. It doesn't quite roll of the tongue though.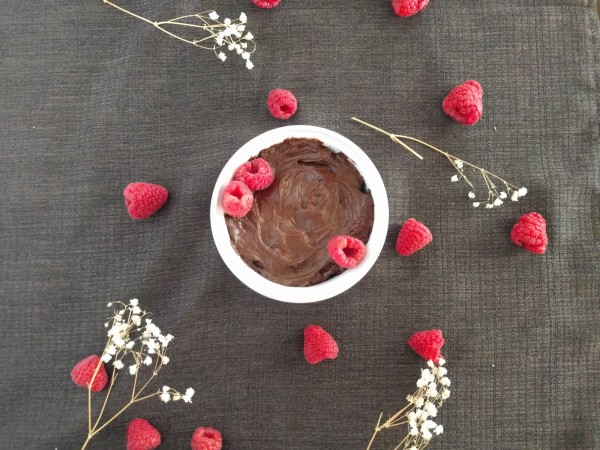 Pudding
I think I'll stick with pudding. Forget the boxes of pudding and the snack packs. Try this homemade chocolate pudding recipe today! Seriously. Today.
Not only will you benefit by avoiding all the preservatives in the store-bought stuff, but you'll be using avocado which has awesome health properties (like healthy fats, potassium, and fiber).
And, BONUS…my kids LOVE it! It's a healthy treat that I can whip up in five minutes with only three ingredients.
Homemade Chocolate Pudding Recipe
This pudding is made with three ingredients and couldn't be simpler to make.
Avocado
Cocoa or cacao powder
honey or maple syrup – you could probably use a powdered sugar, but I have only tested it with honey and maple syrup.
Avocado gives it the smooth, creamy texture. The cocoa and honey give it a delicious rich chocolate flavor. I don't taste an off taste from the avocado at all.
How To Make It
Use a food processor, stand mixer, or immersion blender to blend all the ingredients.
Serve in a ramekin or a fancier stemless wine glass like this one.
Avocado chocolate pudding stores well for a few days in a mason jar or these glass pudding jars. Honestly, I can't seem to keep it in the fridge long enough to know when it goes bad. It's too good.
I hope you make this! If you do, I'd love to hear about it in the comments below.
This would be a fun cooking activity with kids, or make it for your next date night! If you're looking for another date night recipe, try the Guilt Free Personal Brownie (it makes enough for two).
And if you're looking for more delicious ways to use avocados, here are ten avocado recipes you can have for FREE!
3 Ingredient Homemade Avocado Chocolate Pudding
Ingredients
2 large avocados
1/2 cup cacao powder (or cocoa powder)
1/2 cup honey or maple syrup
pinch of salt (optional)
Instructions
Using your food processor, stand mixer, or immersion blender, blend the avocados, cacao powder, and sweetener until smooth.
Eat right away or store in fridge for 2-3 days.
https://www.scratchtobasics.com/3-ingredient-homemade-avocado-chocolate-pudding/
Save this for later on Pinterest!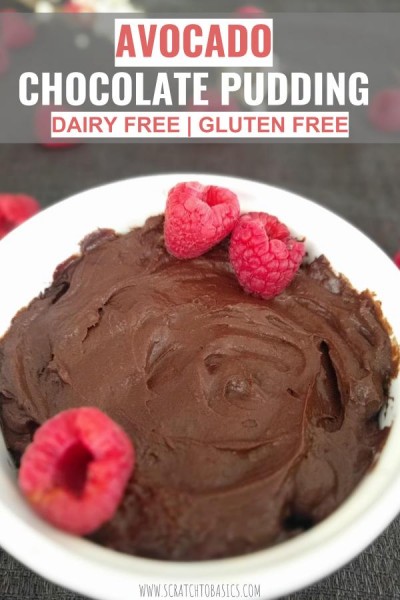 ---
---