Some of the links on this site may be affiliate links. This means, at no additional cost to you, I may be paid a small commission if you follow the links and make a purchase. Learn more here.
Pudding made with avocados? Really?
Yes, really.
If you try this avocado chocolate pudding recipe, you'll quickly learn why avocados as a base for pudding makes perfect sense!
The avocado provides a creamy texture, while the cocoa powder and the honey give it the rich chocolate flavor.
I remember eating pudding snack packs when I was a kid. I loved the chocolate flavor. Not so much on the tapioca for me, though.
This homemade chocolate pudding is like a deluxe, grown up, healthy version of a snack pack pudding.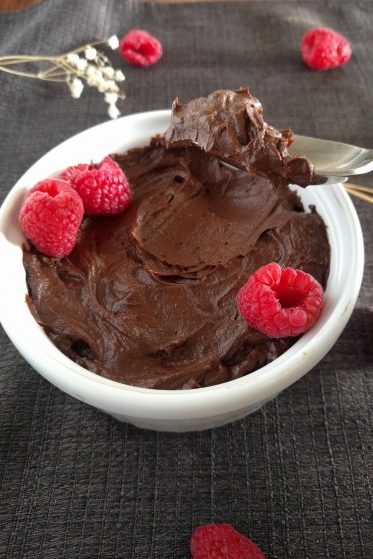 Homemade Paleo Chocolate Pudding
When you follow the Paleo diet (or any special diet, really), you have to compromise and give up certain desserts. We typically don't eat dairy, and we try to avoid refined sugar.
So this pudding works perfectly for us. You should see how excited my kids get when they realize I'm making pudding. Disneyland's got nothin' on this pudding.
With just a few ingredients (avocados, cocoa powder, honey, and a pinch of salt), it gives a creamy rich chocolate flavor that's almost too good to be true.
And before you start thinking that pudding is just for kids...it's not. At least this pudding isn't. It's made with wholesome ingredients and sweetened naturally. No preservatives or refined sugars in this grown up healthy pudding.
Ready to Save Hundreds on Your Grocery Budget?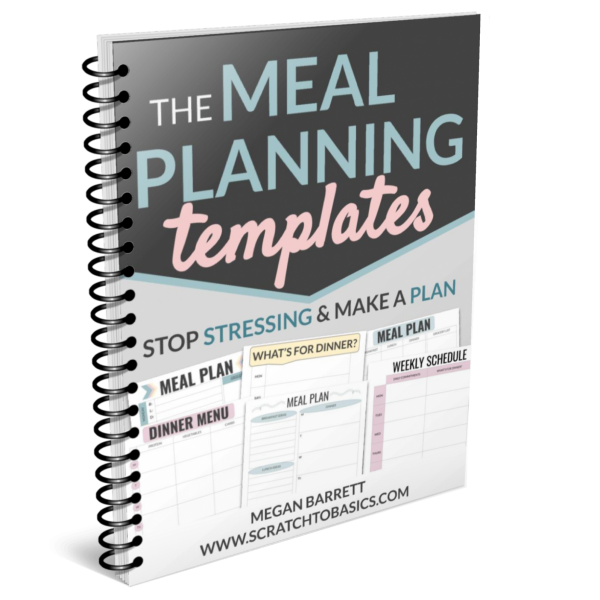 Make a Meal Plan Today!
Get started meal planning and save hundreds every month with this bundle of meal planning templates. Opt in below to get this PDF delivered directly to your inbox.
What Is chocolate pudding made of?
In case you're wondering what's in the boxed chocolate pudding, I looked into it.
The "Jello" brand of boxed chocolate pudding has the following ingredients.
sugar
modified corn starch
cocoa processed with alkali
sodium phosphate
and less than 2% of:

tetrasodium pyroposphate
natural and artificial flavor
salt
artificial color
mono- and diglicerides
red 40
yellow 5
blue 1
I think it's clear which pudding is made with real food, wholesome, and natural ingredients. And which is a far cry from the "real deal".
What's in a name?
I struggled for a while about what to call this creation. Frosting? Mousse? Pudding? Chocolate...dip?
Frosting
Initially I was thinking it was more of a frosting recipe. You could TOTALLY use it as a frosting.
Related: 5 Minute Avocado Chocolate Frosting Recipe
In fact, I DO use it as chocolate frosting on this delicious Paleo dark chocolate cake. I make that cake for every special occasion I can think of. I even made it for absolutely no reason at all, other than I wanted to test out a new camera I bought. And I take advantage of every opportunity to make it.
So frosting. That's an option.
Avocado chocolate frosting...
But then I started eating it by the spoonful, and realized I wouldn't shouldn't do that with something called frosting.
Also, this pudding isn't as sweet as most frostings you'll find in the store (one of the reasons I love it).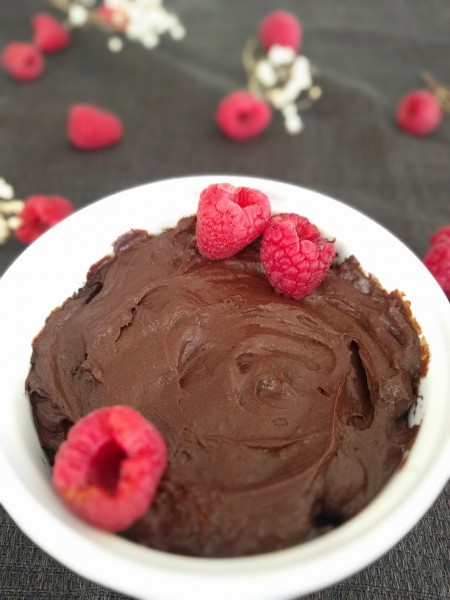 Mousse
Maybe it's more of a mousse recipe. Yeah, you could call it that.
It tastes luxurious enough to be called mousse. Put it in some little fancy glasses and serve it at your next party.
Since mousse is typically a little fluffier and has more of a whipped texture, that name didn't quite fit. Because this pudding isn't really whipped. You could fool ME, but maybe not chocolate mousse experts...if there is such a thing.
Chocolate Dip
And then I thought about calling it chocolate dip. That gets the idea across...dip things in it and eat it...kind of like fondue. It doesn't quite roll of the tongue though.
Pudding
I think I'll stick with pudding. Forget the boxes of pudding and the snack packs. Try this homemade chocolate pudding recipe today! Seriously. Today.
Not only will you benefit by avoiding all the preservatives in the store-bought stuff, but you'll be using avocado which has awesome health properties (like healthy fats, potassium, and fiber).
And, BONUS...my kids LOVE it! It's a healthy treat that I can whip up in five minutes with only three ingredients.
Ingredients Used To Make This Pudding
This pudding is made with three (four if you add the salt) ingredients and couldn't be simpler to make.
Avocados - You'll want them perfectly ripe - or a little over-ripe.
Cocoa powder - Get this 100% cocoa powder (or cacao powder)
Honey - I use this raw honey. It has great flavor and is unrefined so the good stuff in the honey.
Salt - We use this salt because it still has trace minerals that aren't in refined salts.
Tools used to make this pudding
How To Make Your Avocado Chocolate Pudding
Get your equipment and ingredients out and be prepared to taste something incredible in just a few minutes.
Use your food processor, stand mixer, or immersion blender to blend all the ingredients together.
Here's a tip: if you use an immersion blender or stand mixer, put the cocoa powder in the bowl first, then honey, then avocados. That way you won't get a giant puff of cocoa when you turn on the blender (or mixer). Trust me on this one.
Serving your avocado chocolate pudding
Serve your homemade Paleo pudding in a ramekin or a fancier stemless wine glass like this one, if you're feeling luxurious.
How to store your pudding
Avocado chocolate pudding will keep well for probably 3-5 days in a mason jar or these glass pudding jars. Honestly, I can't seem to keep it in the fridge long enough to know when it goes bad. It's too good. And we eat it up fast.
If you find that this makes too much, I have frozen/defrosted the pudding with no noticable flavor or texture difference.
Special occasion healthy pudding
This would be a fun cooking activity to make with kids, or it would make a great dessert for your next date night! Maybe a Valentine's Day dessert?
Oh, speaking of date night desserts...if you're looking for a gluten & dairy free brownie recipe for your next date night, you've got to try this guilt free personal brownie (it makes enough for two...if you're willing to share).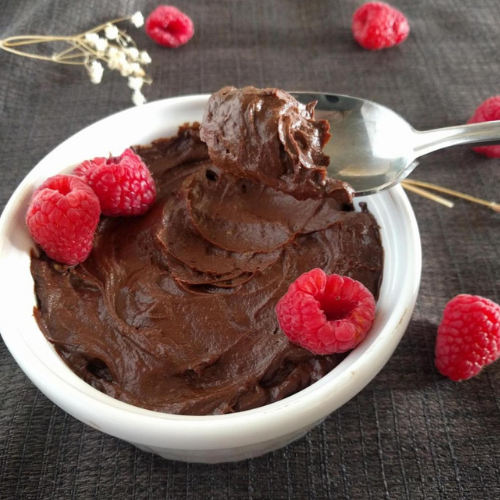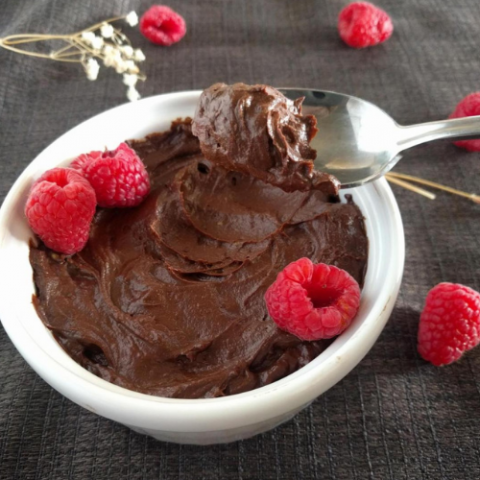 Avocado Chocolate Pudding
Ingredients
2 large avocados
½ cup cacao powder (or cocoa powder)
½ cup honey or maple syrup
pinch of salt (optional)
Instructions
Using your food processor, stand mixer, or immersion blender, blend the avocados, cacao powder, and sweetener until smooth.
Eat right away or store in fridge for 2-3 days.
Nutrition Information:
Yield:

8
Serving Size:

¼ C
Amount Per Serving:
Calories:

180
Total Fat:

8g
Saturated Fat:

1g
Trans Fat:

0g
Unsaturated Fat:

6g
Cholesterol:

0mg
Sodium:

21mg
Carbohydrates:

28g
Fiber:

5g
Sugar:

19g
Protein:

2g