Some of the links on this site may be affiliate links. This means, at no additional cost to you, I may be paid a small commission if you follow the links and make a purchase. Learn more here.
Do you want to take control of your meal times during the week, but you're not sure you make your own meal plan? Using a meal planning service is one of the easiest ways to get started meal planning. Because with a meal planing service, the meal plans are already made. All you have to do is follow the plan.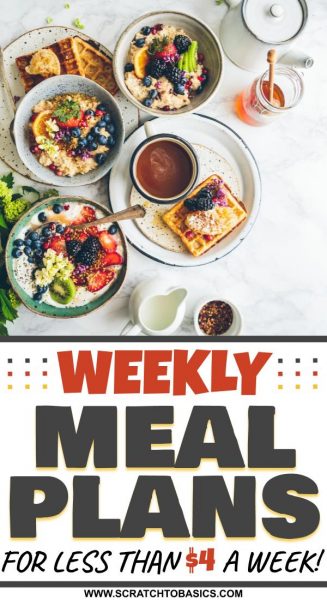 This post provides 5 of the best meal planning services to make meal planning work for you.
What is meal planning?
A meal plan is a piece of paper, a list on a chalkboard or whiteboard, or a digital list of what you're planning on cooking for dinner for the week ahead. Meal plans can include breakfast and lunch, but don't have to.
Meal planning ensures less stress around meal times, more time with your family around the table, and more home cooked meals.
Think about WHY you're starting this meal planning adventure.
Do you want to lose those last 10 stubborn pounds of baby weight that never seemed to disappear after your kid was born?
Maybe you want to be able to whip up dinner in a few minutes, confidently, when you learn friends are coming over, without feeling self conscious about whether they'll like the food?
Or maybe you're tired of spending hundreds of dollars every month on eating out because you couldn't muster up the energy (or plan ahead) enough to cook dinner at home.
Did you know that just by making food at home, you'll be saving money on your food bill? It's true. Use the calculator on this page to see how much you could be saving, just by making a meal plan and cooking more at home.
Related: How to Save Hundreds, Simply By Meal Planning
There are a couple ways to go about getting started meal planning.
DIY: Find recipes you want to make (on Pinterest, google, family favorites, or cookbooks lying around) and make a calendar (weekly or monthly) where you organize the meals you'll make that week.
Use a pre-made meal plan from a meal planning service. There are some awesome companies out there who's mission is to make meal planning easier on you by providing ready-made meal plans every single week.
If you're going to go the DIY route, grab one of these meal planning templates to get started.
Related: 20 Meal Planning Templates To Melt The Stress Away
If you'd rather learn more about the pre-made meal plans and find a meal planning service that works for you, keep reading.
What is a meal planning service?
A meal planning service (sometimes called a meal planning subscription) is a program where a person (or company) creates meal plans (often catered to specific diets) and sells them to you at a monthly (or yearly) fee.
Related: The Best 6 Meal Planning Apps – Make Your Own Meal Plan Digitally
The main benefit is that you don't have to make your own meal plan every week. If you struggle to come up with recipe ideas and feel overwhelmed at the thought of sitting down to find recipes and then create a grocery list, a meal planning service is just what you need.
Best meal planning services
All of the services below charge a small fee to provide meal plans every week. However many of them offer a free trial so you can try out their platform to see if it works for you.
If it saves you stress and time every week, and you're okay following someone else's meal plan, the small fee you'll pay for the pre-made meal plans will be well worth it.
Here are the apps/websites I'll go over below:
1. Prep Dish
Pricing: FREE trial for 2 weeks, then $42/quarter, $99/year, or $149/year for premium subscription.
Prep Dish is a subscription based meal plan service created by Allison Schaaf (chef & dietician). Allison wants to help you save time and put home-cooked meals on the table.
Honestly, the Prep Dish system has totally changed dinner time in my house. Read my full review here.
Related: My Prep Dish Review: The Stress Free Meal Planning Service
How it works
When you sign up, you'll get a beginner meal plan to get you started with the Prep Dish system. This meal plan only takes one hour of prep work for the whole week. And, it's extremely delicious.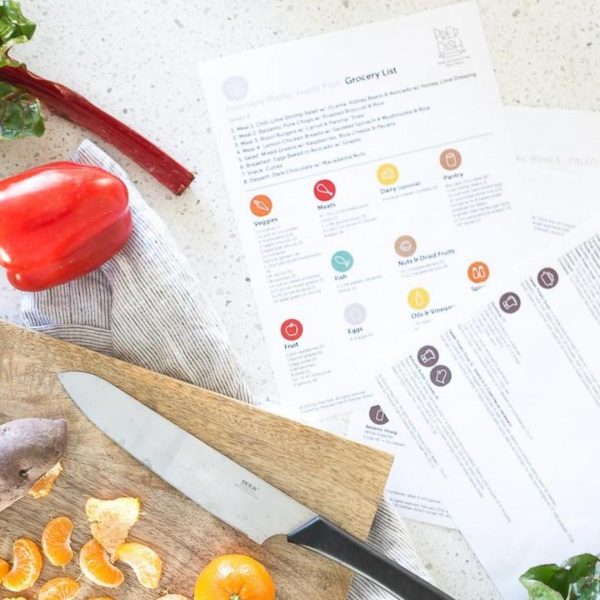 For just a couple dollars each week, you'll get:
4 dinner recipes
1 salad recipe
1 breakfast recipe
And 1 healthy snack recipe
In addition to the recipes, each week you'll get:
"Prep Day" instructions – a step by step list of things to do to get the week's meals prepped and ready to go.
"Dish Day" Instructions – step-by-step instructions for cooking the food on the day you'll actually be eating the meal (called "Dish Day")
Grocery Shopping List – with notations for which meals require the ingredients (in case you decide not to make one of the recipes, this makes it easy to adjust the shopping list).
My favorite things about Prep dish
Prep Day! I absolutely LOVE having dinners half-way done when dinner time rolls around. It only takes a couple hours to get meals for the week prepped. This has taken me from being stressed and rushed to calm and unhurried for weeknight dinners
Allison is a certified dietitian. The recipes she creates are full of flavor, and packed with nutrition.
Her meal plans are gluten free & Paleo. She also offers Keto meal plans for an additional fee.
Try Prep Dish FREE for two weeks by clicking here
OR
Sign up for the annual plan and get $10 off by clicking here (use code: SCRATCH10)
---
2. Once a Month Meals
Pricing: Free trial (cook a free meal plan) then $20/month or $162/year. They open their doors to new memberships a few times a year. Sign up for the wait list here!
Once a Month Meals is a website dedicated to helping you cook homemade meals for your family. They provide recipes and meal plans for freezer meals. A freezer meal is basically a make-ahead meal, or a prep-ahead meal. You prep/cook it, then freeze it, then thaw and re-heat it when you're ready to eat it.
Once A Month Meals helps you cook all your meals for a WHOLE MONTH in one day, then freeze them for when you need them. Can you imagine what it would feel like if dinner was taken care of for the whole month? After just one day of cooking?
Try Once A Month Meals for FREE and sign up for the wait list here!
How it works
When you sign up, you'll get access to their pre-made menus and all their recipes. Then it's time to get started! You can choose to manually make your own meal plan on their website, or make it easy and choose one of their pre-made menus.
Once you've got your meal plan created (or selected), OAMM compiles the ingredients into a shopping list that you can print or download. Look through your pantry first and cross out any items you already have. Then head to the store!
To save you time, there's also the option of sending your grocery list to Instacart. That way you have the choice of picking your order up at the store or getting it delivered. Could they make this any easier?
In addition to the shopping list, they'll also provide the prep instructions, cooking day instructions, recipe cards, labels for the freezer with nutritional information, and a thaw sheet.
I love the idea of making all the meals for the month in one day, then not worrying about it for another month.
The option to send the grocery list to Instacart is super helpful and makes life that much easier.
Try Once A Month Meals for FREE and sign up for the wait list here!
---
3. My FreezEasy
Pricing: FREE trial (access to workshop FREE + one FREE freezer meal plan) then $12/month or $120/year.
My FreezEasy is a freezer meal service with a website, mobile app, and tablet app where you can either create your own meal plan from the freezer meals provided, or use one of their pre-made meal plans.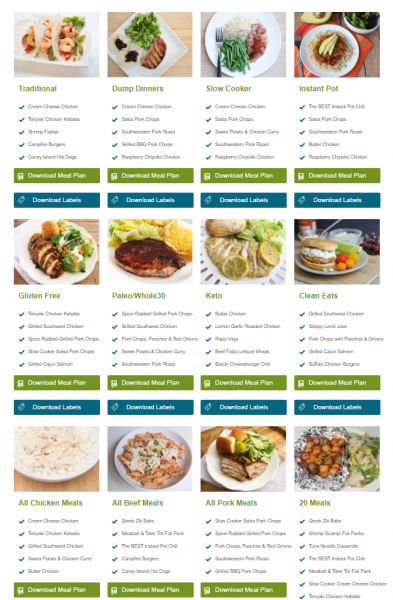 They provide a shopping list for all recipes on your selected meal plan, along with prep instructions, recipes, labels and a thaw sheet. Once you have your grocery list, just "shop" your pantry first..making sure to cross out the items you already have.
How it works
When you sign up for My FreezEasy, you can choose to make your own meal plan from the recipes provided on the app (website app, mobile app, and tablet app available) or use a pre-made meal plan. The pre-made meal plans are categorized by diet.
Once you've created (or selected) a meal plan, use their grocery list to head to the store and get everything you need to make your meal plan happen.
My favorite things about My FreezEasy:
Use their pre-made meal plans in any category you choose.
Videos to walk you through the recipes.
You can switch out recipes in the meal plan and customize it.
---
4. emeals
Pricing: FREE trial for 14 days, then 1 year for $59.99 or 3 months for $29.99
EMeals provides pre-made meal plans in a variety of categories, catering to almost any diet or eating plan. Their website and app provide pre-made meal plans for dinners for the week. And for an additional fee you can even add the breakfast and lunch meal plans, too.
EMeals has a wide variety of categories to choose from like Paleo, clean eating, budget friendly, kid friendly, vegetarian, low calorie, 30 minute meals, low carb, etc.).
You get to pick your category, and they provide 7 meals each week for you within the category. You can switch categories, but you can't customize the plan they give you. This is one big different between EMeals and the other meal planning services.
If you don't care about switching meals around and you just want a meal plan to follow that works with your diet or eating style, EMeals is for you!
How it works
After you sign up, you get to choose which category of meal plans you want.
If you pick the Paleo meal plan (for example), you will get access to seven Paleo recipes each week. Within the app, you can easily create a shopping list by clicking which recipes you'd like to make.
Each recipe seems to have a main dish and a side dish recipe, which is awesome.
They also offer the option to send your grocery list to Amazon, Walmart, Kroger, Instacart, or Shipt. With these options you might not even need to go to the store. With a few have it delivered, or pick it up from the store. Talk about convenient!
My favorite things about EMeals:
They cater to many different diets – something for everybody.
The ability to s

end the grocery list to Amazon, Walmart, Kroger, Instacart, or Shipt

.
Optional breakfast and lunch meal plans.
---
5. The Six O'Clock Scramble
Pricing: Free 2-week trial, then 3 Months for $35 ($3/week), 12 Months for $100 ($2/week), or 24 months for $150 ($1.44/week)
The Six O'Clock Scramble is an online meal planner that helps busy people get healthy meals on the table with less time, money and stress. The Scramble gives thousands of families a ready-made, healthy, and seasonal dinner plan for the week (which is completely customizable!)
Their mission is to make meal planning simple, cooking easy, and eating joyful.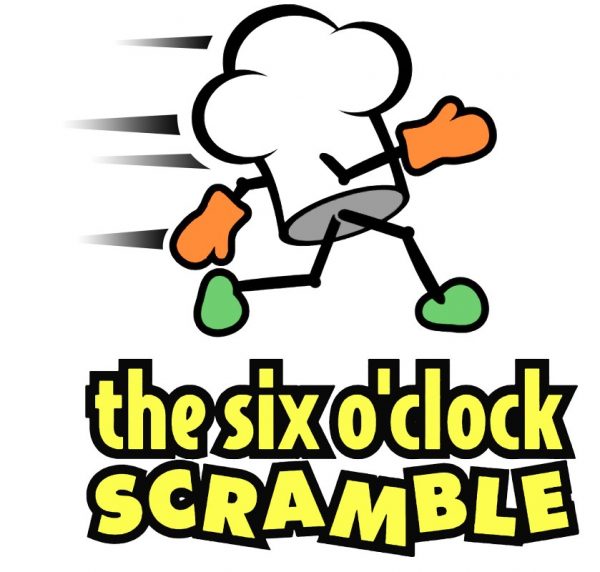 Six O'Clock Scramble Features:
Weekly seasonal healthy, family-friendly meal plans
Organized, customizable grocery list
Healthy 30-minute meals your entire family will love
Simple side dishes with each recipe
Ability to customize meal plans for diets and tastes
Weekly slow cooker options
Do Ahead or Delegate Tips to make dinnertime easier
Recipes scalable to fit your family size
Loads of Vegetarian, Gluten-free, Nut-free recipes
Estimated food budget savings: $100+/week
Estimated Time Savings: 5 hours/week
How it works
When you sign up for The Scramble, you'll get your weekly meal plan with eight healthy recipes and a make-ahead breakfast option. You get to customize it to fit your family's dietary needs, preferences, and your weekly schedule.
They provide an organized grocery list you can take to the store. After you get the groceries you can enjoy stress-free planning, cooking, and home cooked meals with your family.
My favorite things about The Scramble
Their focus on stress free family dinners.
Simple side dishes come with each recipe
Family friendly recipes made with seasonal & healthy ingredients
Most recipes take 30 minutes or less (with instant pot/slow cooker options)
Try The Scramble FREE for 2 weeks today!
---
TIps for Using A Meal Planning Service
No matter which meal planning service you use (or if you decide to make your own), here are a few suggestions to make meal planning even easier.
Meal prep makes life even easier. Read this article for a beginner's guide to meal prepping.
Find a system that works for you. If you love the process of sitting down and creating a meal plan, do it! But that sounds like torture, find a meal planning service that will provide meal plans for you. Find what works for you!
Remember your "why". Why are you meal planning in the first place? This will help keep you motivated and help you make meal planning a sustainable habit in your routine. Figure out your "why" and hang it up in your kitchen where you'll see it daily.
PIN THIS FOR LATER!