Some of the links on this site may be affiliate links. This means, at no additional cost to you, I may be paid a small commission if you follow the links and make a purchase. Learn more here.
When you make these fish tacos with avocado mango salsa, you'll want to add them to the regular meal rotation. Fish tacos with creamy avocado, sweet mango, and lots of flavor that is sure to please the whole family.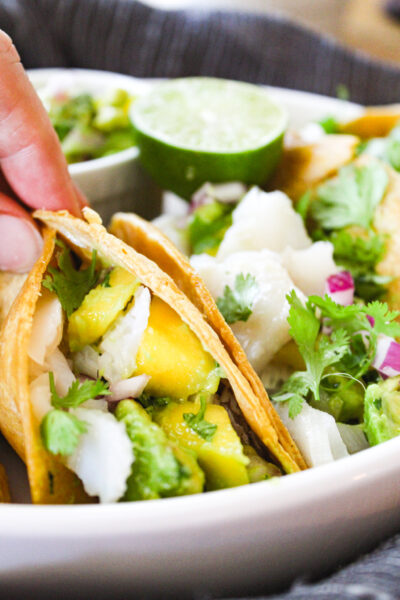 Ingredients to make fish tacos with avocado mango salsa
Fish - You can use any white fish for these tacos. We used cod and it worked well. You could probably even use salmon, but I've never tried it.
Oil - You'll want a little bit of oil to cook your fish. We like cooking with olive oil or avocado oil.
Salt - Add salt to the fish when you're cooking.
Cabbage - This adds a bit of crunch to the tacos. You can also use a lettuce/cabbage blend if you'd prefer, or just lettuce.
Limes - I like to drizzle the fish with lime juice.
Avocado Mango Salsa - With just a few ingredients you'll have a big boost of flavor in every bite. Make this mango avocado salad and plop it on those tacos today.
Cilantro (optional) - There is cilantro already in the avocado mango salsa, but for the cilantro lovers, go ahead and sprinkle a little more on there.
Tortillas - Buy your favorite type of tortillas, or make your own homemade tortillas if you've got a little extra time.
How to make fish tacos with mango salsa
Step 1: Make the fish
I like to cook the fish in a cast iron skillet (because we love our cast iron) with the oil and a pinch of salt. Flip it after 3-4 minutes, then drizzle lime juice over the fish.
Step 2: Make the avocado mango salsa
Here is the full recipe for the avocado mango salad. You'll see more photos in that post, but I've listed out the steps in the recipe card below. Basically, it's mango, avocado, lime juice, cilantro, and red onion mixed together for a bursting blend of flavor to make your tacos shine.
Step 3: Put it all together
Slice the cabbage very thin, cut some lime wedges (optional), chop the extra cilantro, and warm up the tortillas if you like to do that. We usually heat them for 30 seconds on each side to keep them from falling apart when you pick them up to take a bite. Then just put your tacos together and enjoy!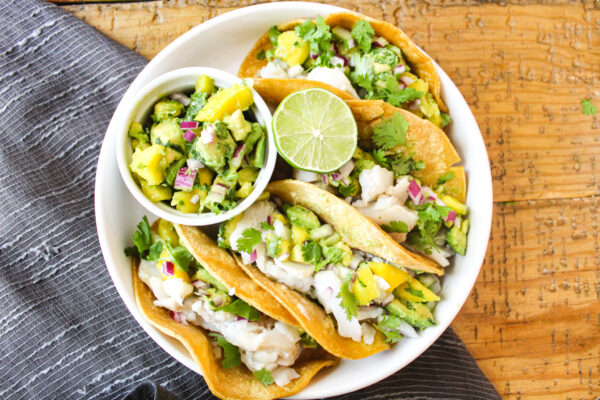 FAQs and Recipe Tips
How do you keep the tortillas from falling apart? If you're tired of your corn tortillas falling apart when you go to take a bite, try warming them in a skillet before you dish up. We usually heat them for 30 seconds on each side and it warms them enough to soften them, but not so much to make them crispy and dried out.
What fish should I use? We like to use cod, but you should use what you like. Any white fish would be great. Salmon or shrimp would be good, too. I just haven't tried it (yet)!
Can I make this ahead? You could make the individual pieces ahead of time (don't add the avocados to the salsa ahead of time though) and then just put it all together when you're ready to eat. I wouldn't make a bunch of tacos and then eat them a few days later. You'll end up with soggy tortillas and brown avocados.
Looking for more quick & easy healthy homemade dinner recipes?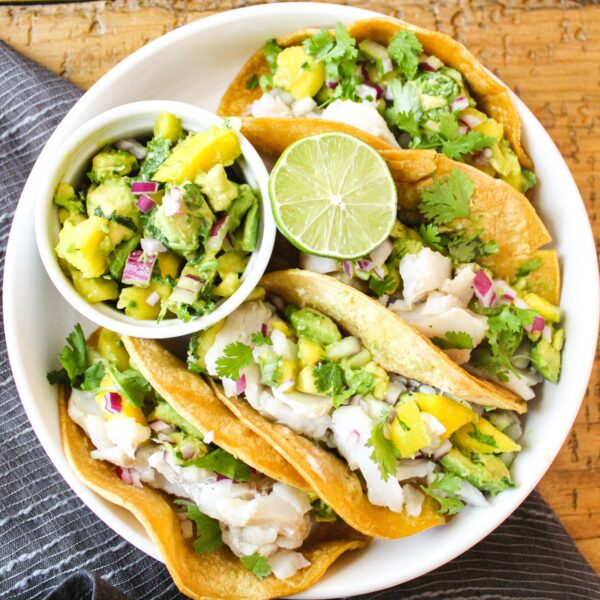 Fish Tacos with Avocado Mango Salsa
Fish tacos with avocado mango salsa - so good for a healthy summer meal. Sweet avocado mango salsa gives your taste buds a reason to dance in these fish tacos.
Ingredients
1 lb Cod (or other white fish)
1 pinch Salt
½ Lime (juiced), plus 1-2 more for wedges for serving
1 cup Cabbage, thinly sliced
1 Handful cilantro, chopped
Tortillas (any kind you like)
Avocado Mango Salsa
2 Mangos
2 Large Avocados
¼ cup Red Onion (finely diced)
½ cup Chopped Cilantro
2 tablespoon Lime Juice
¼ teaspoon Salt
Instructions
Heat a pan with 1 tablespoon oil on medium heat.
Sprinkle salt over the fish and cook it in the hot pan for 3-4 minutes and then flip. You'll know it's cooked when it flakes easily with a fork.
Drizzle the fish with juice from ½ lime, remove from the pan and set aside.
Finely slice the cabbage.
Put it all together. Tortillas, fish, cabbage, avocado mango salsa, and garnish with cilantro.
Sit down and enjoy!
Nutrition Information:
Yield:

4
Serving Size:

1
Amount Per Serving:
Calories:

198
Total Fat:

2g
Saturated Fat:

0g
Trans Fat:

0g
Unsaturated Fat:

1g
Cholesterol:

62mg
Sodium:

190mg
Carbohydrates:

16g
Fiber:

2g
Sugar:

7g
Protein:

28g
Don't Forget to Pin this for Later