Some of the links on this site may be affiliate links. This means, at no additional cost to you, I may be paid a small commission if you follow the links and make a purchase. Learn more here.
People rave about this avocado mayo recipe. It's made with simple ingredients already in your cupboard...the best egg free mayo out there. Use it on your sandwich, burger, or even as a dip for your veggies.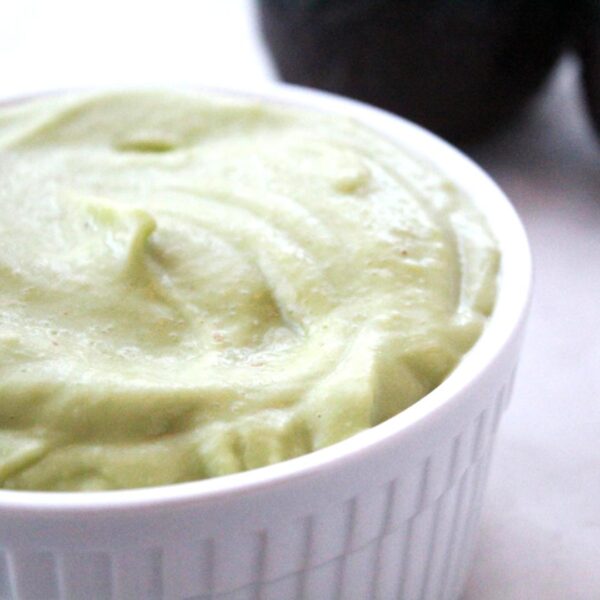 This avocado mayonnaise doesn't taste exactly the same to normal mayonnaise. But it IS tangy, creamy, and delicious (with even MORE flavor than regular mayo).
It's a plant based mayo recipe that's a great way to add more healthy fats to your diet and make your food taste delicious.
Tools Needed To Make Avocado Mayo
Immersion blender - If you don't already have an immersion blender, grab this one. It has a powerful motor which means no smoking and burning up the motor when you use it (I've tried several and that one works great).
Mason jar - You likely already have mason jars lying around, but if you need a few more this size works great to store dips and sauces.
Rubber spatula - This is a kitchen must-have. You'll be wasting food if you can't scrape the bowl clean with a rubber spatula like this one.
Ingredients for Avocado Mayo + Ingredient Substitutions
Avocado - You'll want to grab a large ripe avocado (soft to touch).
Apple cider vinegar - The vinegar will add some acidity to the mayo. Make sure it has the "mother" like this one for extra health benefits.
Lemon juice - The lemon juice adds some acidity and tang. Buy fresh lemons at the store, or 100% lemon juice like this one.
Spices - Garlic powder and onion powder add a delicious savory flavor to the avocado mayo.
Avocado oil - We try to avoid refined vegetable oils so I recommend avocado oil like this non-GMO avocado oil. You could also use olive oil if you'd prefer.
Water - The water will thin out the mayo. Add more water for a thinner mayo, less for thicker mayo.
Salt - Don't forget the salt to balance out the flavor.
How To Make Egg Free Avocado Mayo
The process to make this avocado mayonnaise is super simple. Throw all the ingredients into a mason jar, then blend it up using your immersion blender (I highly recommend this immersion blender).
If you don't have an immersion blender, you can use a food processor or a high speed blender. You know your blender better than I do. Some of them can't do dips like this because it all just sticks to the sides.
Related Post: Time Saving Kitchen Tools in My Minimalist Kitchen
If you're okay with a chunkier sauce, go ahead and try to mash your avocados with a fork (and mix it all up without any blender appliance).
FAQ
Is avocado mayo healthy? This avocado mayo recipe is full of healthy fats from avocados and simple ingredients. It's absolutely healthy.
What is avocado mayo made of? I've seen egg-free mayonnaise and avocado mayonnaise options at the store, but I've been discouraged that they seem to use vegetable oils, lots of soy, and other ingredients that I try to avoid if possible. But when you make it at home you can guarantee it's made with real food ingredients and healthy avocados.
What's the difference between mayonnaise and avocado mayonnaise? Avocado mayonnaise like this recipe is made with an actual avocado and no eggs. Mayonnaise (like this homemade mayonnaise) is made from an egg-oil emulsion.
How To Use Your Avocado Mayonnaise
There are so many ways you can use this egg free mayo.
Looking for more delicious homemade dips?
I'm a big fan of making sauces and salad dressings in your own kitchen. The store bought options usually have refined oils, preservatives, and excess salt and sugar that are just unnecessary.
Don't spend hours on Pinterest searching for simple & healthy sauce recipes when you could grab this eBook NOW and free up your afternoon! Learn more & grab it here (ON SALE NOW)!
Related Posts: How to Avoid Processed Food When It Feels Impossible and 10 Highly Processed Foods to Avoid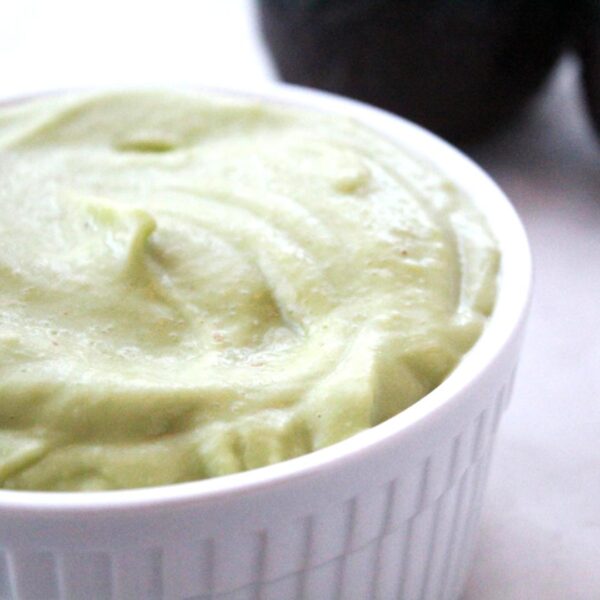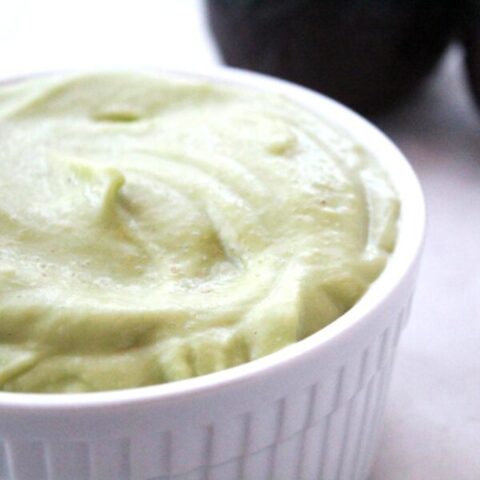 Tangy & Creamy Avocado Mayo
Make this mayonnaise without any eggs! Use creamy avocado and simple seasonings for a delicious dip!
Ingredients
1 large ripe avocado
1 tablespoon apple cider vinegar
3 tablespoon lemon juice
½ teaspoon garlic powder
½ teaspoon onion powder
2 tablespoon oil (avocado oil or olive oil work well)
¼ cup water
¼ teaspoon salt
Instructions
Put all ingredients in mason jar
Use immersion blender and blend until creamy
Taste and adjust, as needed
Store in mason jar in fridge
Notes
This recipe makes about 1 cup of avocado mayonnaise.
Nutrition Information:
Yield:

16
Serving Size:

1 Tbsp
Amount Per Serving:
Calories:

37
Total Fat:

4g
Saturated Fat:

0g
Trans Fat:

0g
Unsaturated Fat:

3g
Cholesterol:

0mg
Sodium:

38mg
Carbohydrates:

1g
Fiber:

1g
Sugar:

0g
Protein:

0g