Some of the links on this site may be affiliate links. This means, at no additional cost to you, I may be paid a small commission if you follow the links and make a purchase. Learn more here.
This recipe is the best vegan mayo recipe out there, made from avocados and simple ingredients. It's a great egg free mayonnaise that goes great on sandwiches, wraps, burgers, or even as a dip for your veggies. No matter how you use it, I know you'll love it.
What makes this egg free mayonnaise better?
Mayonnaise is traditionally made by carefully combining eggs and oil to make an emulsion. For a traditional egg mayonnaise, check out this homemade avocado oil mayonnaise.
To be clear, I absolutely love my "normal" mayonnaise recipe. It's delicious. But not everybody likes the mayonnaise with eggs, and not everybody can (or wants to) eat eggs.
How to Make Egg Free Mayonnaise
This egg free vegan mayonnaise doesn't taste exactly the same to normal mayonnaise. But it is tangy, creamy, and delicious (with even MORE flavor than regular mayo).
This plant based mayo recipe is a great way to include healthy avocados in your diet.
I've seen egg-free mayonnaise and avocado mayonnaise options at the store, but I've been discouraged that they seem to use vegetable oils, lots of soy, and other ingredients that I try to avoid if possible.
Related: Everything You Need To Know To Choose The Best Oils For Your Family
Health benefits of avocados
Avocados are incredibly nutritious. Here are just a few health benefits.
Avocados are full of the good, heart-healthy fats
They are higher in potassium than bananas
Avocados are a high fiber, nutrient rich food
Recommended Tools & Ingredients For Plant Based Avocado Mayonnaise
Recommended Tools To Make Egg Free Mayo
Recommended Ingredients for Egg Free Mayo
How To Make Egg Free Mayonnaise
The process to make this avocado mayonnaise is super simple. Throw all the ingredients into a mason jar, then blend it up using your immersion blender (I highly recommend this immersion blender). It's one of my favorite time saving tools in the kitchen.
Related: Time Saving Kitchen Tools in My Minimalist Kitchen
Alternatively, you can use a food processor or a high speed blender. You know your blender better than I do. Some of them can't do dips like this because it all just sticks to the sides.
And, if you're okay with a chunkier sauce, go ahead and try to mash your avocados with a fork (and mix it all up without any blender appliance).
How To Use Your Avocado Egg-Free Mayonnaise
There are so many ways you can use this mayonnaise.
Where to Buy Egg Free Mayonnaise
This recipe is super simple and only takes five minutes to whip up a batch. But maybe you're sitting there like..."but I don't HAVE five minutes right now." Well, I get it. We all go through busy seasons.
And sometimes you might decide it's worth it to BUY something that's pre-made instead of MAKING it from scratch. We all need to make the decision about what's worth it to make and what's not.
So if you're looking to buy avocado mayonnaise, or just egg-free mayo, check your local health food store. They'll probably have an egg free mayo, but it won't be made with avocados.
Or you can look on Amazon. I searched for "egg free mayo with avocados" on Amazon and got these results. You'll see it's not going to have the same ingredients as this recipe does though.
Also, I would caution you to check the ingredients and make sure you know what you're eating. Most sauces and dips are highly processed and have a bunch of stuff that we'd be better off NOT eating.
Related: How to Avoid Processed Food When It Feels Impossible and 10 Highly Processed Foods to Avoid
In the end, this egg free mayo recipe is delicious, nutritious, and so very worth taking five minutes to make at home.
Healthy Eating Resource - Prep Dish
If you're struggling to find time to prepare healthy meals at home, don't worry. Prep Dish can help. This is more than just weekly meal plans, it's a system that totally simplified meal planning for me.
It helped me see the value in prepping ingredients ahead of time and changed the way I think about meal planning. Get a FREE two week trial with this link OR read my in-depth Prep Dish review.
Looking for more delicious homemade dips?
Don't spend hours on Pinterest searching for simple & healthy sauce recipes when you could grab this eBook NOW and free up your afternoon! Learn more & grab it here (ON SALE NOW)!
Here are a few more delicious dip recipes I've got here on the blog: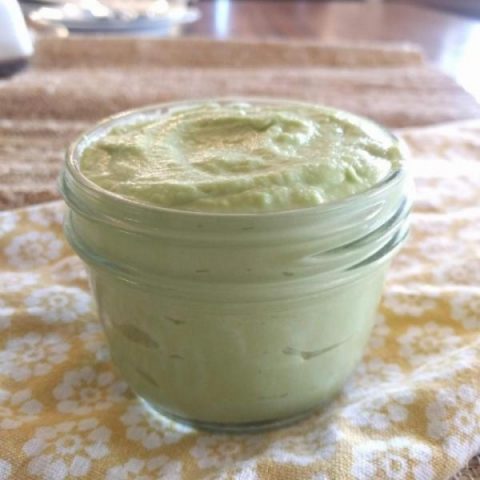 Tangy & Creamy Avocado Mayonnaise
Make this mayonnaise without any eggs! Use creamy avocado and simple seasonings for a delicious dip!
Ingredients
1 large ripe avocado
1 Tbsp apple cider vinegar
3 Tbsp lemon juice
½ tsp garlic powder
½ tsp onion powder
2 Tbsp oil (avocado oil or olive oil work well)
¼ cup water
¼ tsp salt
Instructions
Put all ingredients in mason jar
Use immersion blender and blend until creamy
Taste and adjust, as needed
Store in mason jar in fridge
Notes
This recipe makes about 1 cup of avocado mayonnaise.
Nutrition Information:
Yield:

16
Serving Size:

1 Tbsp
Amount Per Serving:
Calories:

37
Total Fat:

4g
Saturated Fat:

0g
Trans Fat:

0g
Unsaturated Fat:

3g
Cholesterol:

0mg
Sodium:

38mg
Carbohydrates:

1g
Fiber:

1g
Sugar:

0g
Protein:

0g