Some of the links on this site may be affiliate links. This means, at no additional cost to you, I may be paid a small commission if you follow the links and make a purchase. Learn more here.
Making avocado oil mayonnaise from scratch is easier than you might think. In fact, you can use an immersion blender or food processor and have it ready in just a few minutes (five minutes max). This whole egg mayo recipe is a staple in our house. We've been making it for years now, and have shared the recipes with anybody who's interested in eliminating vegetable oils from their diet.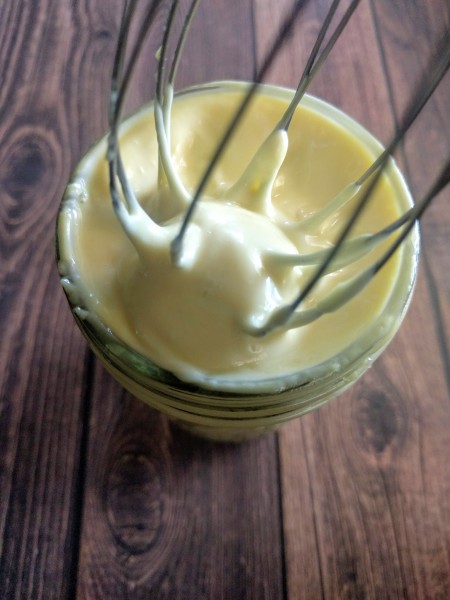 I like making things from scratch that are readily found in the store. Call me crazy, but I think it's fun. Often, it even saves money. And it's often healthier to make things from scratch since you have total control over what goes in, and what stays out. You're able to avoid preservatives, fillers, artificial flavorings, unhealthy oils, and allergens (if desired) AND choose flavors that you love.
Related: 5 Tips to Decoding Food Labels
If you're confused at all about which oils you should be cooking with, read this post about how to choose the best cooking oils.
Equipment Needed to make Avocado Oil Mayonnaise from Scratch
Over the last few years, I've made mayonnaise from scratch with a variety of different methods...
With a whisk – This method works, but takes some muscle and patience.
With an immersion blender - This method has been hit or miss for me, but my sister recently had good luck with it.
And with a food processor with a "pusher" - This is my preferred method that I'll cover today. We use our food processor a lot, and this is one of my favorite ways to use it.
If you have a food processor with the pusher, this will be incredibly easy. I didn't know this for several years, but the pusher has a tiny hole in the bottom of it that works perfectly for what we're about to do.
Methods to make mayonnaise from scratch
No matter what equipment you use, the process is the same. When you combine the vinegar (in our case, lemon juice and mustard) with egg and very slowly add the oil, the egg yolk works as an emulsifier and binds the vinegar to the oil.
The key is to add the oil very, very slowly.
Pretty straightforward, right? Right. Here we go.
Making mayonnaise with a food processor
First, gather your food processor and your ingredients. If you're not sure what a "pusher" is, it's the white thing that the oil's being poured in in this picture. It's used to push things into the bowl to be processed. Hence, the name.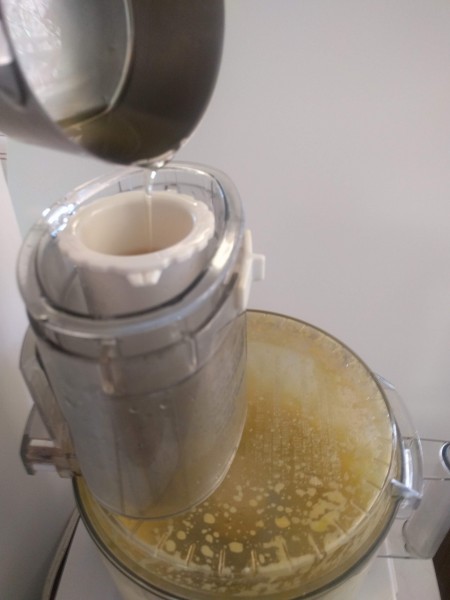 The reason this recipe is so simple is because of the tiny hole in the bottom of the pusher. If your food processor doesn't have a pusher with a hole, you can still make mayonnaise - don't worry. Keep reading.
How to make avocado oil mayonnaise
Crack the egg into the bowl of the food processor, add the mustard, lemon juice, and one tablespoon of the avocado oil into the bowl of the food processor.
Note: Use the highest quality and freshest eggs you can find when you're making this mayonnaise since there will be raw egg in the finished product.
Some mayonnaise recipes I've used in the past only use the egg yolk instead of the whole egg. The difference between the yolk-only mayonnaise and this whole-egg mayonnaise is the texture of the end result. The whole-egg mayonnaise will be a bit thinner than the yolk-only recipes.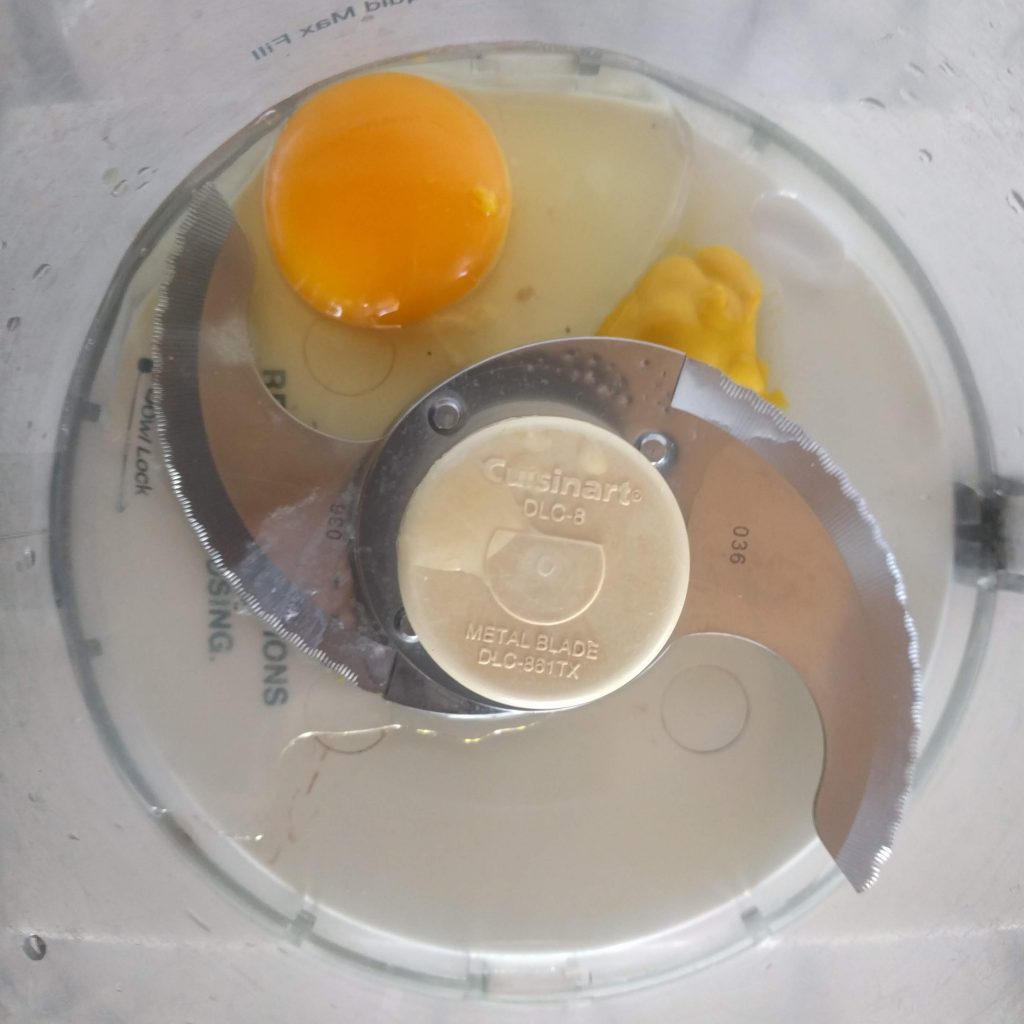 Now, put the lid on your food processor and turn it on for about a minute. You just want everything to be mixed well. The consistency will be pretty thin at this point. It'll thicken up in the next step.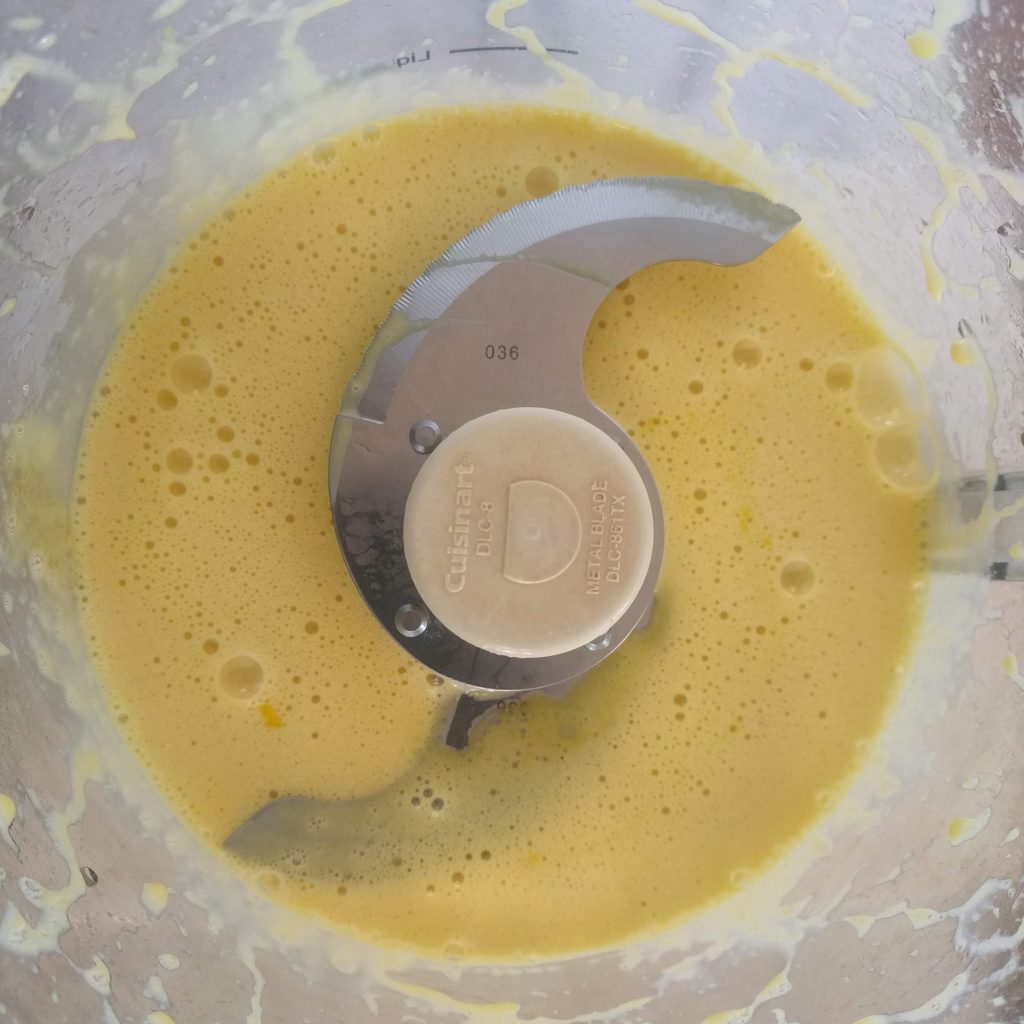 If you have a pusher with a hole in it, just turn on the food processor and start pouring the oil into the pusher. The oil will slowly drizzle into the mixture while the food processor is running, and the mixture will thicken in just a couple minutes.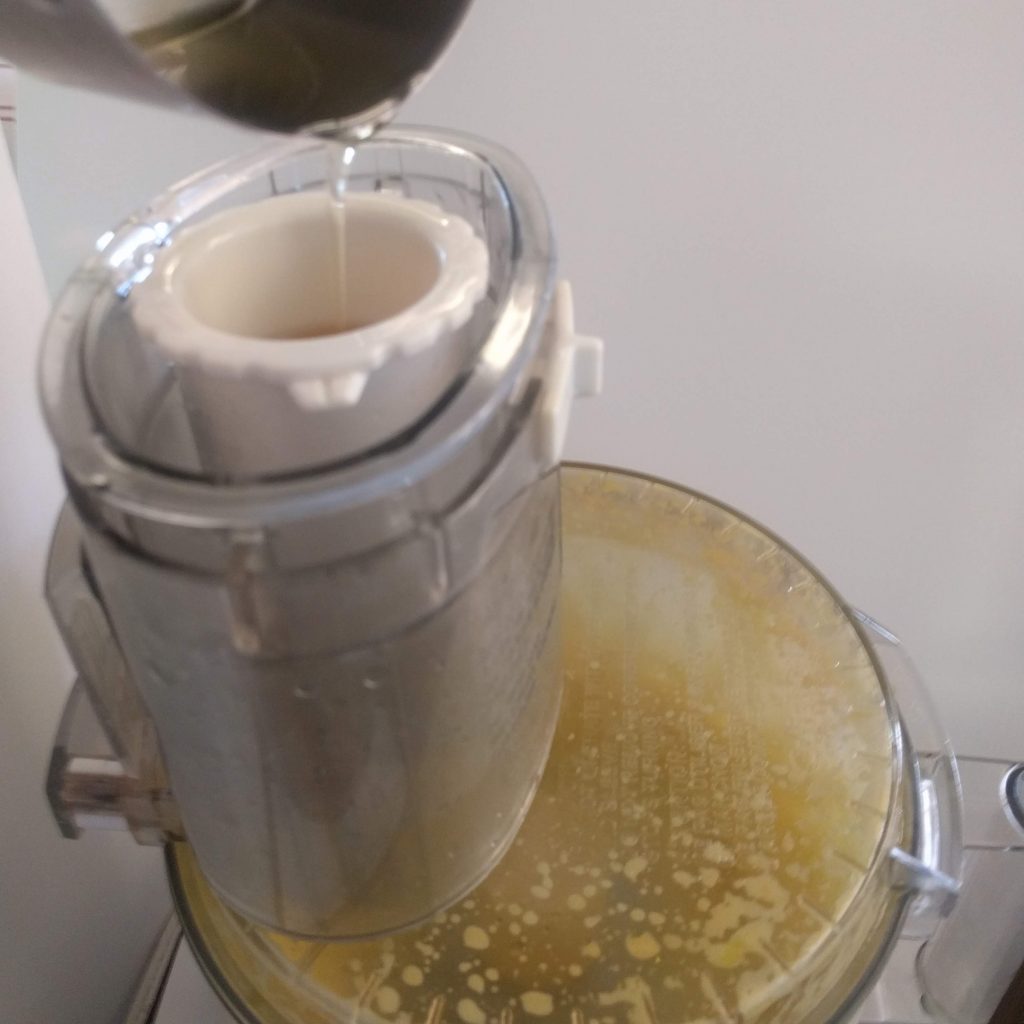 If you don't have a food processor with a pusher...
If your food processor doesn't have a pusher with a hole in it…don't worry. I made mayonnaise many times before I realized the magic of the pusher.
All you have to do is use one of the other methods I mentioned earlier or just slowly pour the oil in with the food processor running. Add a few drips, then pause the pouring to let it mix together…then a couple more drips, repeat the process.
Once it starts thickening you can slowly pour a very thin stream of oil in until all the oil is incorporated.
Once all the oil has dripped through, you can turn the food processor off. Open the lid, and look at your delicious avocado oil mayonnaise. Yum!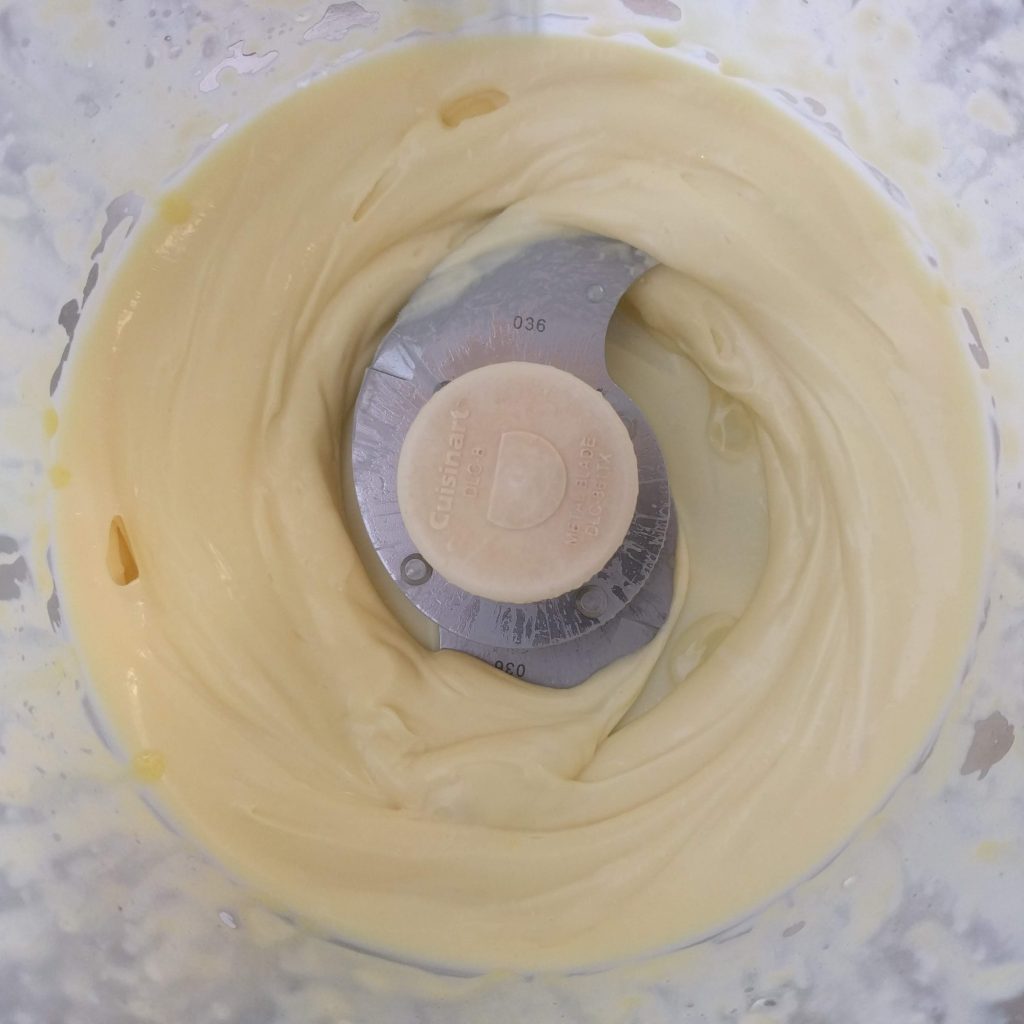 How long will this homemade avocado oil mayonnaise last in the fridge?
This recipe makes a little over a cup of mayonnaise and I usually store it in a mason jar, like this one. I love the wide mouth mason jars for storing sauces and dips like this.
You can keep your mayonnaise in the fridge for a week or two. If it starts to smell funky, throw it out.
Modifications to the recipe
You can customize your mayonnaise in many different ways. You can add spices and herbs to make it even more flavorful. Or use it as a salad dressing base. One of my favorite ways to use it is to add roasted garlic and herbs. Here are five other simple ways to use mayonnaise as a base for other dips.
You can also easily double the recipe. Just follow the same process and enjoy!
Can you freeze mayonnaise?
You may be wondering...can mayonnaise be frozen? The answer is...you can definitely freeze it, but the texture will not be the same when it's thawed. As you learned earlier, mayonnaise is made by a careful process to create an emulsion. Freezing and thawing will break the emulsion, and you'll be left with a separated oil/egg/vinegar mixture.
Where to buy avocado oil?
We buy our avocado oil at Costco, but you should be able to buy it these days at any grocery store, or online at Thrive Market. Read my Thrive Market review here to see if it's worth it for you.
Olive oil vs avocado oil mayo
If you don't have avocado oil to use in your mayonnaise recipe, you can use olive oil. If you use extra virgin olive oil, you'll definitely have an olive flavor to the mayo. I don't really like that flavor, so we use avocado oil (which has a really mild flavor).
Looking for more delicious Homemade Dips?
If you enjoyed making mayonnaise from scratch, you'll definitely enjoy these other delicious dips.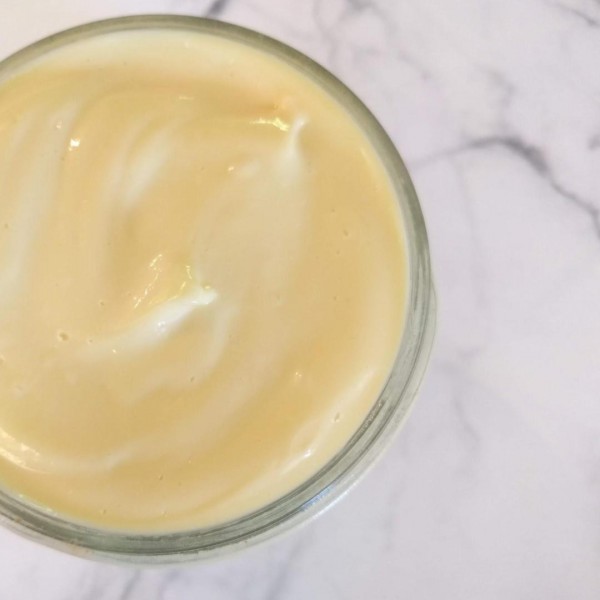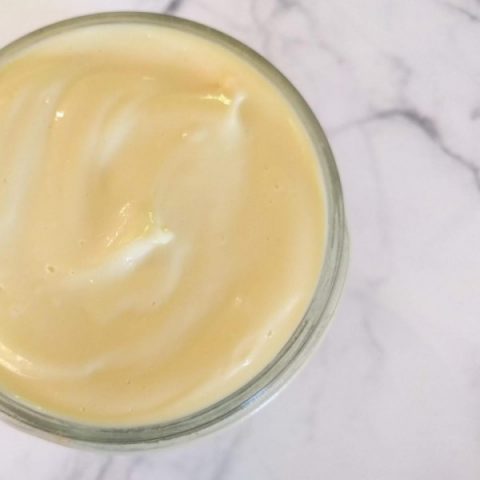 Easiest Homemade Mayonnaise
A simple and delicious mayonnaise recipe you can make in five minutes at home!
Ingredients
1 egg*
1 cup mild tasting oil (like avocado oil)*
1 tsp mustard
1 Tbs lemon juice
salt, to taste
Instructions
In the bowl of your food processor with your "S" blade, add the egg, one tablespoon of the oil, mustard, and lemon juice.
Turn the food processor on for one minute to combine the ingredients.
With the food processor running, pour the rest of the oil VERY SLOWLY into the bowl. (If you have a "pusher" with a small hole, just pour the oil into the pusher. If not, pour the oil in a few drops at a time until it starts thickening, then you can pour with a thin stream.)
The mixture will thicken. When all the oil has been incorporated, turn off the food processor.
Add salt, to taste. You can add more lemon juice, or mustard if desired.
Notes
*Egg - Since this recipe uses a raw egg, it's best to use the freshest eggs possible, from the healthiest chickens possible.
*Oil - In my experience, a mild flavored oil is the best choice for mayonnaise. I've used extra light olive oil, or avocado oil with good results. You can use a stronger flavored oil, but your mayonnaise will taste like it.
Nutrition Information:
Yield:

16
Serving Size:

1 Tbsp
Amount Per Serving:
Calories:

129
Total Fat:

14g
Saturated Fat:

1g
Trans Fat:

0g
Unsaturated Fat:

13g
Cholesterol:

12mg
Sodium:

44mg
Carbohydrates:

0g
Fiber:

0g
Sugar:

0g
Protein:

0g
Don't forget to share on Pinterest!