Some of the links on this site may be affiliate links. This means, at no additional cost to you, I may be paid a small commission if you follow the links and make a purchase. Learn more here.
Making avocado oil mayonnaise from scratch is easier than you might think. In fact, you can use an immersion blender or food processor and have it ready in just a few minutes (five minutes max).
This homemade mayo avocado oil is a staple in our house. We've been making it for years now, and have shared the recipes with anybody who will listen :).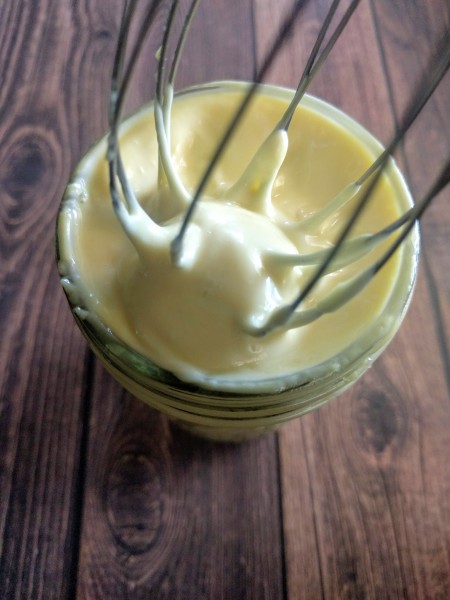 I like making things from scratch, even if I can find a similar product in the store.
Call me crazy, but I think it's fun.
Often, it even saves money.
And since you have total control over what goes in, and what stays out when it's made in your own kitchen, you're able to avoid preservatives, fillers, artificial flavorings, unhealthy oils, and allergens (if desired) AND choose flavors that you love.
Related: 5 Tips to Decoding Food Labels to be an informed consumer
Tools needed to make homemade mayonnaise
Over the last few years, I've made homemade mayonnaise from scratch with a variety of different methods. You don't need all three of these, just pick one.
Whisk - I don't recommend this method - it takes way too long for my style.
Immersion Blender - This method works well for some people, although I've had a hard time making it work consistently.
Food processor- This is my favorite method. Even though it involves a little more cleanup than the other options, it works 100% of the time, and it only takes a few minutes (hands-off time) This is the one we have had for over a decade.
I'll be walking you through the steps to make your avocado oil mayonnaise with a food processor in this post.
Ingredients to make avocado oil mayonnaise
Egg - The eggs are the star of the show in this recipe. We'll be doing an egg emulsion, which is what will thicken the mayonnaise.
Mild tasting oil (like avocado oil) - Some people don't mind the olivey taste from olive oil, but it's not my favorite so I use avocado oil. It's a more natural oil than some, and it also has a mild flavor.
Mustard - The mustard gives some acidity and adds to the flavor in this recipe.
Lemon juice - Lemon juice also gives some acidity (needed for the emulsion) and I like the sweet flavor. You can sub for vinegar if you'd prefer.
Salt - To taste.
How to make avocado oil mayonnaise
Don't be intimidated by the egg emulsion. You can do it! I'll walk you through the steps below.
First, gather your tools and your ingredients.
I'll be using the food processor along with this little white tool (apparently it's called the "pusher". Mine has a small hole on the end for this exact purpose. It'll drizzle the oil in for you so you don't have to stand there forever.
If your food processor doesn't have this "pusher" with a small hole in it, you can still make this relatively easy, keep reading.
Next, add the ingredients (except most of the oil and the salt) to the bowl of the food processor
Use the highest quality and freshest eggs you can find when you're making this mayonnaise since there will be raw egg in the finished product.
Some mayonnaise recipes I've used in the past only use the egg yolk instead of the whole egg. The difference between the yolk-only mayonnaise and this whole-egg mayonnaise is the texture of the end result. The whole-egg mayonnaise will be a bit thinner than the yolk-only recipes, and I like it. It's spreadable and delicious.
Mix for 30-60 seconds
Now, put the lid on your food processor and turn it on for about a minute. You just want everything to be mixed well. The consistency will be pretty thin at this point. It'll thicken up in the next step.
Next, add the oil!
If you have a pusher with a hole in it...
If you have the option to passively let the oil drizzle in with the "pusher" just turn on the food processor and start pouring the oil into the pusher. The oil will slowly drizzle into the mixture while the food processor is running, and the mixture will thicken in just a couple of minutes.
If you don't have a food processor with a pusher...
If your food processor doesn't have a pusher with a hole in it, don't worry — I made mayonnaise many times before I realized the magic of the pusher.
All you have to do is use one of the other methods I mentioned earlier or just slowly pour the oil in with the food processor running. Add a few drips, then pause the pouring to let it mix together then a couple more drips, repeat the process.
Once it starts thickening you can slowly pour a very thin stream of oil in until all the oil is incorporated.
Once all the oil has dripped through(and the mayonnaise has thickened), you can turn the food processor off. Open the lid, and look at your delicious avocado oil mayonnaise. Yum!
FAQ & Recipe Tips
What if it doesn't come together?
If your egg emulsion fails, don't worry. You can save it (I have done this multiple times). Set the stuff aside that didn't work, and make a fresh batch. Once the new batch has thickened, you'll pour the old (thin) stuff in just like we poured the oil in. Make sure to pour it slowly. This should help ALL of it come together (and now you've got a double batch :)).
Is Avocado oil mayonnaise healthy?
This recipe uses healthy avocado oil (or olive oil) and in doing so we avoid using vegetable oil, canola oil, etc.. Plus, we're making this at home with fresh ingredients. In my book, that's the definition of health. Feel free to google benefits of avocado oil if you're curious, and make the decision that's best for you.
Does avocado oil mayo taste good?
Yes. Avocado oil mayo produced at home is rich and creamy, and it tastes better than any mayo you can buy in a store (honest personal opinion). We still have periods of time where we use the store-bought versions (when our schedules get too packed) and I honestly prefer the homemade flavor over the available avocado mayo at the store.
What is the best oil for making mayonnaise?
You can make mayonnaise with any oil that you can slowly incorporate in, however you WILL taste the flavor of the oil in the finished product. So really it's all about your personal flavor preferences and your health goals. I love using avocado oil because it checks all the boxes for me.
If you're wondering where to buy avocado oil, we buy our avocado oil at Costco, but you should be able to buy it these days at any grocery store, or online at Thrive Market. Read my Thrive Market review here to see if it's worth it for you.
How long will this homemade avocado oil mayonnaise last in the fridge?
This recipe makes a little over a cup of mayonnaise and I usually store it in a mason jar, like this one. I love the wide-mouth mason jars for storing sauces and dips like this.
You can keep your mayonnaise in the fridge for a week or two.
You can also easily double the recipe. Just follow the same process and enjoy!
More recipes with mayonnaise ingredient
You can customize your mayonnaise in many different ways. You can add spices and herbs to make it even more flavorful. Or use it as a salad dressing base. One of my favorite ways to use it is to add roasted garlic and herbs.
If you enjoyed making mayonnaise from scratch, you'll definitely enjoy these other delicious dips.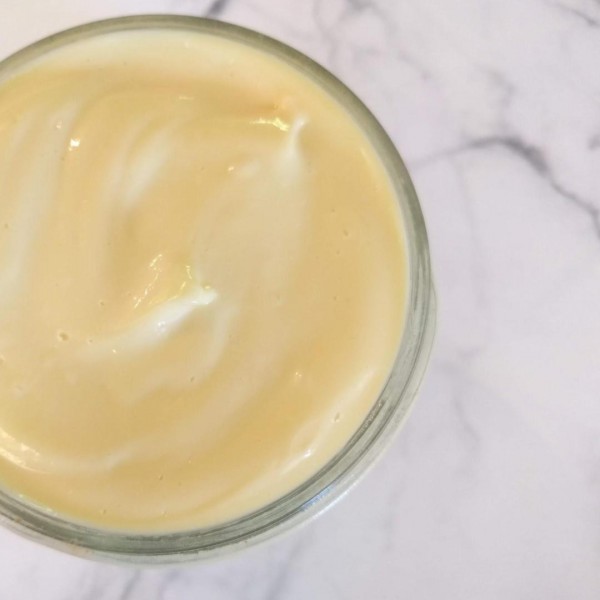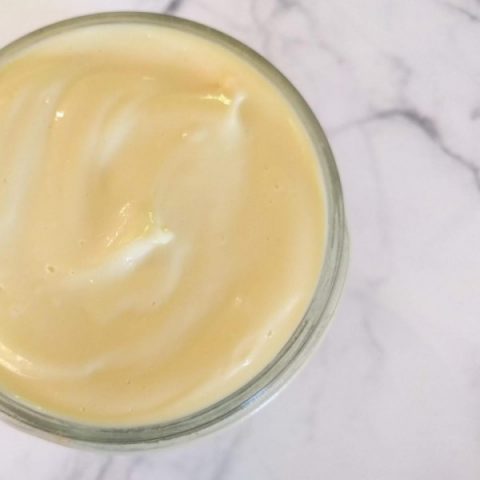 Easiest Homemade Mayonnaise
A simple and delicious mayonnaise recipe you can make in five minutes at home!
Ingredients
1 egg*
1 cup mild tasting oil (like avocado oil)*
1 teaspoon mustard
1 Tbs lemon juice
salt, to taste
Instructions
In the bowl of your food processor with your "S" blade, add the egg, one tablespoon of the oil, mustard, and lemon juice.
Turn the food processor on for one minute to combine the ingredients.
With the food processor running, pour the rest of the oil VERY SLOWLY into the bowl. (If you have a "pusher" with a small hole, just pour the oil into the pusher. If not, pour the oil in a few drops at a time until it starts thickening, then you can pour with a thin stream.)
The mixture will thicken. When all the oil has been incorporated, turn off the food processor.
Add salt, to taste. You can add more lemon juice, or mustard if desired.
Notes
*Egg - Since this recipe uses a raw egg, it's best to use the freshest eggs possible, from the healthiest chickens possible.
*Oil - In my experience, a mild flavored oil is the best choice for mayonnaise. I've used extra light olive oil, or avocado oil with good results. You can use a stronger flavored oil, but your mayonnaise will taste like it.
Nutrition Information:
Yield:

16
Serving Size:

1 Tbsp
Amount Per Serving:
Calories:

129
Total Fat:

14g
Saturated Fat:

1g
Trans Fat:

0g
Unsaturated Fat:

13g
Cholesterol:

12mg
Sodium:

44mg
Carbohydrates:

0g
Fiber:

0g
Sugar:

0g
Protein:

0g
Save This For Later on Pinterest