Some of the links on this site may be affiliate links. This means, at no additional cost to you, I may be paid a small commission if you follow the links and make a purchase. Learn more here.
This cream cheese frosting without powdered sugar will knock your socks off. It's so good, so simple, and sweetened with a touch of honey (an unrefined sugar). Instead of dumping the powdered sugar into the mixing bowl, just add a bit of honey and you'll end up with a healthier, but still delicious cream cheese frosting to enjoy on your cakes, cookies, or brownies today!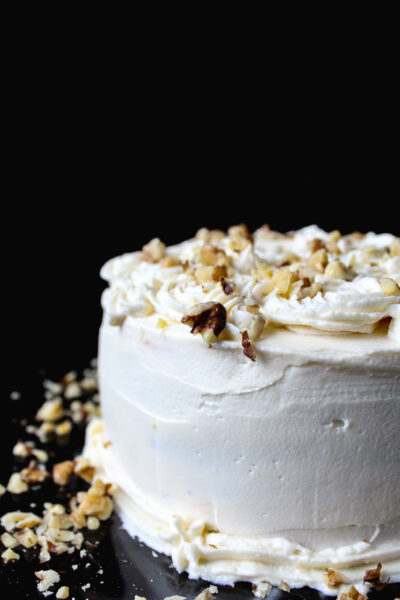 In the great debate of, "Which is better buttercream or cream cheese frosting?", I'm a HUGE fan of cream cheese frosting. So I'm in the cream cheese frosting camp in that debate.
This honey cream cheese frosting recipe is simple, delicious, and it doesn't require you to use pounds of powdered sugar that's typically added to frosting. Whenever possible, I try to avoid refined sugar. And frosting is no exception.
Tools Needed to Make Honey Cream Cheese Frosting
Mixer - Stand mixer or hand mixer can do that trick.
Rubber spatula - For mixing your ingredients and the bonus part is that they won't scratch the surfaces of bowls, dishes and pans.
Bowl - Or use the bowl with your stand mixer if you're using it.
Ingredients Used in this cream cheese frosting without powdered sugar
Unsalted butter - We love using grass fed butter for all things - this recipe included.
Cream cheese - Use your favorite brand. It gives the frosting a slight tang.
Honey - Use a natural sweetener like honey to add sweetness to your cream cheese frosting (no powdered sugar needed).
Vanilla extract - Enhances the flavor of your cream cheese frosting.
How to Make This Cream Cheese Frosting Without Powdered Sugar
When making this cream cheese frosting without powdered sugar, it's essential that the butter and the cream cheese are brought to room temperature before trying to mix them.
If they're not, you'll likely end up with lumps in your frosting - which are annoying when you're trying to decorate your cake. They're also really hard to get rid of once they're there.
Once your butter and cream cheese are at room temperature (this will take about an hour), you can make the frosting. If you want to speed up the process, put a warm bowl or cup over the butter and cream cheese and set it on the counter. This will shorten your waiting time significantly.
Lucky for you, this is a SUPER simple recipe.
Mix all ingredients in your stand mixer or with a rubber spatula and a bowl, until mixed & smooth
Frost cake, cookies, or brownies.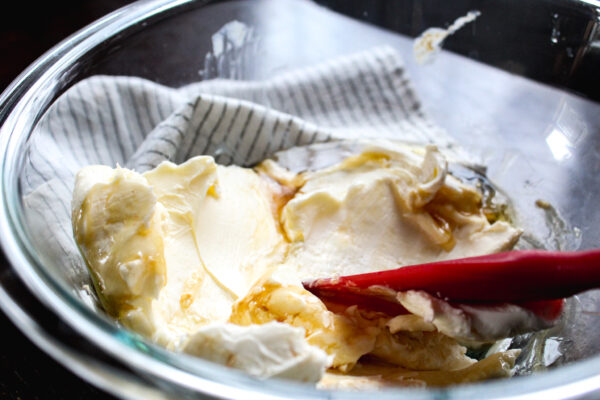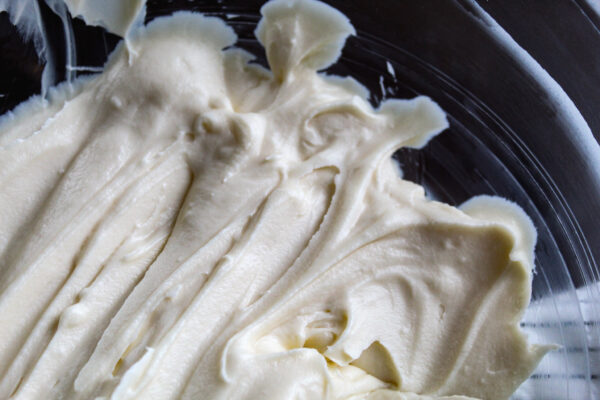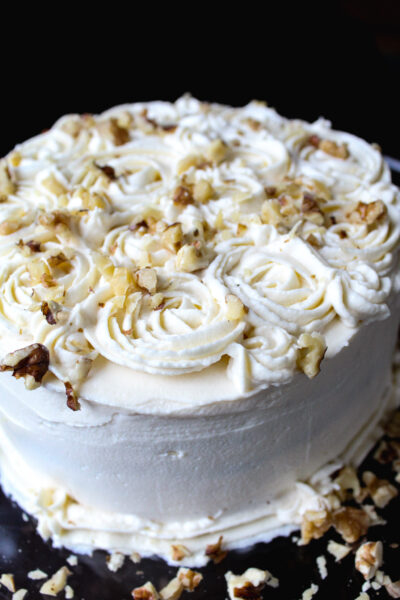 FAQ & Troubleshooting
If you have any questions, feel free to drop a comment below and I'll answer as soon as possible. You can also reach out over on IG here.
Is this easy cream cheese frosting stable at room temperature?
Some websites say cream cheese frosting can be left on the counter (on a cake or off) for 8 hours before it needs to be refrigerated. Other sources say after two hours it should be put in the fridge. 
We've left ours out closer to the 8 hour mark (maybe more). Make the decision based on what you're comfortable with.
How long does this honey cream cheese frosting keep in the fridge?
This frosting will keep in the fridge for 3-5 days, or you can freeze it for 1-3 months.
Does this cream cheese frosting work for piping, even though it doesn't have powdered sugar?
As seen in this picture, the frosting worked really well for piping. Let me be clear that I am not a professional baker, but I like to decorate cakes and make them look pretty. I had fun piping this cake with some of my piping tips and I was really pleased with the result. If your frosting is getting too soft for piping - stick it in the fridge for a few minutes.
What can I use instead of powdered sugar in frosting?
Granulated sugar can be used in a little reduced quantity, but the end result may not be as smooth as you'd want.
Can I make buttercream frosting without powdered sugar?
Yes! Regular sugar, or plain granulated sugar, will do. As a result, if you've ever wanted to know how to make frosting without using powdered sugar, here you go!
What is an alternative to frosting?
If you're struggling to find a frosting recipe you can eat (or just want a less-sweet alternative to frosting), here are a few ideas to add a bit of frosting-like texture to your desserts:
Peanut butter (add a touch of honey or maple syrup if you'd like)
Melted chocolate drizzled over the top of your cake/cookies
Drizzle of icing
What is a good substitute for cream cheese frosting?
If you don't have any cream cheese on hand, a buttercream frosting will work just fine. And if you want a deliciously healthy chocolate frosting made with avocados and honey, you'll want to try this avocado chocolate frosting recipe as soon as humanely possible.
Troubleshooting Your Honey Cream Cheese Frosting
Why is my cream cheese frosting without powdered sugar gummy or lumpy?
In order to avoid the dreaded lumpy cream cheese frosting, you'll want to make sure the cream cheese and butter are both at room temperature before mixing them together.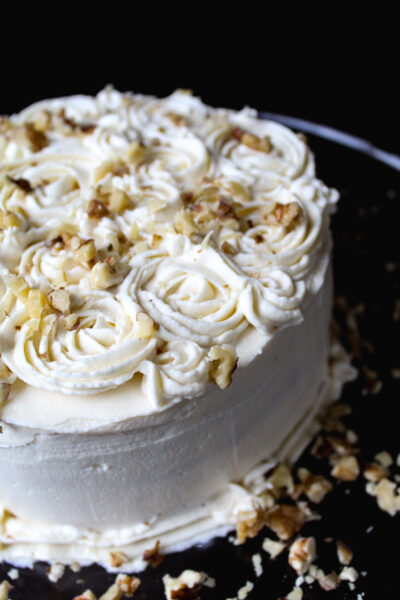 Related Recipes
If you're looking for a yummy way to use this cream cheese frosting (other than just eating it by the spoonful) here are some ideas for you: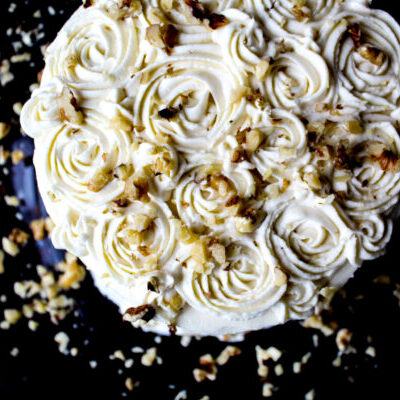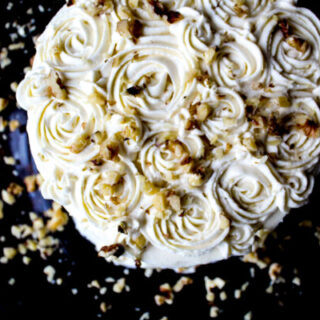 Honey Cream Cheese Frosting
Ingredients
½ cup unsalted butter
8 oz cream cheese
¼ cup honey
½ tsp vanilla
Instructions
1. Let butter and cream cheese come to room temperature before starting to mix together

2. Add all ingredients into bowl & mix with rubber spatula or into the bowl of your stand mixer

3. Mix until combined and lumps are gone
Save This For Later on Pinterest