Some of the links on this site may be affiliate links. This means, at no additional cost to you, I may be paid a small commission if you follow the links and make a purchase. Learn more here.
These crackers are so easy to make, they have the great ranch flavor (without using a processed ranch seasoning packet), and your friends and kids will be raving about them. Bring them to your next party, and put them out with some hummus or guacamole. It's a cracker everyone will love.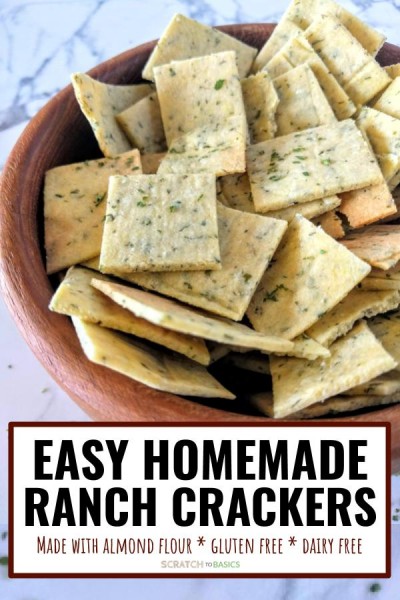 WHY I LOVE THIS RECIPE
Up until this point, my go-to cracker recipe was these "cheese" crackers (made with nutritional yeast). They are awesome, and I still love them. But sometimes you just want a new flavor to try...ya know? Well I wanted a ranch version. This recipe comes together easily and the crackers taste amazing. I know you'll enjoy them.
The process of making these crackers is super simple. Just mix up all of the ingredients, roll out the dough, cut the dough into squares (I use a pizza cutter for this step), and bake.
Are these crackers Paleo and Keto?
Yes and yes. These are healthy low carb, high protein crackers that are both paleo and keto friendly. They are gluten free and dairy free, too.
Why Don't you Use a Ranch Packet?
You may be used to buying the ranch seasoning packets at the grocery store. But if you take a look at the ingredient label, you'll see it's loaded with stuff you can't pronounce. That's a red flag that it's not something I want to eat. And there's always a way to replicate the flavors you love from store bought food at home. Here are the ingredients we use to season these ranch crackers:
dried parsley
dried dill
garlic powder
onion powder
cream of tartar (this gives it a tangy flavor. Many other recipes call for buttermilk powder, but I certainly don't ever have that on hand.) I've had a container of cream of tartar in my spice cupboard for a while (for making sugar cookies back in the day).
salt
Do I need any special tools to make homemade crackers?
Special tools are not required for this recipe. I bet you already have everything you need in your kitchen cupboards to make these today. I provided links to Amazon in case you're in the market for something new, or if yours just broke! Here's what you'll need.
INGREDIENTS
You don't need any fancy ingredients to make these gluten free ranch crackers. Here's what you'll need.
almond flour
egg
dried parsley
dried dill
garlic powder
onion powder
salt
cream of tartar
HOW TO MAKE THese delicious ranch crackers
Ready to get cooking? Great. I'll walk you step-by-step with pictures of what you should be seeing for each step.
Step 1: Put all ingredients in a bowl
Nothing fancy about this. Just dump them all in!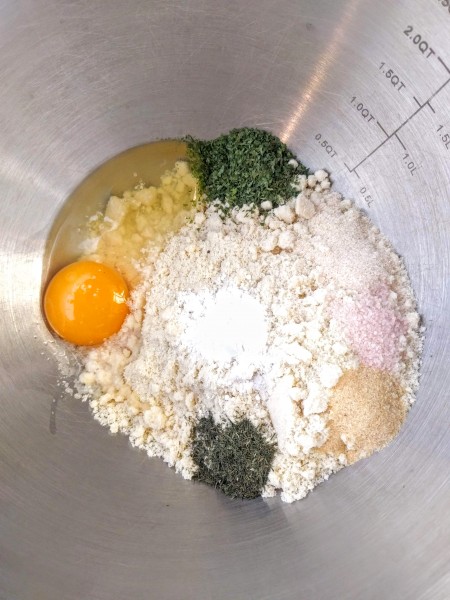 Step 2: Mix until it forms a ball
Mix the ingredients until it looks mixed and it comes together in a ball. If it's too crumbly to stick in a ball, add a little oil or water. If it's really sticky and wet, add more almond flour.
Step 3: Roll out the dough in between two pieces of parchment paper
Roll the dough as thin as you'd like. I tend to get mine about ⅛". The thinner you get your dough, the quicker it'll cook. Try to get the dough an even thickness throughout.
If you don't use two pieces of parchment paper, the dough will probably stick to your rolling pin. I find it makes things much simpler to use two pieces of parchment paper.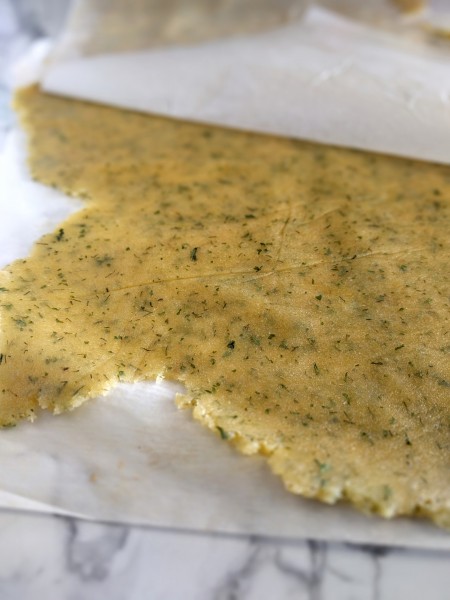 Step 4: Use your pizza cutter to cut the dough into squares.
Your standard pizza cutter is honestly the easiest tool to use here. If you want to get fancy, you could make crackers in different shapes (I tried mini-gingerbread men to test it out using cookie cutters). It worked fine, and it was fun. But it was a lot of effort for just a snack food for my family.
Maybe if I was taking these to a holiday party, I would put a little more effort into the shapes. But honestly, they taste delicious and the square shape works great.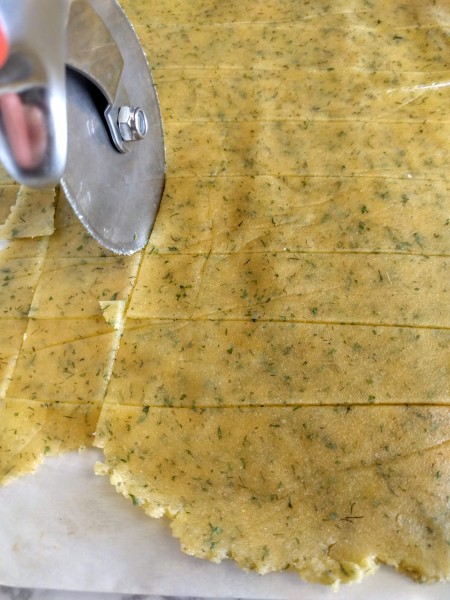 Step 5: Transfer the whole parchment/cracker sheet to your baking sheet and bake for 8-12 minutes.
Bake in a 350 oven. The baking time will vary depending on the thickness of the crackers. If you're able to get them paper thin, they'll be done closer to the 8 minute mark. But if they're thicker (around ⅛") it'll take 12 or so minutes.
You want to see a golden brown color to them. If they're under cooked, they won't be as crispy. If they're over cooked, they'll turn dark brown and will be extra crispy.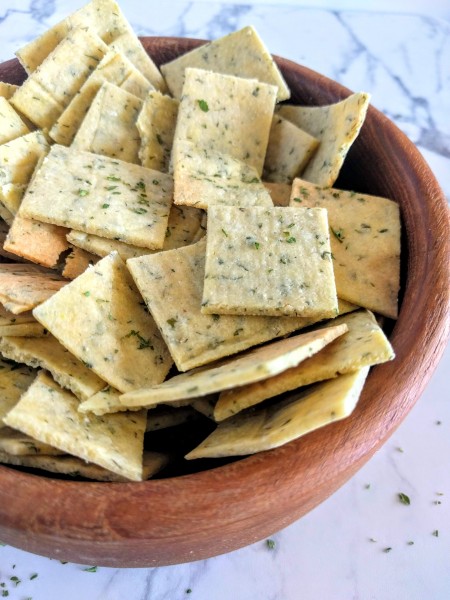 Step 6: Remove from oven, let cool, enjoy
Take them out of the oven and let them cool on the baking sheet. They might feel a little soft when you first take them out, but they should crisp up when cool. If you'd like them crispier, stick them back in the oven for a few minutes.
Storing your Homemade Ranch Crackers
Store these healthy homemade ranch crackers in an air tight container. If they lose their crunch, just throw them back in the oven for a few minutes to crisp them up.
Bring these to your next party to wow your friends! Dip them in guacamole, hummus, or serve them with a meat and cheese platter.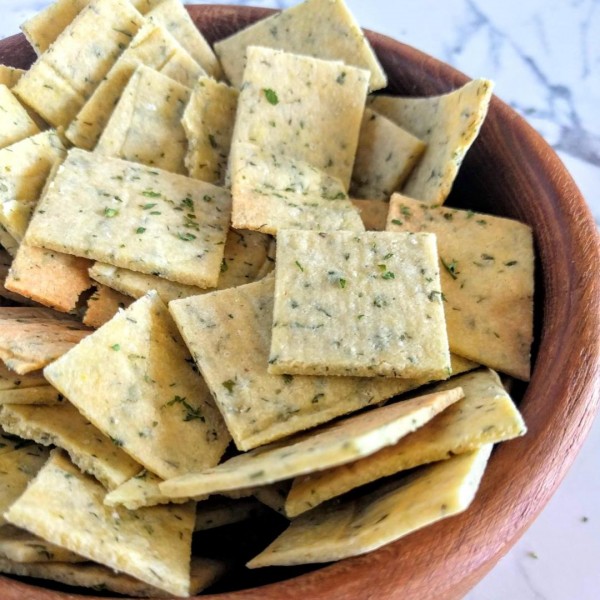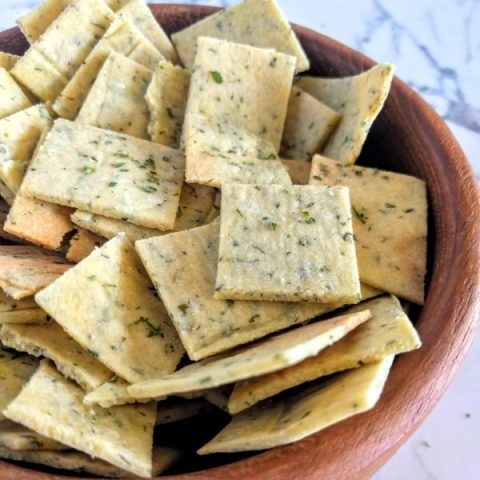 Homemade Ranch Crackers (No Packet Needed)
Simple ranch crackers you can easily make in 20 minutes!
Ingredients
1 ½ cup almond flour
1 egg
2 tsp dried parsley
½ tsp dried dill
½ tsp garlic powder
½ tsp onion powder
½ tsp salt
½ tsp cream of tartar
Instructions
Preheat the oven to 350 (F)
Mix all ingredients in a bowl. The dough should come together in a ball. If it's too dry, add a little oil or water. If it's too wet and sticky, add a little more almond flour.
Roll the dough out between two sheets of parchment paper. Try to get it evenly rolled, about ⅛" is my preference.
Remove the top parchment sheet and use your pizza cutter to cut a grid across the dough. This will give you a square shape.
Transfer the cut dough on the bottom piece of parchment paper to the baking sheet.
Bake in the 350 (F) oven for 8-12 minutes, or until the tops of the crackers are starting to brown.
Let cool on the baking sheet.
Notes
If the crackers aren't crispy enough for you, just stick them back in the oven for a few minutes.
Want to save this for later? Pin this to your recipes board and make these ranch crackers when you're ready.