Some of the links on this site may be affiliate links. This means, at no additional cost to you, I may be paid a small commission if you follow the links and make a purchase. Learn more here.
These Paleo Cinnamon Pancakes are the easiest breakfast dish that is both quick to assemble and prepare.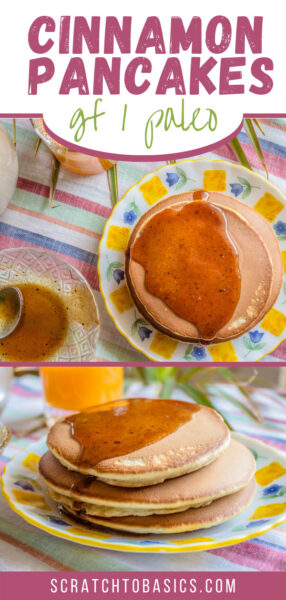 There are several variations of this classic American dish, both sweet and savory. Surprisingly, people of all age groups enjoy them with equal love and enthusiasm. We all are aware of your 'pancake love' and even though you are on this health-defining path of paleo eating, we will offer you a great solution to continue relishing your favorite breakfast dish.
Cinnamon paleo pancakes are an absolute delight to bite into for breakfast or Sunday brunch! It has a lovely spiced-up glaze that makes this simple recipe taste so much like a gourmet treat.
The thing I love most about this dish is that you can serve it as a healthy dessert too, just shape them into mini pancakes for a bite-sized version.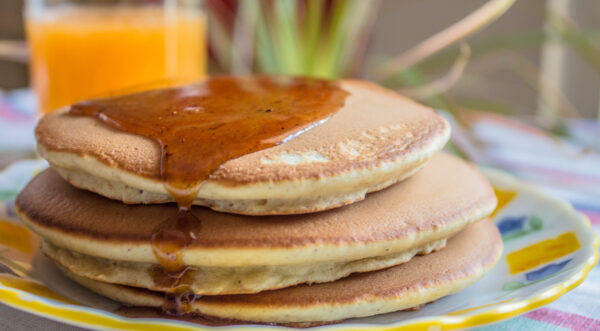 Serve it with freshly squeezed orange juice and you will be ready for the kill! Say bye to morning blues, laziness, groggy eyes with a glass of fruity freshness and spice-glaze topped cinnamon pancakes. To extract maximum juice from citrus fruits, we recommend you use a masticating juicer. This type of juicer is the most efficient one.
Overall, this meal is a great treat for your taste buds. So, wait no more and get cracking into your paleo favorite breakfast meal!
Looking for more delicious & healthy breakfast recipes?
This is a guest post from Ligia over at The Daring Kitchen. Be sure to check out her other delicious recipes on her blog here.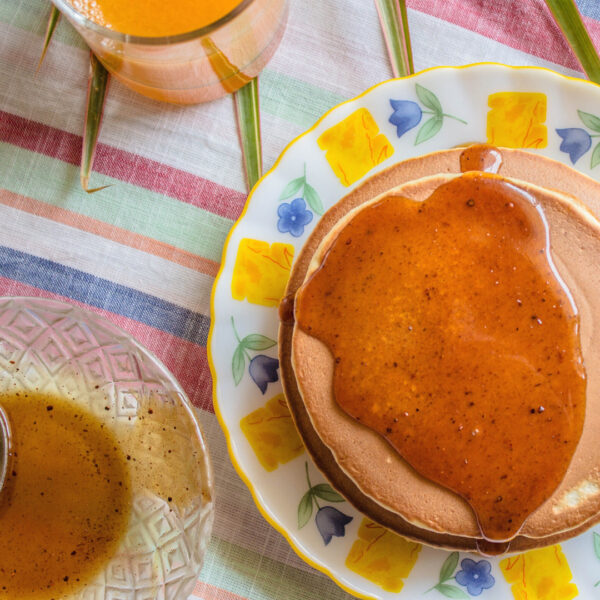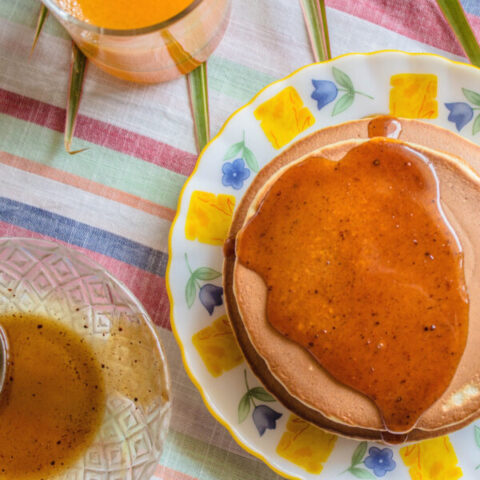 Cinnamon Paleo Pancakes
Make these Paleo cinnamon pancakes with a honey cinnamon glaze for your next breakfast treat!
Ingredients
2 large eggs
2 tablespoons almond milk
1 tablespoon honey
½ teaspoon white wine vinegar
¾ teaspoon vanilla extract
¼ cup almond flour
1 tablespoon tapioca flour
1½ tablespoons coconut flour
¼ teaspoon cinnamon ground
¼ teaspoon baking soda
A pinch of salt
¼ teaspoon ghee
2 tablespoons honey, for glaze
¼-½ teaspoon cinnamon ground, for glaze
1 teaspoon ghee or coconut oil, for glaze
Instructions
1. In a bowl, whisk the eggs using a blender until it reaches a fluffy stage. Add the milk, honey, vanilla, and vinegar to the eggs and beat it all again until well combined.
2. Add almond flour, tapioca flour, coconut flour, cinnamon, baking soda, and salt to the egg mixture.
3. Beat it all again until no more lumps are present in the batter.
4. Heat a pan and lightly spread ghee on it.
5. Spoon a large ladle of batter into the pan and cook it until you see bubbles on top. Flip the pancake and cook until it is cooked through on both sides. Repeat the process with the remaining batter.
6. Meanwhile, boil honey, cinnamon, and ghee in a small pan until saucy in consistency to prepare the glaze. Keep it aside to cool to room temperature.
7. Serve hot pancakes with the glaze and enjoy!
Save this for later!