Some of the links on this site may be affiliate links. This means, at no additional cost to you, I may be paid a small commission if you follow the links and make a purchase. Learn more here.
This apple cider vinegar salad dressing recipe is one of those you'll keep coming back to again and again. It's got everything you want - a touch of acidity, a touch of sweetness, and the final product will make your salad shine! Plus, it only takes five minutes to throw together. Do yourself a favor and make this recipe today!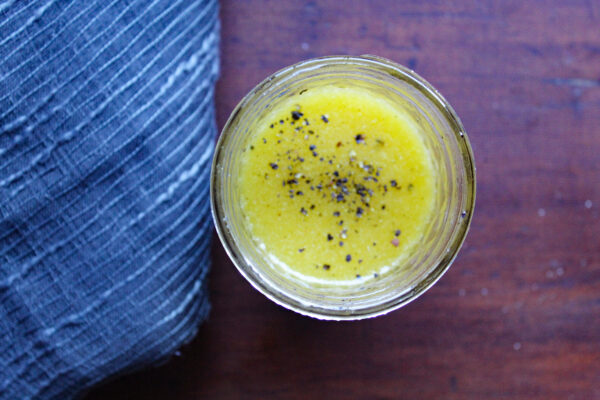 Why I love this recipe
I love any recipe that uses simple, real food ingredients AND that tastes amazing. It's kinda my thing (as you can tell from all the other recipes on this blog). And this recipe is no different. It uses simple ingredients, and you just mix them all together - no special order or timing to worry about here.
Tools used to make this dressing
Mason jar or bowl - For mixing. I love using a jar because I can just put the lid on and shake to mix. This size works well for this recipe. [8oz jar]
Zester - This is one of our essential kitchen tools because you get SO much more flavor out of a single garlic clove than just chopping it on its own. Here's the zester we use and love.
Apple Cider Vinegar Dressing Ingredients
Apple cider vinegar (the star of the show) - we use the unfiltered kind with the "mother"
Olive oil - we use Extra Virgin Olive Oil in our kitchen
Garlic - zested, or finely chopped
Mustard - Helps the dressing come together - and adds yummy flavor
Honey - Adds a touch of sweetness
Salt, Pepper - Salt is necessary, black pepper is optional. This is my favorite salt (minerals intact).
How to make this recipe
This is one of those recipes that you don't even need step-by-step pictures for, because all you're doing is adding everything to a jar (or bowl) and shaking (or mixing) until combined. Really, it's my favorite kind of salad dressing recipes because it's just so simple.
Ingredient Substitutions
Apple cider vinegar - This is kinda the star of the show, buuuuut if you're really in a pinch, go ahead and swap for the type of vinegar you DO have.
Olive oil - You can swap the extra virgin olive oil for virgin olive oil or something like avocado oil. 
Honey - You can swap maple syrup 1:1 in this recipe.
Garlic - I haven't tested this, but you should be able to omit the fresh garlic (if you prefer) and use garlic powder instead. I'd use maybe ¼ teaspoon and see how you like the flavor. 
FAQ & Recipe Tips
What are the benefits of apple cider vinaigrette?
Apple cider vinegar is all the rage in the health world these days. Whether you drink it straight, dilute it, or use it in salad dressings, you'll get all the health benefits from it. Some of the ways apple cider vinegar can be beneficial:
May help you lose weight
May help boost your immunity
May help manage blood sugar levels
We use it every chance we get.
What vinegar is best for dressing?
You can use any type of vinegar for salad dressing - white vinegar, apple cider vinegar, red wine vinegar, etc. The only difference is going to be flavor. So for a stronger, plain vinegary flavor, use white vinegar. For a hint of sweetness, use apple cider vinegar. And for a hint of red-wine, use red wine vinegar. Your choice of vinegar (like most things in the kitchen) comes down to how YOU want to do it - what you like, don't like, etc.
What Is Apple Cider Vinegar?
Apple cider vinegar is a vinegar made from apple juice or apple cider. You'll find it in unfiltered or filtered varieties, organic and non-organic.
All apple cider vinegar is made the same way - you take the juice, let it sit with a specific type of bacteria (friendly bacteria) and it turns from juice, to alcohol, to vinegar.
Raw Unfiltered Cider Vinegar vs Filtered?
The difference between raw unfiltered cider vinegar and filtered vinegar is that the apple cider vinegar that is raw and unfiltered has the "mother" still in it. The filtered vinegar will not have any trace of the "mother" and likely will be pasteurized. We always buy the kind WITH the "mother" since it's less processed, and still has that beneficial bacteria inside it.
MORE HOMEMADE SALAD DRESSING RECIPES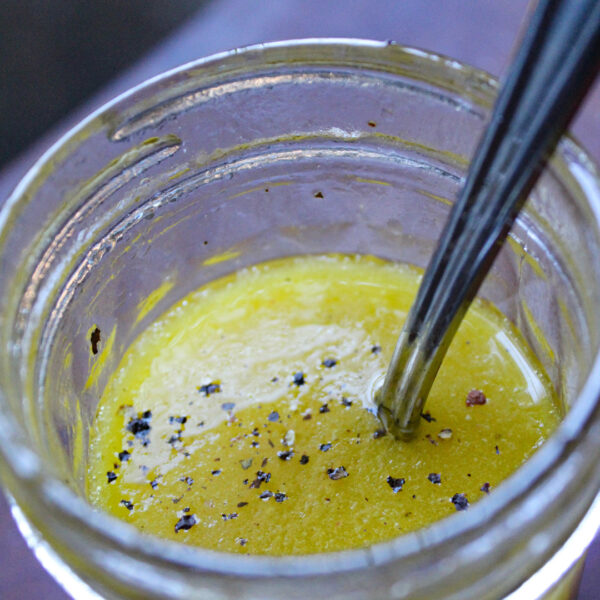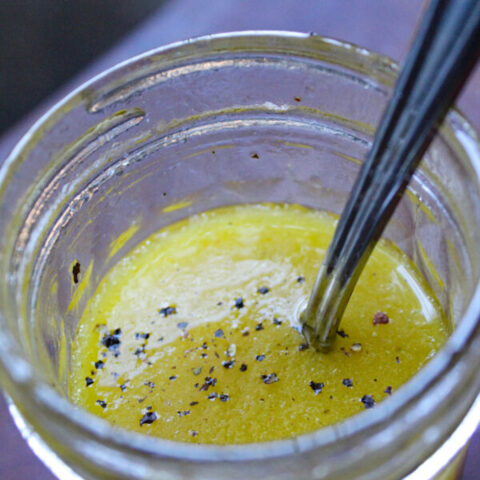 5 Minute Apple Cider Vinegar Salad Dressing Recipe
This apple cider vinegar salad dressing recipe is perfect for any salads. It's got everything you want - a touch of acidity, a touch of sweetness and only takes five minutes to make!
Ingredients
¼ cup apple cider vinegar
½ cup olive oil
1 clove garlic - zested or chopped finely
2 teaspoon honey
¼ teaspoon salt
¼ teaspoon mustard
Instructions
1. Add all ingredients to a bowl and stir (or to a jar and shake).
Nutrition Information:
Yield:

4
Serving Size:

2 Tbsp
Amount Per Serving:
Calories:

127
Total Fat:

14g
Saturated Fat:

2g
Trans Fat:

0g
Unsaturated Fat:

11g
Cholesterol:

0mg
Sodium:

75mg
Carbohydrates:

2g
Fiber:

0g
Sugar:

1g
Protein:

0g
Save this on Pinterest now!