Some of the links on this site may be affiliate links. This means, at no additional cost to you, I may be paid a small commission if you follow the links and make a purchase. Learn more here.
Ohhh peanut sauce. Sweet and salty, creamy and delicious. Do you like peanut sauce noodles for take-out? I sure do! With this recipe you can have all the delicious flavor of peanut sauce without all the grease and who-knows-what's-in-here sauce from your take out restaurant. Here's a recipe you can make in five minutes that will give your dish so much flavor.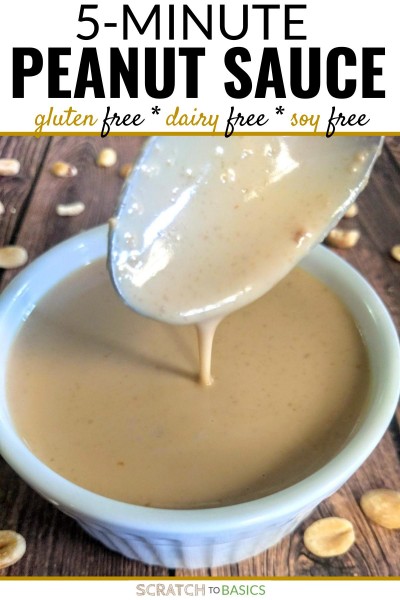 WHY IT WORKS
Peanut butter thickens the sauce, and water thins it. The other ingredients give it the amazing salty, sweet flavor.
INGREDIENTS
This recipe uses peanut butter, coconut aminos (you can substitute for soy sauce if you'd like, just be careful because soy sauce is saltier than coconut aminos - consider omitting the salt if you do this substitution), water, salt, lime juice, and honey.
Since we have young kids (who aren't big spice fans) I always go easy on the spice. My husband is fine with having non-spicy food and has just learned to always keep hot sauce nearby. I still don't quite understand how he can taste any flavors with all the hot sauce he puts on there. But he insists he can. Add Sriracha or your favorite hot sauce, to taste.
Peanut Butter
Use good, high quality peanut butter for your peanut sauce. The only ingredient in your peanut butter should be peanuts. Salt is okay too.
Don't use the super processed stuff that's full of hydrogenated oils, sugar, and other ingredients. You don't need that stuff in your body. Keep it simple. You can even make your own peanut butter pretty quickly with a food processor.
Related: How to Make Your Own Nut Butter (And WHY You Should)
What are Coconut aminos?
Coconut aminos is a sauce made from coconuts. It's salty like soy sauce (although not quite as salty), and slightly sweet. We love using coconut aminos in our Asian food recipes. And as the name suggests, there are a lot of amino acids in coconut aminos which are essential to good health.
You can typically find coconut aminos in your local health food store, or online. The most convenient way to buy them is online though. Here's the kind we use (and LOVE).
Peanut sauce sweetened with honey
This sauce is lightly sweetened with honey. You can use a different sweetener if you'd rather, but I'd recommend honey, maple syrup, or molasses so you don't get a gritty texture from granular sweeteners.
HOW TO MAKE Peanut DIpping Sauce
This recipe is easy to make. Just throw everything in your food processor and turn it on until combined. Add more water if you want it to be a thinner consistency.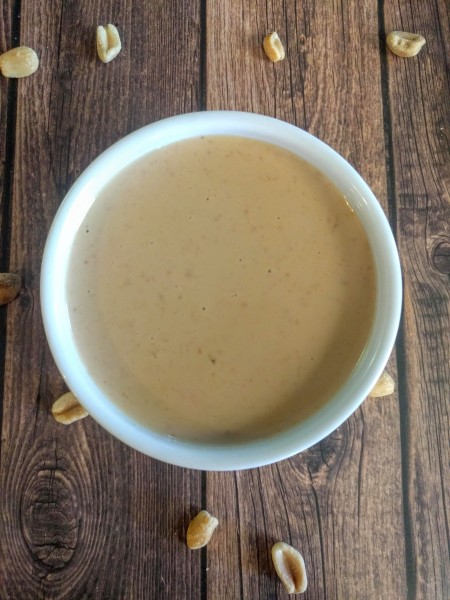 Dipping Sauce Or Pour Over Sauce?
You can use this sauce on stir fry, or poured over some noodles (veggie noodles, rice noodles, wheat noodles, or any other kind of noodle you can think of). Use it as a dipping sauce for some homemade egg rolls. Yumm. So many options!
Storage
I love these mason jars for storing sauces. Here's the best size for big batches of sauce. This recipe makes about 1.5 cups, which would fit in those jars well. I love the wide mouth version so I can use my rubber spatula. You don't want to waste any of this sauce, believe me.
It's not uncommon for us to have 3-5 different sauces in our fridge at a time. Because...well...that's just how we do things. We love sauce. And it makes meal time super simple. If the kids don't like one sauce, no problem. We've got options!
If you love sauce like we do, I know you'll LOVE my E-Cookbook about homemade dressings and sauces!
Does peanut sauce have to be refrigerated?
I keep my peanut sauce in the fridge just to make sure it stays fresh. I recommend you do the same.
How long will peanut sauce keep in the fridge?
This peanut dipping sauce should keep in the fridge for about a week in an airtight container.
How should I use it?
Use your peanut sauce as a dipping sauce for veggies, or pour it over a delicious bowl, like this carrot noodle chicken and veggie bowl.
Looking for more delicious homemade sauce recipes?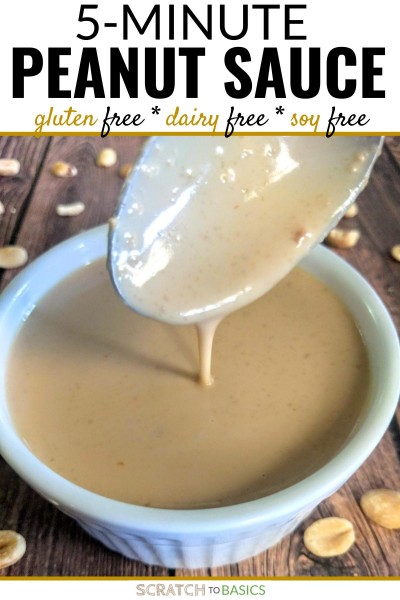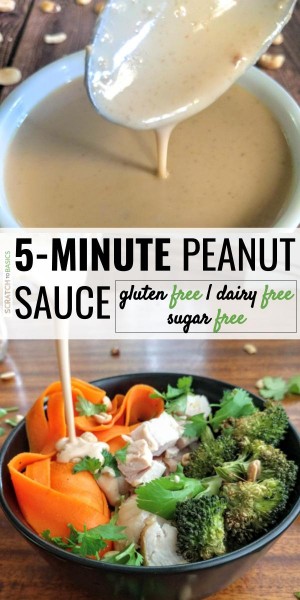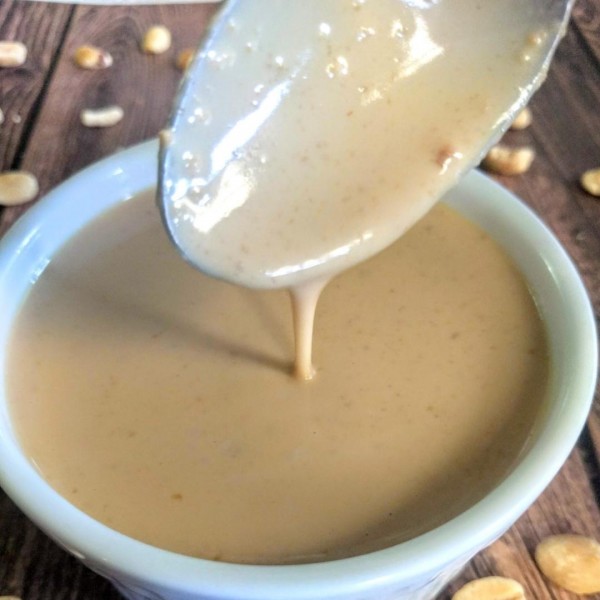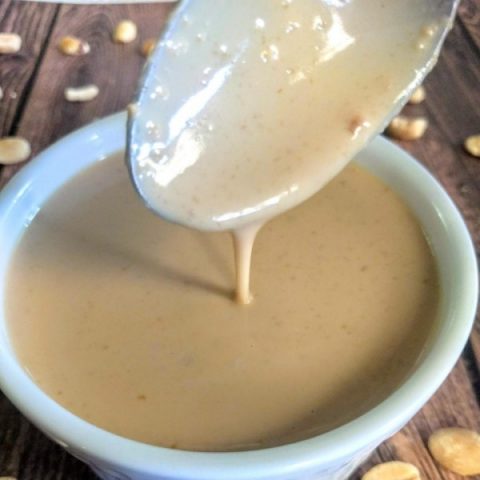 Easy Peanut Dipping Sauce
A perfectly balanced delicious peanut sauce. Perfect for dipping or pouring over your meal.
Ingredients
¾ cup peanut butter
½-3/4 cup water
1 Tbsp coconut aminos
1 tsp honey
juice of 2 limes
½ tsp salt
hot sauce (like Sriracha), to taste
Instructions
Put all ingredients (only ½ cup water to start) in your food processor and blend until smooth. You can use an immersion blender if you'd rather.
Add more water (up to ¼ cup) until you get to a consistency you like.
Nutrition Information:
Yield:

6
Serving Size:

¼ C
Amount Per Serving:
Calories:

223
Total Fat:

16g
Saturated Fat:

3g
Trans Fat:

0g
Unsaturated Fat:

10g
Cholesterol:

0mg
Sodium:

439mg
Carbohydrates:

17g
Fiber:

3g
Sugar:

9g
Protein:

7g