Some of the links on this site may be affiliate links. This means, at no additional cost to you, I may be paid a small commission if you follow the links and make a purchase. Learn more here.
Smoothies have been a long-time favorite in our house ever since my kids were old enough to eat solid food. And with this almond butter chocolate smoothie recipe, I don't see that changing anytime soon.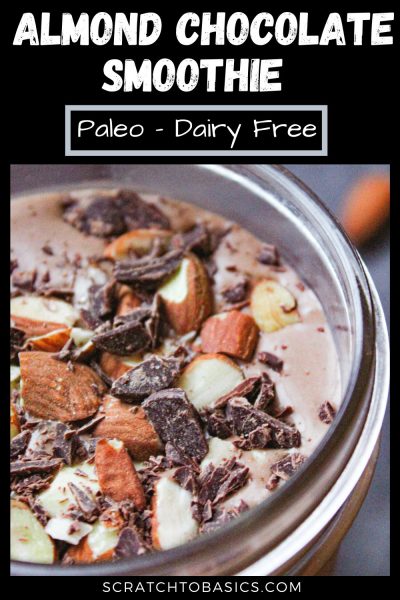 Smoothies seem to always taste great, no matter what you put in them. But one of my favorite things about them is that I can sneak vegetables & greens in without my kids knowing! If you're a parent of a picky kid (or you're a picky eater yourself), you know that sometimes it can be hard to eat a variety of vegetables & get enough greens in your diet. 
UPDATE: Since initially writing this post, Our whole family has started using these plant powders, which we love.
This recipe uses a smoothie pouch from SmoothieBox - a smoothie delivery company that delivers smoothies made with Organic fruits and vegetables to your door. You can try them out and get $15 off your first box here. You can read my full SmoothieBox Review here.
Tools needed to make this yummy cacao smoothie
Blender - This smoothie can be blended easily using a blender or an immersion blender. We use this immersion blender and find it to be powerful enough to blend this smoothie without an issue. If you're having trouble getting the consistency smooth, your immersion blender might not be powerful enough. You can use a high-speed blender for great results, or invest in a better immersion blender.
Measuring Cup - Use what you've got.
Measuring Spoon - Use what you've got.
Wide-mouth mason jar or bowl - Use this when you use an immersion blender. If you use a blender instead, you won't need these.
Ingredients in making this dairy free smoothie
Cacao SmoothieBox pouch - This is where the bulk of nutrition is coming from. You can get $15 off with this link.
Coconut milk (or almond milk) - You can use whatever milk you'd like. If you want it to be a dairy-free smoothie, use a dairy-free milk.
Cocoa powder - Even though the pouch has cacao in it, I like my chocolate to be suuuper chocolatey. So I added more cocoa powder.
Almond butter - The almond butter gives some fat and flavor to the smoothie. You can swap a different nut butter if you'd prefer. 
Honey (or maple syrup) - To sweeten the Cacao smoothie a little bit more.
Salt - The salt will enhance the sweetness.
How to make this Almond Butter Cacao Smoothie
First, decide if you're using a stand blender or an immersion blender.
Then, take out your Cacao SmoothieBox pouch and dump it in your blender OR in a wide-mouth mason jar (for the immersion blender).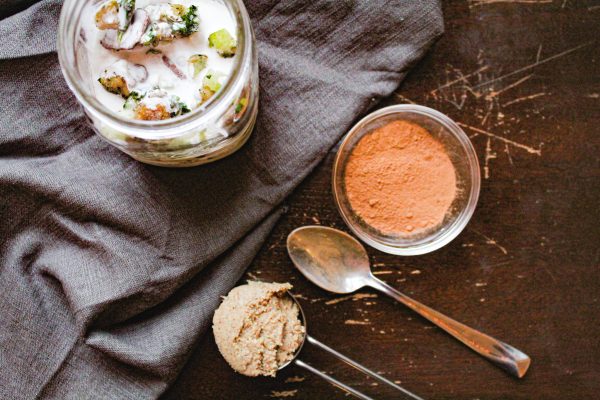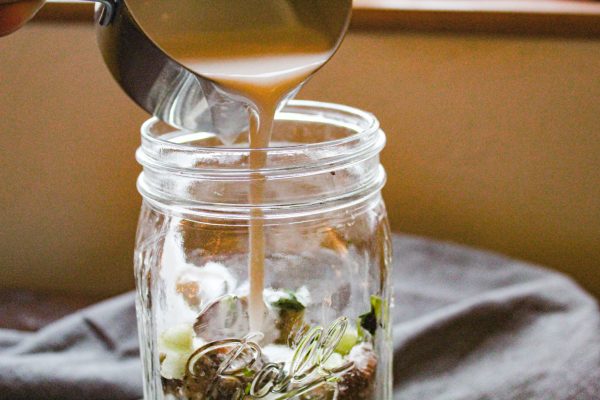 Next, add the other ingredients and blend it all up!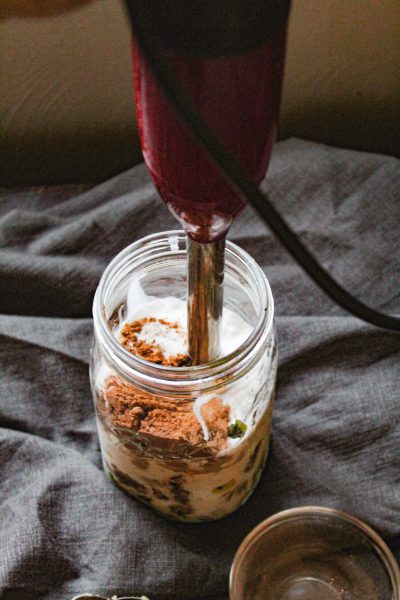 You can split this smoothie into two smaller smoothies or eat it more like a meal replacement as one big smoothie.
Whether you're just looking to start the day off on the right foot with a healthy smoothie, OR you're for a way to add a bit of extra flavor to your SmoothieBox smoothie pouch, this smoothie has it all - tons of flavor, not too much sugar, and plenty of extra vegetables you may not get in your diet otherwise.
What do you think? Let me know in the comments below!
FAQ & Recipe Tips
Is an almond smoothie good for you?
Almonds are a nutrient-rich food, so when you add them to a smoothie - they'll add a bunch of nutrients AND yummy flavor.
Is almond butter a healthy fat?
Absolutely! Almond butter contains a healthy fat balance of monounsaturated and polyunsaturated fats.
Is nut butter good in smoothies?
Nut butters are one of those ingredients that take smoothies to the next level, making them taste even better! They add depth, creaminess, and nuttiness to any smoothie or smoothie bowl, as well as an extra boost of nutrients.
Related Recipes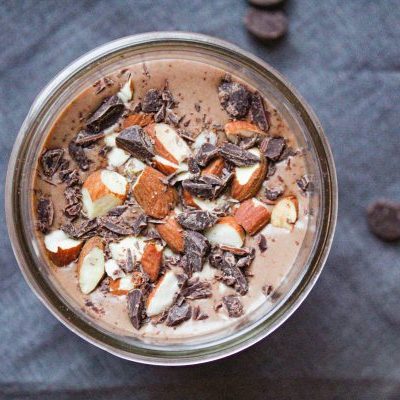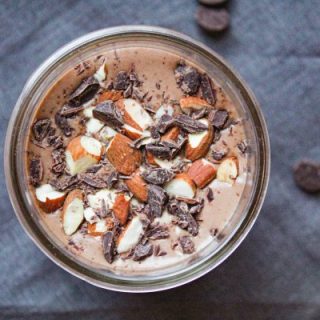 Almond Butter Chocolate Smoothie
Ingredients
1 Cacao SmoothieBox pouch
Coconut milk (or almond milk)
Cocoa powder
Almond butter
Honey (or maple syrup)
Salt
Instructions
1. If using a blender, add the Cacao SmoothieBox pouch and all other ingredients into the blender bowl. Blend until smooth.

2. Alternatively, if you're using an immersion blender, put all ingredients into a mason jar or a bowl and blend until smooth.

3. Enjoy!
Save This For Later on Pinterest