Some of the links on this site may be affiliate links. This means, at no additional cost to you, I may be paid a small commission if you follow the links and make a purchase. Learn more here.
These oven baked sweet potato fries are a delicious side dish or a simple healthy snack you can make at home in 30 minutes. Try them today and you won't be disappointed!
I remember the first time I had sweet potato fries. My boyfriend (now husband) and I were eating at a local pub and I was in a "let's try a new food" mood.
Maybe you're always in that kind of mood. But for me, it doesn't happen that often. Once I find something I like, it's hard for me to try something new.
I'm so glad I tried them. With a little more flavor than standard french fries and a hint of sweetness, they were an instant hit.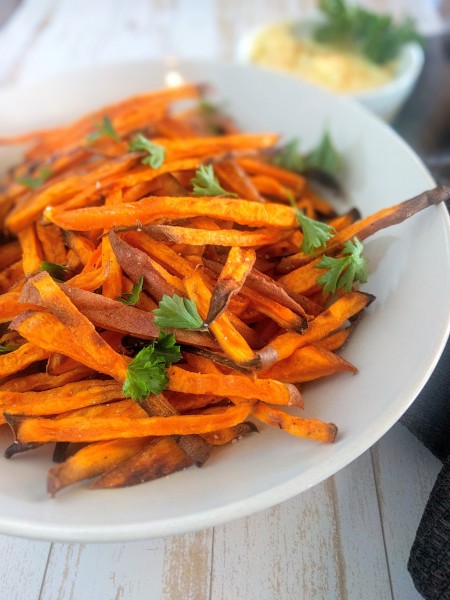 Baked Not Fried
In the years since my first sweet potato french fry encounter, I've learned to bake them in the oven with great results. We've made them so many times that I think I've figured out how to do it right.
In my opinion, the best sweet potato fries are a little crunchy, a little salty, and they have a delicious fry sauce or dip to go with them.
Now, these aren't going to be the exact same texture as the deep fried version. I've read that you can use corn starch to make them crispier all around, but for us, the simpler the better.
These fries come out a little crispy on the ends, and that's perfect for us. If you want to read more about the corn starch method, check out this post from Cookie and Kate.
Why Sweet Potatoes?
Sweet potatoes have so much more flavor than the russet potatoes most french fries are made with. Plus, they are loaded with vitamins and minerals. They are a good source of many B vitamins, as well as vitamin C and vitamin A.
If you're a big sweet potato fan like us, you should try making your own sweet potato chips.
How to Make Baked Sweet Potato Fries
They're really simple to make.
First, decide if you're in the peeling camp or the not peeling camp.
If you're a peeler, wash your potatoes and peel them now. If not, then just wash and scrub your potatoes now.
Chop the sweet potatoes into thin strips (about 1/4″ thick).
Then toss them with oil and salt until lightly coated. I like tossing them in a bowl, but if you want to do it right on the baking sheet, go ahead!
Arrange them in a single layer on two parchment lined baking sheet (not too crowded) and bake them at 425(F) for 25-30 minutes.
Tips for Success
For great sweet potato fries with a little crunch, follow these tips:
Make sure you slice them into thin strips.
Don't overcrowd them on the baking sheet.
Lightly coat the fries with oil and salt. They shouldn't be dripping with oil, just coated.
Use parchment paper. I haven't had great success without. Usually they end up sticking and then turn into a smashed mess. Not quite what we're going for here.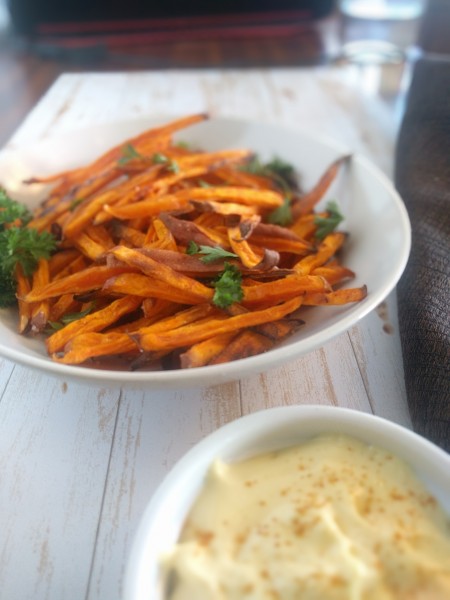 Every French Fry Needs a Delicious Dip
For the dip, there's so many options. Here are two of my favorite. They both use mayonnaise as a base. You can use some of this Homemade Mayonnaise in 5 Minutesor this Tangy and Creamy Avocado Mayo, or whatever you have on hand.
Spicy Mayo – Mix some mayo with a squirt of your favorite hot sauce or a dash of cayenne. The amount of spice you put in depends on how much you can handle.
Cilantro and Roasted Garlic Mayo – Take some of your mayo, mix in a small handful of chopped cilantro and a couple cloves of roasted garlic. Smash with a fork or use an immersion blender.
Our kids don't always eat the dips we make (I'm not complaining…that just means more for us!). But they always love plain mayonnaise or ketchup to dip their baked sweet potato fries in.
Print
Baked Sweet Potato Fries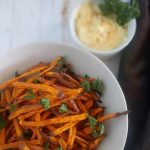 Sweet potatoes chopped into thin strips and baked in the oven until slightly crispy on the ends. 
Author:
Prep Time:

5 minutes

Cook Time:

25 minutes

Total Time:

30 minutes

Category:

snack, side

Cuisine:

American
Scale
Ingredients
1

lb sweet potatoes

1

Tbs avocado oil

1/2 tsp

salt
Instructions
Preheat the oven to 425 (F).
If you like to peel your potatoes, do that first. Otherwise, give them a good scrub and start chopping.
Chop the sweet potatoes into thin strips (about 1/4″ thick).
Put them in a bowl and pour the oil and salt over them.
Toss to coat them in the oil/salt.
Transfer them to a parchment lined baking sheet in a single layer. Don't crowd them. Use two sheets if needed.
Bake them at 425(F) for 25-30 minutes.
Don't forget to Share on Pinterest!