Some of the links on this site may be affiliate links. This means, at no additional cost to you, I may be paid a small commission if you follow the links and make a purchase. Learn more here.
This hummus recipe is simple, and delicious. If you're looking for a simple recipe on how to make hummus from scratch, you've come to the right place.
Making your own hummus is not nearly as difficult as you might think. All it takes is a food processor (or a high speed blender) and a few minutes of your time.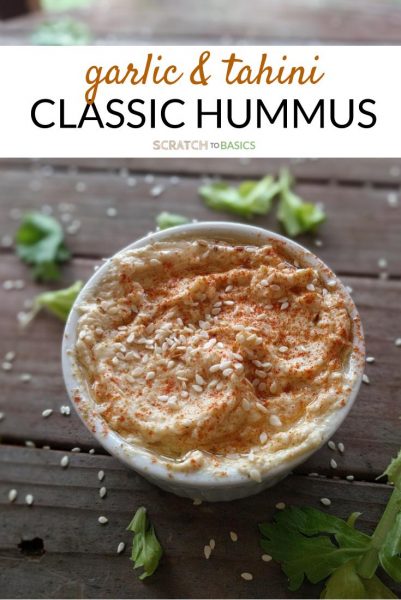 When my husband and I were dating, we'd often pick a recipe out of a cookbook, get the ingredients we were lacking, and then cook it.
We learned a lot about each other and we got a lot of cooking practice. I used to joke that I was just the stirrer (and taster, of course). He was in charge of the flavor.
Well, considering I now cook about 95% of our meals, I'd say I've been promoted out of the stirrer position. He still likes to throw extra flavor in, just to see how it'll taste. It's usually delicious!
Buying Chickpeas In The Store (Aka Garbanzo beans)
I remember one specific trip to the store. We had our ingredient list in hand and we needed a can of chickpeas. We asked everyone who worked at the store where we could find chickpeas. But everyone had the same response.
A blank stare....chick...what?
It felt as though we were speaking another language. We were trying to explain what they look like, what we're using them for. And of course, we were new to cooking so we didn't have much information to give them.
Well after a frustrating twenty or thirty minutes of searching the store, somebody realized....
They're also called garbanzo beans.
And they're with the other canned beans, obviously. We got the can of garbanzo beans. And we were able to make our meal.
We learned a valuable lesson that day. Chickpeas are sometimes called "garbanzo beans". Got it.
What are the ingredients for hummus?
It's unclear where hummus originated, because a handful of Middle Eastern and Mediterranean countries all claim it as their own.
It's such a tasty dish that everyone wants credit for it!
While no one knows exactly where it originated, its popularity has spread to America and now you can find pre-made hummus in most grocery stores.
Each region has their own unique way of making it. For example, if you're in Turkey, you'll be eating hummus made with butter instead of olive oil.
One thing that's the same no matter where you go is the use of chickpeas, tahini (sesame seed paste), lemon juice, and garlic. So that's what we're doing here with this recipe!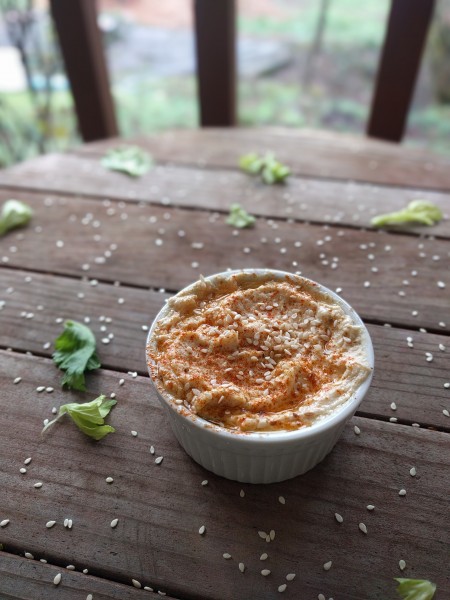 Why Bother Making Hummus from scratch?
Can you buy hummus pre-made at the store? Yes.
Is it often made with refined vegetable oils and preservatives? Yes.
Is making it from scratch better? Yes.
better Ingredients
If you're looking for ways to control what goes in your body, making your own food from scratch is a worthwhile skill to develop.
When you make your own hummus from scratch, you get to decide which type of oil you use. You get to decide how salty it is. And you get to decide what it tastes like.
Maybe you want to experiment and try a new flavor? Go for it! Beet hummus anyone?
This is a basic hummus recipe with tahini. It uses simple ingredients like chickpeas, tahini (sesame seed paste), lemon juice, garlic powder, cumin, olive oil, salt, and water.
Price for Store Bought Hummus
The price difference is important as well. A container of hummus costs around $3-$5 in the grocery store.
The ingredients don't cost nearly that much on their own. You're paying extra for bad oils, preservatives, and for it to be made in a factory.
If you ask me, "factory made" doesn't have quite the same ring to it as "homemade".
How To Make Hummus from scratch with Tahini paste
Put your chickpeas into the food processor. Turn it on and in about 30 seconds, stop and add the remaining ingredients. Blend until smooth.
Add more or less water, depending on how thick you like your hummus. And as always, adjust the salt and spices to taste.
What is hummus traditionally eaten with?
Traditionally served with pita bread, you can use it as a spread on a sandwich or burger, use it as a dip for vegetables or crackers, or as a sauce for your meat.
You're only limited by your imagination.
What flavor of hummus is the best?
In the store you can buy several flavors of hummus. But you are limited by what the companies will make.
When you make hummus from scratch and you want to try a new flavor, go right ahead! Add some pumpkin, beets, or roasted red pepper for a colorful and flavorful addition.
Can I use a blender instead of a food processor to make hummus?
At the moment I'm writing this, I don't have a high speed blender to try making hummus and test it out. I love using the food processor though.
If you have a high speed blender you can likely make hummus in it. The problems that could arise are that the mixture would be too thick for the blender to work. You also might need to scrape down the sides a little more in a blender to get everything all mixed.
If you're using a blender and it's not working great, add a little liquid to see if that gets things working for you.
How do you make hummus taste better?
Are you sitting at home with a container of bland hummus and wondering what you can do with it?
If that happened to me, I would add lemon juice, granulated garlic (garlic powder works too), and possibly salt (but only if it's homemade). The store bought versions have plenty of salt already.
Looking for more delicious Homemade Dips?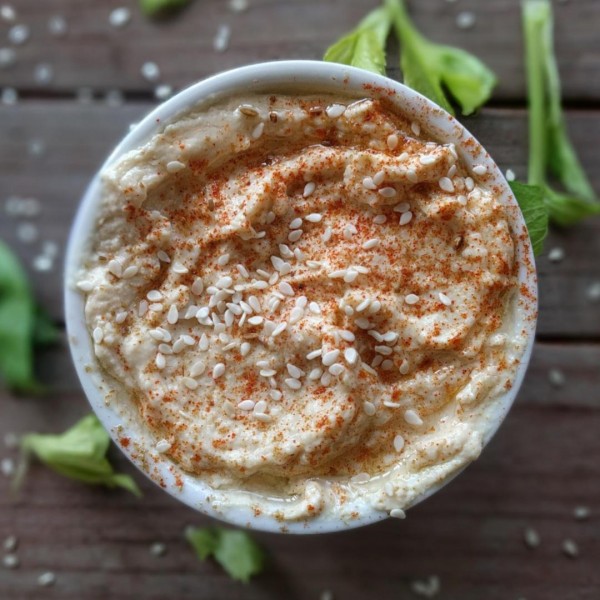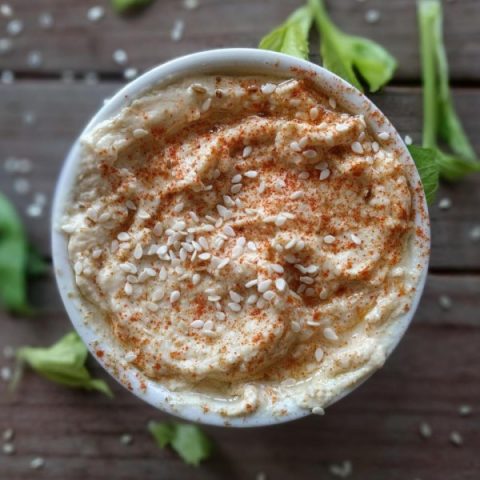 Simple Hummus With Tahini
A delicious hummus recipe that's simple to make in a food processor. A perfect dip to serve at your next party.
Ingredients
1 can chickpeas or 1.5 cups cooked chickpeas (also known as garbanzo beans)
¼ cup tahini
¼ cup extra virgin olive oil
juice of 1 lemon
½ tsp garlic powder
¼ tsp salt
½ tsp cumin
1-3 Tbs water (depending on desired thickness)
Instructions
Put the chickpeas in your food processor and blend for about 30 seconds
Add the remaining ingredients, except the water
Blend until smooth
Add water 1 Tbs at a time until it reaches your desired thickness
Notes
You can make this ahead and store in fridge for about a week.
If you feel adventurous, you can try different flavor combinations mixed into the hummus like pumpkin, beet, or roasted red pepper.
Traditionally hummus is served with warm pita, but it can be used as a dip for veggies, spread onto a sandwich, or on meat. The possibilities are endless!
Nutrition Information:
Yield:

8
Serving Size:

¼ C
Amount Per Serving:
Calories:

201
Total Fat:

12g
Saturated Fat:

2g
Trans Fat:

0g
Unsaturated Fat:

10g
Cholesterol:

0mg
Sodium:

156mg
Carbohydrates:

18g
Fiber:

5g
Sugar:

3g
Protein:

6g
Don't forget to pin for later!