Some of the links on this site may be affiliate links. This means, at no additional cost to you, I may be paid a small commission if you follow the links and make a purchase. Learn more here.
Looking for a Paleo, gluten free, and dairy free dip to serve at your next party? Do you enjoy a high protein unprocessed homemade dip to go with your veggies and crackers? If either of those sound like you, keep reading for the recipe to this delicious almond jalapeno lime dip. A crowd pleaser indeed!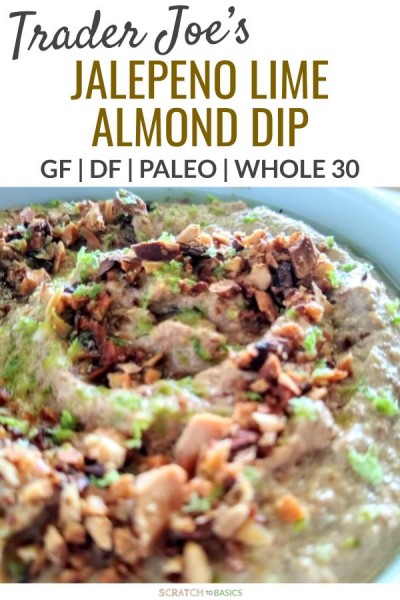 Trader Joe's Almond Dip
This dip is so good. The roasted almonds, jalapeno, and lime give it an amazing flavor combo. But I can't take credit for the flavor combo. It's Trader Joe's. Of course. Our neighbors had a party a few weeks ago and served this dip from Trader Joe's. And of course, I decided I should figure out a recipe to make my own. Because:
A) I don't make it to Trader Joe's as often as I'd like (meaning...I haven't been in years).
B) I like finding simple recipes to store bought food...making them at home is more nutritious and just as (if not MORE) delicious.
why i love this Almond Dip recipe
I love that this almond jalapeno dip is high in protein, low in carbs, and packed with flavor. It's addictive and easy to eat with carrots, celery, crackers, chips, or just by the spoonful!
I also love that it's Paleo, gluten free, and dairy free. So everybody can eat it!
A healthy Appetizer for everyone
You know the feeling of walking into a party, taking one look at the appetizers provided, and realizing you can't eat anything except the raw carrots and celery?
Yeah, I've been there. It's disappointing, right? When you cut gluten and dairy from your diet it really limits what you can eat in a social setting.
Thankfully the day we went over to our our neighbors they had this dip out. As my neighbor went down the list of what each dip was, I was thrilled to hear about this almond jalepeno dip, I knew I could eat it! YES! Now I get a dip to eat with the veggies!
BONUS: It was super tasty and I kept going back to it all night!
tools used
ingredients iN This ALmond Dip recipe
We're only using whole foods in this recipe (of course). Here's what's in:
roasted almonds
jalapenos
limes
salt
water
ingredients out
And since we're making it at home, we can be sure there are none of these:
hydrogenated and/or refined oils
artificial sweeteners
refined sugar
how to make this Almond Jalepeno Dip
This dip is super easy to throw together. Just follow these simple steps.
step 1: Prepare your ingredients
Get your ingredients out and ready to go.
Roasted almonds - if they aren't roasted, roast them in the oven @ 375 (F) until roasted (5-10 minutes).
Limes - zest and juice your limes.
Jalapeno - de-seed and chop your jalapeno. Since you'll be throwing everything into the food processor, you don't NEED to chop the jalapeno. I just chopped mine to get an accurate measurement for the recipe. Jalapenos can either be gigantic or tiny, so "one jalapeno" isn't very helpful. Feel free to add more or less jalapeno, depending on your preference.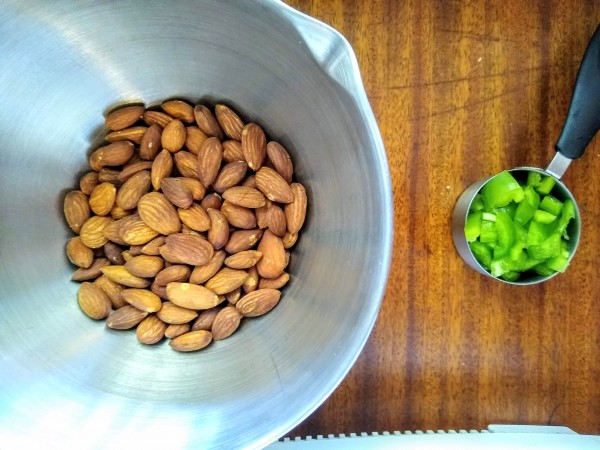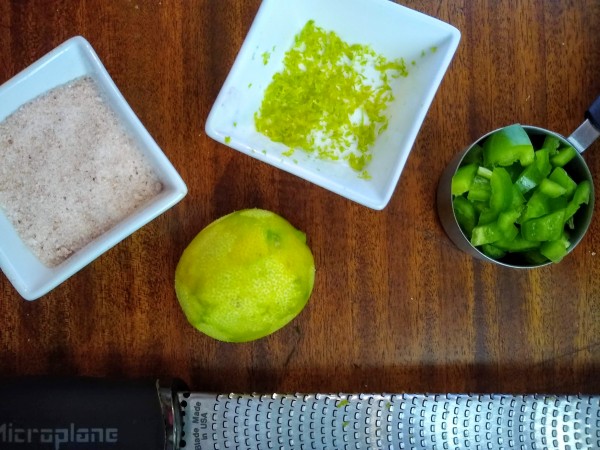 step 2: Blend
Throw everything into the food processor and turn it on until blended together.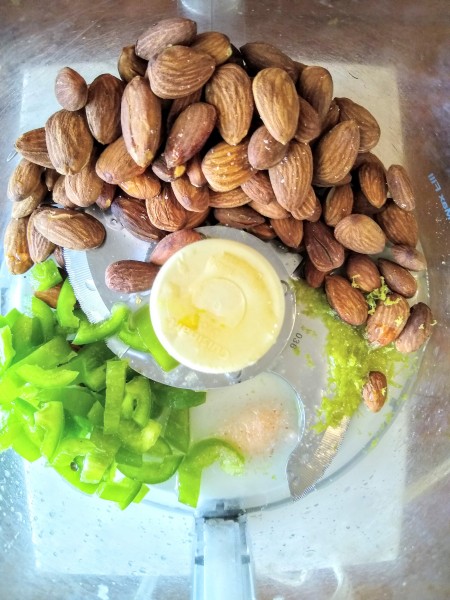 step 3: Serve The Almond Jalapeno Lime Dip
Dish it into your ramekin (or serving dish), top with chopped almonds, and lime juice (lime zest optional). Then enjoy it!
storage & Make Ahead
You can definitely make this ahead of time. If if gets too thick in the fridge, just stir in more water until it gets how you want it. I like my dips pretty thick, because think about it...if you're dipping a cracker in it at a holiday party, you don't want to ruin your dress with a dip stain!
Serving Suggestions
I love this dip with anything crunchy...
Looking for more delicious Homemade Dips?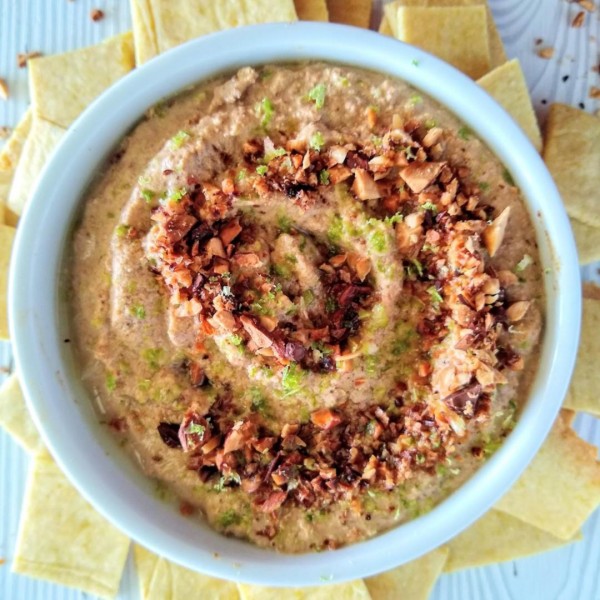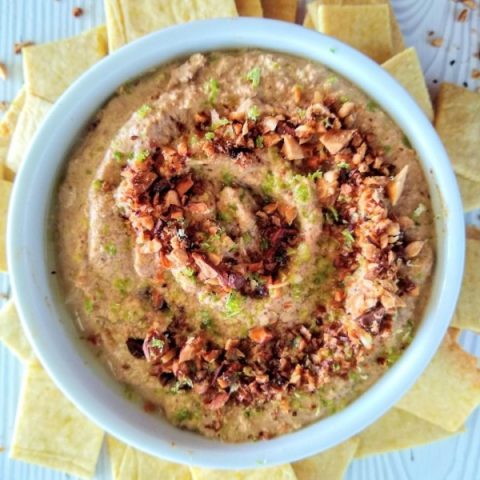 Almond Dip with Jalapeno and Lime
This almond dip with jalapeno and lime is a crowd pleasing dip that everyone can enjoy [Paleo, gluten free, dairy free].
Ingredients
1 cup roasted almonds
¼ cup diced jalepeno
juice of 2 limes
zest of 2 limes
pinch of salt (to taste)
½ cup water
Instructions
Prepare your ingredients - roast your almonds in a 375 (F) oven if they aren't roasted, chop and de-seed your jalapeno, zest and juice your limes.
Put all ingredients into a food processor and turn it on until it's all blended together.
Serve with a sprinkle of chopped roasted almonds and lime juice.
Nutrition Information:
Yield:

6
Serving Size:

¼ C
Amount Per Serving:
Calories:

173
Total Fat:

12g
Saturated Fat:

1g
Trans Fat:

0g
Unsaturated Fat:

11g
Cholesterol:

0mg
Sodium:

162mg
Carbohydrates:

15g
Fiber:

4g
Sugar:

7g
Protein:

5g