Some of the links on this site may be affiliate links. This means, at no additional cost to you, I may be paid a small commission if you follow the links and make a purchase. Learn more here.
Looking for a Paleo, gluten free, and dairy free almond dip to serve at your next party? Do you enjoy a high-protein unprocessed homemade dip to go with your veggies and crackers? If either of those sounds like you, keep reading for the recipe for this delicious jalapeno dip. A crowd-pleaser indeed!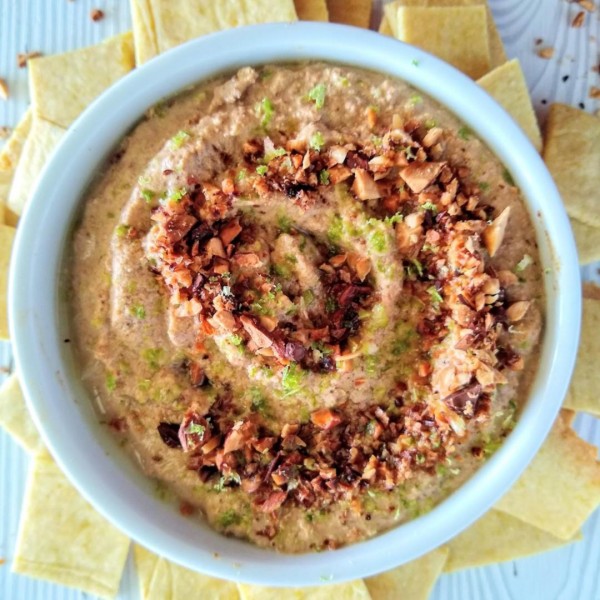 Why I love this almond dip recipe
I got the idea for this flavor combination after having the Trader Joe's almond jalapeno dip at our neighbor's class. I love finding something I love at the store and making it at home with simpler, healthier ingredients.
This almond dip is high in protein, low in carbs, and packed with flavor. It's easy to eat with carrots, celery, crackers, chips, or just by the spoonful!
I also love that it's Paleo, gluten free, and dairy free. Which means everybody can eat it!
Tools Needed to Make this Almond Jalapeño dip
Bowl for serving - Any bowl will work, but I love the versatility of these ramekins.
Food processor - It's an investment, but totally worth having. This is the brand we have. We love it and it's been going strong for 8 years!
Zester - If you don't have a zester in your kitchen, make sure it's your next purchase. You can use it with garlic, lemon or lime zest, and even dark chocolate for dessert shavings. Bonus...you can match the handle color to your kitchen!
Ingredients Needed to Make Your Jalapeno Dip
Roasted almonds - Rich in fiber and minerals this roasted almond will give your dip an enhanced nutty flavor.
Jalapenos - Gives your almond dip a kick of spiciness.
Limes - Has a tart, acidic taste with just a slight hint of sweetness.
Salt - To taste.
Water - Adding water will thin out your dip a bit, allowing you to customize the thickness of your dip.
And since we're making it at home, we can be sure there are no hydrogenated or refined oils, artificial sweeteners, and refined sugar included in the ingredient list.
How to make this Almond Dip
This almond dip is super easy to throw together. Just follow these simple steps.
Step 1: Prepare the ingredients for your dip
Get your ingredients out and ready to go.
Roasted almonds - If they aren't roasted already, roast them in the oven @ 375 (F) until slightly brown and fragrant (5-10 minutes).
Limes - Zest the limes with your zester and juice your limes.
Jalapeno - De-seed and chop your jalapeno. Since you'll be throwing everything into the food processor, you don't NEED to chop the jalapeno. I just chopped mine to get an accurate measurement for the recipe. Jalapenos can either be gigantic or tiny, so "one jalapeno" isn't very helpful. Feel free to add more or less jalapeno, depending on your preference.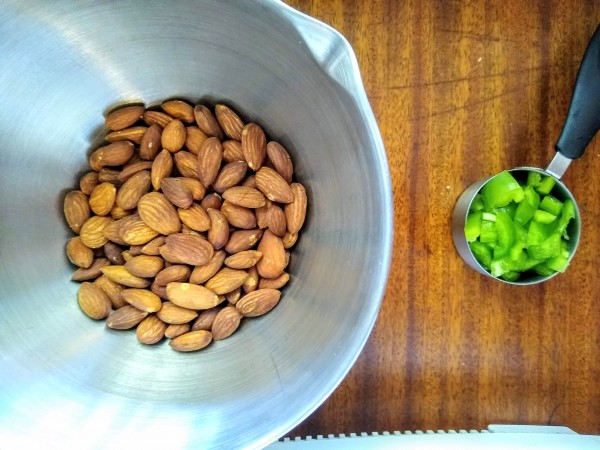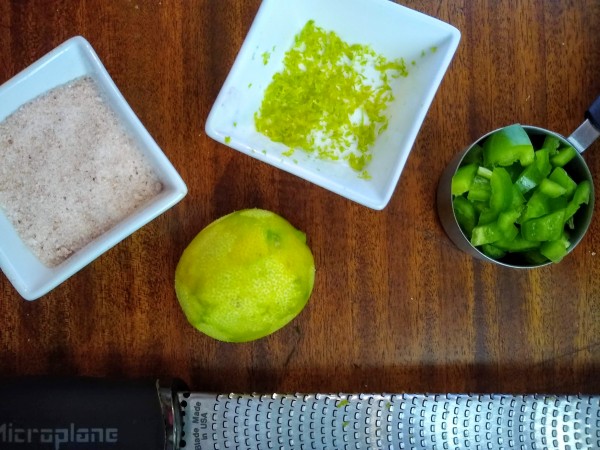 Step 2: Blend in your food processor
Throw everything into the food processor and turn it on until blended together. It'll take a few minutes for the almonds to get blended up into a paste for this dip, but it'll happen.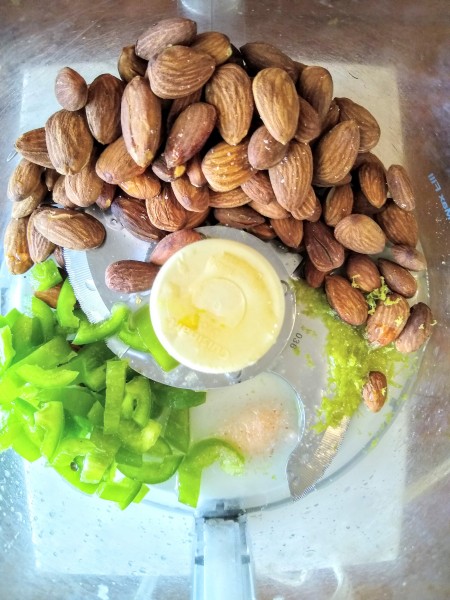 Step 3: Serve The Almond Dip
Dish up your dip into your ramekin (or serving dish), top with chopped almonds, and lime juice. Then enjoy!
FAQ & Recipe Tips
Almond dip storage & make ahead tips
You can definitely make this almond dip ahead of time. If it gets too thick in the fridge during storage, just stir in more water until it gets how you want it.
Can I substitute any of the ingredients?
Of course! As with all my recipes, I strive for maximum flexibility.
Almonds - Use cashews, hazelnuts, or even walnuts. Use what you've got.
Jalapenos - Omit the jalapenos or use a different pepper for more (or less spice).
How to serve and use the almond dip
I love this almond jalapeno dip with anything crunchy...
Related Recipes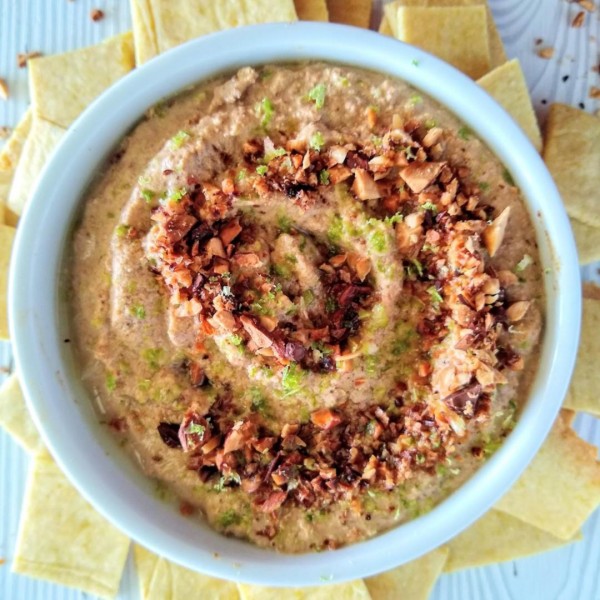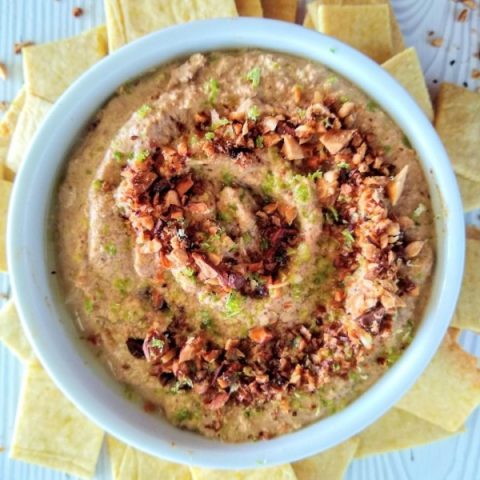 Almond Dip with Jalapeno and Lime
This almond dip with jalapeno and lime is a crowd pleasing dip that everyone can enjoy [Paleo, gluten free, dairy free].
Ingredients
1 cup roasted almonds
¼ cup diced jalepeno
juice of 2 limes
zest of 2 limes
pinch of salt (to taste)
½ cup water
Instructions
Prepare your ingredients - roast your almonds in a 375 (F) oven if they aren't roasted, chop and de-seed your jalapeno, zest and juice your limes.
Put all ingredients into a food processor and turn it on until it's all blended together.
Serve with a sprinkle of chopped roasted almonds and lime juice.
Nutrition Information:
Yield:

6
Serving Size:

¼ C
Amount Per Serving:
Calories:

173
Total Fat:

12g
Saturated Fat:

1g
Trans Fat:

0g
Unsaturated Fat:

11g
Cholesterol:

0mg
Sodium:

162mg
Carbohydrates:

15g
Fiber:

4g
Sugar:

7g
Protein:

5g