Some of the links on this site may be affiliate links. This means, at no additional cost to you, I may be paid a small commission if you follow the links and make a purchase. Learn more here.
This 4 ingredient guacamole recipe is the simplest and most delicious guacamole you'll ever taste. With just four simple ingredients, you get to taste all the amazing flavors in the delicious creamy avocado dip. Plus, it's a heart healthy dip that fits into most any diet - Paleo, keto, vegan, gluten-free, dairy-free, and so many more.
This guacamole recipe is made without tomatoes (which means you can freeze this guacamole recipe). Keep reading for step-by-step instructions for how to freeze guacamole.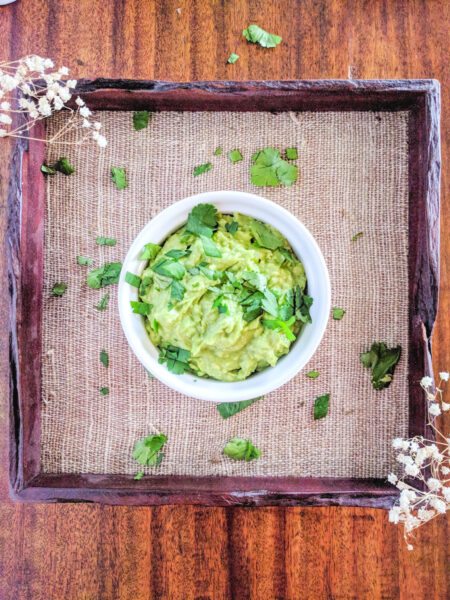 Tools to make (and freeze) this 4 ingredient guacamole recipe
Ingredients to make the guacamole
Avocados - The star of the show - buy ripe avocados (slightly soft to touch - not mushy or hard) for extra creamy guacamole.
Lime juice - We sometimes substitute lemon juice if it's all we've got and it still tastes great. If you buy lime juice, make sure it has only one ingredient - like this kind. If you're in a pinch you can try to substitute vinegar for the lime juice (but I'd add it a tiny bit at a time since it has such a strong flavor).
Salt - The salt balances the flavors of the guacamole, We love this salt because it still has its trace minerals.
Cilantro - This one is optional, but I love adding it because it adds great flavor. If you're adding cilantro (or any other add-ins) leave them out before popping this in the freezer.
Everything else - Onions, tomatoes, salsa, sour cream, garlic- all optional and not recommended for freezing (also not necessary for a delicious tasting guacamole).
How to make this 4 Ingredient Guacamole Recipe
The process is extremely simple to make delicious tasting fresh guacamole at home.
First, scoop the insides of the avocados (minus the pit) into a bowl. Next, mash it with a fork (if you'd prefer a super-smooth guacamole, you'll need to use an immersion blender or food processor to get the lumps out).
Once the avocados are mashed, you can add the remaining ingredients. I like to go pretty heavy on the lime and then add salt to taste.
Cilantro is an optional ingredient in this recipe because it's not something I always have on hand. I love when I can make something delicious with the stuff I always have in my kitchen.
Recipe Tips & FAQ
Can I buy store bought guacamole and freeze it?
If you can find guacamole at the store with just avocados, lime (or lemon) juice, and salt - YES. But if they've added tomatoes, sour cream, onions, or any other fillers - I wouldn't freeze it. Freezing those fillers will release the water from them, or cause the dairy to separate, which won't be good once it's thawed back out.
What ingredient keeps guacamole from turning brown?
When avocados are exposed to oxygen they turns brown (oxidation). So if we want to keep the guacamole green, we just need to keep it away from oxygen. Here are a few tried and true ways you can do that:
Put the guacamole in an air tight container and drizzle with extra lime juice. The acid from the lime juice slows the oxidation. This should keep it green for about 1 day.
Cover the guacamole with plastic wrap and push it down so no air is touching the guacamole. Depending how close the plastic wrap is to the guacamole, and how porous your plastic wrap is, this will keep the guacamole green for 1-2 days.
Cover it with water. Press the guacamole down into your container so there's no air bubbles with the back of a spoon. Then drizzle a little water over the top to cover. Put it in the fridge with the lid on, and when you're ready to use it, just pour the water off. This could keep it green for up to 3 days!
You can also try to put the avocado pit back in the guacamole. I haven't had much luck with this, but I have friends who swear by it!
What to add to guacamole to make it taste better?
If you made some guacamole and it's just not *quite* tasting how you want it, here are a few things to try:
Add a bit more lime
Add more salt
Add some spice (cayenne or hot sauce)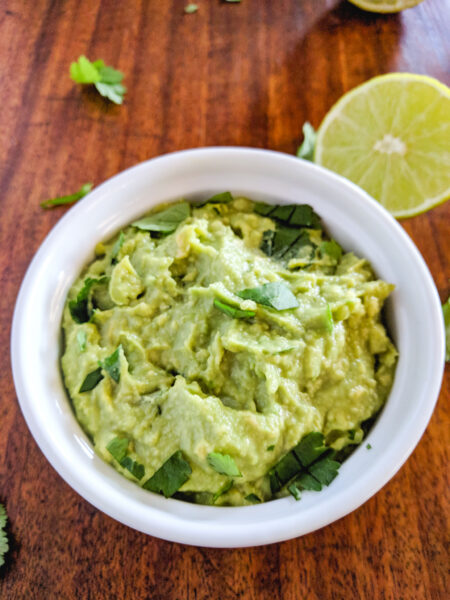 Can you freeze guacamole?
You sure can (assuming it's just a simple guacamole recipe with no fillers).
Scoop the guacamole into a quart size plastic bag.
Get the air bubbles out and seal the bag.
Put the bag in the freezer and lay it flat to freeze.
The day before you want some, just put it in the fridge and let it thaw overnight.
How to use your homemade guacamole?
Looking for ideas to use your delicious homemade guacamole?
With chips and salsa
On nachos
In tortilla soup or chili
On toast (avocado toast, anyone?)
As a dip for veggies - carrots, cucumbers, celery
As a dip for crackers (like these 3 ingredient homemade "cheese" crackers)
As a topping on fajitas
As a dip for chips (I've been loving these homemade sweet potato chips dipped in guacamole)
On sandwiches, burgers, or wraps
In a green smoothie - it'll add a delicious creaminess to your smoothie
Looking for more delicious homemade dips?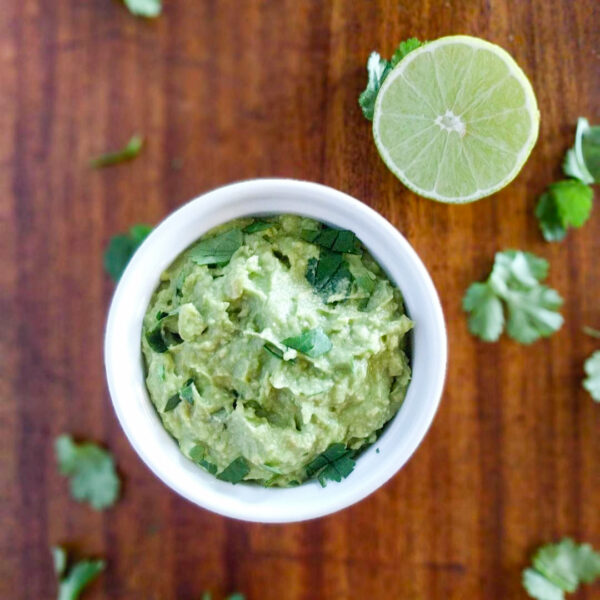 4 Ingredient Guacamole
Make this simple 4 ingredient guacamole that tastes amazing (and is totally freezable) in just 5 minutes! 
Ingredients
3 large avocados
Juice of 1-2 limes
Salt, to taste
Handful of chopped fresh cilantro (optional)
Instructions
Mash the avocados with a fork or potato masher (or use an immersion blender or food processor for super smooth guacamole)
Squeeze in the lime juice
Add salt, to taste
Add cilantro if you're using it (and any additional fillers)
Notes
Scoop the guacamole into a quart size plastic bag.
Get the air bubbles out and seal the bag.
Put the bag in the freezer and lay it flat to freeze.
Don't try to freeze guacamole with fillers (like tomatoes, onions, dairy, etc.) in it. It's best to leave it super simple if it's going in the freezer.
If you don't have lime juice you can substitute lemon juice.
Nutrition Information:
Yield:

9
Serving Size:

¼ c
Amount Per Serving:
Calories:

127
Total Fat:

10g
Saturated Fat:

1g
Trans Fat:

0g
Unsaturated Fat:

8g
Cholesterol:

0mg
Sodium:

89mg
Carbohydrates:

11g
Fiber:

5g
Sugar:

4g
Protein:

2g
Don't forget to Pin this for later!