Some of the links on this site may be affiliate links. This means, at no additional cost to you, I may be paid a small commission if you follow the links and make a purchase. Learn more here.
Crockpot dinners are just about the easiest way to get a home cooked meal on the table every night of the week. If you're looking for an easy meal with very little hands on cooking, you should definitely check these Paleo crockpot meals out. All of the recipes included here are Paleo (gluten free, grain free, and refined-sugar free).
They're all made with simple ingredients without unhealthy oils and free of preservatives. Most are dairy free as well.
Basically...they're super healthy and I think you should add them to your meal plan, ASAP.
Easy dinner recipes like these keep your family eating healthy homemade dinners (and out of the drive-through lane). Looking for other ways to simplify cooking dinner at home? Check out these meal kit services.
Related: 4 Best Meal Kit Delivery Services - Which one will work best for you?
Paleo Sides to Go With your Crock pot Dinner
Now, lets talk about sides. Sometimes you want a little somethin' somethin' on the side of your crockpot meal. For those of you who like wrapping your food up in tortillas, or dipping some sort of Paleo-friendly bread in your soup, I've got you covered.
18 Crockpot Recipes For Busy Weeknight Meals
This chili is bursting with flavor and packed with protein. Make it with beef or turkey, your choice. Either way you'll be glad you did. Make it in your slow cooker today. Get the recipe here on Scratch to Basics.
---
Super easy, Super tasty and Super versatile. Make a huge batch (I used a 5lb pork roast) and you can serve a big crowd or have leftovers for days. Try in tacos, a Buddha bowl, or use your own creativity! Get the recipe at Gypsy Plate.
---
This Slow Cooker Tri Tip Roast with Roasted Vegetables is a nourishing meal perfect for Sunday dinner or special occasions. This dish is gluten-free and so easy to make. Get the recipe at Clean Eating Kitchen.
---
Who doesn't love crispy chicken? This sheet pan meal looks delicious. Tender cooked vegetables and crispy baked chicken thighs. Get the full recipe at Cook It Real Good. Get the recipe at Recipes From A Pantry.
---
Homemade chicken soup with savory herbs is easy to make and set it and forget it type of meal. It's delicious out of the pot and good for immune boosting! Get the recipe at I Heart Umami.
---
Juicy chicken and lots of herbs and vegetables make a hearty meal in this easy Slow Cooker Italian Chicken Stew. Get the recipe at Paleo Gluten Free Guy.
---
Insanely delicious fall-apart-tender Mississippi pot roast cooked in the crock-pot with only six ingredients. This easy recipe takes less than 10 minutes to prep and can be made in as little as 4-5 hours on the high setting. Serve with your favorite mashed veggies for a comforting meal. Get the recipe at The Rising Spoon.
---
The ultimate in comfort food. Just put everything in the slow cooker and let it do the work for you. Tender juicy lamb and soft tasty vegetables! Get the recipe at Emma Eats.
---
Citrus shredded beef with a Caribbean flair. Great on it's own or in lettuce wraps (or tortillas for the non Paleo family members). Get the recipe at Peel with Zeal.
---
This collagen-rich, super meaty Easy Paleo Beef Stew is slow-cooked in a crockpot. It pops with flavor from low-carb vegetables and herbs. The best part is that this stew is a deeply nourishing meal for any day of the week, freezer friendly and takes minimal prep work to put together! Get the recipe at Primal Edge Health.
---
You can make this easy, gluten-free Moroccan Chicken on the stove, in the oven, in an Instant Pot or in your slow cooker. Any way you prepare it, it's delish. The spices, tomato, aromatics and figs come together for a knockout sauce. Get the recipe at GFree Foodie.
---
A meal prep staple, only 8 ingredients, and with hidden veggies in them, these Whole30 approved Slow Cooker Chicken Zucchini Meatballs make the easiest healthy dinner option without the fuss! Made in the crockpot and paleo, gluten, dairy free! Get the recipe at Eat the Gains.
---
Crispy Slow Cooker Pork Carnitas. Cooked low and slow for 8 hours then broiled in the oven until crispy on the outside! Get the recipe at Chef Savvy.
---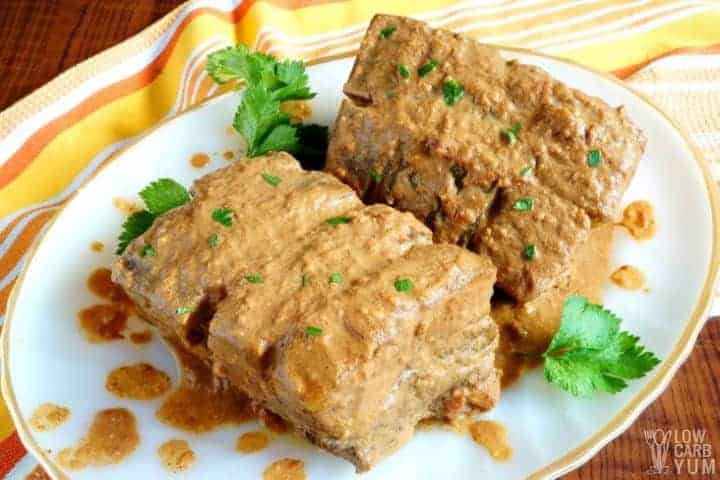 Slow cooked to a tender bite, this flavorful Pork Curry is easily done with your trusty Crock Pot! It's low carb, gluten-free, keto and Paleo. Get the recipe at Low Carb Yum.
---
This Easy Slow Cooker Cauliflower Soup has a handful of ingredients and requires almost no prep time (plus, it's vegan!). Get the recipe at Live Eat Learn.
---
Another delicious recipe bursting with flavor. This recipe uses ghee instead of butter (for those sensitive to the lactose in butter - including myself). If you can't do ghee, substitute coconut oil. So, so, so tasty. This one's on my favorites list. Get the recipe here on Scratch to Basics.
---
This Healthy Crockpot Pulled Pork recipe is a perfect easy, filling weeknight dinner. Made in the slow cooker with only a few ingredients, it's low in fat, packed with protein, and paleo / Whole30 approved! Get the recipe on The Clean Eating Couple. Pair it with a homemade refined-sugar free BBQ sauce like this one.
---
An easy and tasty meal, this shredded chicken is full of flavor from tomatillos, banana peppers, limes and spices. Tastes great over rice, in tortillas or as is! Get the recipe at My Life Cookbook.
Phew...We Made it!
With this incredible list of crock pot/slow cooker dinners, you have NO excuse not to cook dinner tonight! And with flavors like these, why wouldn't you? There's just about an unlimited supply of flavor combinations for delicious and simple dinner recipes. The way I see it, we've just planned the next few weeks of meals! Woo hoo!
Looking for more easy recipe ideas?
Incorporate crock pot dinners into your weekly meal planning rotation and stressful dinners will just disappear!
Now that we've got dinner covered, let's talk about dessert. Specifically....chocolate.
Top Dessert Recipes to Try tonight
These desserts are full of chocolatey goodness, and Paleo friendly, too.
Don't forget to Pin These Paleo Crockpot dinners for later!