Some of the links on this site may be affiliate links. This means, at no additional cost to you, I may be paid a small commission if you follow the links and make a purchase. Learn more here.
I've been on a quest to create crock pot recipes that I can prep & freeze ahead of time, then just dump them in the crock pot when I'm ready to eat them. And this easy crockpot butter chicken is one of my absolute favorites.
Of course, if you'd rather not prep it ahead of time, you don't have to. Just dump all the ingredients in the crockpot and in a few hours you'll be glad you did.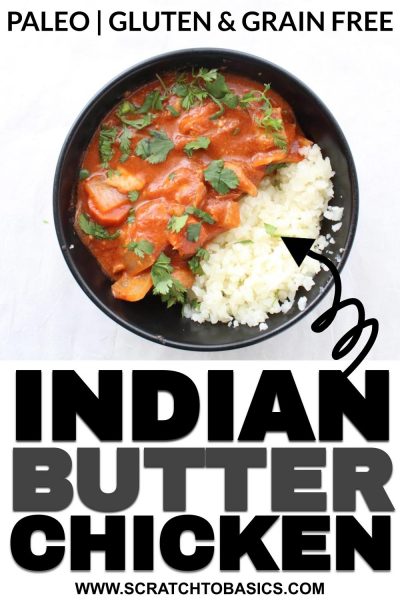 Why i love this Indian Butter CHicken Recipe
Here's why I love this meal so much:
It's delicious. Seriously, the flavors are amazing. I love when I can make take-out substitutes healthier for less money.
It's easy. So easy. A dump-and-go crockpot recipe. Doesn't get any easier than that.
It's healthy. Made with simple ingredients, you won't find refined oils, sugars, or any preservatives in here.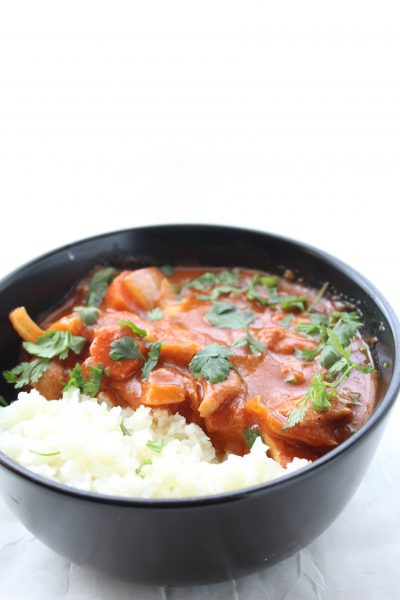 What do I need to make Crockpot Indian Butter CHicken?
Tools Needed
Ingredients needed
Chicken thighs
Tomato paste (we like this kind with only one ingredient)
Onion
Carrots
Coconut milk (we like this kind without guar gum)
Butter/ghee
Fresh ginger
Spices (cardamom, chili powder, cinnamon, cumin, cayenne, salt, black pepper)
How to make this recipe
Option 1: As a make ahead freezer meal
If you want to prep this recipe and freeze it for another day, no problem at at all. Here's how you do it:
Chop the veggies
Add the meat, veggies, and all other ingredients to the freezer bag.
Label the bag with "Indian Butter Chicken" and the date, then lay flat in the freezer.
Once it's frozen you can stand the frozen bag up like a book to save space.
Option 2: as a crockpot meal
If you're ready to make this for dinner today, I don't blame you. Dump all the ingredients into your crockpot, turn it on low, and cook it for about 6 hours.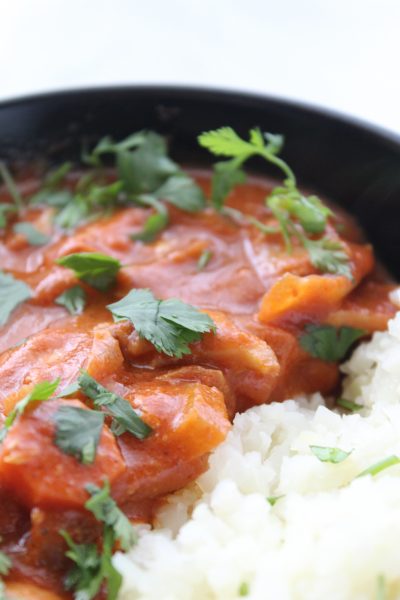 I'm here to help...
Is slow cooker good for Indian cooking?
Using your slow cooker is an awesome option for hands-free cooking. I especially like the slow cooker when there's a bunch of spices (like in Indian food). The slow cooking helps the spices blend together and the end result is just delicious.
How do you make butter chicken curry from scratch?
The recipe below will tell you step by step how to make Indian butter chicken from scratch (no special ingredients needed).
What vegetable goes with butter chicken?
In this recipe, you'll find carrots, onion, and I love to serve it over cauliflower rice. Feel free to experiment here and use what you have, or like. In this crockpot recipe, other root vegetables would be a great addition (parsnips, turnips, beets, etc.)
How long does chicken cook in the crockpot?
Chicken cooks pretty fast in a crockpot (relatively speaking). Especially if you're cooking chicken thighs or breasts. Cook this recipe (boneless chicken thighs) for 6 hours on low. If you chop the chicken into smaller pieces it'll cook faster (4-5 hours) and if there's a bone in the chicken, it'll take a little longer.
What can I serve with butter chicken instead of rice?
We love our butter chicken with cauliflower rice or this spongy Paleo flatbread. If you wanted to wrap it up, you could use lettuce or cabbage leaves for a Paleo wrap option.
What is a good side dish to serve with butter chicken?
I like this recipe because there's carrots in the butter chicken, so I don't feel like I need a side dish. It's a one-pot meal. However, I often serve it with cauliflower rice or spongy Paleo flatbread.
Can I make this ahead of time?
My favorite way to make this recipe (and every recipe these days) is to prep the ingredients ahead of time, and freeze it in the freezer to cook later.
If you've already cooked the Indian butter chicken, you can store the leftovers in the fridge or freeze them for later. It will keep well for 3-5 days in the fridge.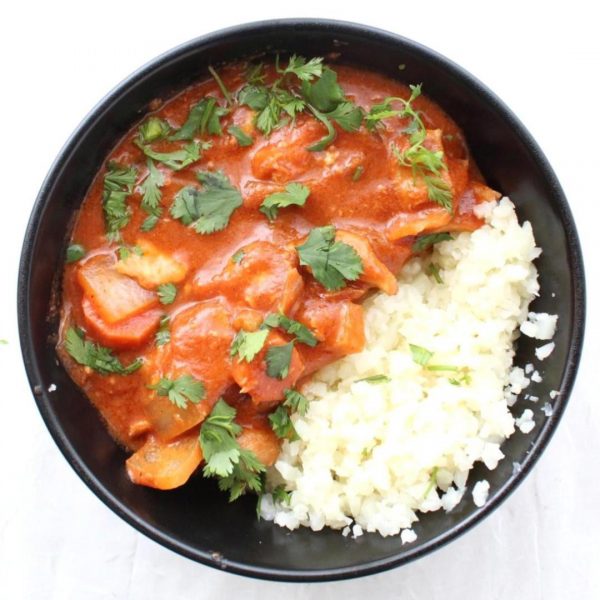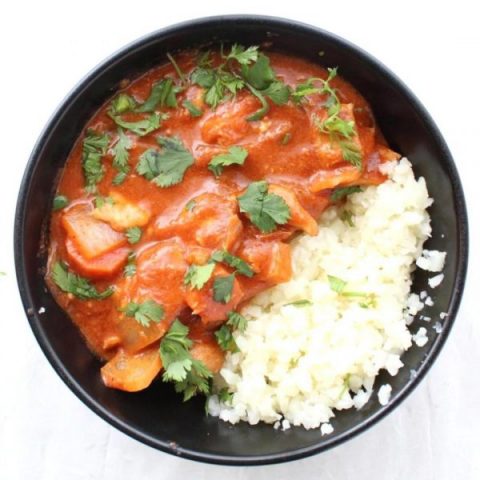 Easy Crockpot Butter Chicken Recipe (Paleo, Gluten Free)
Total Time:
6 hours
10 minutes
This meal is so flavorful and delicious you'll want to add it to your weekly meal plan. It's Paleo, packed with flavor, and cooks in the crock pot while you enjoy life. What more could you ask for?
Ingredients
For crockpot
2 lbs boneless chicken thighs
½ onion - chopped to ½" dice
4-5 carrots - chopped to ½" dice
½ can
1 can tomato paste
3 Tbsp butter
1 tsp fresh ginger, zested
¼ tsp ground cardamom
½ tsp chili powder
¼ tsp cinnamon
¾ tsp cumin
¼ tsp cayenne (optional)
½ tsp salt
¼ tsp black pepper
Serve with (optional)
Instructions
Chop the onion and carrots and put in the crock pot bowl.
Add the boneless chicken thighs.
Mix the coconut milk, tomato paste, butter/ghee, zested fresh ginger, and spices (cardamom, chili powder, cinnamon, cumin, salt, pepper, and cayenne (if you're using)) in a separate bowl until well mixed. Then pour it into the crock pot bowl.
Cook on low for 6 hours.
Serve with lime wedges, fresh cilantro, naan or Paleo flatbread, and/or cauliflower rice (or normal rice).
Nutrition Information:
Yield:

4
Serving Size:

1
Amount Per Serving:
Calories:

635
Total Fat:

28g
Saturated Fat:

11g
Trans Fat:

0g
Unsaturated Fat:

16g
Cholesterol:

300mg
Sodium:

936mg
Carbohydrates:

39g
Fiber:

5g
Sugar:

9g
Protein:

61g
Don't forget to save this recipe to your "crockpot dinners" pinterest board