Some of the links on this site may be affiliate links. This means, at no additional cost to you, I may be paid a small commission if you follow the links and make a purchase. Learn more here.
This simple cauliflower rice recipe will walk you through making cauli rice from fresh or frozen cauliflower. I'll give you a few tasty ways to use it, along with how to store it for later.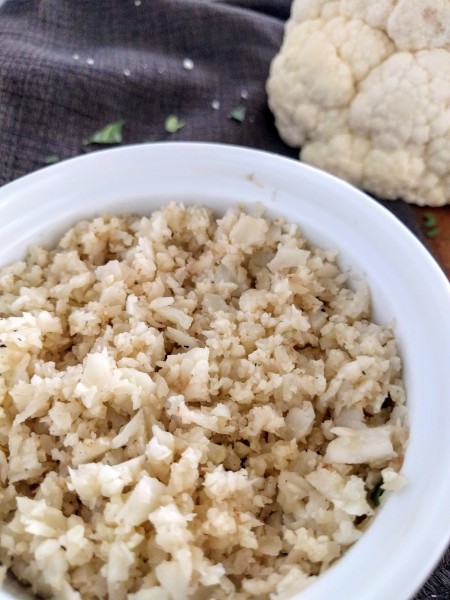 Cauliflower rice is a tasty, mild flavored rice substitute that's low-carb and gives you an extra serving of vegetables in your day. You can season it any way you want and the texture is very rice-like, but it won't spike your blood sugar. While rice is pretty high on the glycemic index (a measure of how much carbohydrates affect your blood sugar after eating), cauliflower rice is very low.
Tools needed to make vegan cauliflower rice
Food Processor - The cauliflower can be blended using a food processor or an immersion blender. You could also use a cheese grater if you'd prefer the manual option.
Pan - We love this cast iron fry pan. I love how the wooden handle protects your hand from getting too hot while using it.
Mixing bowl - Used to mix all ingredients. You can use your favorite mixing bowl.
Ingredients needed to make cauliflower rice
Cauliflower - You can buy a head of cauliflower, or the chopped florets.
Butter, Coconut oil, or Olive oil - Use your favorite.
Salt and Pepper - Also, any other flavorings you'd like (herbs, etc.)
How to make cauliflower rice
Making cauliflower rice is really simple. You just need to get the cauliflower to be little rice-sized pieces. Whether you hand grate the cauliflower or use your food processor is up to you.
If you've been around here for any amount of time, you probably know I'm a big fan of my food processor (here's a post with a bunch of dips and dressings you can make in your food processor while you have it out).
How to Cook and Use your Cauli rice
Saute your frozen cauliflower rice with some butter (or olive oil) for 3-5 minutes and season it with salt and pepper for a simple side dish.
For a flavor boost: you can add sauteed mushrooms, greens and a little grated Parmesan. I used arugula in the picture below and it was super yummy.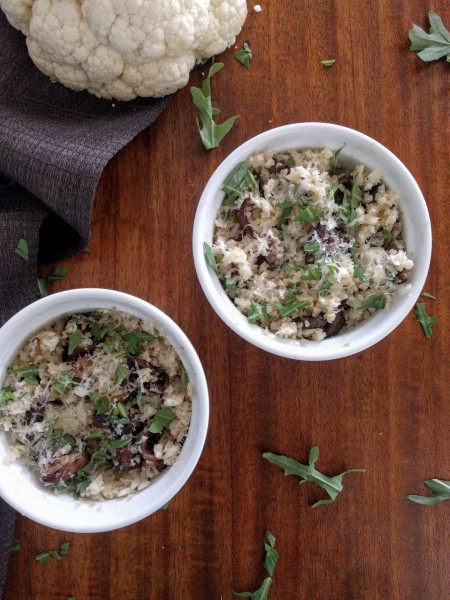 You can also use your cauliflower rice in any recipe that you'd use for normal rice. So if you're making curry, substitute cauliflower rice for an extra veggie serving. Or make some Mexican spiced rice with this 3 ingredient taco seasoning. Stir fry...sushi...the sky is the limit, really.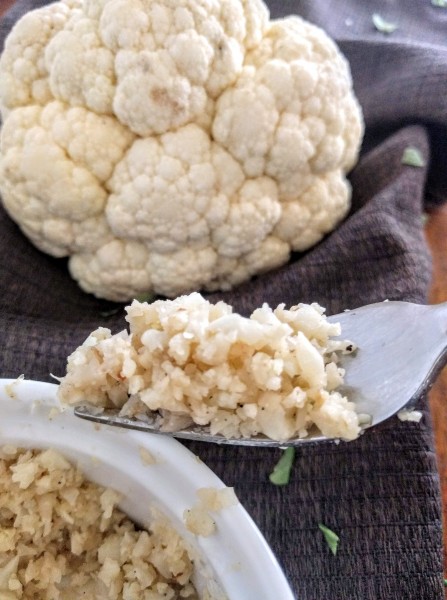 FAQ & Recipe Tips
Frozen or fresh cauliflower?
Frozen Cauliflower
If you're starting with frozen cauliflower, dump the bag of cauliflower into your food processor and pulse it until it's rice-sized. I haven't tried this method, but as long as you have a strong food processor, it should work just fine. If your food processor is having a hard time, just let the cauliflower defrost for a little bit to make it easier.
Fresh Cauliflower
If you're starting with fresh cauliflower, take the head of cauliflower, remove the leaves, and cut it into chunks (about 2" big - no need to be exact). Then pulse the chunks in the food processor until they're rice sized. I like to pulse each head in two batches. The pictures below show the progression from before the cauliflower is pulsed, after 10 pulses, and the finished product.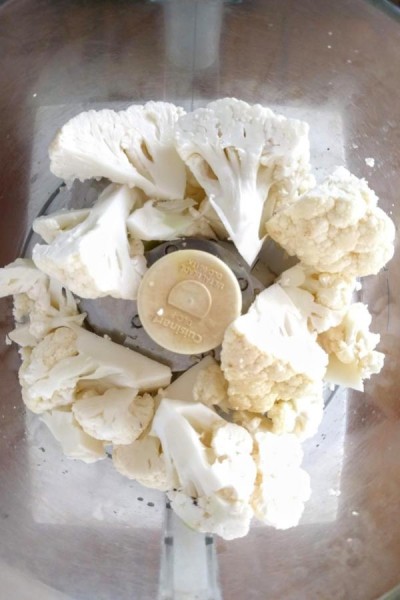 Can you buy cauliflower rice?
If you're not interested in making your own, you can buy pre-made cauliflower rice to save you a few minutes. I've seen it at Costco, Trader Joes, Whole Foods, and many other stores in the freezer section. You'll probably pay a little more for the convenience. But as long as the only ingredient is cauliflower, it's not a bad way to go. Here's an option on Amazon (although it seems a bit pricey for one serving).
Make ahead & store for later
If you have a little extra time, make two heads worth of cauliflower rice to store and have on hand throughout your week.
How long will it last in the fridge?
Cauliflower rice will keep up to a week in the fridge. Make a big batch on Sunday and eat it throughout the week for lunches and dinners.
Freezing cauliflower rice
You can freeze cauli rice in any air-tight container. It will keep for up to six months in the freezer.
Is Cauli rice healthy?
Definitely! Cauliflower rice is a low-carb and calorie-free substitute for traditional rice. It may help in a variety of ways, including weight loss, inflammation reduction, and possibly disease prevention. In addition to being easy to prepare, it may be consumed both raw and cooked.
Does cauliflower rice taste like rice?
Cauliflower is a versatile vegetable with a pretty mild flavor. While it doesn't taste exactly like rice, you likely won't be able to tell a difference when it's mixed in with other flavors.
Is cauliflower rice healthier than rice?
Cauliflower rice, when compared to white or brown rice, has much fewer calories and carbohydrates, a higher vitamin C content, and other nutritional benefits.
Related Recipes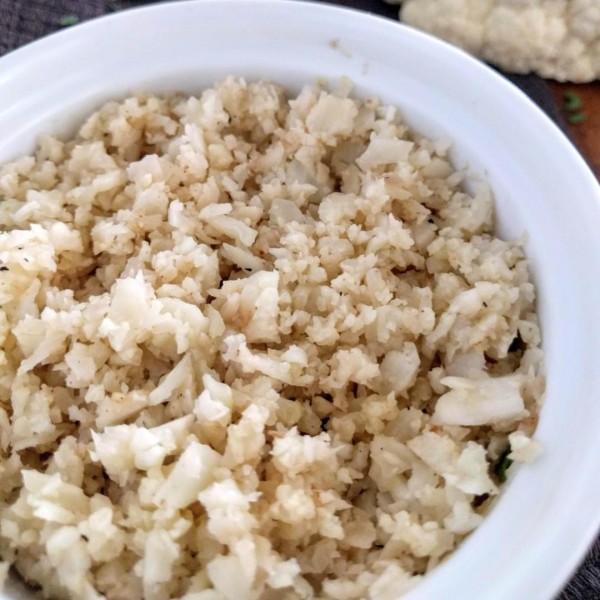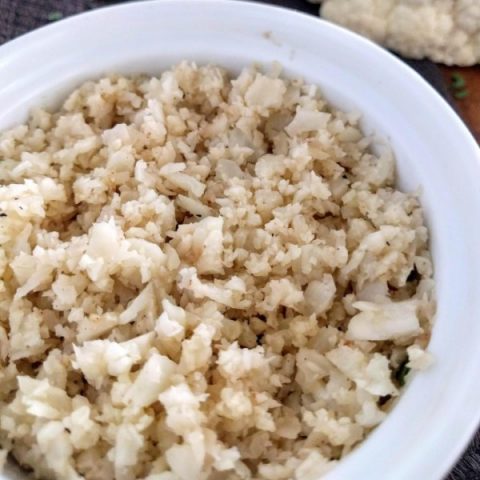 Simple cauliflower rice recipe
Make cauliflower rice at home in minutes and use it anywhere you'd use normal rice!
Ingredients
1 medium head cauliflower
1 tablespoon butter, coconut oil, or olive oil
salt and pepper, to taste
Instructions
Remove the leaves and chop your head of cauliflower in half.
Take one half and cut it into 2" chunks and put in the bowl of your food processor.
Pulse until rice sized.
Repeat with the other half.
Cook in saute pan with butter (or oil) for 3-5 minutes and season with salt and pepper, to taste.
Notes
You can use this in any recipe where you'd use white or brown rice.
Nutrition Information:
Yield:

8
Serving Size:

½ C
Amount Per Serving:
Calories:

59
Total Fat:

5g
Saturated Fat:

3g
Trans Fat:

0g
Unsaturated Fat:

2g
Cholesterol:

4mg
Sodium:

59mg
Carbohydrates:

3g
Fiber:

2g
Sugar:

2g
Protein:

1g
Save This For Later on Pinterest