Some of the links on this site may be affiliate links. This means, at no additional cost to you, I may be paid a small commission if you follow the links and make a purchase. Learn more here.
Looking for a healthy brownie recipe? You've found a great one. These Paleo brownies are SO good. There's a lot of great brownie recipes out there. But not all of them are gluten free, dairy free, egg free, and refined sugar free.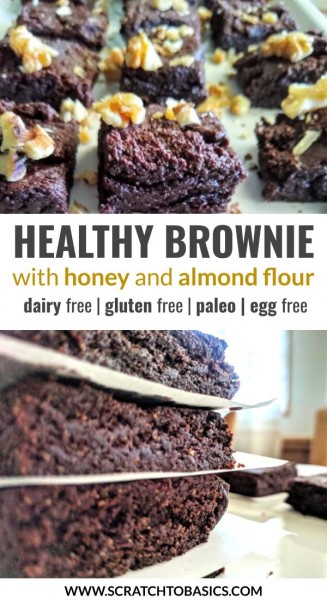 In fact very few of them are all these things. But these are! These Paleo brownies have a rich chocolate flavor and are soft, moist, and fudgy. What more could you ask for?
Most people would say I'm a responsible person. I thrive when given responsibility and I'm usually pretty disciplined to get things checked off my to-do list. For example, my responsibility kicked in when I got some requests for this brownie recipe.
But the "responsible eating" part got lost somewhere in the mix. Because when you put a plate of these brownies in front of me, I cannot stop eating them. Seriously. No self control.
Ready to Save Hundreds on Your Grocery Budget?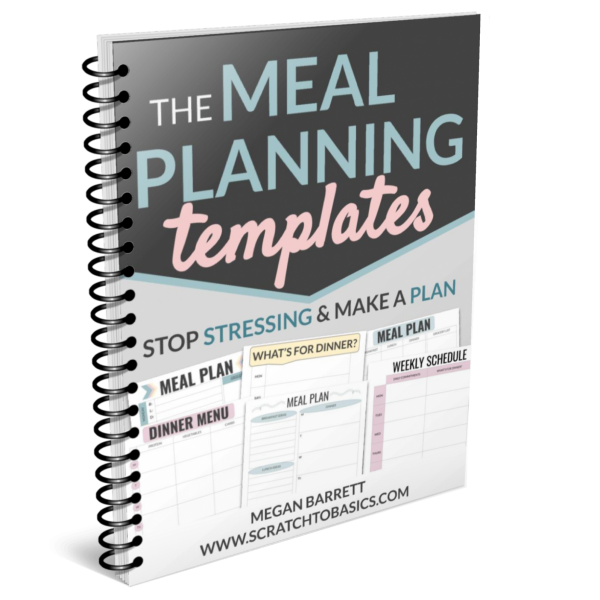 Make a Meal Plan Today!
Get started meal planning and save hundreds every month with this bundle of meal planning templates. Opt in below to get this PDF delivered directly to your inbox.
"Just One More"
Something happens in our bodies when our stomach is getting full. Our stomach sends a message to our brain that says, "you can probably stop eating soon...we're filling up down here".
But with these brownies,
My stomach says: "I don't need any food, you already gave me four brownies today."
But my brain hears: "Look, there's a brownie sitting on the counter. And it's healthy! One more can't hurt."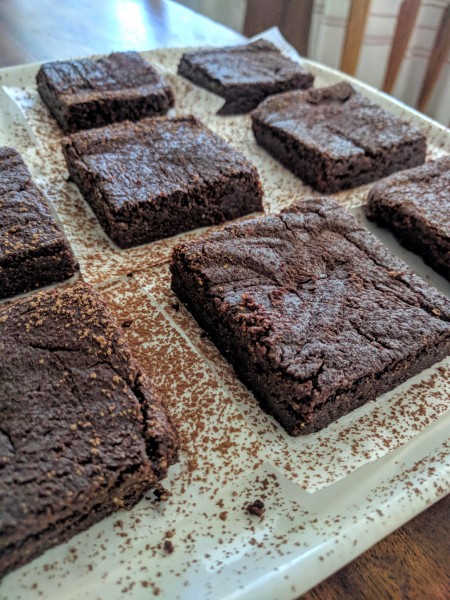 Developing this recipe was super fun. I got to eat a LOT of brownies and experiment to find an awesome healthy brownie recipe. I was looking for a moist, rich brownie that's gluten free, dairy free, egg free, and refined-sugar free. Success!
Gluten Free Brownie Recipe
This recipe is gluten free (thanks to the almond flour). And it's packed with protein (thanks to the almond butter and almond flour).
What's In...
What's Out...
gluten - No gluten in these brownies!
dairy - If you're a dairy loving person, try this recipe with butter instead of the coconut oil.
eggs - Sometimes I want to make brownies and don't want to use up all my eggs. This recipe gives a delicious brownie without any eggs.
refined sugar - This recipe uses honey instead of refined sugar. If you want to make this into a vegan brownie, just use maple syrup instead of honey.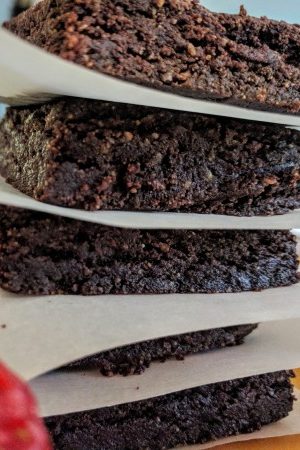 How to Make These Paleo Brownies
Preheat the oven to 350 (F)
Mix the wet ingredients
Mix the dry ingredients
Put it all together
Bake in the oven at 350 in a 8" x 8" baking dish for about 10 minutes
Serve and enjoy!
tools to make This Recipe
Steps With Pictures
Preheat the oven to 350 (F).
Grease the bottom of your 8" x 8" baking dish. If you'd rather, you can use parchment paper between the brownie batter and the pan. This makes it super easy to lift the whole pan of brownies out when they're done baking.
Mix the wet ingredients. This includes the almond butter, coconut oil, honey, vanilla, and applesauce.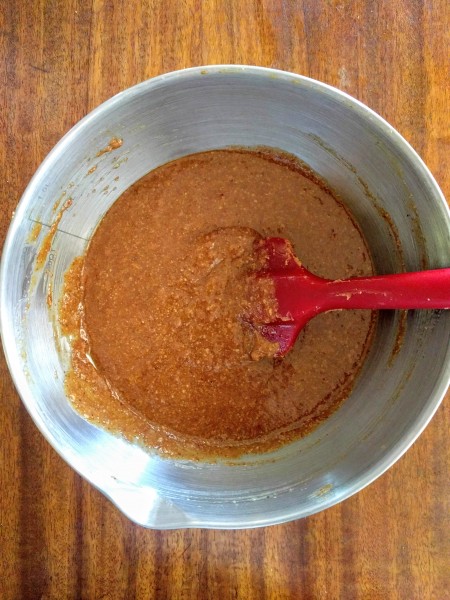 Then, mix the dry ingredients. This includes the cocoa powder, almond flour, salt, and baking powder.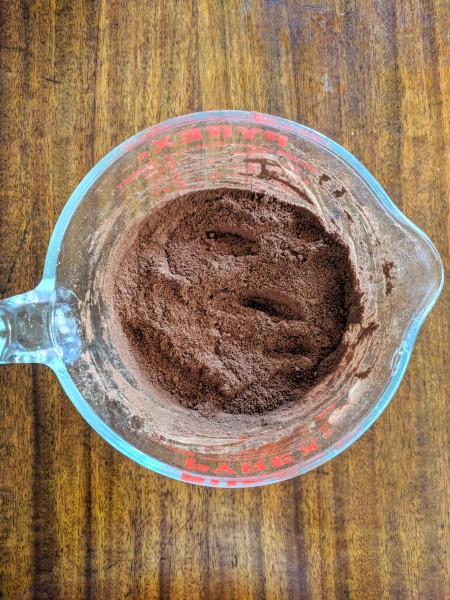 Mix it all together. The batter will be thick. Flatten it into the baking dish with a rubber spatula or your hands.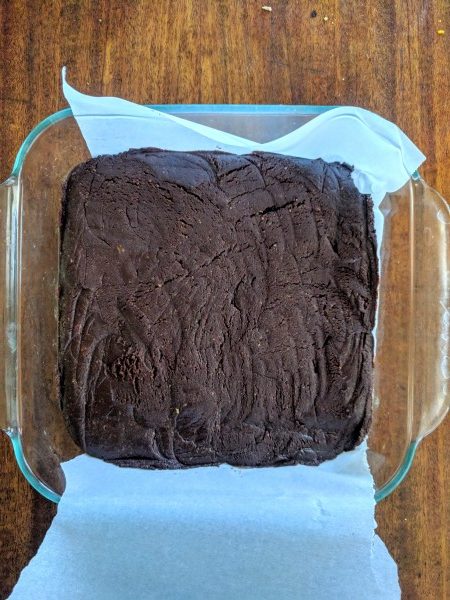 Tips For the Perfect Paleo Brownie
If you want to make substitutions, go ahead! I can't guarantee success, but I'd love to hear what you try and how it goes. I am a big fan of experimenting and learning from it. UPDATE: I tried making these brownies without the ½ cup applesauce and used ¼ cup coconut milk instead. The results were great! Use this substitution if you don't have applesauce.
Wait until the brownies are cooled before you dig in. I know I'm asking you to do the impossible here. But they'll be super crumbly if you don't let them cool. More crumbs on the floor = less brownies for you to eat. Think about it.
These are super rich. They'd be superb with a scoop of vanilla ice cream (dairy free if needed).
If you're worried about eating the whole pan (like me). Try this recipe for a personal sized brownie (guilt-free). And if you're feeling extremely decadent, top these brownies with this avocado chocolate pudding (it's called a pudding, but can easily be used as frosting).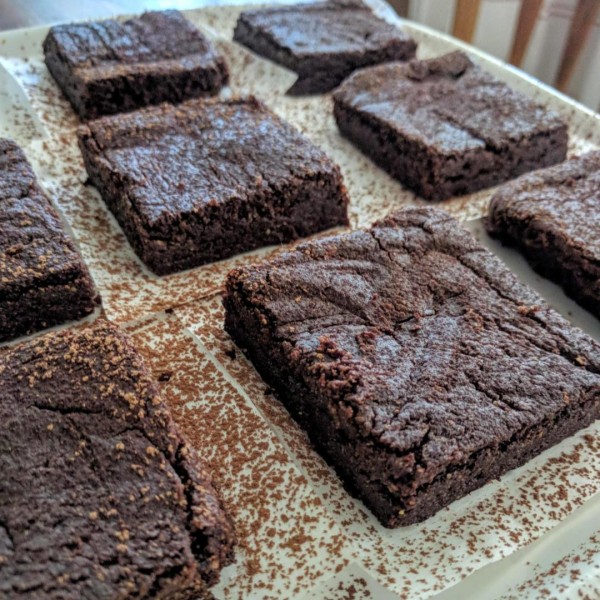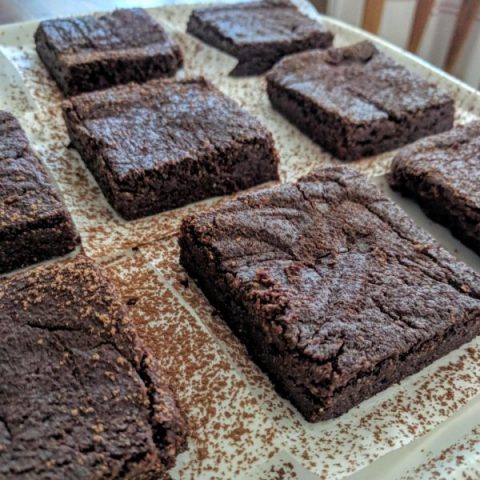 Best Healthy Brownie Recipe
These brownies are healthier than your typical brownie, but still so delicious. Make them for your next party!
Ingredients
Wet:
1 cup almond butter
¼ cup coconut oil (melted)
½ cup honey
½ cup unsweetened applesauce (OR ¼ cup coconut milk)
2 tsp vanilla extract
Dry:
¾ cup cacao powder (can sub cocoa powder)
¾ cup almond flour
¾ tsp salt
½ tsp baking powder (*** see notes for Paleo or if sensitive to corn starch)
Instructions
Preheat oven to 350 (F)
Grease 8" x 8" baking dish (alternatively can use parchment paper underneath brownies).
Melt coconut oil in microwave or in a pot on the stove.
Mix all wet ingredients in mixing bowl.
Mix all dry ingredients in a separate bowl.
Combine dry ingredients with wet ingredients and stir until combined.
The mixture will be thick. Press it down into your baking dish with a rubber spatula or your hands.
Bake in 350 (F) oven for about 15-20 minutes, or until the edges feel firm to touch.
Notes
Wait until the brownies have cooled before you cut them. They will be really crumbly if you try to dig in when they're warm. I know it's hard, but you can do it!
Instead of the applesauce you can substitute ¼ cup coconut milk (full fat).

If the corn starch in typical baking powder is an issue, substitute (⅛ tsp baking soda + ¼ tsp cream of tartar) for the baking powder in the recipe.
Nutrition Information:
Yield:

16
Serving Size:

1
Amount Per Serving:
Calories:

215
Total Fat:

15g
Saturated Fat:

4g
Trans Fat:

0g
Unsaturated Fat:

10g
Cholesterol:

0mg
Sodium:

126mg
Carbohydrates:

17g
Fiber:

3g
Sugar:

10g
Protein:

5g