Some of the links on this site may be affiliate links. This means, at no additional cost to you, I may be paid a small commission if you follow the links and make a purchase. Learn more here.
Looking for Paleo brownies with almond flour? This one will knock your socks off. These are made with almond flour, sweetened with honey, and made without eggs or dairy. Make 'em vegan by swapping the honey with maple syrup.
Even with all these ingredient swaps, these brownies are moist, rich, ooey-gooey, and delicious.
These brownies, along with my coconut flour ginger cookies, and these double chocolate almond cookies and my Paleo chocolate cake are the ultimate dessert staples in my (mostly) Paleo and dairy free kitchen.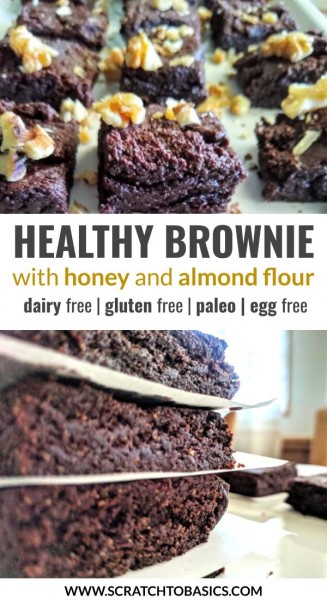 Egg-free brownies
While it's really difficult to make a brownie without eggs, I was able to do it in this recipe because the almond butter adds the texture you need to hold it all together. In most cases if you try to just use an egg replacement like flax egg, chia, or psyllium husk in a normal brownie recipe, it just doesn't work quite right.
Give these a shot for a delicious no-egg brownie that also happens to be healthy and delicious.
More questions about these Paleo brownies...
Is this recipe gluten free? Yep! This recipe is gluten free (thanks to the almond flour). And it's packed with protein (thanks to the almond butter AND almond flour). Really, let's just say "thanks" to almonds.
Can I make this recipe vegan? Since there's no egg in these brownies, you can pretty easily make it vegan by substituting the honey for maple syrup. It's an easy 1-1 swap here.
Can I use something other than coconut oil? I would think you could use butter or ghee as a swap for the coconut oil, but for the moment I'm dairy free and can't test that for you.
How do I pick the right kind of almond flour? Look for fine almond flour in the store. I wouldn't recommend making your own almond flour for this recipe because it'll be pretty hard to get it the right consistency.
How to Make These Paleo almond flour Brownies
Preheat the oven to 350 (F)
Mix the wet ingredients
Mix the dry ingredients
Put it all together
Bake in the oven at 350 in an 8" x 8" baking dish for about 10 minutes (I like to line the pan with parchment paper first)
Serve and enjoy!
Step-By-Step paleo brownie Recipe Walkthrough (with pictures)
Preheat the oven to 350 (F) and grease the bottom of your 8" x 8" baking dish. If you'd rather, you can use parchment paper between the brownie batter and the pan. This makes it super easy to lift the whole pan of brownies out when they're done baking.
Mix the wet ingredients. This includes the almond butter, coconut oil, honey, vanilla, and applesauce (or coconut milk).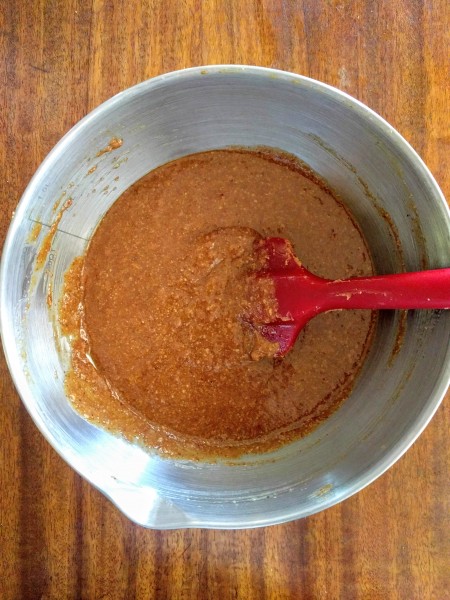 Then, mix the dry ingredients. This includes the cocoa powder, almond flour, salt, and baking powder.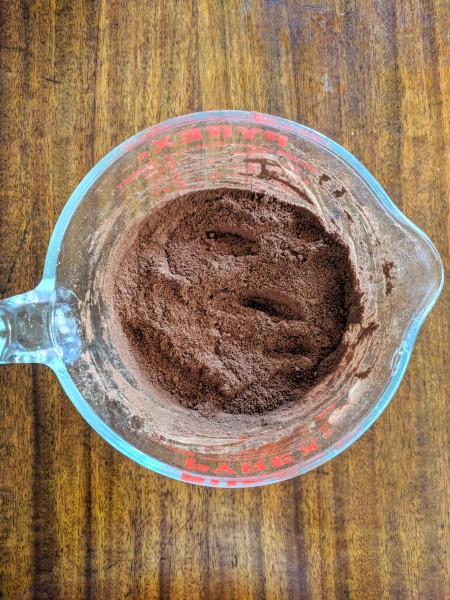 Mix it all together. The batter will be thick. Flatten it into the baking dish with a rubber spatula or your hands.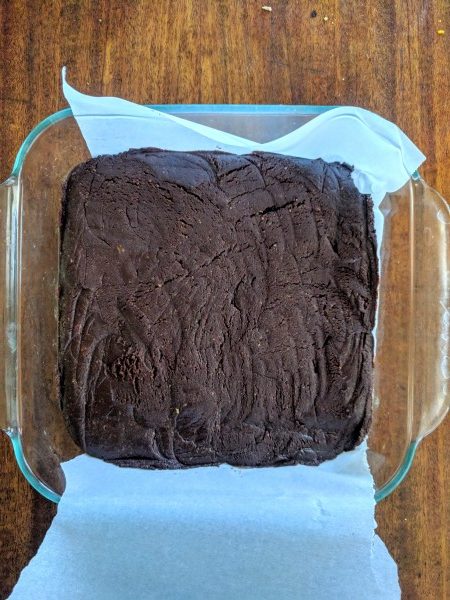 If you're worried about eating the whole pan (like me). Try this recipe for a personal sized brownie (guilt-free). And if you're feeling extremely decadent, top these brownies with this avocado chocolate pudding or this dairy free chocolate peanut butter ice cream.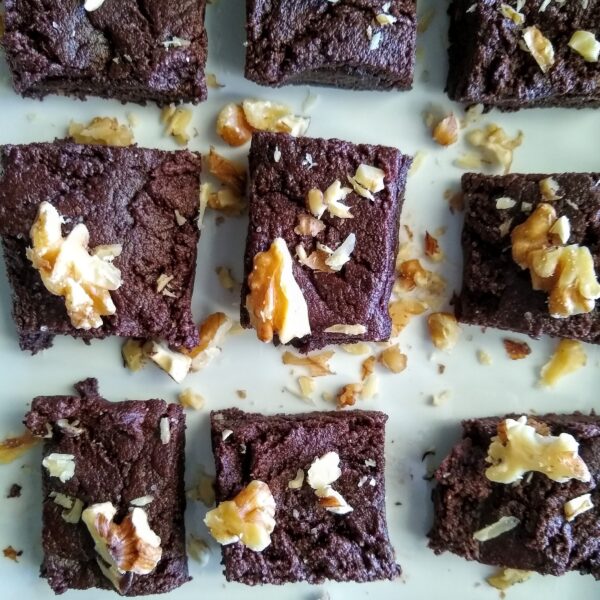 Paleo Brownies with Almond Flour
These Paleo brownies are made with almond flour and no eggs! Sweetened with honey, and super delicious - make them today!
Ingredients
1 cup almond butter
¼ cup coconut oil (melted)
½ cup honey
½ cup unsweetened applesauce (OR ¼ cup coconut milk)
2 teaspoon vanilla extract
¾ cup cacao powder (can sub cocoa powder)
¾ cup almond flour
¾ teaspoon salt
½ teaspoon baking powder (*** see notes for Paleo or if sensitive to corn starch)
Instructions
Preheat oven to 350 (F)
Grease 8" x 8" baking dish (alternatively can use parchment paper underneath brownies).
Melt coconut oil in microwave or in a pot on the stove.
Mix all wet ingredients in mixing bowl.
Mix all dry ingredients in a separate bowl.
Combine dry ingredients with wet ingredients and stir until combined.
The mixture will be thick. Press it down into your baking dish with a rubber spatula or your hands.
Bake in 350 (F) oven for about 15-20 minutes, or until the edges feel firm to touch.
Notes
Wait until the brownies have cooled before you cut them. They will be really crumbly if you try to dig in when they're warm. I know it's hard, but you can do it!
Instead of the applesauce you can substitute ¼ cup coconut milk (full fat).
If the corn starch in typical baking powder is an issue, substitute (⅛ teaspoon baking soda + ¼ teaspoon cream of tartar) for the baking powder in the recipe.
Nutrition Information:
Yield:

16
Serving Size:

1
Amount Per Serving:
Calories:

215
Total Fat:

15g
Saturated Fat:

4g
Trans Fat:

0g
Unsaturated Fat:

10g
Cholesterol:

0mg
Sodium:

126mg
Carbohydrates:

17g
Fiber:

3g
Sugar:

10g
Protein:

5g