Some of the links on this site may be affiliate links. This means, at no additional cost to you, I may be paid a small commission if you follow the links and make a purchase. Learn more here.
These. are. so. good. If you've been around here for any amount of time, you'll likely know that I'm a big fan of dark chocolate. And when almonds and sea salt are involved…perfection. I think you'll love this combination.
These chocolate covered almond clusters are super quick to whip up with ingredients you likely already have in your cupboard. Are you ready for a treat?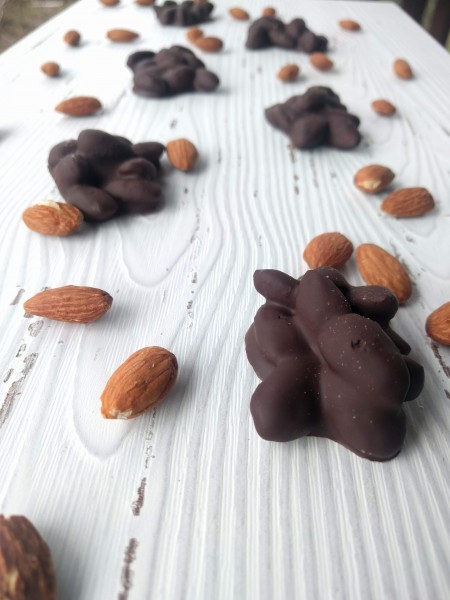 So there I am..in the store, ready for checkout, and I see a bag of a dark chocolate almond candy.
I'm really bad at resisting dark chocolate.
My mouth starts watering a little and I reach out my hand…just to look at the bag. Looking won't hurt, right?
Yeah. That's where it starts. And the next thing you know, I've eaten the whole bag. Oh dear.
I used to buy the these at the store, but then I realized I can make the same thing at home, and it's even more delicious and quite a bit cheaper.
Compared to the store bought stuff, my homemade version has big chunks of almonds (you can decide how big you want the chunks) that give a nice crunch to them. Sometimes I can barely tell that there are any almonds in the store bought packages, which is disappointing for an almond lover like myself.
And it's cheaper to make it at home. I made 10 ounces of almond clusters for less than $5 and five minutes of active work. This price will vary, depending on what kind of chocolate you use…and if you get it on sale or not.
Tools for Making homemade almond clusters
Chocolate Almond Clusters Recipe
If you're avoiding dairy or soy for any reason, you can still eat these homemade dark chocolate almond clusters. Keep reading to find out how!
I love when something so delicious comes together with things already in the cupboard. Chocolate, almonds, salt. So simple!
Chocolate
You have two choices for the chocolate part of this treat. Use a pre-sweetened bar, or start from scratch.
Use what you have
You can use a chocolate bar (or chocolate chips) that you have at home. If you have a favorite chocolate bar (like this one) that's just the right sweetness for you, this option will work.
Start from scratch
Use an unsweetened chocolate bar (I use this kind, or this kind, and usually stock up when it's on sale). Just melt it down and add your preferred amount of sugar (or honey).
Now, you might be saying…why bother re-inventing the wheel? Well, I'll tell you. When you like really dark chocolate like I do, it's hard to find a bar that fits the bill. Not only that, there have been times that I've been avoiding dairy and soy for health reasons. I haven't ever found a chocolate bar without soy lecithin in it. So I just started making my own. Avoiding chocolate all together was never an option, obviously.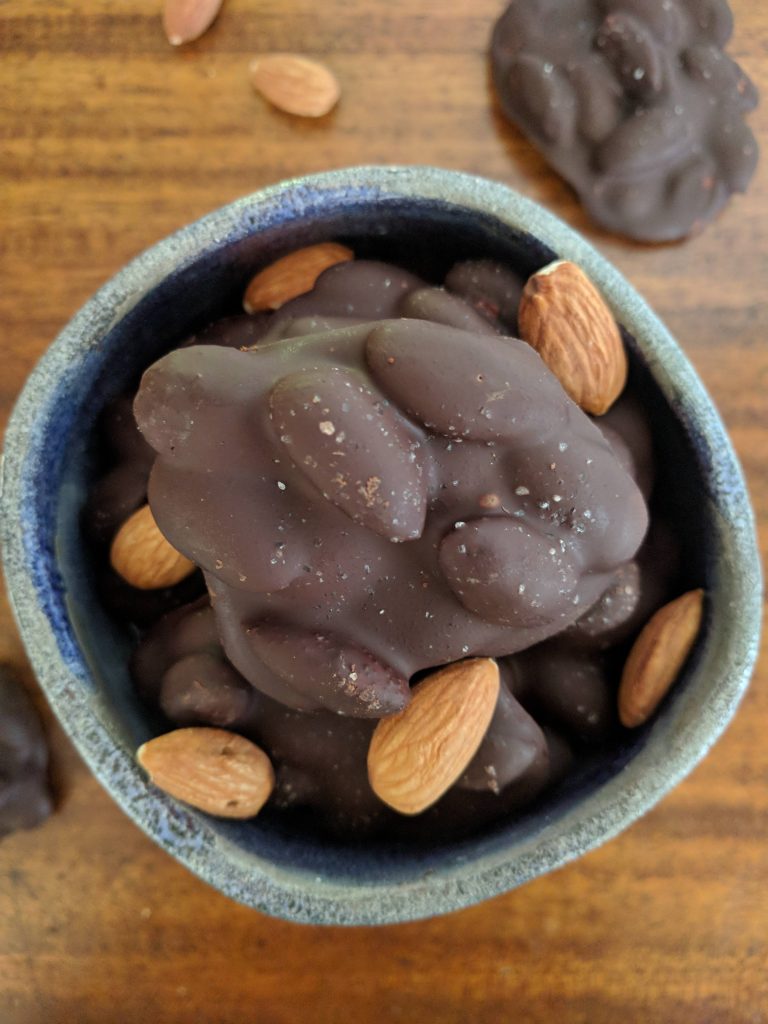 Salt
We've recently made the switch from using plain table salt to Pink Himalayan salt. Did you know that sea salt and Pink Himalayan salt are both loaded with minerals that our bodies need? And plain table salt is actually heavily processed and stripped of these minerals. Well I didn't! Not until recently. So we decided to make the switch.
Of course we made this decision right after I bought a twenty-five pound bag of table salt from Costco. I thought I was being so thrifty. Twenty five pounds of salt for $5! What a steal. Well, yeah. Until you decide to use different salt. If you have any ideas of how to use table salt, please let me know!
For all of our cooking needs, we use this kind of natural salt. For this recipe, any coarse salt will do.
Simple Process
Melt the chocolate
Add sugar (optional)
Add almonds
Scoop onto parchment paper
Sprinkle salt
Harden in refrigerator or on counter
Don't eat them all in one sitting
Melt the Chocolate
When you melt the chocolate, either do it with a double boiler or put it in a bowl and stick it in the microwave. Be sure to break the chocolate into pieces first, for either method.
You want to be careful not to burn the chocolate.
These days I usually use the microwave. Try heating it for a minute, then stir, then add time, stirring every thirty seconds.
Add Sugar (optional)
If you're using a pre-sweetened chocolate bar, you can skip this step.
If you're using an unsweetened bar for your chocolate, you probably want to add some sugar (or honey). How much? Well that depends. We use this kitchen scale to measure, because the chocolate percentage is calculated by weight.
For…
89% chocolate, add 1/2 ounce of sugar to 4 ounces of chocolate
80% chocolate, add 1 ounce of sugar to 4 ounces of chocolate
73% chocolate, add 1.5 ounces of sugar to 4 ounces of chocolate
67% chocolate, add 2 ounces of sugar to 4 ounces of chocolate
In case you're wanting to experiment on your own, just take the weight of chocolate and divide it by the (chocolate + sugar) weight to get the percentage.
Add Almonds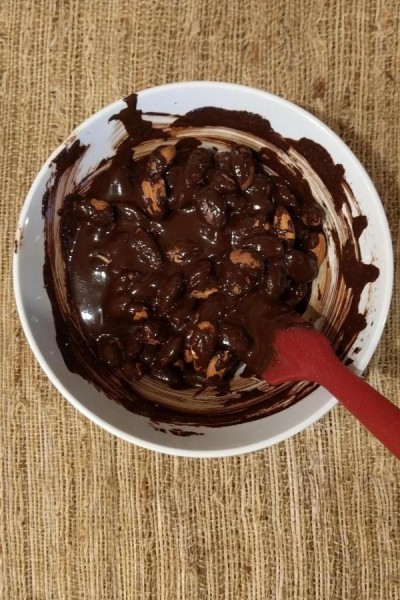 Add one cup of almonds (we use roasted almonds…yumm) to your bowl of melted chocolate. Stir to fully coat them.
If you like big almond chunks, you can leave them whole. Or, you can chop them to your desired size.
Scoop almond clusters onto parchment paper
Line a cookie sheet with parchment paper (by the way, I've been using pre-cut parchment like these, and they're awesome) and scoop clusters of chocolate goodness. I found that using a tablespoon like this one works really well.
You should be able to make about 15 chocolate covered almond clusters with this recipe.
Sprinkle Salt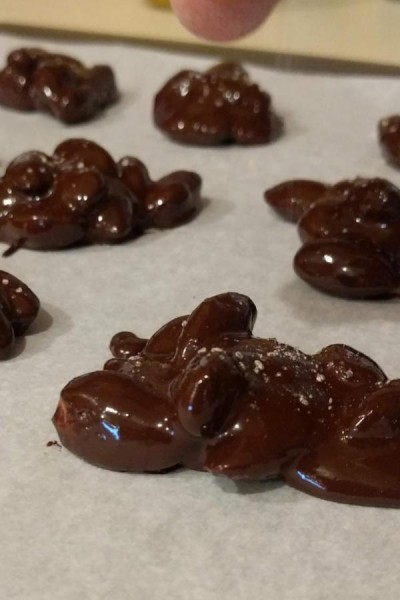 Salt is really nutritious for our bodies, and your brain can't function without it. Plus, the salty sweet flavor combination is delicious.
Take a pinch of salt and sprinkle a little on each almond cluster.
Harden in Refrigerator or on the Counter
You can either leave them out to harden at room temperature for a couple hours or you can put the whole cookie sheet in the refrigerator and they will harden in about ten minutes.
Don't eat them all in one sitting
Enjoy these chocolate almond clusters as a snack at home, give them as a holiday gift, or bring them to share at a party. No matter where you eat them, enjoy!
Did you try this recipe? Please comment below and let me know how it went.
Print
Dark Chocolate Almond Clusters with Sea Salt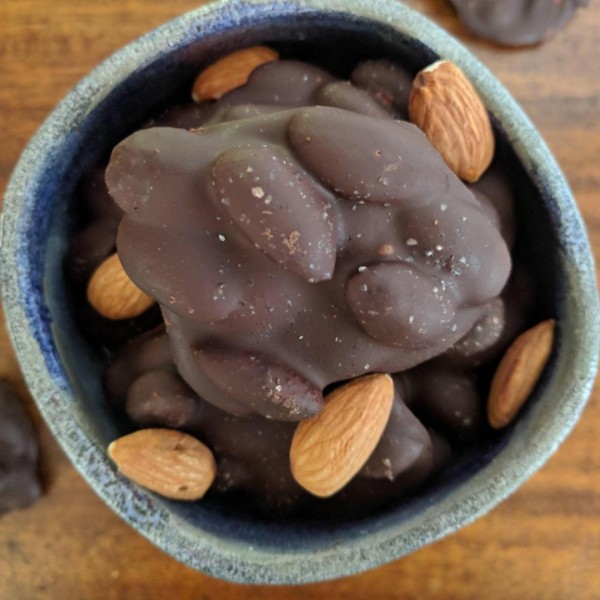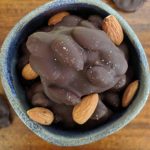 Make these almond clusters for a snack or your next party! They're always a hit.
Author:
Prep Time:

10 minutes

Total Time:

10 minutes

Yield:

15 almond clusters

Category:

dessert, snack
Ingredients
4-6 ounces chocolate (pre-sweetened chocolate bar or sweeten your own)

1 cup almonds

pinch of salt
Instructions
Melt the chocolate in a double boiler or microwave
Add sugar (if you're sweetening your own chocolate)
Add almonds and stir to coat the almonds
Scoop onto a parchment coated cookie sheet using a tablespoon scoop
Sprinkle salt on the top of each cluster
Harden in refrigerator or on counter
Keywords: chocolate, almond, almond clusters
Don't forget to share on Pinterest!