Some of the links on this site may be affiliate links. This means, at no additional cost to you, I may be paid a small commission if you follow the links and make a purchase. Learn more here.
You can make these dark chocolate covered almonds in minutes. To be honest, it's my favorite kind of recipe. A healthy & delicious high protein snack that I can make super fast (the fact that there's chocolate involved is a double bonus).
If you're feeling generous, you could definitely give these away as a holiday gift. Or just keep them as a healthy snack for yourself. They're super easy to make (and eat).
These dark chocolate covered almonds are naturally gluten free (with simple dairy free modifications).
I used to buy the these chocolate and almond treats at the store, but then I realized I can make the exact same thing at home, and it's even more delicious (and quite a bit cheaper).
My homemade version of dark chocolate almonds has big chunks of almonds - I call them clusters. You can decide how big you want the chunks to be, or if you'd rather have single chocolate covered almonds, that works too. We'll go over steps for either option.
And it's cheaper to make them at home, too. I made 10 ounces of almond clusters for less than $5 and five minutes of active work. Can't beat that for a super healthy, nutritious treat where I can 100% control the ingredients.
Tools for making dark chocolate covered almonds
Ingredients for dark chocolate covered almonds
Chocolate Covered Almond Clusters - Ingredient Substitutions
The Chocolate:
You have two choices for the chocolate part of this treat. Use a pre-sweetened bar, or start from scratch. If you decide to use pre-sweetened chocolate, you can use your favorite chocolate bar (or chocolate chips) that you have at home.
If, instead, you decide to start from scratch, just start with an unsweetened chocolate bar (I use this kind, or this kind, and usually stock up when it's on sale). Melt it down and add your preferred amount of sugar (or monkfruit sweetener for a Keto option).
Pro tip for keto dark chocolate almonds: Use your coffee grinder to grind up the monkfruit into a powder so it dissolves easier in the chocolate.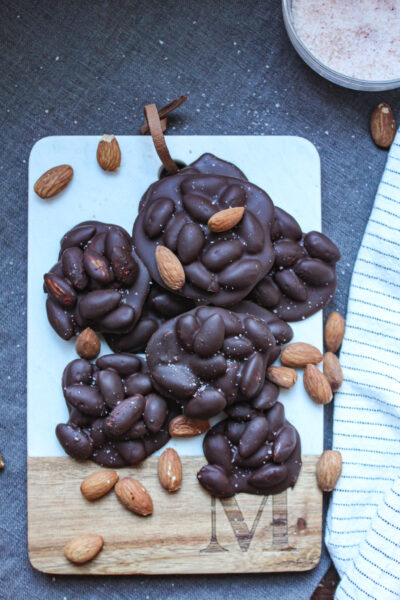 For Dairy Free Dark Chocolate Almond Clusters: If you're avoiding dairy or soy for any reason, you can still eat these homemade dark chocolate almond clusters. Just make sure you're using dairy free chocolate. Most chocolate bars are made on machinery that handles milk products. So if the label says "May contain: milk"...that's usually what that means. If you can handle "trace" amounts of dairy, go ahead and use it. If not, make sure to get an allergy friendly chocolate bar.
Another option (that I haven't tested yet) is using cocoa powder, sweetener, and butter (or coconut oil) to make the melted chocolate mixture, then coating the almonds in that mixture. If you're looking to make chocolate covered almonds from cocoa powder, that's where I'd start.
The Almonds:
I highly recommend getting dry roasted almonds, or getting raw almonds and roasting them in your own oven. The roasted almond flavor is going to be much better than the raw almond flavor.
How To Make Dark Chocolate Covered Almonds (Clusters or Individual Almonds)
Melt the chocolate in a double boiler or the microwave
Add sugar (if you started with an unsweetened bar)
Add almonds
Scoop onto parchment paper (or spread out the individual almonds with two forks)
Sprinkle salt on top
Move them to refrigerator to harden quickly (or leave on the counter).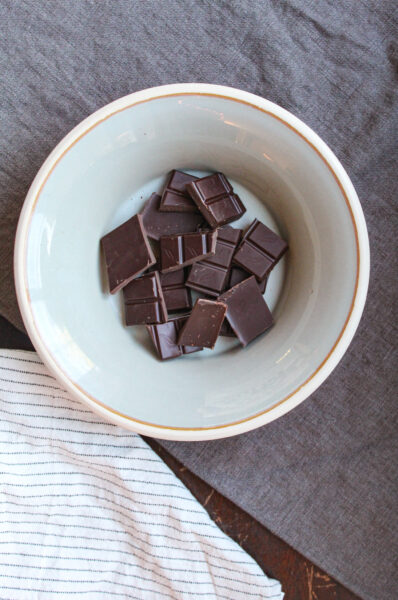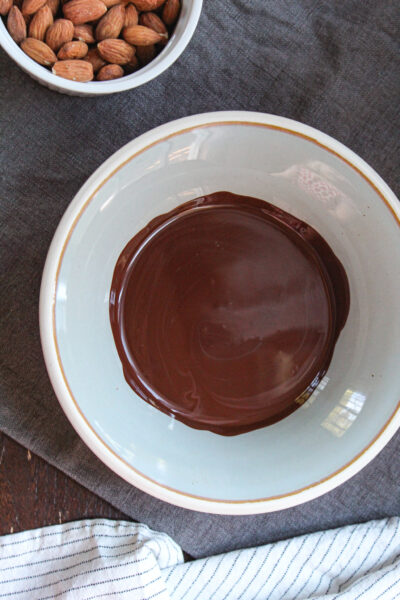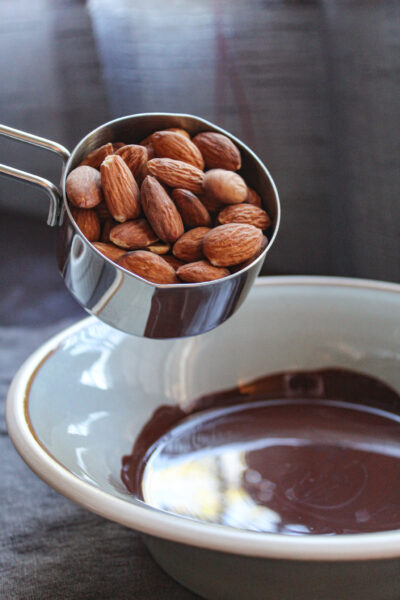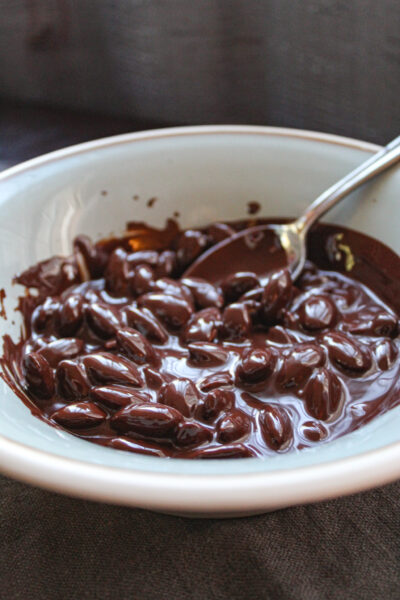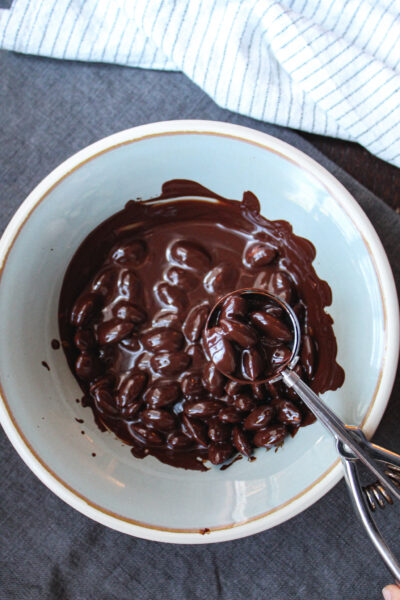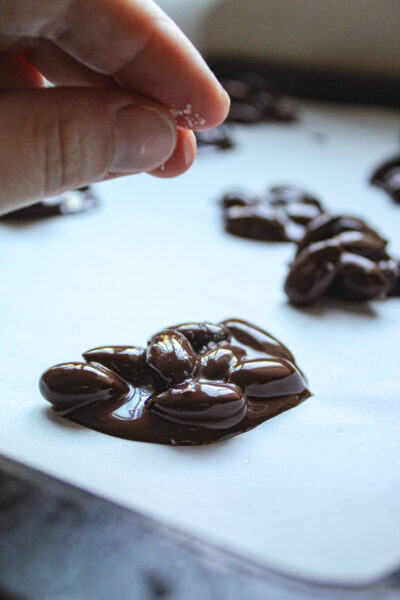 Tips for making perfect chocolate covered almonds
When you melt the chocolate, either do it with a double boiler or put it in a bowl and stick it in the microwave. Either way you choose to do it, be sure to break the chocolate into small pieces first. You want to be careful not to burn the chocolate, so stir continuously (and use the microwave on short spurts).
If you choose to separate the almonds to have individual chocolate covered almonds, I recommend using two forks to split them apart. This will take longer than making the almond clusters.
If you decide to scoop them into clusters, I've found that using a scooper like this one works really well to get uniform clusters. If you don't have a scooper, spoons work well, too.
You should be able to make about 15 chocolate covered almond clusters with this recipe.
How long do dark chocolate almonds last?
Well, in our house? Not long.
But that's not because they go bad, it's because we I have very little self control around anything involving dark chocolate and almonds.
In a household with more responsible adults than me, they should last weeks. If you want to keep them even longer, you could freeze them. However, you might get some condensation on the outside when you thaw them out.
Want more delicious chocolate & almond recipes?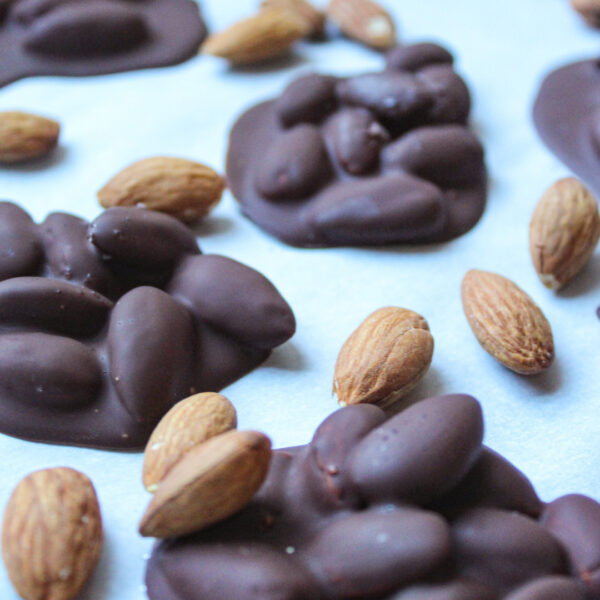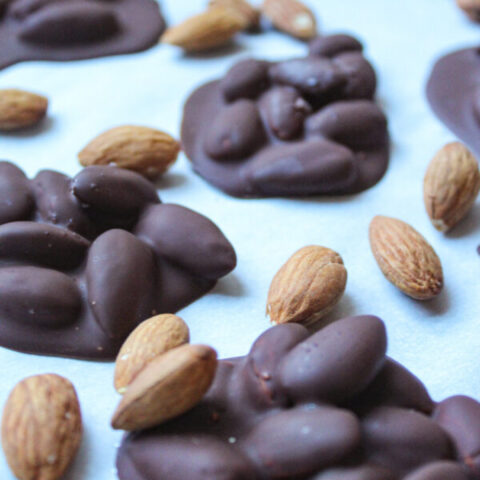 Dark Chocolate Covered Almond Clusters
Make these almond clusters for a snack or your next party! They're always a hit.
Ingredients
6 ounces dark chocolate bar (OR start with 100% chocolate bar and sweeten it yourself).
1 cup roasted almonds
¼ tsp coarse salt
Instructions
Melt the chocolate in a double boiler or microwave
Add sweetener of choice if you're sweetening your own. (sugar, or coconut sugar work well)
Add almonds to the chocolate bowl and stir to coat
Using a Tablespoon scoop, transfer the clusters onto a parchment coated cookie sheet.
Sprinkle salt on the top of each cluster (we love Himalayan Pink salt)
Let harden in refrigerator or on the counter
Nutrition Information:
Yield:

15
Serving Size:

1 cluster
Amount Per Serving:
Calories:

117
Total Fat:

8g
Saturated Fat:

2g
Trans Fat:

0g
Unsaturated Fat:

5g
Cholesterol:

1mg
Sodium:

87mg
Carbohydrates:

9g
Fiber:

2g
Sugar:

6g
Protein:

2g