Some of the links on this site may be affiliate links. This means, at no additional cost to you, I may be paid a small commission if you follow the links and make a purchase. Learn more here.
Have you ever heard of a tortilla press? It's a game changer if you're looking to make tortillas from scratch. If you want to learn how to make homemade tortillas, keep reading. When you make your tortillas at home, you can decide what type you want. Keep reading for these recipes:
flour tortillas
cassava tortillas
corn tortillas
Tools to make homemade tortillas
What is a Tortilla Press?
A simple, yet brilliant invention.
Basically, you put a ball of dough between two plates. Then you push a lever to make the plates close, and they flatten the dough.
It saves time and energy…sounds pretty great, right?
Which Tortilla Press?
We got our tortilla press about a year and a half ago, and it's been well used in that time.
It's seen flour, corn, and grain-free tortillas. It doesn't discriminate. It flattens all of them just the same. Quite nicely, I might add.
This is the tortilla press we own. It's still working well, and I recommend it. However, the metal pin that acts as the hinge for the press has been bent. Maybe because we pressed down too hard? Or maybe because it wasn't the highest quality to begin with. We'll never know. Like I said, it's still working well.
Click here to view the tortilla press I use on Amazon.
One thing I know for sure is that when the time comes for us to upgrade our press, we'd love to invest in a wood tortilla press like this one.
If you're looking to buy a tortilla press, check those out. The prices are very different. And like I said, we've been happy with the less expensive one so far.
Also, if you're looking for other time-saving tools, check out this post: Essential Time Saving Tools In The Kitchen. 
Tortilla Making Process
If you haven't made tortillas before, here's a brief description of the process.
Combine the ingredients
Form the dough into balls (we usually do golf-ball size)
Use the tortilla press to flatten the balls (or roll out the dough with a rolling pin)
Cook the tortillas in a hot pan, then flip (oil is optional)
Steps three and four can be done in tandem. Flatten, cook, flatten, cook, etc.
Rolling Pin or Tortilla Press?
If you're making tortillas, you'll need to flatten the dough in some way.
A rolling pin is an option, especially if you want an arm workout. I did the rolling pin method quite a few times before we invested in a tortilla press.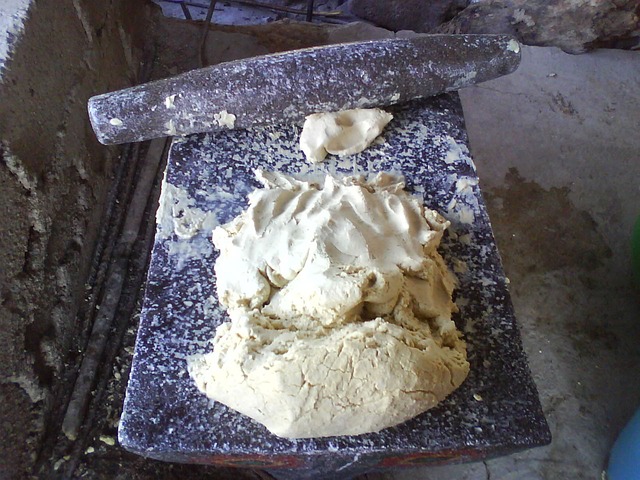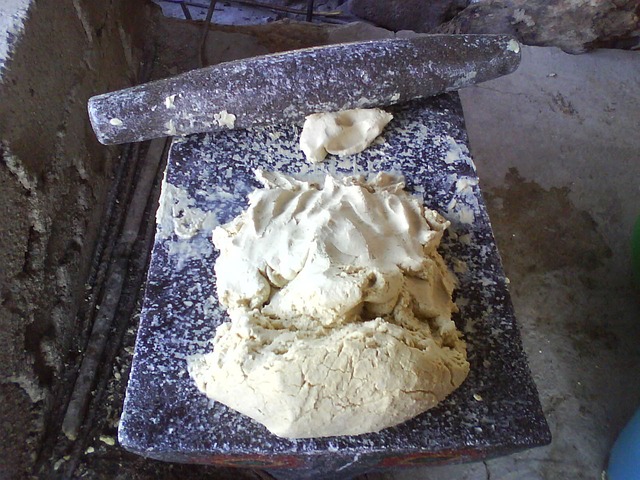 If you're a roller and you love it, more power to ya. Me? I like the tortilla press. Here are a couple reasons why.
Multi-Tasking is Much Easier With the Tortilla Press
I like multi-tasking way too much to use with the rolling pin. Let me explain. When you roll the dough, expect to be rolling for about the same amount of time it takes a tortilla to cook. So you're going back and forth from the stove to the dough, until all the tortillas are cooked.
BUT
When you use the tortilla press, you place the dough ball in the press, close it, and push on the lever. In about one second it's flat and ready to cook. This leaves some time to work on preparing whatever else you're eating with your tortillas.
One Arm Free With the Tortilla Press
I've successfully made tortillas while holding a fussy toddler. Not that I'd recommend it. I don't remember it being an enjoyable experience. But I did it! And I couldn't have done that if I was rolling the dough out with a rolling pin. Maybe you are more talented than me with the rolling pin, but one handed rolling is HARD!
Whether you have little kiddos around to hold or you like talking on the phone while cooking, or whatever else. You only need one hand to use the tortilla press! Best invention ever!
Either way use parchment paper
No matter which method you use, you should use parchment paper or plastic wrap to keep the tortilla dough from sticking (to the counter, the rolling pin, or the tortilla press).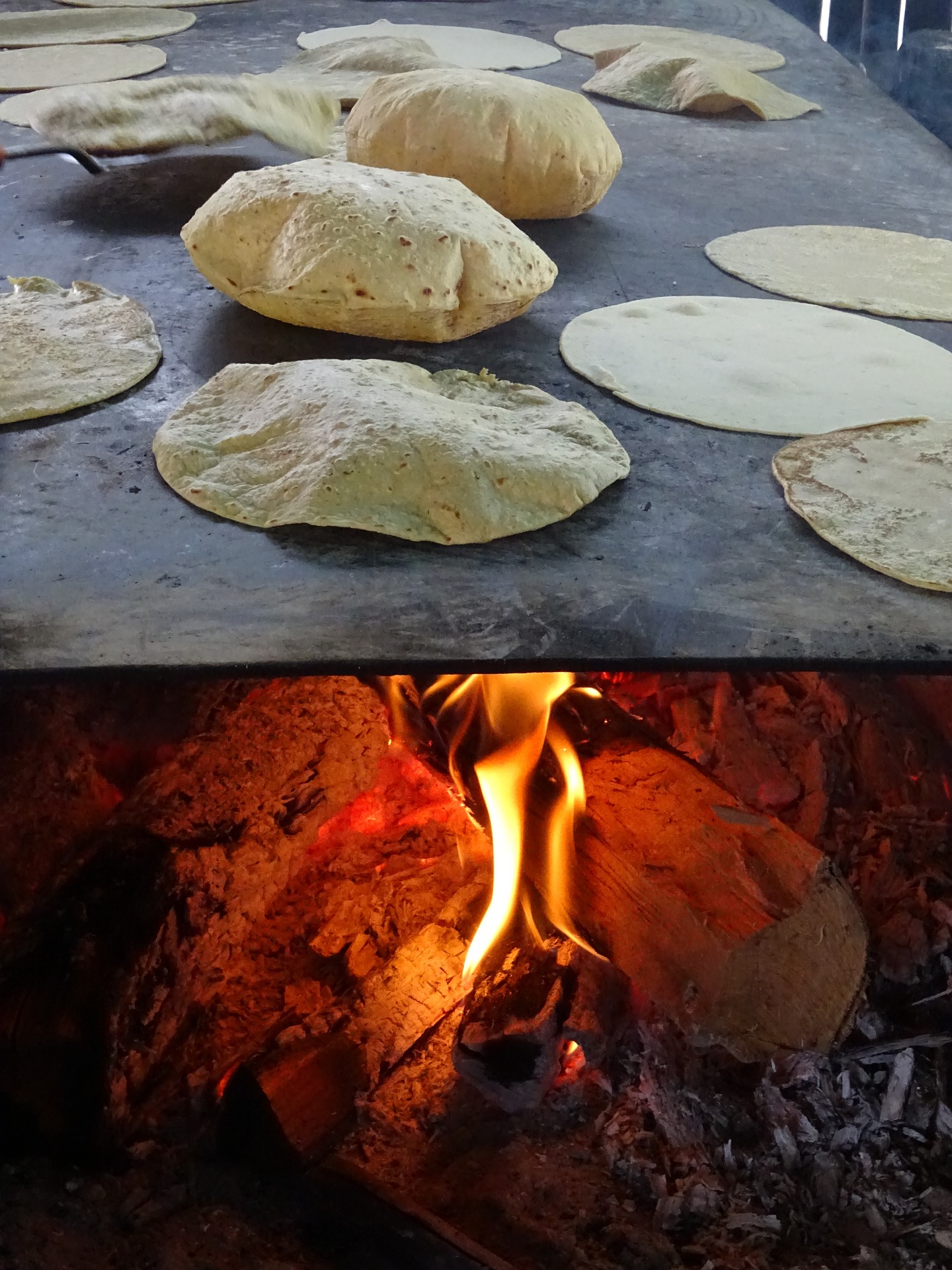 Click here to learn more about the tortilla press I use.
Recipes
Flour and corn tortillas are both readily available in any grocery store, but cooking them from scratch will provide a more flavorful and more nutritious tortilla. No preservatives in these tortillas! Extra bonus…you can choose what oil you use. I recommend against using hydrogenated oils whenever possible.
Well, are you hungry yet? Ready to whip up some tortillas? Here are a few basic recipes to get you started. Honestly, my favorite ones right now are the grain-free tortillas.
Recipe 1: Homemade Grain-Free (Cassava Flour) Tortillas
I've been experimenting with grain-free food options in an effort to work through food sensitivities. These tortillas are gluten-free and grain-free. And they taste amazing! If you're looking to buy cassava root flour, we've had great luck with Anthony's brand and usually buy it on Amazon. You can find it here.
2 cups cassava flour
1-2 tsp salt, to taste
1 cup water
1/2 cup coconut milk
1/4 cup oil (if using coconut oil, melt it first)
sprinkle of garlic powder (optional)
Combine ingredients, divide into golf-ball sized balls. Then flatten (roll or press) and cook in a hot pan, flipping to cook both sides.
Note: These tend to stick when you flatten them. If they are sticking to your parchment paper too much, add a spoonful of cassava flour and try again. You can also flour the parchment if you're having trouble.
Recipe 2: Homemade Flour Tortillas
This was the first kind of tortilla I made from scratch. I really loved being able to control the salt content (have you seen how much sodium is in store bought flour tortillas!?!)
3 cups flour (I've successfully used whole wheat flour and a gluten free flour blend)
1 tsp salt
1 cup water
1/4 cup oil
Combine ingredients, divide into golf-ball sized balls. Then flatten (roll or press) and cook in a hot pan, flipping to cook both sides.
Note: This recipe is really flexible. If the dough is too try, add a little water. If it's too wet, add more flour.
Recipe 3: Homemade Corn Tortillas
This is the recipe found on the bag of masa harina corn flour from Bob's Red Mill. You can buy this gluten free masa harina on Amazon.
2 cups masa harina
1/2 tsp salt
1 1/2 – 2 cups hot water
Tip: Sometimes I add a pinch of arrowroot powder to this mixture. It seems to help the tortillas stay a little softer.
Mix the salt and the masa harina in a bowl. Pour in hot water. It should not be sticky or dry, but should be "firm and springy". Cover and let sit for an hour. Then flatten (by rolling or tortilla press) and cook in a hot pan, flipping to cook both sides.