Some of the links on this site may be affiliate links. This means, at no additional cost to you, I may be paid a small commission if you follow the links and make a purchase. Learn more here.
These sweetened chocolate ginger date balls are made so fast and easy in a food processor. No baking required. These are the perfect holiday dessert. Make a batch to snack on while you're around the house, or make a big double batch of these dessert balls to bring to your next holiday party.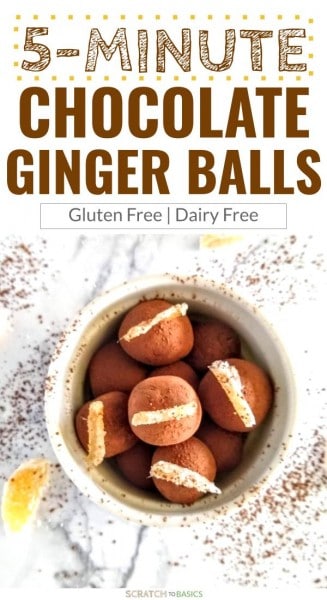 Why I love These chocolate ginger dessert balls
I love that these ginger chocolate date balls:
Require no baking
Come together fast (in 5 minutes)
Use natural, real, whole foods
Chocolate with ginger is one of my favorite flavor combinations especially for the holiday season. The sweetness of chocolate paired with spicy ginger...
YUM!!! Can't get enough of it.
Tools Needed to Make These No Bake Dessert Balls
Food processor - A food processor makes blending the dates super easy. I don't own a blender so I'm not certain it would work. Probably depends on the blender. There's no liquid in this recipe, and some blenders have trouble.
Serving tray or bowl - These white serving trays highlight food amazingly.
Topping - Candied ginger sliced thinly looks (and tastes) great. (optional).
Ingredients Needed to Make These Ginger Balls
Pitted dates - They are sweet right off the bat, but their deep, almost caramel-like flavor is what really has many dubbing them "nature's candy." The dates are what's going to sweeten this dessert and hold it together.
Almond flour - I like using almond flour because it's safe to eat raw (it's just ground up almonds) and it gives a little protein boost as well.
Cocoa powder - For the chocolate flavor. Use 100% cocoa (or cacao) powder.
Ground ginger - Gives your ginger balls a warm spice flavor plus it has great health benefits because of its anti-inflammatory properties.
How to Make These No Bake Ginger Chocolate Date Balls
To make these chocolate ginger balls, put all the ingredients into the food processor and blend for about a minute. Everything will form into a big ball and that's how you know it's done. Roll the mixture into smaller balls and coat with cocoa powder, if you'd like. Continue reading for pictures of each step.
Step 1: Blend ingredients in the food processor
Remove the pits from the dates, add the almond flour, the ginger, the cocoa powder, and a pinch of salt into the bowl of your food processor. Turn it on and blend for 45 seconds to a minute or until it comes together in a big ball.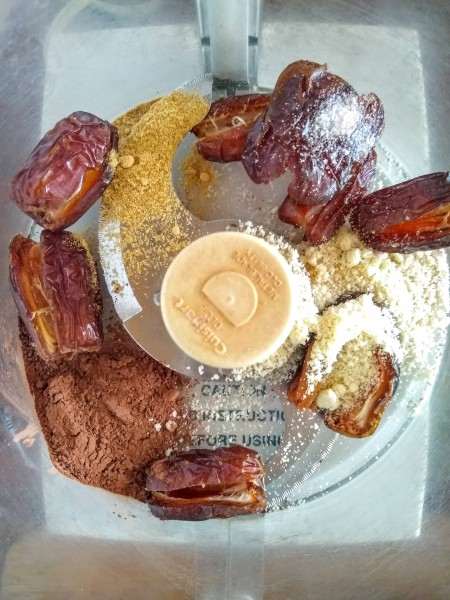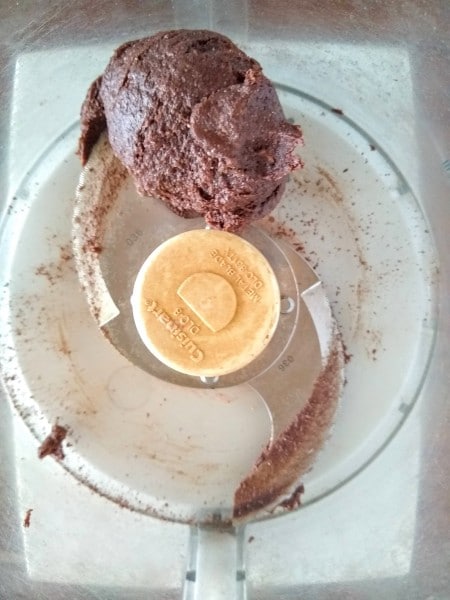 Step 2: Form into balls
Use a smaller spoon to break off pieces for the ginger balls. Roll between your hands into a ball and set on a plate until all the balls are made. I like the 1" diameter ball size, which can be made with about 1 teaspoon of mixture.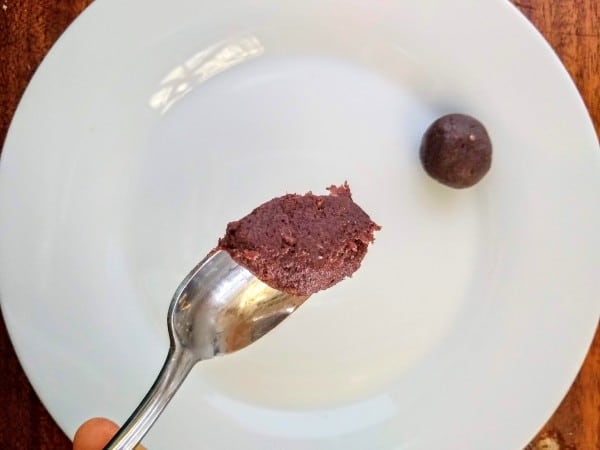 Step 3: Coat with cocoa powder
I like how these dessert balls look with the matte finish of cocoa powder on the outside. It also keeps them from getting too sticky and sticking to each other (important if you're serving them in a bowl).
To coat the chocolate date balls in cocoa powder, put some cocoa powder on a separate plate. Taking one ball at a time, dip the chocolate balls into the cocoa powder and then roll them around between your hands again. Set the ball back down.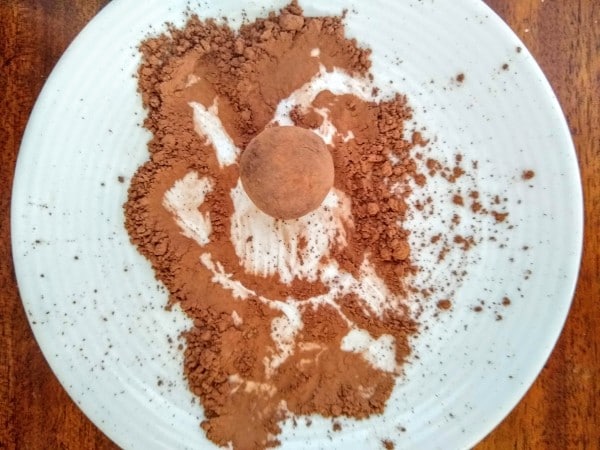 Make ahead & store
You can definitely make these no bake dessert balls ahead of time. I have noticed that the longer they sit, the more the cocoa powder coating is absorbed into the ball. So I recommend making the balls ahead of time, and waiting to coat them with cocoa powder the day you'll be serving the balls.
How long can you keep these balls? They should keep quite a while in the fridge - at least a week.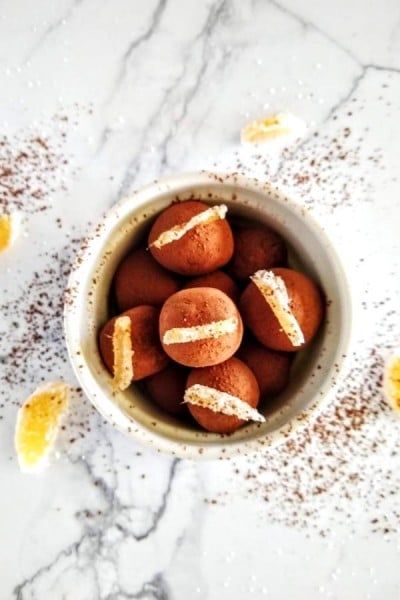 FAQ & Recipe Tips
Are date balls healthy?
These date balls are made with real food, simple ingredients, and without any of the preservatives or artificial flavors in a store bought dessert. So they'll give you more nutrients than if you pick up a refined-sugar loaded dessert at the store. They're a delicious healthy dessert.
How do you store date balls?
To keep these chocolate date balls fresh for up to 5 days, place them in a sealed container and place them in the fridge. They will keep for up to three months in the freezer if stored in an airtight container or ziptop bag (for best quality). You may either let them defrost for 20 minutes at room temperature or microwave them for 15 seconds when you're ready to eat.
What else can I do with dates?
Dates are typically sold dried (sometimes pitted already). They're very easy to get the pit out with a knife. Cut a slit down the side and grab the pit to remove it.
If you have dates left over, you can use them to:
Related Recipes
Looking for more delicious chocolate holiday desserts to put out at your holiday party?
Try these pumpkin chocolate mini brownie bites, or these no-bake chocolate almond clusters, or these no bake brownie bites.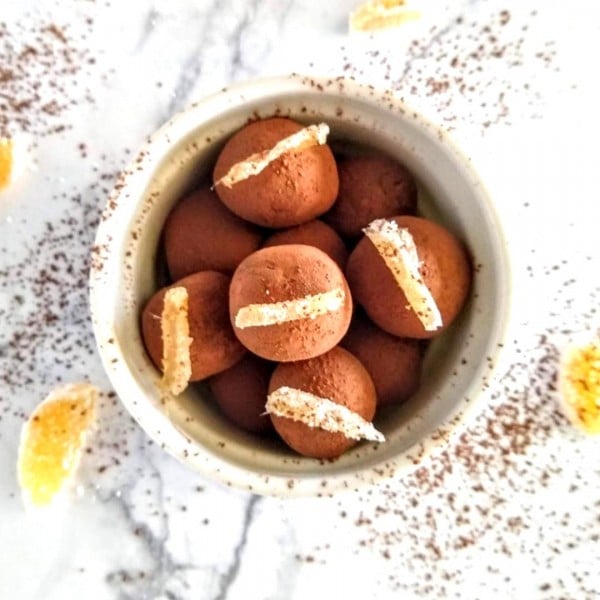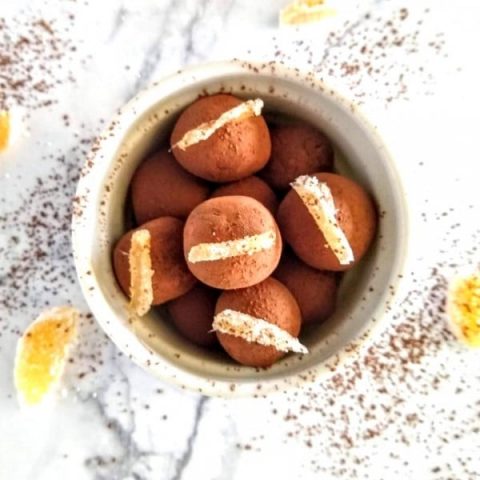 No Bake Chocolate Ginger Dessert Balls
Perfectly sweet and spicy ginger chocolate date balls. Make them for your next holiday party!
Ingredients
16 pitted dates
2 tablespoon almond flour
2 tablespoon cocoa powder + 1 teaspoon for outer coating
1 teaspoon ground ginger
pinch of salt
Instructions
Put all the above ingredients (except for 1 teaspoon of cocoa powder) in the bowl of your food processor
Turn it on for about a minute until it forms into a ball.
Scoop 1 teaspoon at a time of mixture and roll between your hands and form into a ball.
Put 1 teaspoon of cocoa powder on a plate and dip the rolled ball in the cocoa powder.
Roll it again between your hands to distribute the cocoa powder on the outside of the balls.
Top with thin slices of candied ginger (optional).
Nutrition Information:
Yield:

20
Serving Size:

1
Amount Per Serving:
Calories:

21
Total Fat:

0g
Saturated Fat:

0g
Trans Fat:

0g
Unsaturated Fat:

0g
Cholesterol:

0mg
Sodium:

7mg
Carbohydrates:

5g
Fiber:

1g
Sugar:

4g
Protein:

0g