Some of the links on this site may be affiliate links. This means, at no additional cost to you, I may be paid a small commission if you follow the links and make a purchase. Learn more here.
Packed with nutrition, this dressing is a delicious and creamy flavor-filled healthy dressing. This creamy avocado lime salad dressing is made with simple ingredients and comes together quickly in your food processor (or with an immersion blender).
Related: Absolutely Essential Kitchen Tools You NEED In Your Kitchen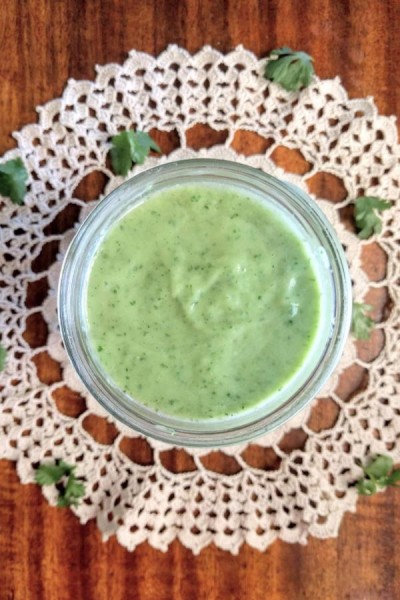 I don't know about you, but I've got avocados on my mind. In case you missed this avocado mango salsa, you should definitely try it. Or does this avocado mayonnaise sound more like your style? Avocados as dessert? You betcha. If you love avocados like I do, this recipe is just for you.
I learned something new about avocados the other day. According to this list of avocado facts, avocados mature on the tree but ripen off the tree. So in nature, they fall off the tree and ripen on the ground. Some fruits don't ripen after you pick them, but avocados only ripen after you pick them. It's like God intended for us in the non-tropics to be able to experience the joy of avocados.
you'll never believe how good your dinner can taste...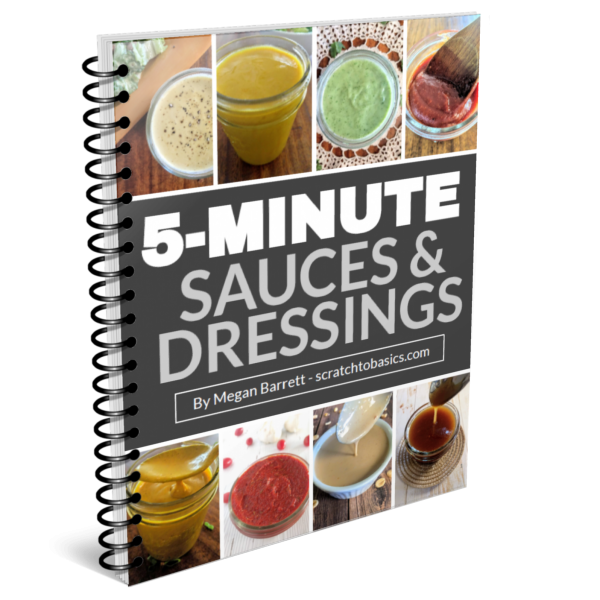 Take your dinners to the next level with these simple (and delicious) sauce & dressing recipes. Opt in below to get this PDF delivered directly to your inbox for flavor-packed meals.
How to make Creamy Avocado Lime Dressing
This salad dressing is super easy to make. Throw all the ingredients in your food processor. Start with ½ cup of water. Turn on the food processor and add more water until it gets to your desired thickness. And there you have it. Easy peasy.
Tools to make this avocado lime dressing
ingredients to make this avocado lime dressing
Avocado - for the creamiest sauce, use perfectly ripe avocados.
Fresh cilantro
Lime juice
Water
Salt - We love this kind because it still has the trace minerals.
Which to use: food processor or immersion blender?
A food processor or immersion blender is definitely needed for this recipe. I prefer a food processor for this one because I can just turn it on and walk away instead of standing there holding the button on the immersion blender. I don't know about you, but sometimes my hand cramps when I have to hold the immersion blender button down for a while. Maybe I just have weak fingers.
The food processor will give it a nice creamy texture. And if you don't have a food processor...no time like the present! Check out the one I recommend on my recommended tools page.
How to Use This creamy avocado dressing
You can use this dressing in so many different ways. Dress your favorite salad or use it to flavor fish tacos, steak fajitas, or a burrito bowl. This recipe makes between ¾ cup to 1 cup of dressing, depending on how thick you make it.
If you like delicious sauces and dressings, sign up for the mailing list to receive a FREE copy of my upcoming E-Cookbook with delicious sauces and dressings to take your meals from good to great!
Looking for more delicious homemade salad dressing recipes?
Don't forget to Pin it for later!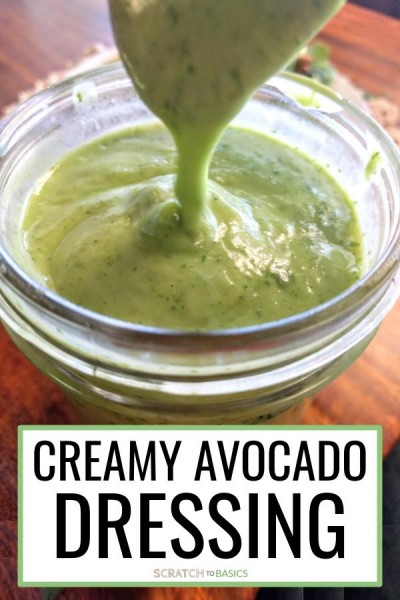 Creamy Avocado Lime Dressing
A delicious dressing to use on salads, tacos, or any meal that needs a creamy lime kick.
Ingredients
1 medium ripe avocado
1 handful cilantro (stems and leaves)
3-4 limes, juiced
½-3/4 cup water (depends on desired thickness)
¼ tsp salt
Instructions
Put all the ingredients in the bowl of your food processor.
Turn it on and blend until smooth, or about 30 seconds. Add more water if you want it thinner.
Pour into a jar to store in your fridge, or use right away.
Notes
You can use an immersion blender instead of a food processor if you'd rather.
Nutrition Information:
Yield:

16
Serving Size:

1 Tbsp
Amount Per Serving:
Calories:

26
Total Fat:

2g
Saturated Fat:

0g
Trans Fat:

0g
Unsaturated Fat:

1g
Cholesterol:

0mg
Sodium:

40mg
Carbohydrates:

3g
Fiber:

1g
Sugar:

0g
Protein:

0g