Some of the links on this site may be affiliate links. This means, at no additional cost to you, I may be paid a small commission if you follow the links and make a purchase. Learn more here.
Packed with nutrition, this avocado lime dressing is a delicious and creamy flavor-filled healthy dressing. This avocado cilantro dressing is made with simple ingredients and comes together quickly in your food processor or with an immersion blender.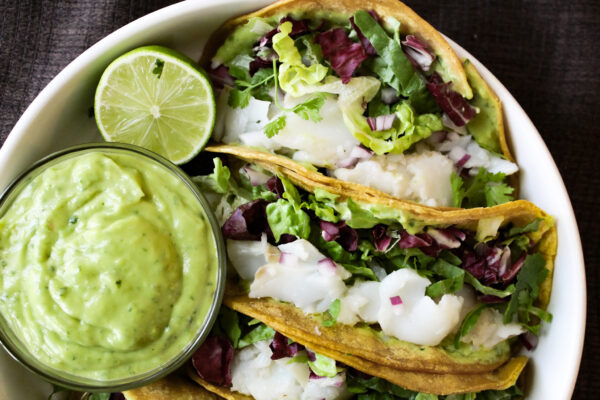 Tools to make avocado lime dressing
Blender - Food processor, immersion blender, or a blender to blend up the sauce.
Mason jar - for storage, and if you decide to use an immersion blender you can blend and store in the same container.
Ingredients to make avocado lime dressing
Avocados - For the creamiest sauce, use perfectly ripe avocados.
Fresh cilantro - You can use the leaves and stems since you're blending everything up.
Lime juice - Whether you squeeze the lime juice straight from limes or from a container, the lime juice will give a nice punch of acidity and sweetness to the dressing.
Water - The water will thin out the sauce so you can drizzle it over your salad or tacos. Add ¼ cup of water at a time until you get it to the desired consistency.
Salt - We love this kind because it still has the trace minerals.
How to make Creamy Avocado Lime Dressing
This avocado cilantro dressing is super easy to make. Blend all the ingredients except the water together, then add the water until it's as thin as you want.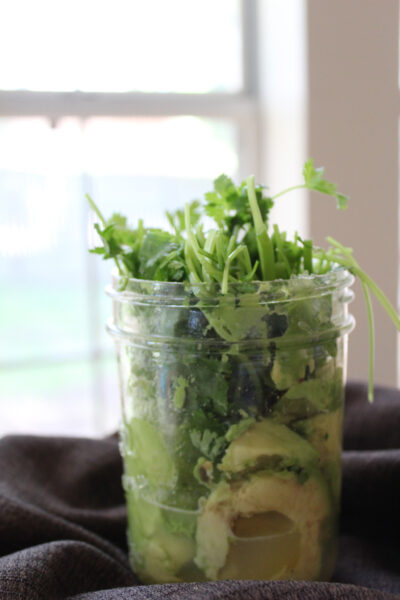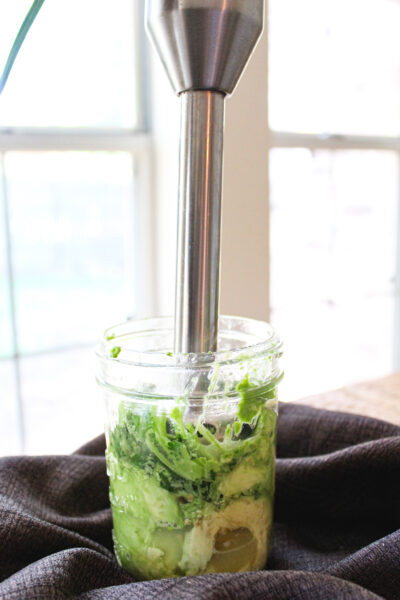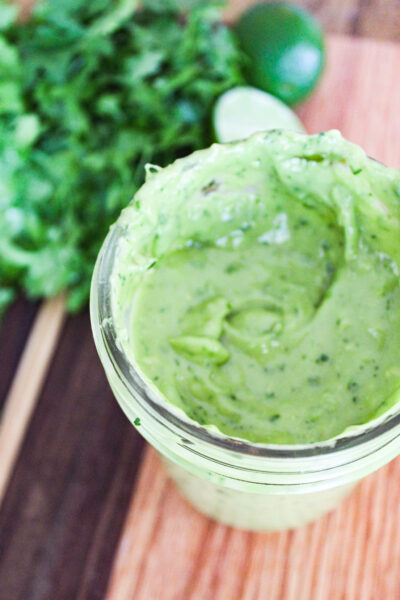 How to Use This creamy avocado dressing
You can use this avocado cilantro dressing in so many different ways.
Recipe Tips & FAQ
Which blender works best for this - food processor or immersion blender? Either one will work well. If you have a minute to stand there, use your immersion blender. If not, pop it in the food processor (or blender), turn it on, and walk away. Here are the kitchen tools I recommend.
Is avocado lime dressing vegan? Yes, this recipe is vegan, dairy free, Paleo, and Whole 30 friendly.
How to make it more (or less) tangy? To add more tang to the recipe, add more lime juice. If you've got too much tang already, you could add an extra pinch of salt or a tablespoon of maple syrup or honey.
Looking for more delicious homemade healthy recipes?
If you're looking for more ways to use up avocados, try this avocado mango salsa, avocado mayonnaise, or avocado chocolate pudding.
And if you're looking for more delicious homemade salad dressings, check out these recipes: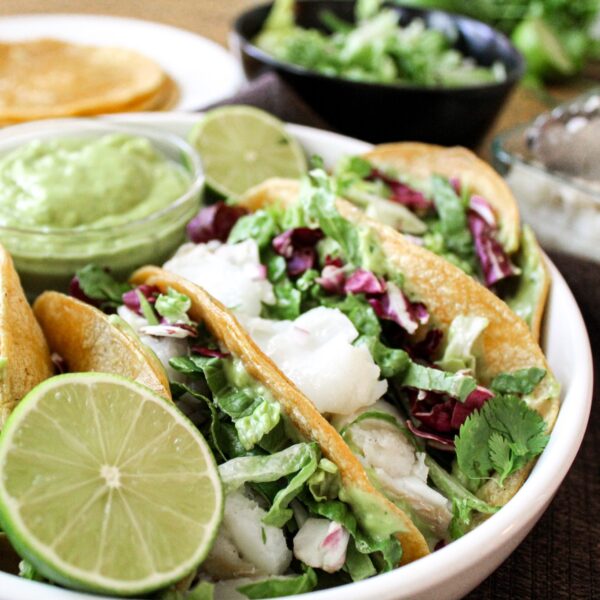 Creamy Avocado Lime Dressing
This delicious avocado lime dressing is so simple to make and adds a tasty zing to your fish tacos, fajitas, or your summer salad.
Ingredients
2 ripe avocados (large Hass work well)
1 big handful of cilantro (stems and leaves)
4-5 limes, juiced
½-1 cup water (depends on desired thickness)
½ teaspoon salt
Instructions
Put all the ingredients in the bowl of your food processor.
Turn it on and blend until smooth, or about 30 seconds. Add more water until it reaches your desired thickness.
Pour into a jar to store in your fridge, or use right away.
Notes
You can use an immersion blender instead of a food processor if you'd rather.
To make the dressing tangier, add more lime juice. To reduce the tang, you can add 1 tablespoon maple syrup or honey.
Nutrition Information:
Yield:

16
Serving Size:

1 Tbsp
Amount Per Serving:
Calories:

26
Total Fat:

2g
Saturated Fat:

0g
Trans Fat:

0g
Unsaturated Fat:

1g
Cholesterol:

0mg
Sodium:

40mg
Carbohydrates:

3g
Fiber:

1g
Sugar:

0g
Protein:

0g
Don't forget to save this for later on Pinterest!