Some of the links on this site may be affiliate links. This means, at no additional cost to you, I may be paid a small commission if you follow the links and make a purchase. Learn more here.
This avocado mango salsa is packed with flavor and is a perfect addition to your fish tacos. Or you can serve it on the side of grilled chicken and veggies. Or, like me, you can eat it by the spoonful. No judgement here. This tasty salsa can be made easily in 5 minutes.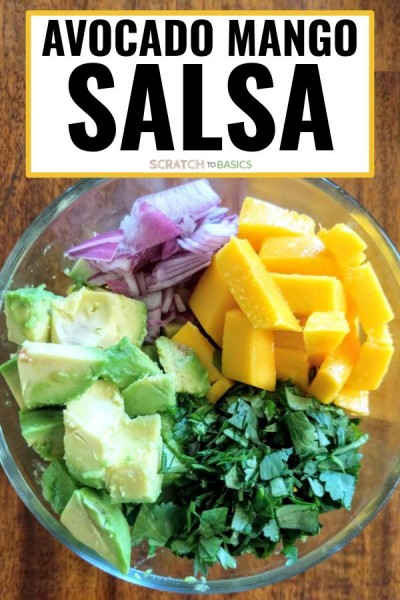 I was a super picky eater when I was a kid. I never would have eaten a mango (too exotic for me) or avocados (umm...they're green). Now I know how crazy I was. But my kids are different. They LOVE mango and LOVE avocado.
Gather Your Ingredients
This recipe is super simple. Here's the recipe: chop your ingredients and combine them in a bowl. It's that simple!
How to Chop a Mango and Avocado
Honestly, I wasn't quite sure how to dice a mango. I knew how to peel it and slice it awkwardly, or just bite into it. But for this recipe, we want to dice it. So here you go. A 45 second video on how to dice a mango. I found it helpful and I think you will too.
Dicing an avocado is more familiar. Slice it in half around the pit, then while holding the halved avocado, use your knife to gently cut a grid pattern. The images below will show you what it looks like when cut. After this, use a spoon to scrape along the skin, behind the diced avocado and dump it out into your bowl.
How to Pick Avocados and Mangos
When you're at the store picking your avocados and mangos, how do you know when they're ripe? Well, it's all about how soft they are.
rock hard: not ripe - leave them out on the counter for a couple days until soft to touch.
soft to touch: ripe - eat within a day or two (or put them in the fridge until you're ready to use them).
squishy feeling: overripe - don't buy.
I used Ataulfo mangos, but any variety should work just as well.
How to Make Avocado & Mango Salsa
This recipe is super simple and extremely delicious!
First, dice your mango and your avocado. Think about how big you want the pieces to be and dice them accordingly. If you want a little bit of everything in each bite, dice it smaller.
Next, chop your cilantro. Wash it and grab a small handful to use. Chop it all (stems and leaves) finely. If you don't like using the stems, no problem. But just know you're throwing away a LOT of flavor.
Then, chop your onion very finely. Combine all the ingredients into a bowl, pour the lime juice over the top, and sprinkle with salt. If you're feeding little kids who are extremely opposed to spice of any form (onion included), you can keep the onion on the side for the grown ups or just omit it alltogether. Your choice.
And if you're serving this salsa to a spice-loving crowd, feel free to add jalepenos or a dash of cayenne.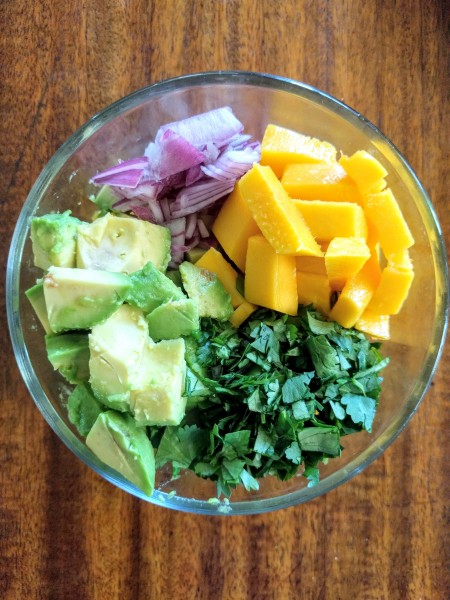 Stir it together and enjoy!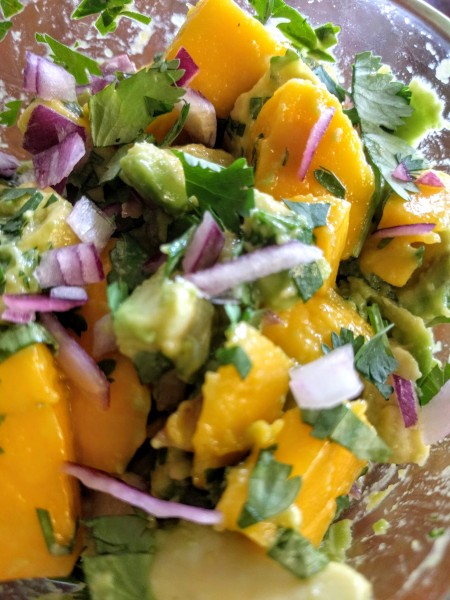 How to Use this Salsa
This salsa is delicious on fish tacos (homemade tortillas, anyone?), or just with chips. It would also be amazing with some pork chops or grilled chicken. No matter how you use it, it will brighten up your meal and add a TON of flavor. Enjoy!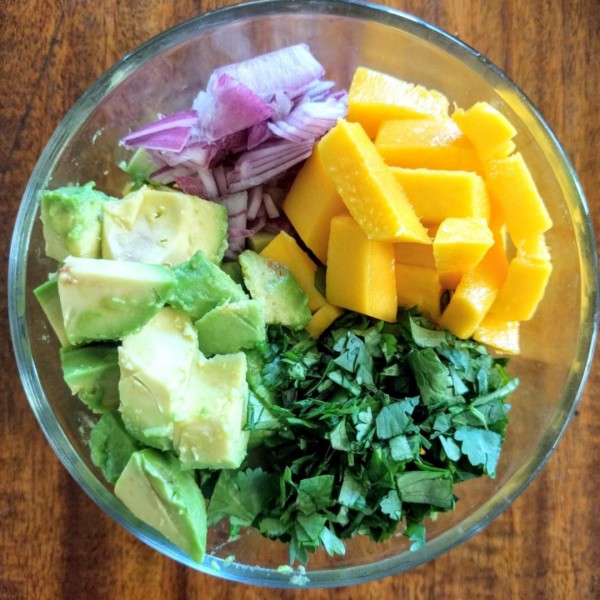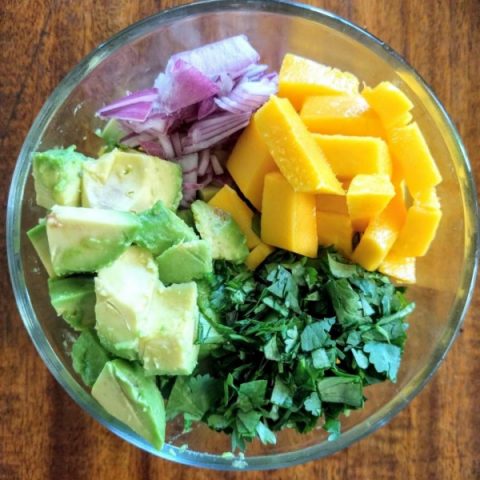 5 Minute Avocado Mango Salsa
A bright and flavorful salsa that's simple to prepare. Perfect for fish tacos, grilled chicken, or eaten by the spoonful.
Ingredients
2 mangos
2 avocados
¼ cup finely diced red onion
½ cup chopped cilantro
2 Tbsp lime juice
¼ tsp salt
cayenne (optional)
Instructions
Dice your avocados and mangos and put them in a bowl
Add the finely chopped onion and the chopped cilantro
Drizzle the lime juice over the bowl
Add the salt
Stir to combine
Notes
Omit the onion if serving to a spice averse crowd. 
Add jalepenos or cayenne for more spice.
Nutrition Information:
Yield:

6
Serving Size:

¼ cup
Amount Per Serving:
Calories:

181
Total Fat:

10g
Saturated Fat:

2g
Trans Fat:

0g
Unsaturated Fat:

8g
Cholesterol:

0mg
Sodium:

104mg
Carbohydrates:

24g
Fiber:

7g
Sugar:

16g
Protein:

2g
Don't forget to Pin this for later