Some of the links on this site may be affiliate links. This means, at no additional cost to you, I may be paid a small commission if you follow the links and make a purchase. Learn more here.
This avocado mango salad is fast and easy to throw together to serve with your next meal. It goes extremely well with fish, grilled chicken, or on top of your favorite tacos.
Of course, you can also just eat it by the spoonful (no judgement here, my friend).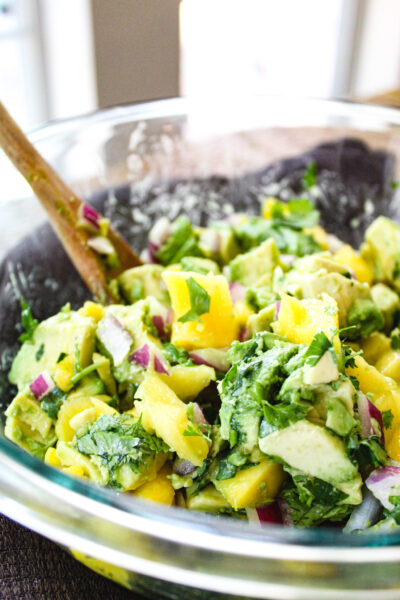 Ingredients to make Mango Avocado Salad
This combination of ingredients makes a heavenly salad. It's creamy, full of flavor, and we always want more of it.
Avocados - The avocados are one of the main stars of the show in this recipe. They give a creamy texture that you just can't find anywhere else. Make sure your avocados are ripe (see tips on that below).
Mangoes - The other star of the show is the mango, because that gives a big punch of flavor and sweetness. You'll want your mangoes rips, but not mushy so you can dice them well - (see tips on picking the best ones below). I've used Ataulfo mangos and red mangos successfully in this recipe, but any mango should work.
Red Onion - The red onion adds a kick to the salad, and a bit of crunch. You can leave it out or swap for a yellow onion if you'd like less of a kick.
Cilantro - You can use the leaves AND stems.
Limes - The lime juice adds a bit of sweetness and acidity.
Salt - Salt is going to balance out the flavors in the salad.
Cayenne (optional) - If you'd like a bit of a kick, sprinkle some cayenne over the salad.
How to Make Avocado + Mango Salad
This recipe is super simple and you can get it table-ready in minutes.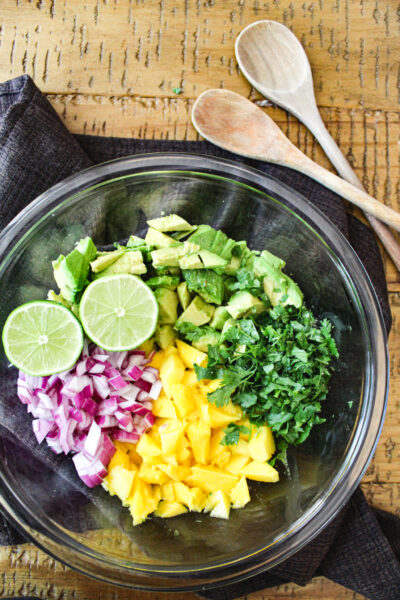 Basically you're just mixing everything together in a bowl, then serving it. See the recipe card below for more specific step-by-step instructions.
Note: I will always encourage you to stray from a recipe if you have another idea of what would go well in it. For this recipe, you could add cherry tomatoes, nuts or seeds, peppers, corn, or so many other things. We've made this without the cilantro and onion as a very mild salad for the kids, and we've made it spiced up for the adults.
How to Use this Mango Avocado Salad
We really love making this salad in the summer. Here are a few ways to use it:
FAQ & Recipe Tips
How do you know when a mango is ripe? What about the avocado?
When you're at the store picking your avocados and mangos, how do you know when they're ripe? Judging their ripeness is pretty similar, really. It's all about how soft they are.
Rock hard = not ripe. Leave them out on the counter for a couple days until soft to touch.
Soft to touch = ripe. Eat within a day or two (or put them in the fridge until you're ready to use them).
Squishy feeling = overripe. Don't buy.
How do you dice a mango and avocado?
For the avocado, slice it in half around the pit, then while holding the halved avocado, use your knife to gently cut a grid pattern (see the pictures below). After this, use a spoon to scrape along the skin, behind the diced avocado and dump it out into your bowl.
For the mango...I wasn't quite sure how to dice a mango before I first made this recipe. See the photos below to see how I do it when I make this recipe. Here's a 45 second video on how to dice a mango if you want to see more about how to do it.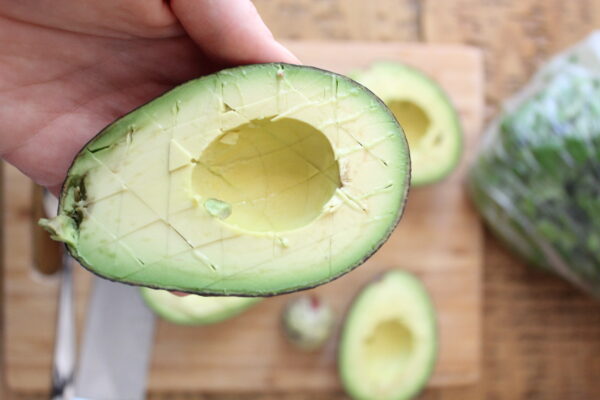 Can I make this mango avocado salad ahead of time?
This salad is best when served fresh. The avocados will brown if it sits out long. You could mix the rest of the ingredients and add the avocados at the last minute.
It will keep for 2 to 3 days in the fridge in an airtight container.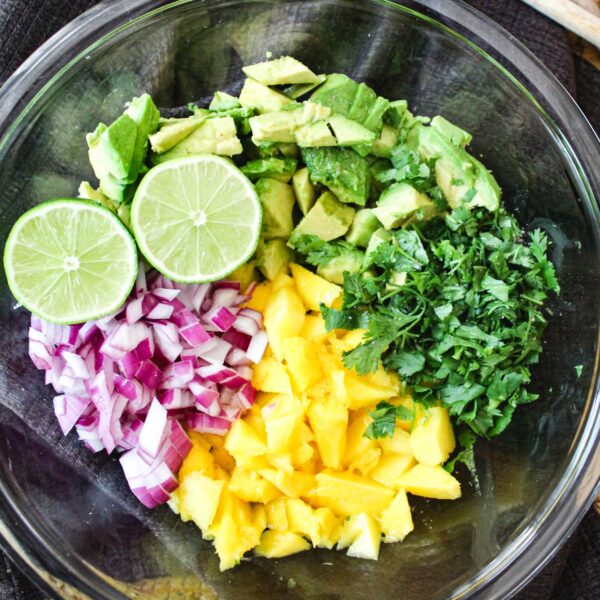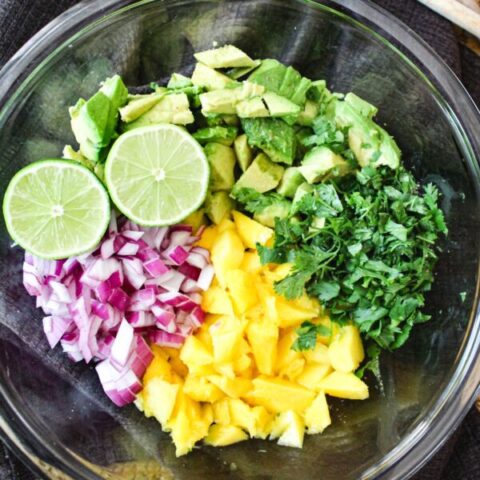 Mango Avocado Salad
Make this delicious mango avocado salad in just minutes for your next summer barbecue or taco night.
Ingredients
2 mangos
2 avocados
¼ cup finely diced red onion
½ cup chopped cilantro
2 tablespoon lime juice
¼ teaspoon salt
cayenne (optional)
Instructions
Dice your avocados and mangos and put them in a bowl (see notes below for tips)
Add the finely chopped onion and the chopped cilantro
Drizzle the lime juice over the bowl
Add the salt
Stir to combine
Notes
- When you're dicing your mango and avocado, think about how big you want the pieces to be and dice them accordingly. If you want a little bit of everything in each bite, dice it smaller. If your pieces are too big when they get to the bowl, use your kitchen scissors to cut them to your preferred size.
- You can use the leaves and the stems of the cilantro. The stems have a lot of flavor if you don't mind the crunch.
- Omit the onion if serving to a spice averse crowd. 
- Add jalepenos or cayenne for extra spice.
Nutrition Information:
Yield:

6
Serving Size:

¼ cup
Amount Per Serving:
Calories:

181
Total Fat:

10g
Saturated Fat:

2g
Trans Fat:

0g
Unsaturated Fat:

8g
Cholesterol:

0mg
Sodium:

104mg
Carbohydrates:

24g
Fiber:

7g
Sugar:

16g
Protein:

2g
Don't forget to Pin this for later