Some of the links on this site may be affiliate links. This means, at no additional cost to you, I may be paid a small commission if you follow the links and make a purchase. Learn more here.
This honey mustard salad dressing recipe is tangy, sweet, and is made with only the simplest ingredients. In five minutes or less you will have a delicious homemade honey mustard sauce that you can use as a salad dressing or drizzle it over grilled chicken for a punch of flavor.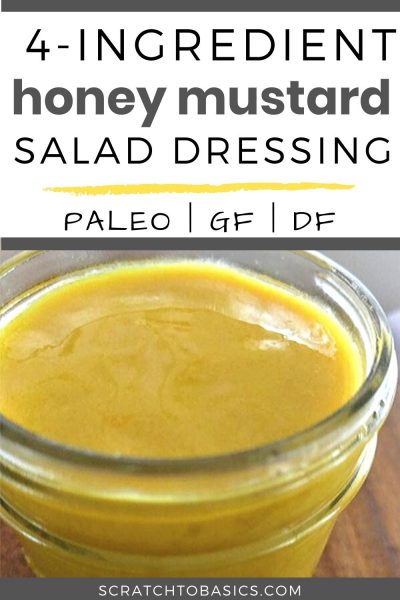 Homemade Honey Mustard Dressing is best
If you pick a random bottle of honey mustard salad dressing off the shelf at the store, it likely has things like:
soybean oil or other refined vegetable oils
sugar, high fructose corn syrup, or corn syrup
modified cornstarch
preservatives
artificial coloring
None of which is actually needed to make honey mustard at home. Combine the simpler ingredients with the minimal effort it takes to make it at home and you've got a no-brainer!
Related Post: 5 Reasons to Always Make Your Own Salad Dressing
Ingredients used to make this recipe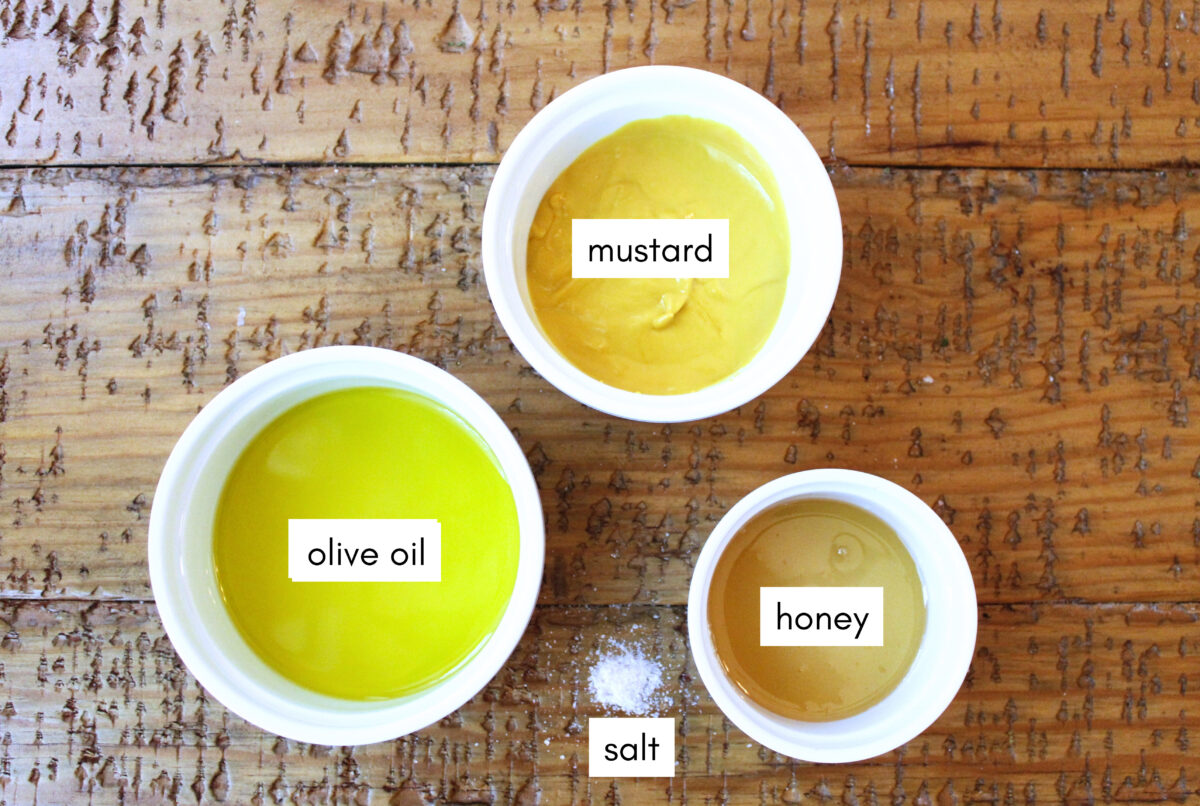 This honey mustard only requires four ingredients (no dairy, no mayo, nothing unnecessary). Here's a little about each one along with some substitution ideas.
Olive oil or avocado oil - You get to choose what oil you make your dressings with. I prefer olive oil or avocado oil because of their health benefits and flavor.
Honey - We love to use this kind for an extra boost of nutrients. For a vegan honey mustard, swap the honey for maple syrup. It'll have a slightly different flavor but still will be delicious.
Mustard - We like Dijon or yellow mustard for this recipe, but a stone ground mustard would give a unique flavor if you like that sort of thing.
Salt - The salt will balance out the acidity and sweetness. We like using this kind because the trace minerals are still in the salt. It's optional in this recipe, but I usually add a pinch.
tools used to make this recipe
Mason jar - My favorite way to make this recipe is to put all the ingredients in a jar and then shake until mixed. Mess free and easy clean up.
Measuring cups & spoons - We recently upgraded to these cups and spoons so the labels don't wear off over time.
Salad bowl & tongs - When you put your salad together you can use any mixing bowl you have, or make it even more special with this wood bowl & tongs set on Amazon.
How to make Honey Mustard Salad Dressing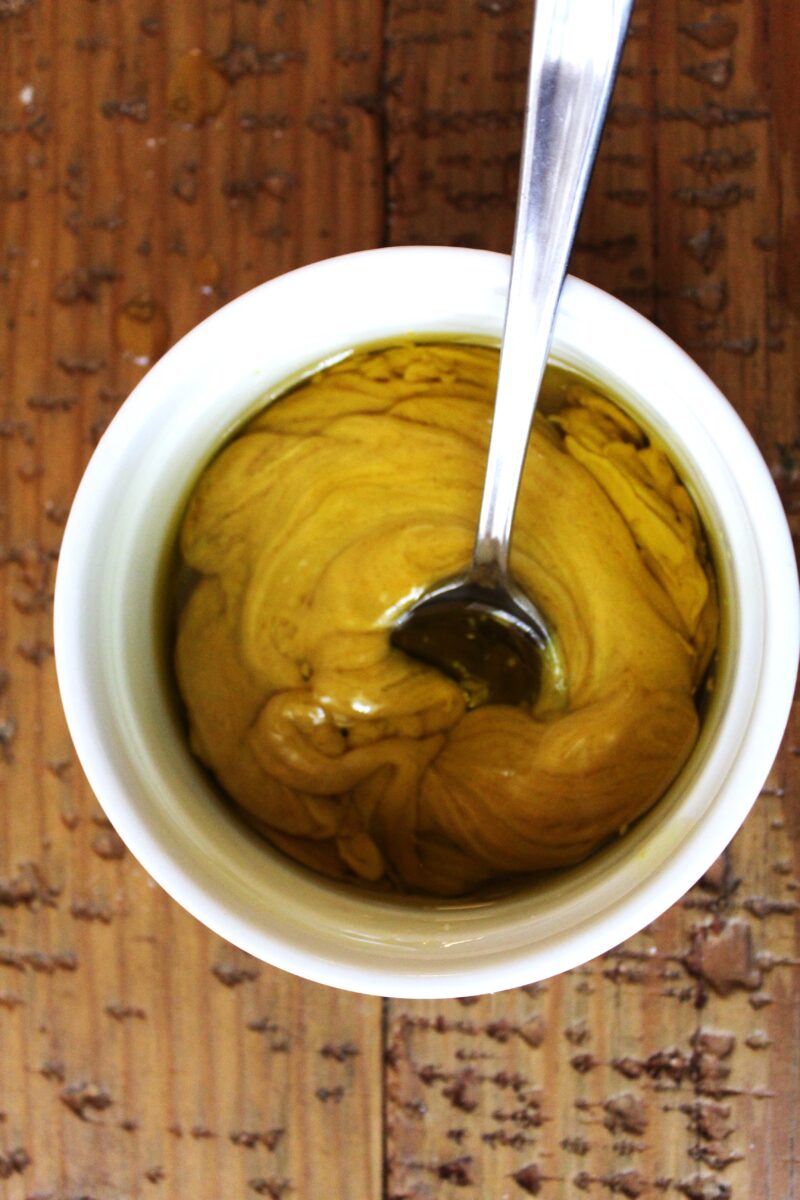 Making this recipe is so simple.
All you have to do is mix everything together.
The oil, mustard, and honey will combine and thicken in just a minute or two.
I like to mix it and store it in a mason jar to make my life easier.
How to use your homemade honey mustard dressing?
Now that you have a bottle of delicious homemade honey mustard salad dressing, you get to use however you like. Here are a few ideas:
Drizzle it on your salad (I'm loving it on salads with fresh apple right now)
Use it as a sauce for roasted veggies (like these honey mustard roasted brussels sprouts)
Brush it over your summer grilled chicken for a nice zing of flavor.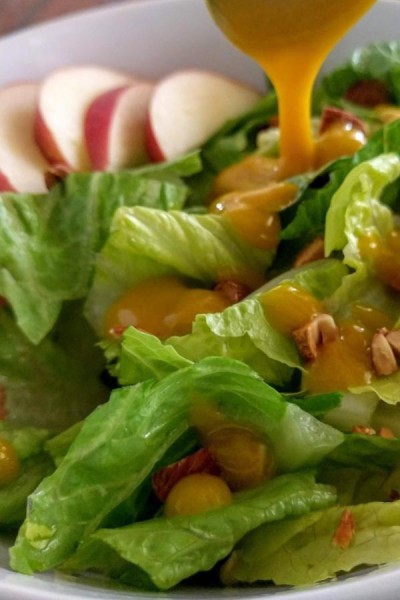 Looking for more delicious homemade salad dressing recipes?
I've got a LOT of delicious homemade salad dressings on the blog. Here are just a few: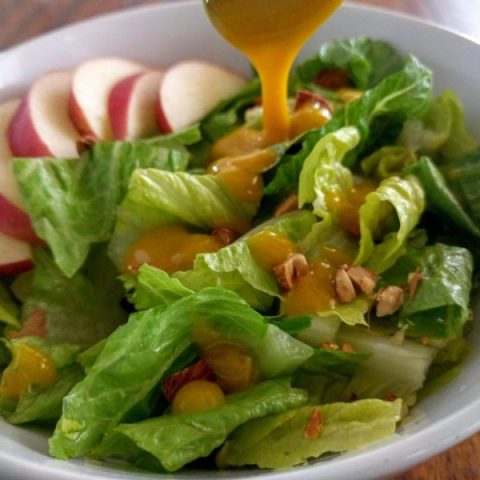 4 Ingredient Honey Mustard Salad Dressing
A simple and delicious sweet and tangy honey mustard salad dressing.
Ingredients
2 Tablespoons honey
6 Tablespoons mustard (use any mustard you like)
8 Tablespoons (or ½ cup) extra virgin olive oil
Salt, to taste.
Instructions
Mix honey and mustard together in your mason jar
Pour the oil in a little at a time and stir to combine.
Season with salt, to taste.
Nutrition Information:
Yield:

16
Serving Size:

1 Tbsp
Amount Per Serving:
Calories:

71
Total Fat:

7g
Saturated Fat:

1g
Trans Fat:

0g
Unsaturated Fat:

6g
Cholesterol:

0mg
Sodium:

100mg
Carbohydrates:

3g
Fiber:

0g
Sugar:

2g
Protein:

0g
Pin this for later!