Some of the links on this site may be affiliate links. This means, at no additional cost to you, I may be paid a small commission if you follow the links and make a purchase. Learn more here.
This honey mustard dressing recipe is awesome! It's tangy, sweet, and so easy to make. It's made with simple ingredients and only takes a few minutes of your time. Whip up a batch today and make that salad extra delicious.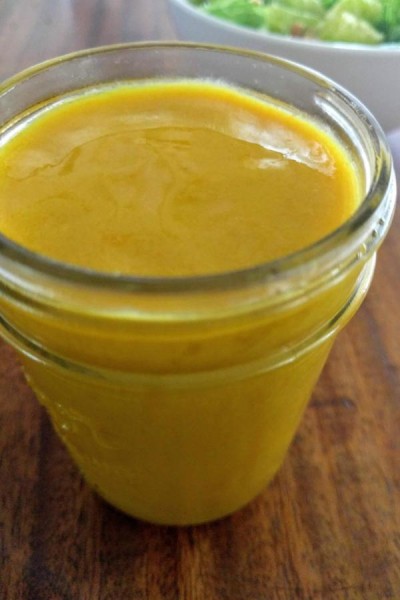 Why Make Your Own Salad Dressing?
When you make salad dressing at home, you get to decide what goes in, and what stays out. Have you ever wanted to try a new flavor combination in your salad dressing? Maybe you like things on the spicier side and want to add an extra kick. Or maybe you want to experiment with a new flavor combination?
Related: 5 Reasons to Always Make Your Own Salad Dressing
At the store you take a big gamble trying something new. Because what if you don't like it? Then you're stuck with a big bottle that will just sit and take up space in your fridge.
Ready to Save Hundreds on Your Grocery Budget?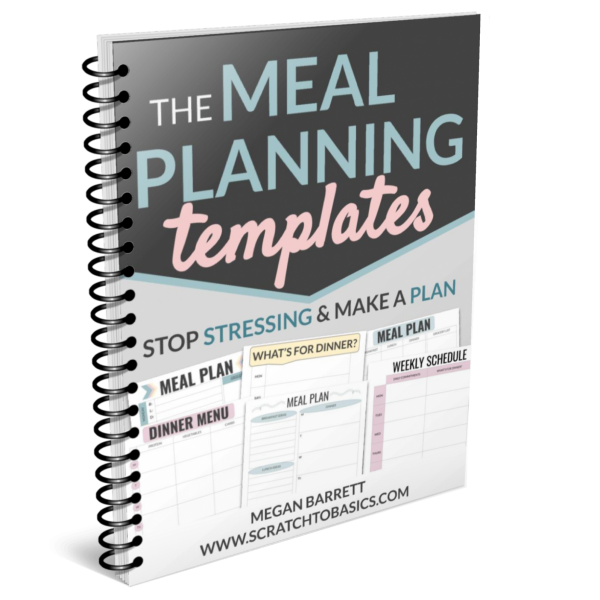 Make a Meal Plan Today!
Get started meal planning and save hundreds every month with this bundle of meal planning templates. Opt in below to get this PDF delivered directly to your inbox.
Find a few recipes you LOVE, work them into your meal plan and you won't need to buy salad dressing ever again! If you've been meaning to get started meal planning but just haven't found a method that works for you...grab a meal planning template below, and check out Prep Dish. They've totally changed the way I think about meal planning.
Ingredients used in this recipe
tools used in this recipe
What's Not in this dressing?
You won't find any refined oils or preservatives in this homemade salad dressing. But you will in the store bought stuff. If you look on the back of store bought salad dressing, you'll likely find some of these ingredients (maybe all of them) in the list of ingredients.
soybean oil, vegetable oil, or canola oil
sugar, high fructose corn syrup, or corn syrup
modified food starch
preservatives
Read more about 10 surprising processed foods to avoid here.
More Reasons to make your own salad dressing
When you have honey, mustard, and olive oil in your cupboard (you probably do), you can make this honey mustard salad dressing faster than you can pick it out at the store.
It's also WAY cheaper to make salad dressing at home than it is to buy a bottle at the store. And if you're anything like me, you don't like wasting money. I recently enrolled in an awesome online course to help me trim the costs in our grocery budget even more. And let me tell you...it's been AWESOME. I can't recommend it highly enough. Check it out here.
Related: 5 Reasons To NEVER Buy Salad Dressing Again.
And if you still need another reason to make your own salad dressing...consider the environment! When you make this salad dressing at home, you won't have another empty plastic bottle to throw away or recycle. Just use a mason jar and store it in your fridge.
How to make Honey Mustard Salad Dressing
I like to mix it and store it in the same container. So if you're using a mason jar to store it, get it out now. Mix the honey and mustard. Then mix in the olive oil (you can use avocado oil if you'd rather, although I wouldn't recommend vegetable oil or canola oil).
This recipe will make about one cup of salad dressing. The perfect amount to store in half-pint mason jars. We love these jars for condiments. If you prefer wide mouth, these are the way to go.
Where to use your honey mustard dressing?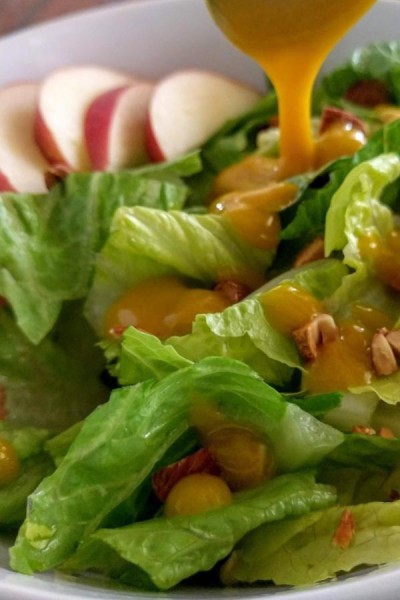 Now that you have a bottle of delicious homemade honey mustard salad dressing, you get to use it! Obviously you can use it on any salad (I particularly like the honey mustard and apple flavor combination). You can also use it as a sauce for roasted veggies (like these brussels sprouts) or a dipping sauce for raw veggies at your next party.
Looking for more delicious homemade salad dressing recipes?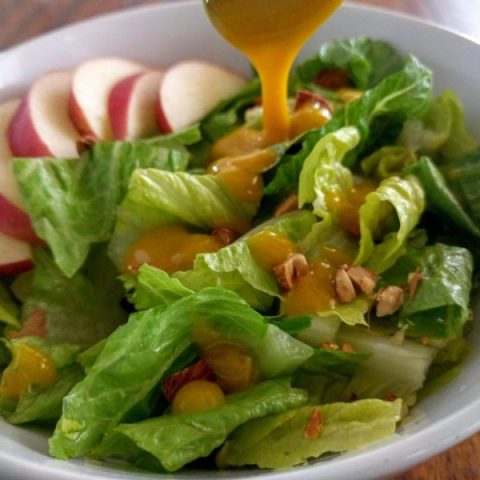 4 Ingredient Honey Mustard Salad Dressing
A simple and delicious sweet and tangy honey mustard salad dressing.
Ingredients
2 Tablespoons honey
6 Tablespoons mustard (use any mustard you like)
8 Tablespoons (or ½ cup) extra virgin olive oil
Salt, to taste.
Instructions
Mix honey and mustard together in your mason jar
Pour the oil in a little at a time and stir to combine.
Season with salt, to taste.
Nutrition Information:
Yield:

16
Serving Size:

1 Tbsp
Amount Per Serving:
Calories:

71
Total Fat:

7g
Saturated Fat:

1g
Trans Fat:

0g
Unsaturated Fat:

6g
Cholesterol:

0mg
Sodium:

100mg
Carbohydrates:

3g
Fiber:

0g
Sugar:

2g
Protein:

0g
Pin this for later!