Some of the links on this site may be affiliate links. This means, at no additional cost to you, I may be paid a small commission if you follow the links and make a purchase. Learn more here.
With just a little bit of chopping and whisking, you can whip up this scrumptious homemade Caesar dressing in the comfort of your own home in no time at all. This recipe is made with high quality oils and simple ingredients so you can be sure your homemade Caesar dressing is actually good for you.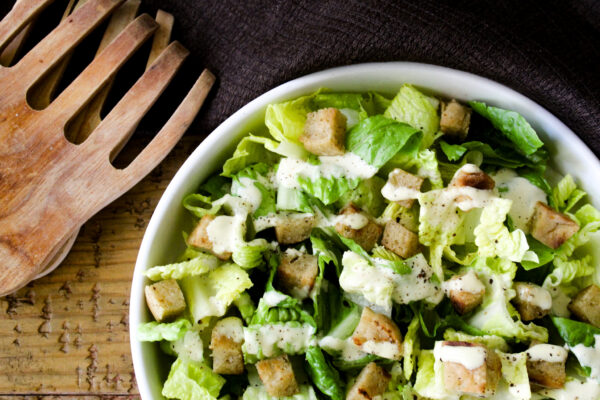 Traditionally, Caesar salad is made using an egg emulsion. If you don't want to use raw eggs, you can make a decent Caesar dressing from mayo.
But in this recipe, we're keeping it traditional.
This homemade Caesar dressing without mayo is gluten free, dairy friendly (just leave the Parmesan out for dairy free), and Paleo. It's made with healthy avocado oil and is a delicious Whole 30 or Paleo salad dressing option.
If you've made homemade mayonnaise before, you know how to make Caesar dressing. The process is the same (drizzling the oil in to create an emulsion with the egg). If you haven't, it's a great day to learn a new cooking skill!
The process is LIKE making mayo, but this homemade Caesar dressing doesn't actually have mayonnaise in it.
Tools Needed to Make Homemade Caesar Dressing
Ingredients to make your Homemade Caesar Salad Dressing Without Mayo
Eggs - As much as you can, try to find the best and freshest eggs you can.
Lemon juice - Lemon juice adds zest and freshness to your homemade Caesar dressing salad. Use fresh lemons and squeeze it out, or keep a bottle of this single ingredient lemon juice in your fridge.
Olive oil - Extra virgin olive oil is full of healthy fats and antioxidants that are good for the heart. This makes it a great addition to a healthy diet. If you can find a good quality, extra virgin olive oil that would be preferred, but any olive oil will do.
Anchovy paste - I use anchovy paste, which adds a ton of umami flavor and is free of bone bits. You might, however, slice up some anchovy filets and mix them in if you want to taste the pieces of salty umami. Check the ingredients on your anchovy paste to make sure there's just anchovies, olive oil, and salt. I use this brand.
Mustard - Use what you like best. Yellow mustard or Dijon will work well.
Garlic cloves - While garlic has many health benefits, it also contains a plethora of antioxidants and minerals. Plus, it gives your Caesar a nice kick.
Avocado oil - Avocado oil is a great source of healthy fats and antioxidants. We use this brand because it's in Costco. Amazon has a few other good choices too (like this one). You could use 100% olive oil in this dressing if you don't have avocado oil, but the dressing will take on the flavor of whatever oil you use.
Parmesan cheese - To add that delicious cheesy flavor (optional).
Black pepper - Add as much as you'd like if you're a big black pepper fan.
How to Make Your Homemade Caesar Salad Dressing Without Mayo
If you don't already have a food processor, I highly recommend this one!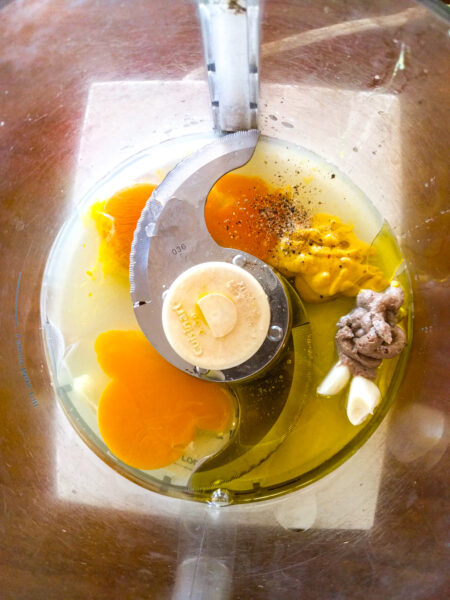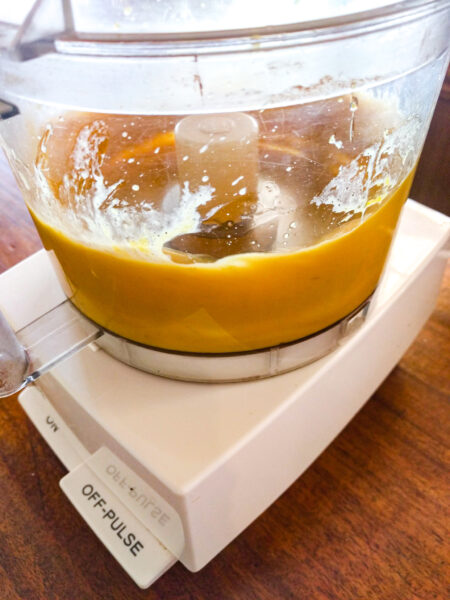 Step 1: Put everything but the avocado oil and Parmesan in the bowl of your food processor. Turn it on for 30 seconds to blend everything together.
Step 2: With the food processor on, pour the avocado oil into the "pusher". This is the part of the food processor that fits in the lid and has a tiny hole at the bottom. The hole in the bottom lets the oil drip in so you don't have to stand there and pour slowly.
Note: If you don't have a "pusher" with a hole in it, just drizzle the oil in slowly with the food processor on. I aim for a thin stream (somewhere between dripping it in and dumping). Drizzling the oil should take a minute or two, not thirty.
Your dressing should be perfectly thick now. If you want to add Parmesan, now would be the time to do that.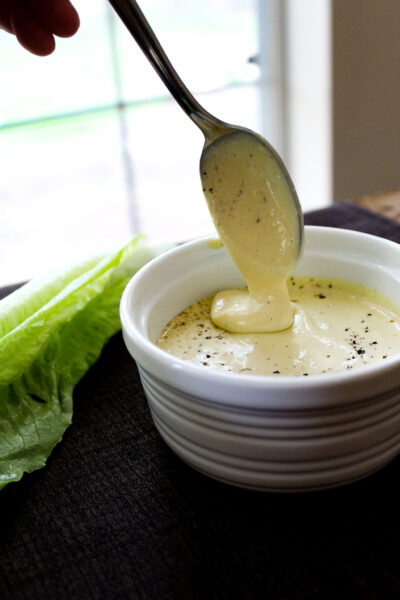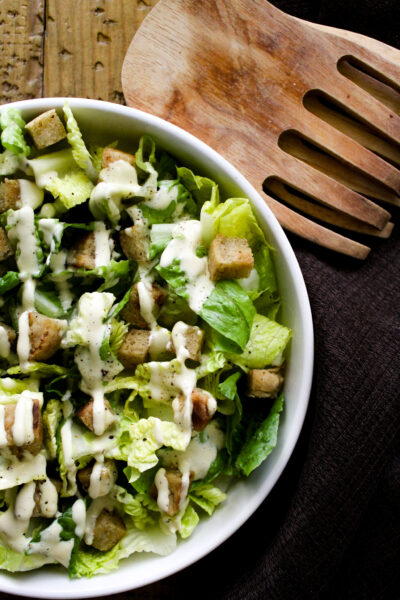 Caesar Salad Recipe
Once you've made the dressing, it's time to put your Caesar salad together. Put these items in a bowl for the perfect Caesar salad:
Romaine lettuce - Washed, dried, and chopped.
Croutons - You can make your own or use a gluten-free and keto-friendly option if needed.
Parmesan - Omit for a dairy-free Caesar salad.
Salad dressing - I (obviously) recommend this recipe (find the full recipe below).
Extra black pepper - If you're a pepper lover.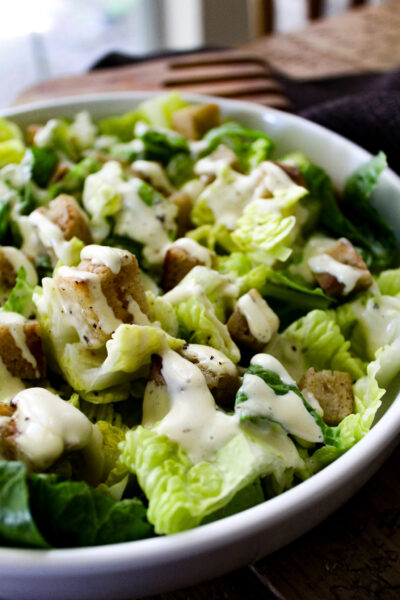 FAQ & Recipe Tips
Can you eat homemade Caesar dressing when pregnant?
If you're a huge lover of Caesar salad and desire it while pregnant, be sure to go for the egg-free version of this salad since, raw and undercooked eggs provide a high risk of salmonella to pregnant women, who are more susceptible to the consequences of foodborne disease.
What can I substitute for anchovy paste?
Worcestershire sauce, capers, or kalamata olives are options for a substitute for anchovy paste (although I haven't tested these personally) To get a better texture and thickening effect, ground the capers and olives before using.
Is the homemade Caesar dressing gluten free?
This Homemade Caesar Dressing Without Mayo is gluten-free, dairy-free (just leave out the parmesan), and Paleo-friendly all in one. In this recipe, avocado oil is used, which is good for your health as well as your taste buds.
Is homemade Caesar dressing keto-friendly?
Traditional Caesar salads contain croutons, which are not keto-friendly. Most Caesar salad dressings will be keto-friendly because they're high-fat and low-carb. This recipe would definitely fit in your keto or low carb diet.
Can you make the homemade Caesar dressing ahead of time?
Homemade Caesar dressing may be stored in the refrigerator for up to a week. I don't recommend dressing the salad until you're ready to eat it though (as the lettuce will get mushy).
Related Recipes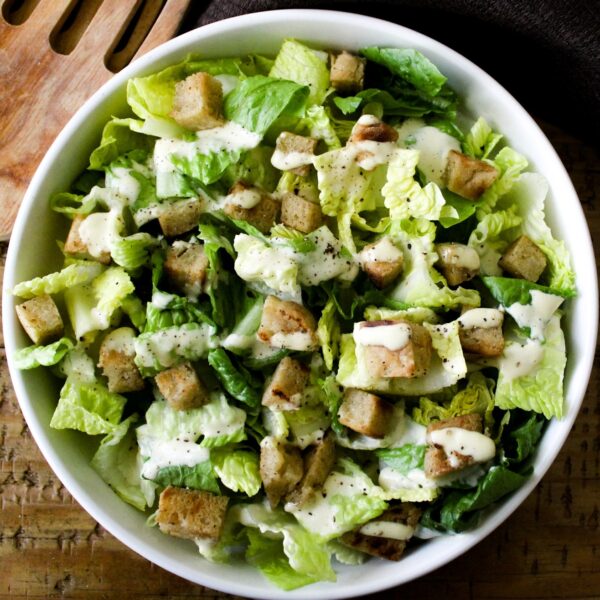 Homemade Caesar Dressing
Make this homemade Caesar dressing easily with your food processor. Made with simple ingredients, your favorite salad just got better.
Ingredients
2 whole eggs
2 Tbsp lemon juice
2 Tbsp olive oil
2 tsp anchovy paste
2 tsp mustard
2 cloves garlic
1 cup avocado oil (or another mild oil)
2 Tbs parmesan cheese (optional)
black pepper, to taste
Instructions
Put the eggs, lemon juice, 2 Tbs of olive oil, anchovy paste, mustard, and garlic in the bowl of your food processor.
Turn your food processor on for 30 seconds, until everything is blended
With the food processor running, either use the "pusher" in your food processor to drip the oil in, or just slowly pour the avocado oil into the bowl while the food processor is running.
Let it mix for 2-3 minutes, until it's thickened a bit and all the oil has been incorporated.
Add black pepper to taste
If you want parmesan cheese in your dressing, stir it in now.
Enjoy!
Notes
Get the freshest eggs you can find, since this recipe uses raw eggs.
You can store this dressing in the fridge for 5-7 days.
For a dairy free option, just omit the Parmesan.
Nutrition Information:
Yield:

16
Serving Size:

1
Amount Per Serving:
Calories:

90
Total Fat:

9g
Saturated Fat:

1g
Trans Fat:

0g
Unsaturated Fat:

8g
Cholesterol:

24mg
Sodium:

67mg
Carbohydrates:

1g
Fiber:

0g
Sugar:

0g
Protein:

1g