Some of the links on this site may be affiliate links. This means, at no additional cost to you, I may be paid a small commission if you follow the links and make a purchase. Learn more here.
This homemade Caesar salad dressing is made with a whole egg and is SO flavorful. Of course, we make it with wholesome ingredients here on Scratch to Basics. Don't let the egg/oil emulsion intimidate you. As long as you have the right tools and the right information, it'll come together quickly and easily. Let's get started!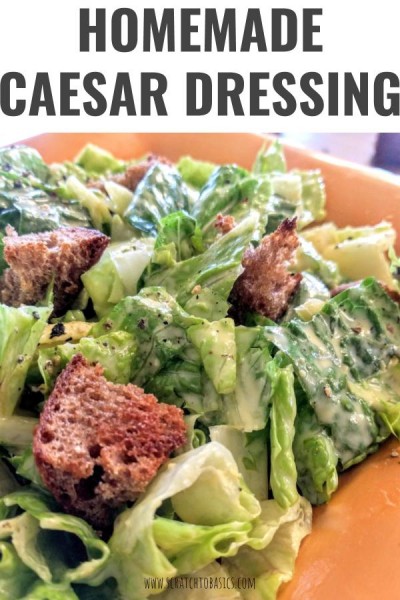 If you love delicious salad dressings like this Caesar Dressing, sign up to get a FREE copy of my E-Cookbook. Click here to learn more!
Caesar salads are everywhere these days. It's an option in just about every restaurant. And, I mean, I get it. They're so good! I used to think Caesar salads were boring (because, who only puts croutons and cheese on a salad?). But the beauty is in the simplicity when it comes to Caesar salads.
This recipe is gluten free, dairy free friendly (just leave the Parmesan out), and Paleo. It's made with healthy avocado oil and is a delicious Whole 30 or Paleo salad dressing option.
Best Homemade Caesar Dressing
Traditionally, Caesar salad is made using an egg emulsion. If you don't want to use raw eggs, you can make a decent Caesar-ish dressing with yogurt, or store bought mayo. But we're keeping it traditional today.
I tried a recipe with yogurt as the base and it didn't quite have the flavor that I was looking for.
Today, we're sticking with tradition. Well, sort of…
Homemade Caesar Salad Dressing with Whole Egg
This homemade Caesar salad dressing is made with the egg (not just the yolk).
Typically you just use the egg yolks for the dressing. But I've found that I usually end up throwing the egg whites away (because I always forget they're in the fridge). So I tried to make a recipe that uses the whole egg so there's no waste. And it worked!
No Mayo In This Homemade Caesar Dressing
If you've ever made homemade mayonnaise, you know how to make Caesar dressing. The process is the same (drizzling the oil in to create an emulsion with the egg). If you haven't, it's a great day to learn a new cooking skill!
The process is LIKE making mayo, but this homemade Caesar doesn't actually have mayo in it.
Remember though, when using raw eggs in recipes, find the freshest eggs from the healthiest chickens. Our eggs come from about 30 feet out our door (we have our own chickens :)). They don't have to be THAT fresh, but figure out what's the next best thing for you.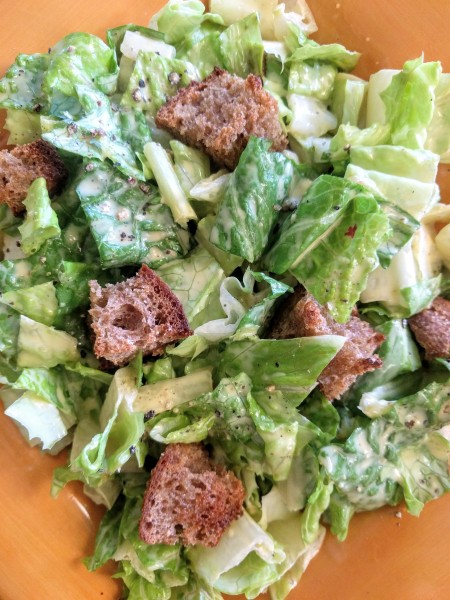 Why Make Your own Caesar Salad Dressing?
Making your own salad dressing is totally worth it. Maybe it takes a couple extra minutes, but doesn't it take the same amount of time at the store to pick out a pre-made option?
And, when you make your own salad dressing, you get to decide what ingredients go in (and what stays out). So for example, we get to choose which oil we use.
Instead of the refined vegetable oils found in virtually all salad dressings in the store (I've looked at almost all of them, trust me. It's everywhere.) we get to choose to use olive oil (healthy, with good fats), and avocado oil. Here's more information about oils, if you're interested.
Tools To Make This Caesar Salad Dressing
Caesar Salad Ingredients
There's debate about whether anchovies were traditionally in Caesar salad or not. I used to be a bit squeamish around the thought of anchovies in my food, but it adds so much flavor to the dressing, it's so worth it.
Ever heard of umami? It's that savory flavor that makes food taste oh-so-good. Anchovies bring the umami to the dressing.
And I found this anchovy paste that makes incorporating the anchovies so much easier. And the only ingredients in the anchovy paste are anchovies, olive oil, and salt. Perfect!
How to Make Caesar Salad Dressing
First, put everything but the avocado oil and Parmesan in the bowl of your food processor.
Note: If you don't already have a food processor, I highly recommend this one! To see other tools I recommend, read this post on my essential tools for saving time in the kitchen.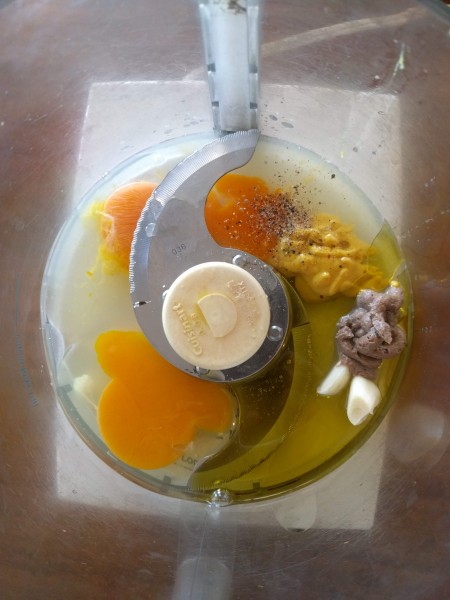 Turn it on for 30 seconds to blend everything together.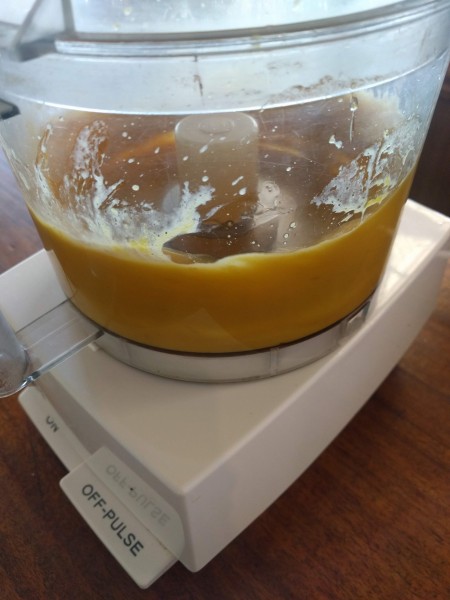 Next, with the food processor on, pour the avocado oil into the "pusher". This is the part of the food processor that has a tiny hole at the bottom. The hole in the bottom lets the oil drip in so you don't have to stand there and pour slowly.
If you don't have a "pusher" with a hole in it, just drizzle the oil in slowly with the food processor on. If you're not sure what "slowly" means, I try to look for a thin stream (somewhere between dripping it in and dumping). Drizzling the oil should take a minute or two, not 30!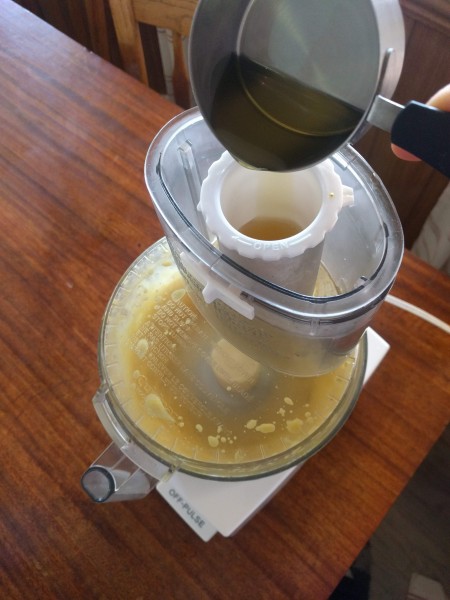 Let it mix another minute after the oil has all dripped through. And then it's done! If you want to add Parmesan, now would be the time to do that.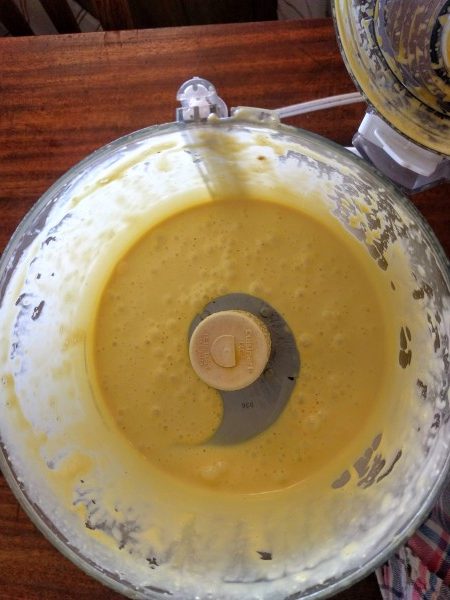 You did it! Now that you're a pro at this method, head on over and make some homemade mayonnaise. Same process, with fewer ingredients.
How Long Does Homemade Caesar Salad Dressing Last?
You can keep it in the fridge for about a week. Of course, if you notice any off sights or smells, use your own judgement. This recipe makes about one cup (plus a tablespoon or two).
I like to make a batch and use it on a salad right away (because I usually can't resist) and then I keep the rest in one of these mason jars that are the perfect size for the remaining dressing.
Caesar Salad Recipe
So you have your dressing now. How do you put it all together? Well, to make a caesar salad, put the following in a bowl:
Romaine lettuce (washed, dried, and chopped)
Croutons (can make your own or use a gluten free option if needed)
Parmesan (optional if you want a dairy free dressing)
Caesar Salad Dressing
For ratios on the salad, make it to your liking. Put your chopped romaine in a bowl, pour your Caesar dressing on and toss the greens to coat (I like a lot of dressing…because it's SO good). Add in croutons and sprinkle on Parmesan. If you LOVE croutons, put more on. If you can't do dairy, don't use Parmesan (or just serve it on the side).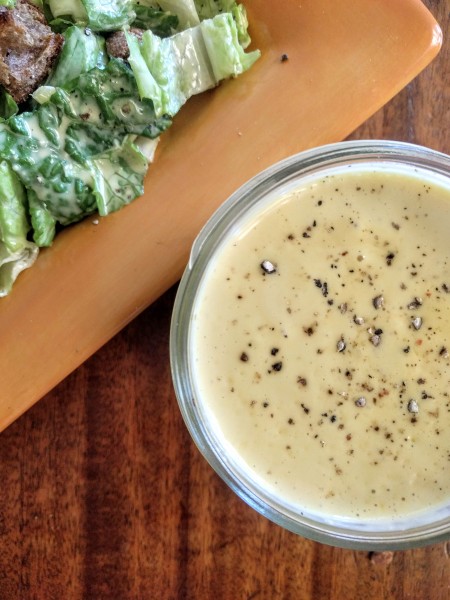 Anything else to dress up your salad?
Here are a few items that will dress up your Caesar salad and impress your guests (although probably not as much as telling them you made homemade Caesar dressing).
If you want more simple salad dressing recipes like this one, click here to get a FREE copy of my E-Cookbook, or sign up below!
Print
Best Caesar Salad Dressing Recipe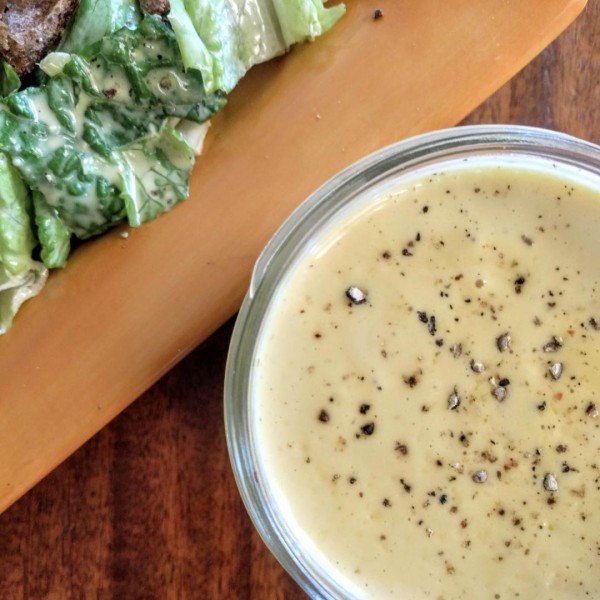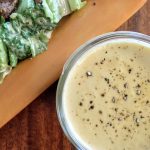 Make this traditional caesar salad dressing easily with your food processor. This recipe uses the whole egg (not just the yolk).
Author:
Prep Time:

5 minutes

Total Time:

5 minutes

Yield: Just over

1 cup

1

x
Category:

salad dressing
Scale
Ingredients
2

whole eggs

2 Tbsp

lemon juice

2 Tbsp

olive oil

2 tsp

anchovy paste

2 tsp

mustard

2

cloves garlic

1/2 cup

avocado oil

2

Tbs parmesan cheese (optional)
black pepper, to taste
Instructions
Put the eggs, lemon juice, 2 Tbs of olive oil, anchovy paste, mustard, and garlic in the bowl of your food processor.
Turn your food processor on for 30 seconds, until everything is blended
With the food processor running, either use the "pusher" in your food processor to drip the oil in, or just slowly pour the avocado oil into the bowl while the food processor is running.
Let it mix for 2-3 minutes, until it's thickened a bit and all the oil has been incorporated.
Add black pepper to taste
If you want parmesan cheese in your dressing, stir it in now.
Enjoy!
Notes
Get the freshest eggs you can find, since this recipe uses raw eggs.
You can store this dressing in the fridge for 5-7 days.
For a dairy free option, just omit the Parmesan.
Keywords: caesar salad, salad dressing