Some of the links on this site may be affiliate links. This means, at no additional cost to you, I may be paid a small commission if you follow the links and make a purchase. Learn more here.
Folks, these fish tacos have it all. Amazing flavor, great texture, and a delicious creamy sauce. What more could you ask for? These fish tacos taste wonderful and are super easy to get on the table.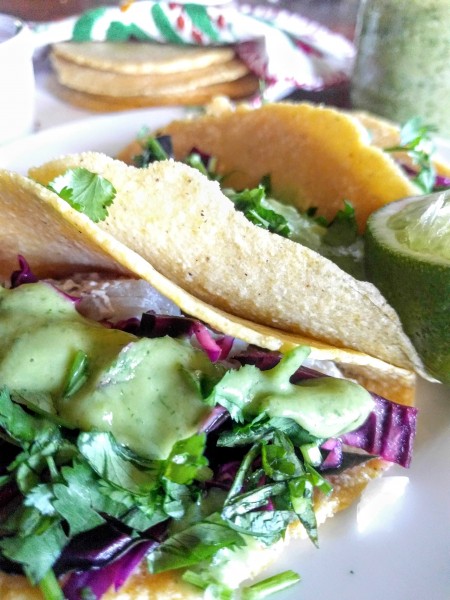 I love taco night. LOVE it. I love that even though there's often seven different items that go in the tacos, it all comes together easily and tastes amazing.
And I love that it's a self-serve meal. Fast, easy, and delicious? Count me in.
We got take out the other day from a restaurant that's a pretty popular taco joint. It was so crowded that I could barely find a place to stand to wait for my order. The tacos sounded delicious, but when we started eating them...something was missing. My husband and I decided they overdid it on the salt, and they didn't have enough of the sweet tangy flavor.
It was disappointing. Because I knew that these homemade tacos were better...and probably much cheaper. But it was also reaffirming that we don't have to pay a bunch of money to get delicious and easy fish tacos. We've got a great recipe right here!
How to make fish tacos with creamy avocado lime sauce
The process is super simple.
Make the fish (we use cod, but any white fish will do).
Get your tortillas ready. Make homemade tortillas or get some from the store.
Make the creamy avocado lime sauce
Shred some cabbage for a little crunch
Put it all together and enjoy!
Step 1: Make your Fish
We used cod for this fish taco recipe, but any white fish will do. Cook it on the stove top with a sprinkling of salt. When it's done cooking, drizzle a little lime juice on it.
Step 2: Get your Tortillas ready
Pick your favorite tortillas. I used corn tortillas. And I made them from scratch! If you want to make taco night extra special, why not make your own tortillas? You get to learn something new and avoid the preservatives in the store bought stuff. If you have the right tools it's really simple. Read more about making your own tortillas here.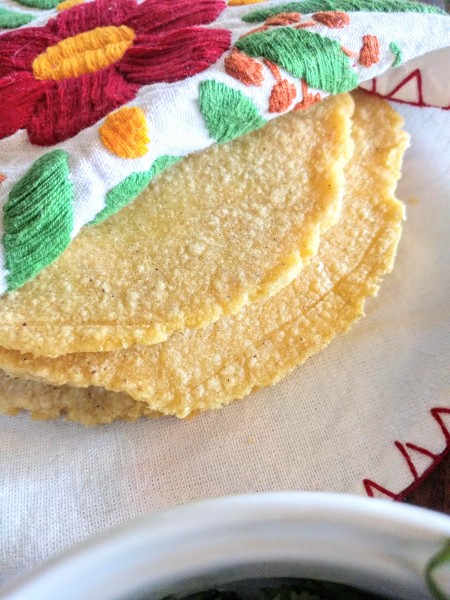 Step 3: Make the Avocado Lime Sauce
I don't know about you, but I can't stand dry tacos. I need sauce. Sauce just makes life better. And this avocado lime dressing is just the sauce for fish tacos. It's super simple to make. With just 5 ingredients and a food processor, you can have it ready in about a minute. Get the recipe here.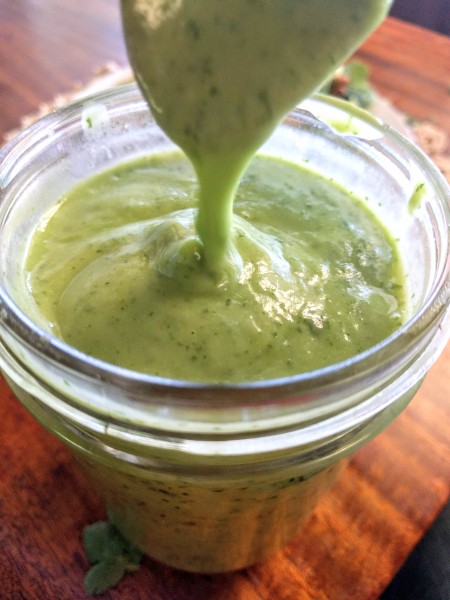 If you love flavorful sauces and dressings like I do, sign up for my mailing list and I'll send you a FREE copy of my E-Book with 10 sauce and dressing recipes that are PACKED with flavor! Sign up here!
Step 4: Shredded Cabbage for some crunch
I like a little crunch in my tacos. We use shredded cabbage to help with that. I sprinkled a little salt and lime juice on the cabbage and let it sit for a few minutes to give it a little flavor.
Step 5: Put it all together
Now we have everything we need to make taco night a success. Tortillas, fish, cabbage, and sauce. We're ready to put them together and make our taste buds happy. Top it with some chopped cilantro, take a bite and enjoy!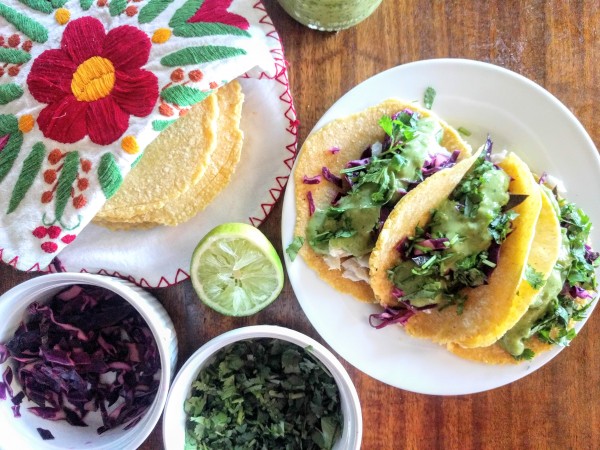 Looking for more recipe ideas? Try this avocado mango salsa in the tacos, or as an appetizer. And for dessert? Let's keep the avocado train going and enjoy some delicious avocado chocolate pudding! Don't knock it til you try it.
Looking for more Healthy and Homemade Dinner Recipes?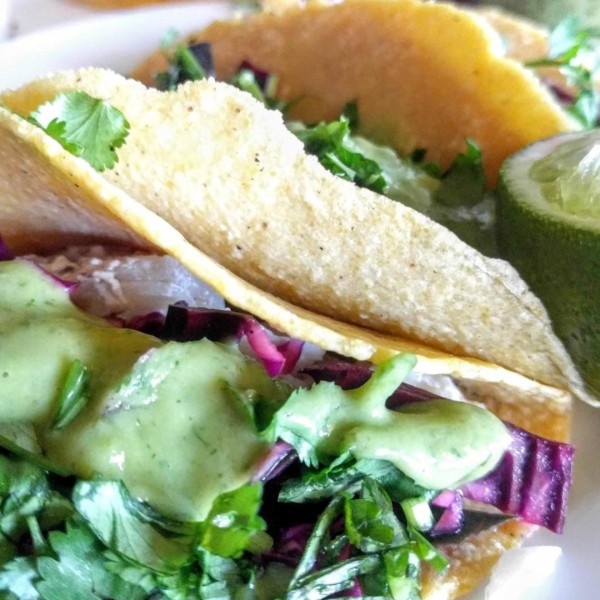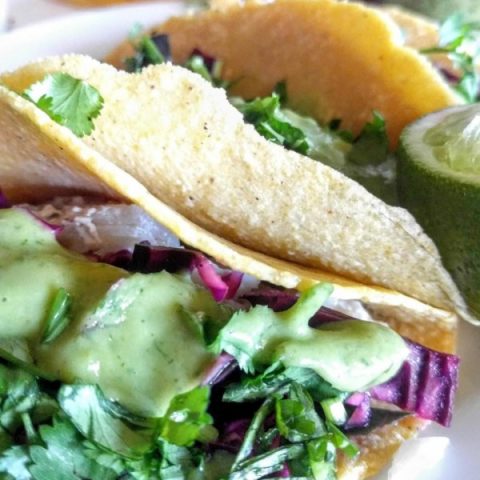 Easy Fish Tacos with Avocado Lime Sauce
Cod, cabbage, creamy avocado lime sauce, and cilantro make a tasty combination for taco night.
Ingredients
1 cup thinly sliced cabbage
1 lime (juiced)
1 Tbsp avocado oil
1 lb cod (or other white fish)
salt, two pinches
¾ cup creamy avocado sauce
1 handful cilantro, chopped
tortillas (any kind you like)
Instructions
Slice the cabbage into thin pieces, drizzle juice from ½ lime on top and add a pinch of salt. Let sit while you cook the fish.
Heat a pan with 1 Tbsp oil on medium heat.
Cook the fish in the hot pan for 3-4 minutes and then flip. You'll know it's cooked when it flakes easily with a fork.
Drizzle the fish with juice from ½ lime, remove from the pan and set aside.
Assemble the tacos...tortillas, fish, sauce, cilantro.
Nutrition Information:
Yield:

4
Serving Size:

1
Amount Per Serving:
Calories:

228
Total Fat:

7g
Saturated Fat:

1g
Trans Fat:

0g
Unsaturated Fat:

5g
Cholesterol:

62mg
Sodium:

225mg
Carbohydrates:

14g
Fiber:

4g
Sugar:

2g
Protein:

29g