Some of the links on this site may be affiliate links. This means, at no additional cost to you, I may be paid a small commission if you follow the links and make a purchase. Learn more here.
This sesame ginger salad dressing recipe is so good! It's the perfect balance of flavors that can go on a cabbage salad, as a sauce for grilled chicken, or drizzled over your oven roasted vegetables. It's gluten free, dairy free, soy free, refined sugar free and Paleo. And you'd better believe it's delicious!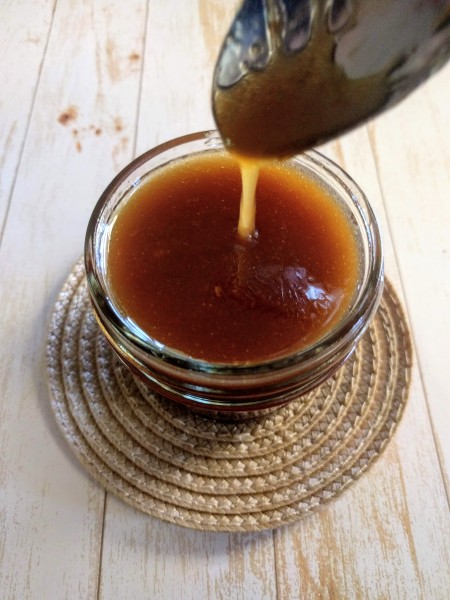 Why Make Your Own Salad Dressing?
When you make salad dressing at home, you get to decide what goes in, and what stays out. Have you ever wanted to try a new flavor combination in your salad dressing? Maybe you like things on the spicier side and want to add an extra kick. Or maybe you want to experiment with something new?
At the store you take a big gamble trying something new. Because....what if you don't like it? Then you're stuck with a big bottle that will just sit and take up space in your fridge. Fridge space is valuable real estate! Don't waste it with a big bottle of something you don't like!
Instead, make your own at home and customize it so it's JUST how you like it!
Tools & Ingredients needed to make this Sesame Ginger Recipe
What's in This Sesame Ginger Dressing?
This sesame ginger dressing is just the thing your dinner salad needs. Need a little boost of flavor packed with sweet, salty, and spicy-ness? Yep. I thought so. This is what you want.
What's in?
avocado oil
sesame oil
coconut aminos
zested ginger
honey
vinegar
What's out?
You won't find any refined oils or preservatives in this homemade salad dressing. But you will in the store bought stuff. If you look on the back of store bought salad dressing, you'll likely find some of these (maybe all of them) on the ingredient list.
soybean oil, vegetable oil, or canola oil
sugar, high fructose corn syrup, or corn syrup
modified food starch
preservatives
How to make sesame ginger Salad Dressing
I like to mix it and store it in the same container. So if you're using a mason jar to store it, get it out now. Put all the ingredients in, put the lid on, and shake.
This recipe will make about one cup of salad dressing. It's the perfect amount to store in half-pint mason jars. We love these jars for condiments. If you prefer wide mouth, these are the way to go.
Where to use it?
Now wasn't that easy!? Use it anywhere you want a sesame ginger boost of flavor.
No matter how you use it, I hope you love it!
Looking for more delicious homemade salad dressing recipes?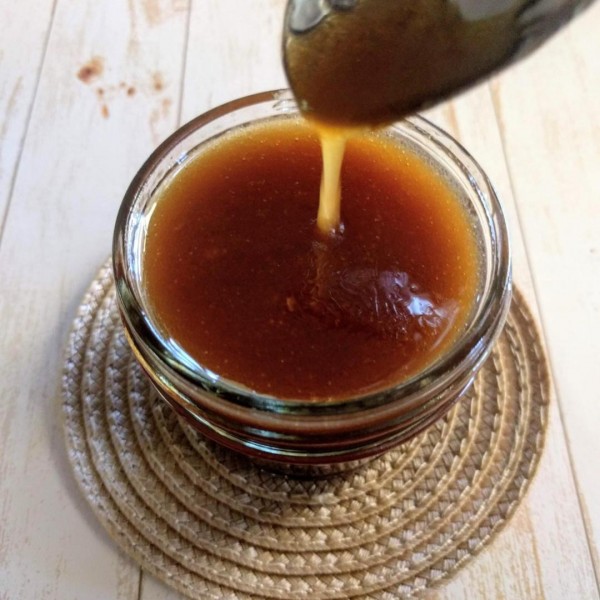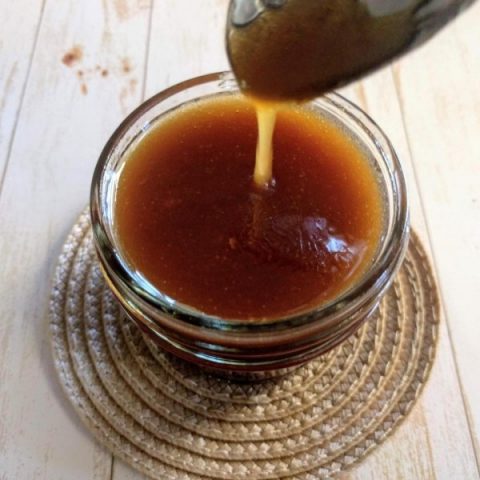 Perfect Sesame Ginger Salad Dressing
A perfectly balanced sesame ginger sauce to use as a salad dressing or to boost the flavor of your favorite veggie dish.
Ingredients
4 Tbsp avocado oil
1 Tbsp sesame oil
2 Tbsp coconut aminos
1 tsp zested ginger
1 tsp honey
2 tsp white vinegar (or apple cider vinegar)
pinch of salt
Instructions
Add all ingredients to a mason jar.
Mix until combined with a whisk, fork, or put the lid on tightly and shake to mix.
Nutrition Information:
Yield:

8
Serving Size:

1 Tbsp
Amount Per Serving:
Calories:

83
Total Fat:

9g
Saturated Fat:

1g
Trans Fat:

0g
Unsaturated Fat:

7g
Cholesterol:

0mg
Sodium:

84mg
Carbohydrates:

2g
Fiber:

0g
Sugar:

1g
Protein:

0g
Pin this for later!