Some of the links on this site may be affiliate links. This means, at no additional cost to you, I may be paid a small commission if you follow the links and make a purchase. Learn more here.
These Paleo zucchini fritters are gluten free, grain free, and dairy free. They're perfectly spiced with a simple Mexican seasoning blend cooked in your skillet or oven.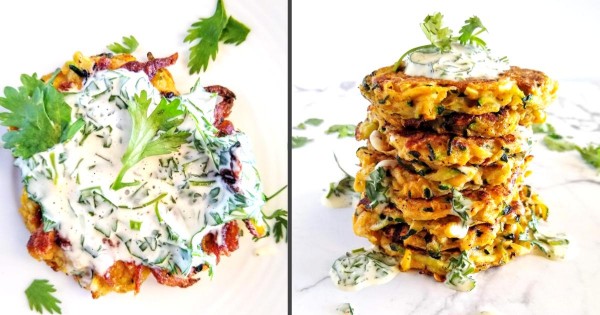 What Tools You'll need:
Cheese grater or food processor - I love using our Cuisinart food processor whenever there's a lot of grating involved in a recipe, but you can use a handheld cheese grater if you'd prefer.
Colander - You'll need a colander to drain the zucchini from excess water so that the fritters aren't soggy.
A cheese cloth - This is optional, but really handy to get all the moisture out of the zucchini. Here's one on Amazon for your convenience.
Ingredients in Paleo zucchini fritters
Zucchini - Use zucchini fresh from your garden or farmer's market for the freshest food.
Eggs - Eggs are what will bind the fritters together and keep them from falling apart.
Flour - This recipe uses cassava flour (a grain free, gluten free flour) but you can swap for other gluten free or Paleo flours (more on this below)- We order it on Amazon and get this kind. Spices (garlic powder, cumin, chili powder, salt)
Spices - Made with spices in your spice cupboard to give it a great Mexican flavor.
Dipping sauce - I very much like this cilantro lime mayo with these fritters.
How to make perfect Paleo zucchini fritters
step 1: Grate the Zucchini & Get the moisture out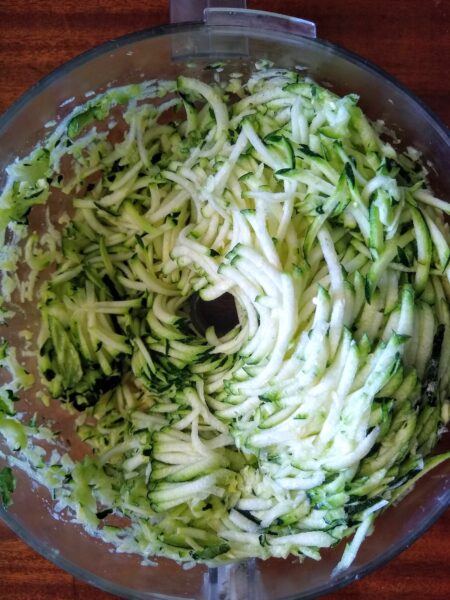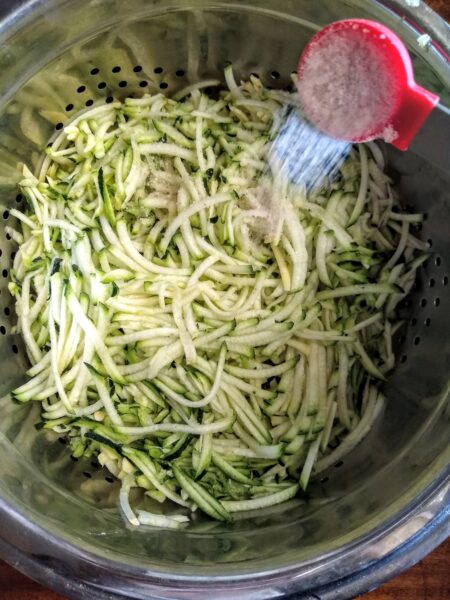 Grate or shred your zucchini (food processor or hand grater) then sprinkle salt on the shredded zucchini and let it sit for about 10 minutes in a colander over a bowl or in the sink. The salt breaks down the cell walls in the zucchini and releases moisture.
To really get the moisture out you can take a cheese cloth or a thin kitchen towel and wring out the zucchini in the towel.
step 2: Mix the egg, zucchini and spices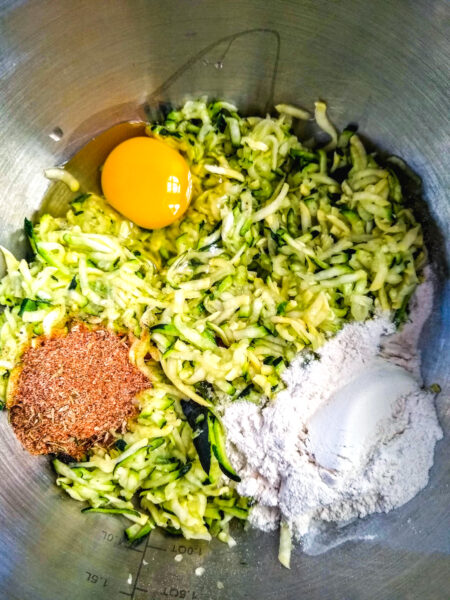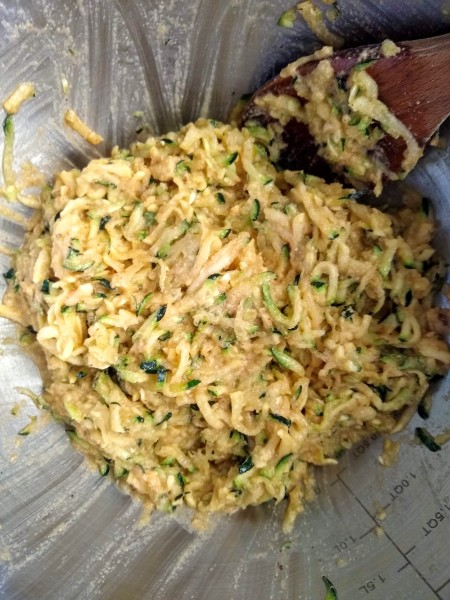 Once your zucchini is drained, combine the egg, zucchini, flour, and spices in a bowl and mix together.
step 3: Cook the fritters in your pan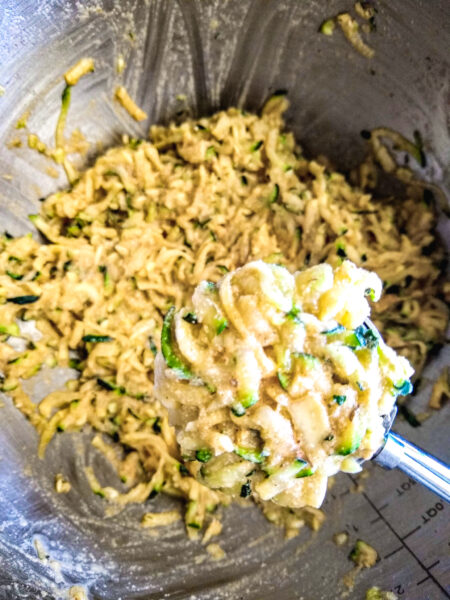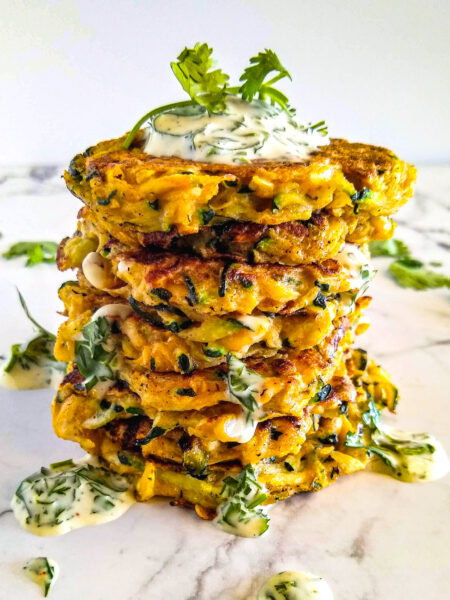 Heat your pan (I like to cook these on medium or medium-low). I use a cookie scooper that's about 1 tablespoon to scoop and plop the fritter mixture in the pan. Use your scooper (or spoon) to flatten the fritters out. Cook them for 3-5 minutes on each side. The sides should be browned and insides cooked.
Tips & Troubleshooting
Why are my fritters soggy and not crispy?
You may not have gotten all the moisture out of the zucchini. Make sure to get all the excess moisture out in that first step.
The pan could have been too hot when you cook them. If the pan is too hot, the outsides of the fritter will cook before the inside does, which will make the inside gooey.
What can I substitute for cassava flour?
I love cassava flour because it's gluten and grain free. It gives the food a light texture and has a mild flavor. If you can't find it in your local grocery store (I can't either), you can order it on Amazon or check your local health food stores.
If you're looking for a cassava flour substitute, you could try coconut flour, almond flour, tapioca flour, a gluten free flour blend, or Paleo flour blend. The flour in this recipe isn't here to hold the fritters together, as much as it is to soak up extra moisture.
Can I freeze these Zucchini Fritters?
You sure can. These would be a great recipe for your meal prep day. Here's how I would do it:
Make them as instructed in the recipe
Freeze them individually (in a single layer) on parchment paper
When they're frozen, stack them with parchment paper between each layer
Defrost them in the fridge the night before you're ready to eat them.
Re heat them on the stove, in the microwave, or in a 375 (F) oven for 10-15 minutes until warm.
Looking for more ways to use your zucchini?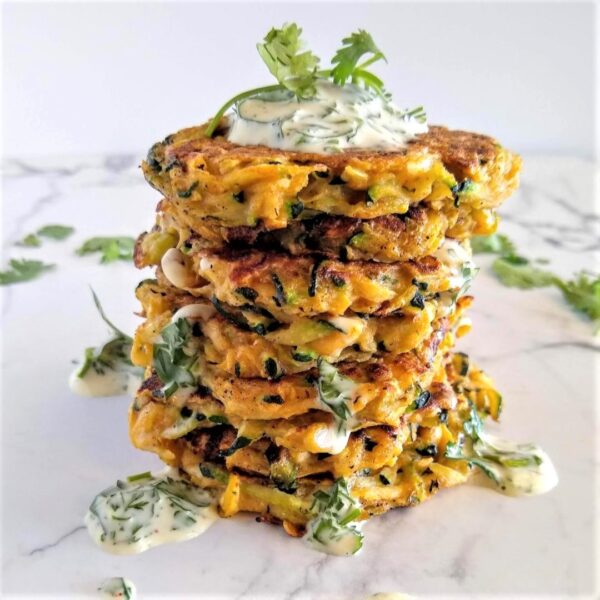 Paleo Zucchini Fritters
Mexican spiced Paleo zucchini fritters topped with a tangy cilantro lime mayo. The perfect addition to your meal!
Ingredients
Zucchini Fritters
1.5 lbs zucchini, grated
½ teaspoon salt
1 egg
¼ cup cassava flour
½ teaspoon garlic powder
1 teaspoon cumin
2 teaspoon chili powder
oil, for cooking
Cilantro Mayo Sauce
½ cup mayonnaise
1 handful cilantro (finely chopped)
½ lime, juiced
cayenne pepper (optional, to taste)
Instructions
Grate your zucchini by hand or in a food processor.
Sprinkle the ½ teaspoon of salt over the zucchini and let it sit in a colander over a bowl for 10 minutes.
While you're waiting for the zucchini, you can make the cilantro lime mayo if you'd like to use it. Combine the handful of chopped cilantro, the mayo, and the lime juice in a bowl and stir until combined. Add cayenne, to taste (optional).
After 10 minutes of straining the zucchini, wring it out in a cheese cloth or kitchen towel. Try to get as much of the moisture out as possible.
Combine the graded zucchini, the spices, egg, and flour in a bowl and stir to combine.
Heat your pan to medium/medium-low. And drizzle a little oil.
Using a 1 tablespoon scoop, add the mixture to the hot pan and flatten a bit. Cook for 3-5 minutes on each side, until browned and cooked through.
Top with the cilantro mayo and enjoy!
Nutrition Information:
Yield:

10
Serving Size:

1
Amount Per Serving:
Calories:

137
Total Fat:

12g
Saturated Fat:

2g
Trans Fat:

0g
Unsaturated Fat:

10g
Cholesterol:

24mg
Sodium:

281mg
Carbohydrates:

7g
Fiber:

2g
Sugar:

2g
Protein:

2g
Don't forget to save this for later on pinterest