Some of the links on this site may be affiliate links. This means, at no additional cost to you, I may be paid a small commission if you follow the links and make a purchase. Learn more here.
These zucchini fritters are gluten free, Paleo, and dairy free. They're perfectly spiced with a homemade Mexican seasoning blend and topped with a tangy cilantro mayo. It's the perfect flavor combo your guests and family will absolutely love.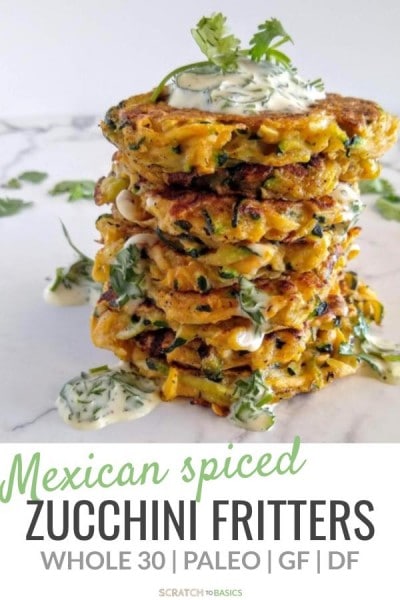 Does your neighbor have an over-productive zucchini plant and you are reaping the benefits? Or maybe it's YOUR garden that's churning out those delicious green (or yellow) goodies. This recipe is the perfect way to use up your extra zucchini!
Tools to make these cajun zucchini fritters
How to make cajun zucchini fritters
The process is not difficult. And the first step is the most important.
Grate the zucchini and get the moisture out
Make the cilantro lime mayo
Mix your fritter ingredients in a bowl
Cook in a pan (we love cast iron but any frying pan will do)
Enjoy with a dollop of your cilantro lime mayo
step 1: Grate the Zucchini & Get the moisture out
Sprinkle some salt on the shredded zucchini and let it sit for about 10 minutes in a colander over a bowl or in the sink. While you're waiting you can make the sauce (in step 2). The salt breaks down the cell walls in the zucchini and releases moisture.
Then take a cheese cloth or a thin kitchen towel and wring out the zucchini in the towel. Get as much of the moisture out as you can, or the fritters will be soggy inside.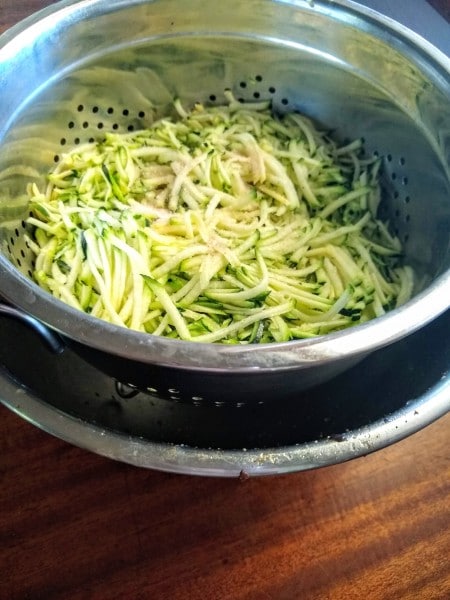 Step 2: Make the Cilantro Lime Mayo
Next, make the sauce. This cilantro lime mayo is so simple and adds the perfect finishing touch to these zucchini fritters. Chop your cilantro, add it to some mayo, and squeeze some lime juice over the top. It's really that simple.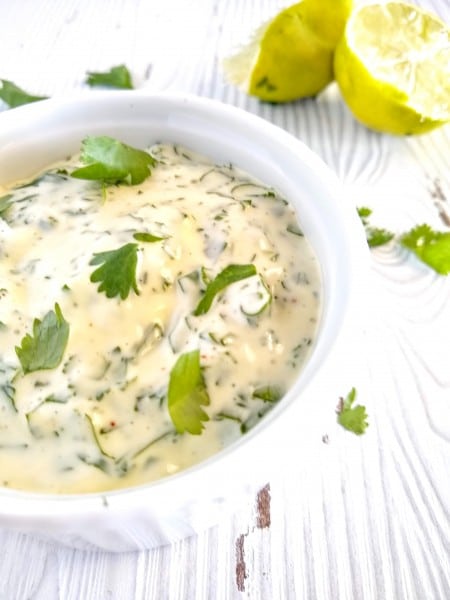 A word About the mayo...
We make our own mayonnaise because:
It tastes much better than any store bought version I've tried
I get to use healthy oils (like avocado oil) instead of the refined oils in almost all the store-bought versions
It only takes a minute
If you want to try your hand at making homemade mayonnaise, here's our recipe that we love.
step 3: mix the egg, zucchini and spices
Once your zucchini is drained, combine the egg, zucchini, flour, and spices in a bowl.
The spices are a simple Mexican spice blend that we keep pre-mixed in the pantry.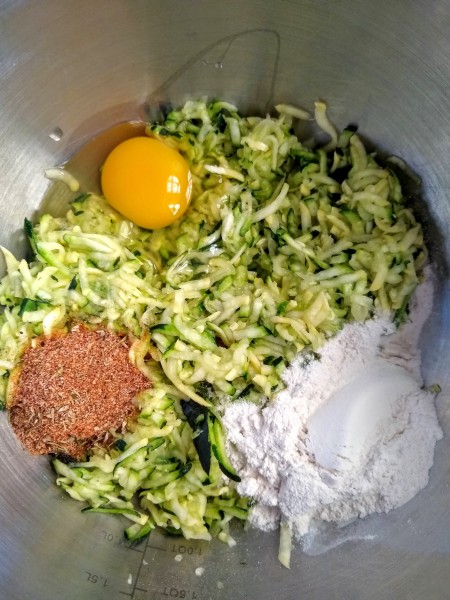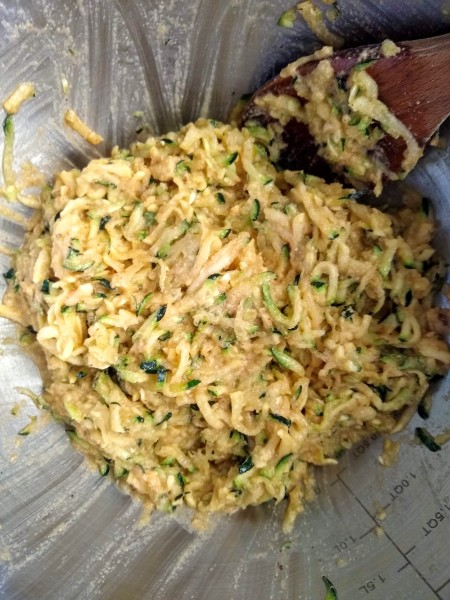 step 4: COok the fritters in your pan
Heat your pan to medium or medium - low. I use the scooper (about 1 Tablespoon) that's shown in the picture to measure out and plop the fritter mixture in the pan. Use your scooper (or spoon) to flatten the fritters out a bit. Cook for 3-5 minutes on each side. The sides should be browned and insides cooked.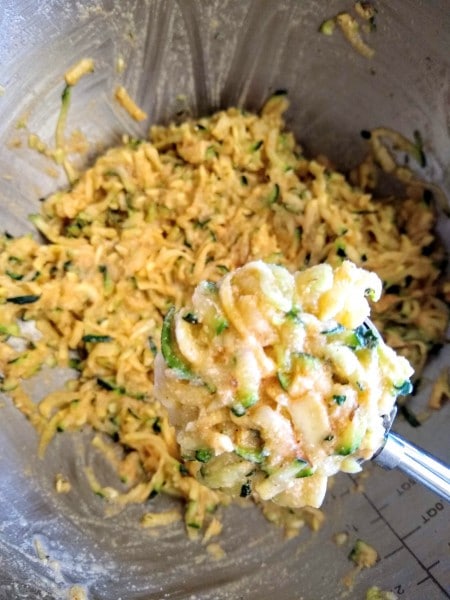 Step 5: Top the fritters with some sauce and enjoy!
I LOVE how the flavors of the sauce combine with the flavors in the zucchini flavors, and I think you will too!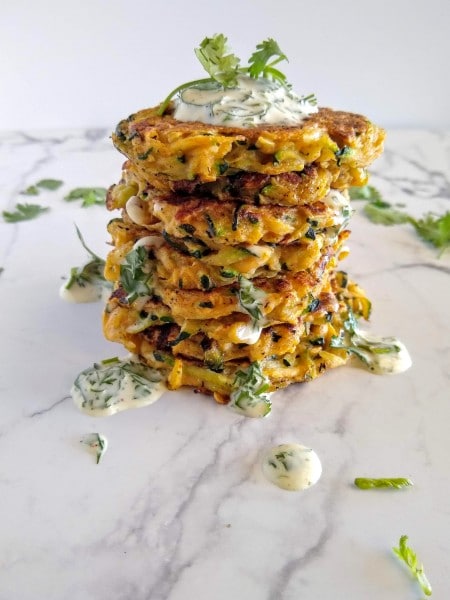 Troubleshooting & FAQ
Why are my fritters soggy?
A few things could be happening if your fritters are soggy.
You may not have gotten all the moisture out of them
The pan could have been too hot when you cook them. If the pan is too hot, the outsides of the fritter will cook before the inside does.
Double check your recipe and make sure you measured correctly.
What can I substitute for cassava flour?
I love cassava flour because it's gluten and grain free. It gives the food a light texture and has a mild flavor. If you can't find it in your local grocery store (I can't either), you can order it on Amazon or check the health food stores.
If you're looking for a cassava flour substitute, you could try coconut flour or almond flour. The texture and flavor might be slightly different, but they should still work okay in a pinch.
Can I freeze these Zucchini Fritters?
Unfortunately, I wouldn't recommend it. These fritters are best when eaten right away. If you DO want to freeze them, I'd cook them first, then freeze them individually (in a single layer). Then when they're frozen you can stack them with parchment paper between each layer. Re heat them the same way you cooked them in the first place.
Looking for more Healthy and Homemade Dinners?
Fiesta Zucchini Fritters With Cilantro Mayo Sauce
Mexican spiced zucchini fritters topped with a tangy cilantro lime mayo. The perfect addition to your meal!
Ingredients
1 ½ lbs zucchini, grated
½ tsp salt
1 egg
¼ cup cassava flour
½ tsp garlic powder
1 tsp cumin
2 tsp chili powder
oil, for cooking
Cilantro Mayo Sauce
½ cup mayonnaise
1 handful cilantro, finely chopped (keep the stems if you want)
½ lime, juiced
cayenne pepper (optional, to taste)
Instructions
Grate your zucchini by hand or in a food processor.
Sprinkle the ½ tsp of salt over the zucchini and let it sit in a colander over a bowl for 10 minutes.
While you're waiting for the zucchini, you can make the cilantro lime mayo. Combine the handful of chopped cilantro, the mayo, and the lime juice in a bowl and stir until combined. Add cayenne, to taste (optional).
After 10 minutes of sitting, wring out the zucchini in a cheese cloth or kitchen towel. Try to get as much of the moisture out as possible.
Combine the graded zucchini, the spices, egg, and flour in a bowl and stir to combine.
Heat your pan to medium/medium-low. And drizzle a little oil.
Using a 1 Tbsp scoop, add the mixture to the hot pan and flatten a bit. Cook for 3-5 minutes on each side, until browned and cooked through.
Top with the cilantro mayo and enjoy!
Nutrition Information:
Yield:

10
Serving Size:

1
Amount Per Serving:
Calories:

137
Total Fat:

12g
Saturated Fat:

2g
Trans Fat:

0g
Unsaturated Fat:

10g
Cholesterol:

24mg
Sodium:

281mg
Carbohydrates:

7g
Fiber:

2g
Sugar:

2g
Protein:

2g
don't forget to share this on pinterest