Some of the links on this site may be affiliate links. This means, at no additional cost to you, I may be paid a small commission if you follow the links and make a purchase. Learn more here.
When you get a chocolate craving, but you think you just *might* eat the whole pan of brownies, this personal ramekin brownie is the perfect solution for you.
BONUS! It's grain & gluten free, dairy free, egg free and made with cocoa powder. And it's absolutely delicious. Give it a try. You won't be disappointed.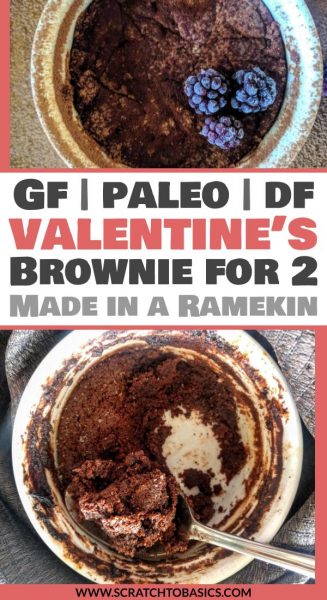 This is a perfect date night brownie for your weekly date night or a special occasion...Valentine's Day? Anniversary?
Make it fun by preparing it together, then enjoying it together.
ramekin single (or double) serve
This is similar to a mug brownie recipe, except I made it in a ramekin. It's a single serving brownie (maybe two people if you're willing to share the goodness).
I love chocolate. And I don't discriminate about what form it's in. Beverage (hot cocoa), brownie, cake, or other treats. I'll eat any and all of it.
Especially when it's made with healthy ingredients.
When it comes to the darkness of the chocolate, I say the darker the better. I like the dark, rich, bitter notes of the chocolate, and excess sugar takes some of that away.
Tools to make this Ramekin brownie
Real Ingredients, Rich Flavor
Made with real ingredients, this personal size brownie recipe is a winner.
this brownie is free of:
grain & gluten free
dairy free
refined sugar free
egg free
absolutely delicious.
And not only is it free of all that...
And It's full of nutrient rich ingredients:
almond butter
almond flour
coconut oil
coconut milk (or almond milk)
cocoa powder or cacao powder (a less processed, more nutrient rich version of cocoa powder. For more info on the differences, read this article.)
and more...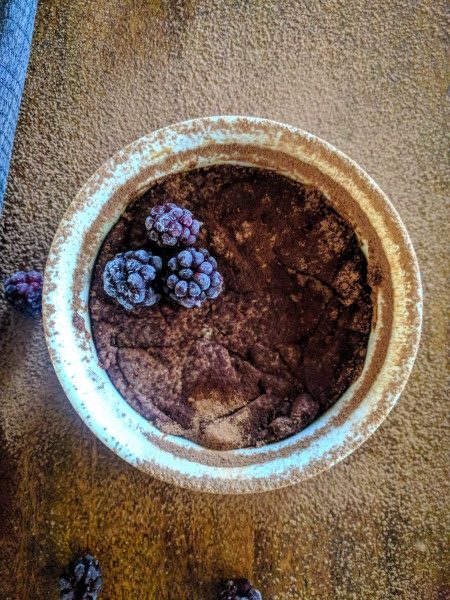 How to Make This Personal Sized Ramekin Brownie
Making this brownie is really very simple. Mix the dry ingredients, then the wet. Combine them into a ramekin and bake in the oven (or toaster oven) until the edges start to harden.
To ensure a moist middle (my favorite part), don't over cook it.
brownie for one? or brownie for two?
I love this "personal" size, because usually when I want one of these brownies, I just want one (well, I want 10, but I know that won't be a good thing).
So instead of trusting my self control around a whole pan of brownies, I can just make one ramekin for a single serving.
I used a ramekin that's 4" wide at the top rim. Really, it makes more than one brownie serving. It's more like two servings. But I think it's the perfect amount for a personal size brownie recipe. Enough to satisfy your craving (and then a few more bites a little bit later).
Here are a few more chocolate treats for you to consider: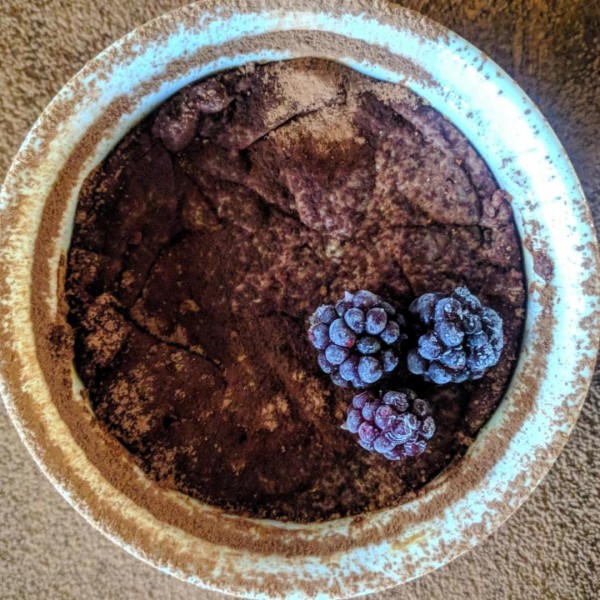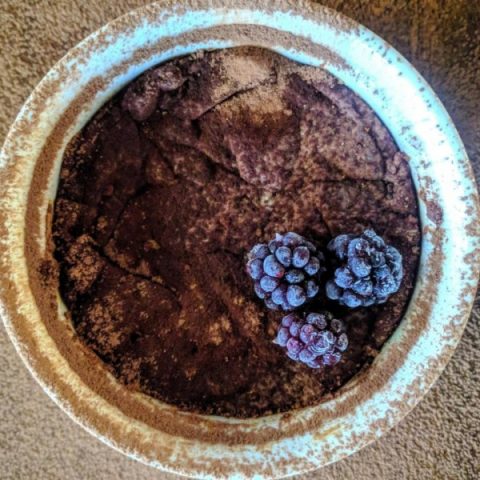 The Best Gluten Free Ramekin Brownie (Guilt Free)
A guilt-free brownie for one or two people. So delicious with healthy ingredients.
Ingredients
Wet
¼ cup almond butter
2 teaspoon coconut oil, melted
1 Tbs honey
1 Tbs applesauce (unsweetened)
2 teaspoon coconut milk (or almond milk)
½ teaspoon vanilla extract
Dry
2 Tbs almond flour
1.5 Tbs 100% cacao powder
¼ teaspoon baking powder
⅛ teaspoon salt, plus a pinch for sprinkling
Instructions
Preheat oven to 350 degrees (F)
Grease your ramekin with coconut oil (I used a four inch diameter ramekin)
Put the almond butter and coconut oil in a small microwave proof bowl, and heat until melted
Mix with the rest of the wet ingredients in small bowl
Mix dry ingredients in small bowl
Combine the wet and dry ingredients and stir until combined
Scoop batter into ramekin (or other 3-4" baking dish)
Sprinkle with salt
Cook for 10-15 minutes in oven. For a gooey brownie, cook until the top is just set (for me that was right at 14 minutes, but I checked it at 8, 10, and 12).
Let cool (if you can resist) before eating.
Nutrition Information:
Yield:

2
Serving Size:

1
Amount Per Serving:
Calories:

344
Total Fat:

27g
Saturated Fat:

6g
Trans Fat:

0g
Unsaturated Fat:

18g
Cholesterol:

0mg
Sodium:

204mg
Carbohydrates:

21g
Fiber:

5g
Sugar:

12g
Protein:

9g
If you decide to make yourself this single serving brownie, let me know how it goes in the comments below.
Dont' forget to save this for later!