Some of the links on this site may be affiliate links. This means, at no additional cost to you, I may be paid a small commission if you follow the links and make a purchase. Learn more here.
If you're ready to do a little meal prep (in the form of batch cooking), you're in the right place. This post will go over everything you need to know to get started batch cooking today.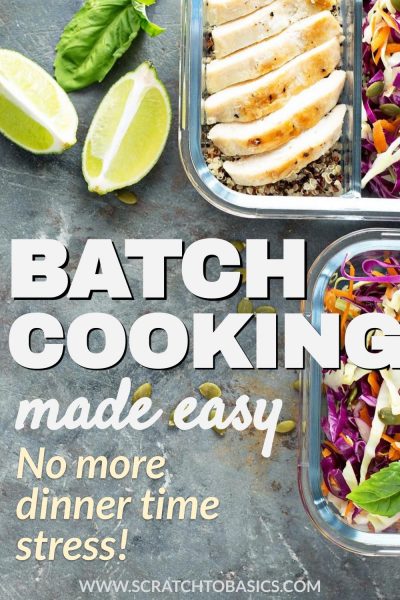 What is batch cooking?
Batch cooking is a way to cook less frequently, but still eat healthy & homemade meals with your family.
Batch cooking means instead of cooking each meal on the day you want to eat it, you make food ahead of time, and then reheat it when it's time to eat.
You can do this on a small scale (make a sauce or two for the week, and then use it on dinners throughout the week).
Or on a larger scale (make 3 double-the-recipe dinners and reheat them for dinners throughout the week).
How does batch cooking work?
It's a simple concept, really.
We teach it to our kids to try and avoid stressful mornings. We may even do it ourselves in other areas of our lives.
Plan ahead.
Yep, I told you it was simple. Take a look at your schedule and think ahead about whether or not you'll have time and energy to cook throughout the week.
Maybe you have the time and energy, but you'd rather use it to do something else.
Here's an example: If you have two hours on Sunday afternoon that you usually use to clean up around the house, or sit around and watch TV, you could totally re-purpose that time to do some batch cooking.
Especially if you're finding that you don't have the energy and motivation throughout the week to cook dinner, and you're finding that you're calling in for take-out more often than you'd like.
If you like the idea of batch cooking, meal planning is another tool to keep in your tool box. In fact, batch cooking is sort of like making a mini-meal plan. Download my favorite meal planning templates here!
Related: Ultimate Beginner's Guide To Meal Planning
Is batch cooking healthy?
Well...batch cooking is just a process. It's what you do with the process that matters.
Making food at home is healthier than eating out, though (generally speaking). To decide if batch cooking would be a healthy choice for you, ask yourself these questions:
Would batch cooking allow me to eat more at home (and eat out less)?
Would I eat healthier if I started batch cooking?
Does batch cooking give me a break from dinner-time stress throughout the week?
If I'm not cooking dinner for an hour each week...would I be able to find something more enjoyable to do with my time?
If your answers are "yes", then batch cooking would be a step in the right direction for you in your journey towards health.
How do I get Started Batch Cooking?
To get started batch cooking, here's what you need to do.
Pick a time to get started. Try to start with an hour long chunk.
Plan out what you'll make in that time.
Think through how you'll store it.
Get everything ready, and then just do it.
Finding the Time to get started
To get started with batch cooking, I recommend starting with a one hour long chunk of time. To find this time, get out a piece of paper and write down all your commitments for the week. If you already have a calendar that you use, pull it up.
Take a look at each hour of the day, and find time that you'll A) have energy, and B) be able to focus. Need a little extra help with this? Read this post about time blocking and how to incorporate it into your day.
You know yourself best. Make it as easy as possible. Don't pick 6am to start batch cooking if you're barely able to get out of bed at 7:45am. Find a time with as few obstacles as possible.
If you have kids, talk with your husband about what he can do with them while you're busy in the kitchen. Or, plan to have an activity for them to do while you're in the kitchen (that requires very little of your time).
If you have young kids, check out these screen-free activities to give you time to cook. And here's more activities, broken down by age group.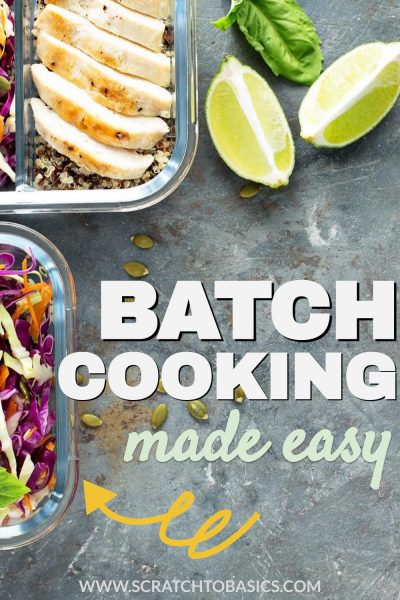 Planning out what you'll make
Once you've got the time blocked out on the calendar, it's time to plan out what you'll make.
I like to think about it in terms of ingredients or meals. Do I want to roast all the veggies for the week so that I have less to do throughout the week? Or do I want to make complete meals so all I have to do is reheat?
Make the best choice for you.
Batch cooking - Ingredients
You can take advantage of all the benefits of batch cooking, even if you prefer to only batch cook ingredients.
Meat
Any meat can be batch cooked. You can cook a roast, grill chicken breasts, or cook some burgers. I recommend either shredding the meat or cutting it into bite sized pieces if you're going to freeze it. And if you plan on using it in different meals throughout the week, season it simply. My favorite simple seasoning is salt + garlic powder.
Vegetables
Some vegetables are better than others to cook ahead of time. Here are some veggies that would work well to make ahead of time.
carrots
parsnips
onions
sweet potatoes
winter squash (butternut, spaghetti, acorn, etc.)
beets
turnips
My favorite way to cook vegetables is to roast them on a sheet pan in the oven. It's hands off, and they turn out delicious every time.
I typically don't cook broccoli, greens, mushrooms, or cabbage ahead of time because I don't like how they get soggy and slimy. But you CAN freeze some of them for later. Read this guide on how to freeze vegetables if you think you want to go that route.
Sauces
I've been batch cooking sauces since before I knew that's what it was called. I make a sauce or two for the week, and am able to pour it on my food when I want it.
Here are some sauces I recommend:
batch cooking - Meals
Are you thinking about batch cooking entire meals? If so, I like where your head's at. And honestly, you can batch cook almost anything (at least partially).
Here's a list of meals you could easily batch cook:
Enchiladas (use this enchilada sauce)
Fajitas (batch cook veggies & meat then add the fixin's on the table) - Here's my favorite recipe for sheet pan steak fajitas.
Lasagna
Spaghetti (batch cook the sauce with meat...add the noodles when you're ready to serve).
Bowls (this is vague...but the possibilities are endless here. Protein + Veggies + Carbs + Sauce is a wonderful formula for success).
And if you still need more inspiration, check out this awesome list of big batch recipes you can make tonight.
How to store the Batch Cooked Food?
The next step is thinking about what you are going to do with all the food you're batch cooking, once it's cooked.
Well, again...you've got options.
Freeze it in mason jars, or freezer bags (I've been using these compostable freezer bags and LOVE them).
Keep it in the fridge - portioned out into daily meals - this works great for lunches to grab and go. I especially love these glass containers with dividers.
Keep it in the fridge - in one big container that you can use up throughout the week.
How you decide to store the food, and how long you decide to store the food is completely up to you.
In the freezer
Would you rather keep the food for a few weeks or months down the road? If you don't think you'll eat it all this week, freeze it.
I really love these compostable freezer bags (a Ziplock alternative), or using mason jars. If you freeze food in a mason jar, make sure you leave the lid loose until it's completely frozen, then tighten it. Also, don't fill it too full. These things will help the jar not break in the freezer. Because we don't want to see our hard work in the garbage!
Tips for freezing your batch cooked food:
Freeze it in usable portions (if freezing cooked meat, freeze it in 1 lb packages - or enough for your family to use in one night).
For sauces, you can freeze in ice cube trays to make the thawing process faster.
Freeze in an oven proof (or microwave proof) container to minimize dishes.
Portioned into containers in the fridge
If you're batch cooking for your lunches throughout the week, it's nice to divide them into portioned containers so you have less work to do before you head out for the day. You've likely seen photos of these divided containers on Pinterest or Instagram, of people proudly displaying their meal prepped lunches for the week.
Related: Ultimate Beginner's Guide To Meal Prep
Just so you know (in case you didn't already) meal prepping your lunches for the week is another way to say you "batch cooked" your lunches for the week.
In one big container in the fridge
Did you decide to make a triple batch of soup? Maybe it's easier to just keep it in one big pot in the fridge, then pull it out to dish up throughout the week.
How do you reheat the food you batch cooked?
Okay, we're getting to the finish line here. We've planned for time to batch cook, gathered our recipes, figured out how we'll store it, and we did it.
Yay! Pat yourself on the back.
Now it's dinner time and you're trying to figure out how to reheat your food.
Depending on what you've cooked (and how you stored it), you can either reheat the food on the stovetop, in the microwave, or in the oven.
If you froze the batch-cooked food, let it thaw in the fridge overnight, then heat it in the oven, the microwave, or on the stove before serving.
Stress free kitchen
You deserve to eat healthy and nourishing food. And cooking doesn't have to be stressful. With a little planning, and a little action, I know you can do this.
Comment below and let me know how it's going! Or sign up for the mailing list here and keep in touch.
Don't forget to Pin this for later