Some of the links on this site may be affiliate links. This means, at no additional cost to you, I may be paid a small commission if you follow the links and make a purchase. Learn more here.
Have you had a hard time working meal prep into your weekly schedule on a consistent basis?
It could be because you're trying a meal prep method that just doesn't seem to "work" with your life and your schedule.
And if you're trying to do it the way someone else told you to do it, that could be the problem.
Because, let's be honest…you are NOT the same person as your sister, or your neighbor, or even ME! And what works for someone else isn't necessarily going to work for you, too.
In this post we'll talk about three different methods of meal prep, and
What is meal prep?
Meal prep is when you prepare food ahead of when you're going to use it. This could look a lot of different ways. Keep reading to get some ideas for what will work for you.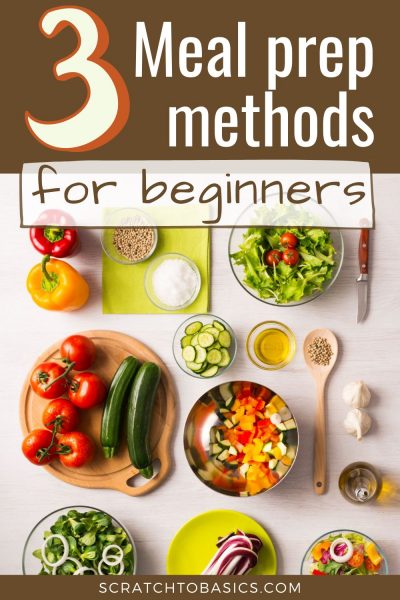 Related: The Best Beginner's Guide to Meal Prep
Meal prep takes time AND saves time
If you think that meal prep takes too much time, I encourage you to shift your thinking to how much time you're SAVING by taking that time to prep food ahead of time.
Think about a repetitive task like chopping an onion. You might use diced onion in three or four recipes throughout the week.
Each time you chop an onion, you get a cutting board out, you get a knife out, get the onion out and go through the process of chopping that onion. And then you need to wash the cutting board and wash the knife.
And then think about if you chopped all the onions for the week in one sitting. You'd only have to get out the cutting board ONCE, and get the knife out ONCE, and wash the cutting board and knife ONCE.
By meal prepping ingredients or meals in advance of when you need them, you'll be able to chunk those repetitive tasks and the time you're saving WILL add up.
3 meal prep methods
1- Gradual – the everyday prepper
This method of meal prep is best for the person who wants to do a little bit here, a little bit there, and not really dedicate any chunks of time to meal prep.
This is a good way to start – like the gateway to more intentional meal prep. Because in this stage, your daily and weekly schedule doesn't really have to change.
But your mindset will change. Because you'll find yourself constantly thinking about how you can double a recipe or freeze something for later, or how you can prep something ahead of time (ingredients, sauces, salad dressings).
2- Little chunks – 1-2x/week
This method of meal prep is for someone who wants to take some time once or twice a week and prep food for later.
With this meal prep method, you shift your weekly schedule around to make a one-two hour chunk of time once a week to prep ingredients or meals for the week ahead.
This can be done by just prepping ingredients, batch cooking, or freezer meals.
3- Big chunks – 1-2x/month
The third method of meal prep is for the people who want their day-to-day cooking time to be GREATLY reduced. And we do this by taking a big chunk of time once or twice a month and preparing meals for the weeks or month ahead of time.
The main way this is done is by using freezer meals. I've personally used freezer meals to free up time that I would normally be cooking dinner, and it is AWESOME.
The specific type of freezer meals that I recommend are the ones where you don't have to cook any ingredients before you put them in the freezer bag. Just chop, dump in the bag, freeze, then when you're ready to eat it, thaw it out and dump it in the crockpot.
It's like healthy convenience food. Because there's no unnecessary ingredients, and you know EXACTLY what's inside. And it's just waiting in your freezer (like the freezer aisles at the store, but way more convenient).
Which meal prep method is best for you?
So, you may be asking…what's the best method for YOU?
Good question.
Here are a few questions for you to ask yourself to find the answer.
How much time do you want to be spending each day cooking dinner?
How much time are you willing to devote to meal prep?
How committed are you to meal prepping?
Once you have those answers, you'll be one step closer to figuring out what method of meal prep will work best for you.
Need more help figuring this out? Click here to learn more about an opportunity to develop a meal planning & meal prep strategy that will work for YOU!
Save this for later on Pinterest!