Some of the links on this site may be affiliate links. This means, at no additional cost to you, I may be paid a small commission if you follow the links and make a purchase. Learn more here.
This is a delicious collection of tomato paste recipes to give you inspiration on how you use it up!
Have you ever opened a can of tomato paste, to use a tablespoon or two, and then you're left with a mostly-full can of tomato paste - not sure how to use it up? If so, this post is for you.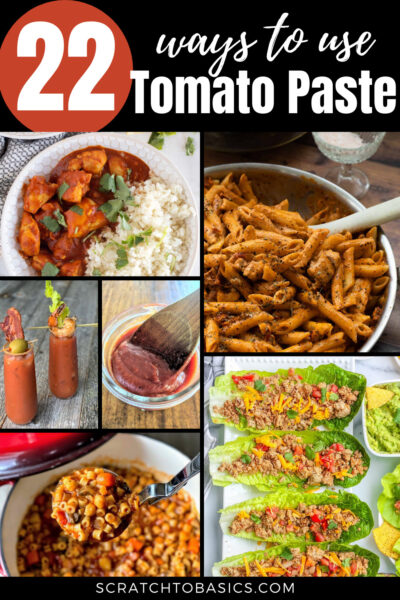 Some of the following recipes use a little tomato paste, and some use a lot. Read through and find your new favorite recipe to make tonight! The recipes are broken up into categories, for your convenience.
We've got soups and stews, sauces, main dishes, and even a drink category!
I love tomato paste because it's usually a one-ingredient canned food. It's JUST tomatoes! And it's such a concentrated form of tomatoes, you get a really rich flavor when you use it in recipes.
If you ever have leftover tomato paste and you're not sure what to do with it, you can ALWAYS freeze it in one tablespoon scoops in an ice cube tray for later.
This way you'll be able to easily grab it when you need it and add it to any recipe you think needs a little extra tomato flavor.
Soups and Stews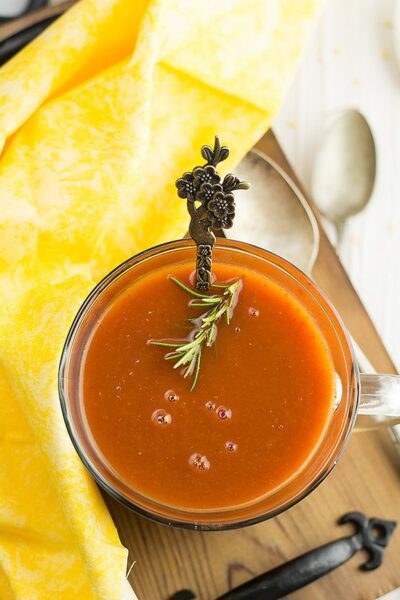 Tomato soup from tomato paste from Pepper Bowl - This tomato soup from tomato paste is delicious and convenient. A family-friendly made with pantry-ready ingredients.
Hearty Vegetable Stew with Chickpeas and Ditalini from Plate in 28 - This hearty vegetable stew is the perfect comfort food for winter! Full of yummy root veggies and chickpeas, your belly will be satisfied!
Fasolia from The Odehlicious - Fasolia is a Middle Eastern white bean stew recipe which is mixed with beef cubes, coriander leaves and tomato paste. It is a popular Arabic tomato based stew in Arab countries.
Sauces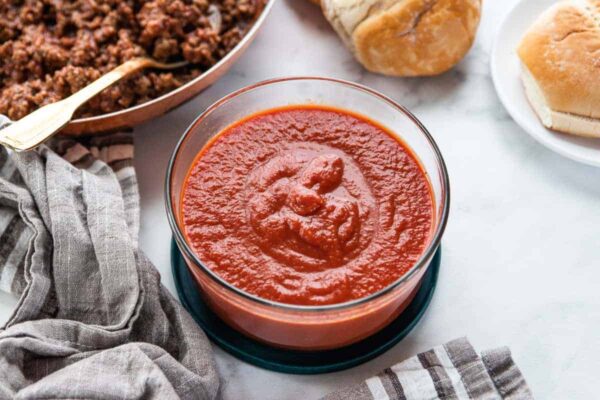 Pizza sauce from Scratch to Basics - This pizza sauce recipe uses tomato paste as a base and is seasoned with simple ingredients for an extremely flavorful red sauce that requires no cooking, just dump and mix.
Easy Spaghetti Sauce from Holmes Cooks - Classic Spaghetti sauce, as easy as it is delicious!
Enchilada Sauce from Scratch from Served From Scratch - In just minutes and simple ingredients you can kick up your enchiladas by making your very own enchilada sauce from scratch!
Enchilada Sauce from Scratch to Basics - Make this homemade enchilada sauce in minutes, with simple ingredients from your pantry. This easy enchilada sauce recipe is made with tomato paste and always gets "Mmmmmms" when we make it for friends or family.
Keto Marinara Pasta Sauce from Low Carb Yum - Whipping up your own Marinara Sauce is a cinch to make, even when tomatoes are not in season. Canned tomatoes and tomato paste plus garlic and basil would create a rich and creamy pasta sauce in just 35 minutes of cook time.
Marie Rose Sauce from Greedy Gourmet - Marie Rose Sauce, also known as Seafood Sauce, is a cold pink dip most commonly served cold cooked seafood. It's used in the classic dish Prawn Cocktail!
Barbecue Sauce from Scratch to Basics - This sauce is a perfectly balanced combination of tangy and sweet. And, it only takes 5 minutes to make!
Sugar Free Ketchup from Scratch to Basics - This sugar free ketchup recipe is packed with flavor. You'll never miss the other stuff when you can make this in ten minutes in your own kitchen with simple ingredients.
Sloppy Joe Mix from Create Kids Club - The BEST Sloppy Joe Mix recipe that makes enough to blend with 3-4 lbs. of ground meat. Make an extra-large batch of sloppy joes, or freeze the extra mix in individual containers to grab on a busy night.
Main Dishes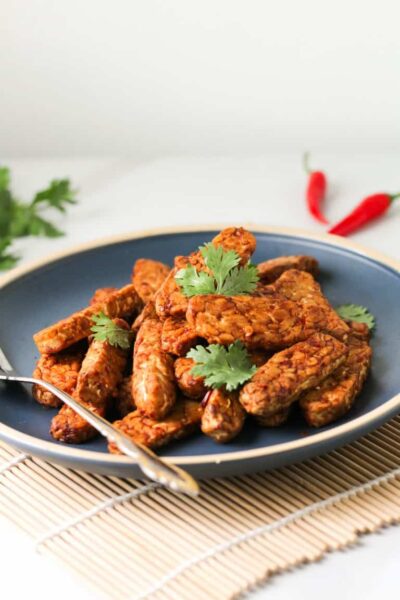 Ground Beef and Cabbage from The Yummy Bowl - This Ground Beef and Cabbage is an easy budget friendly one-pot ground beef cabbage recipe that is loaded with flavor. It is a quick dinner that is gluten-free and also dairy-free. From start to finish, you can have this healthy quick and easy meal ready in under 30 minutes!
Keto Tikka Masala from Cassidys Craveable Creations - This Keto Tikka Masala recipe is a simple one-pan meal that has perfectly tender chicken covered in a creamy, flavor-packed sauce that rivals the restaurant variety. Plus, it's easy to make and can even be made dairy-free & paleo!
Instant Pot Peanut Butter Chicken from Recipes from a Pantry - Dump and Start Instant Pot African Cinnamon Peanut Butter Chicken is a warm, fragrant and oh-so-comforting dish. If you like peanuts and chicken, you will absolutely love the traditional African flavor combinations in this quick and easy recipe.
Instant Pot Ontario Pulled Pork from Maritime Glutton - A delicious, simple and unique on pulled pork made famous by Ontario Pork! New and improved to be made in the slow cooker in under an hour.
Indonesian Sambal Tempeh from My Plantiful Cooking - Indonesian sambal tempeh, aka tempe goreng sambal is savory, spicy yet super addicting ! This healthier version is also vegan & easy to make.
Vegan Aloo Matar from Code2Cook - Aloo Matar is a simple, mildly spicy, tangy potato and green peas curry. This is a popular curry/gravy recipe to make in winters serve with any kind of flatbread and rice to enjoy this vegan aloo matar best. Aloo matar is a potato pea curry and vegan.
Turkey and Spinach in Marinara from Food Love - A deceptively healthy alternative to traditional spaghetti and meatballs; savory, comforting, and packed with veggies.
Taco Lettuce Wraps from Kathryn's Kitchen - These healthy Taco Lettuce Wraps make a delicious dinner on any night! Made with taco seasoned ground turkey meat and all of the classic taco toppings! These wraps are also keto-friendly and low-carb!
Creamy Sun-Dried Tomato Chicken Pasta from Always Use Butter - Done in just 20 minutes this is an addictive flavor combo of crème fraîche, sun-dried tomatoes, basil, paprika & oregano - achieved with pantry staple dried herbs & minimal prep.
Drinks
Homemade Bloody Mary Mix from The Art of Food and Wine - Our Homemade Bloody Mary Mix is easy to make and so much healthier than the store bought version. The taste is rich due to using tomato paste and spices.
Conclusion
So there you have it! Twenty two delicious ways to use tomato paste. Which one are you most excited to try first?
Pin this post for later!