Some of the links on this site may be affiliate links. This means, at no additional cost to you, I may be paid a small commission if you follow the links and make a purchase. Learn more here.
Sit down with a hot bowl of this coconut carrot ginger soup and warm yourself up tonight. This is a one-pot easy weeknight meal that can be doubled or tripled and made in advance. Plus, it's gluten free, dairy free, and is loaded with health benefits.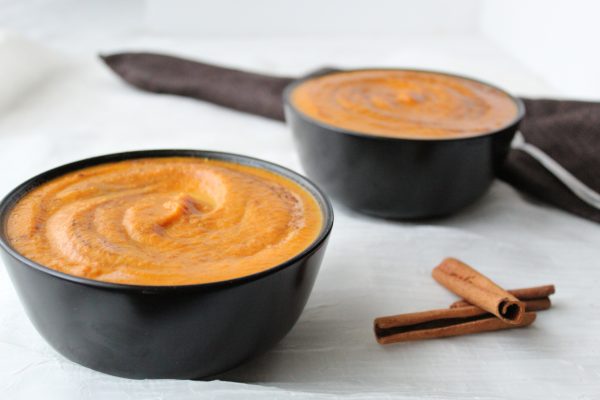 When trying to decide what to cook for dinner in our house, we try to balance flavor, nutrition, and kid-friendliness. The kids don't dictate what we eat, but we certainly keep them in mind when cooking if we have any hope of a peaceful meal.
This carrot coconut milk soup is a hit with the grown ups and the kids (my kids like adding extra coconut milk). It's a one pot meal, and with the help of an immersion blender it comes together quickly with simple ingredients.
Tools To Make This Carrot Ginger Soup Recipe
Related: Absolutely Essential Time Saving Tools in the Kitchen.
Dutch Oven - We love using our dutch oven for soups because we can do everything in one pot. One pot meals are awesome. It's also fun to have a colorful pot in the kitchen arsenal. We have this one (ours is blue, but it comes in several colors).
Immersion Blender - Our immersion blender (sometimes called a stick blender) is star of the show in this recipe. This is the perfect example of a recipe that is made simpler with the help of an immersion blender.
Zester - Our zester was another valuable asset in this recipe. It's a tool that makes using fresh ginger a lot easier. The zester helps get the juices and flavor out of the ginger, while leaving the stringy-ness of the ginger behind. I highly recommend this zester. It hasn't fallen apart like others we've used in the past, and works great!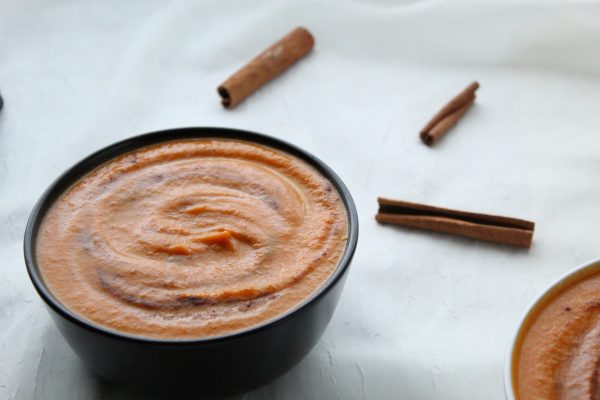 Ingredients Needed to Make Carrot Ginger Coconut Milk Soup
Coconut milk: I like the thickness and flavor of coconut milk in this recipe, but you can substitute your preferred milk (dairy or dairy free).
Spices: The ginger and cinnamon give this soup a delicious warm fall flavor. Add extra spices if you'd like a spicier soup.
Salt: We use pink Himalayan sea salt and love the flavor of it.
Cilantro garnish & drizzle of lemon juice - I love these flavors to finish the soup.
How to Make This Easy Carrot Ginger Soup Recipe
My husband loves all things spicy. Especially ginger. So he adds extra ginger to his bowl. You know your taste buds. Add more ginger if you're serving a spice-loving crowd.
Step 1: Prep the carrots & onion
Peel & chop the carrots into uniform pieces. I like to do about ½" - 1" dice. Then dice the onion. Heat the oil in your dutch oven (or soup pot), and add the carrots and onions, and sprinkle with salt.
Step 2: Cook the carrots and onions for a few minutes
Cook the carrots and onions in the dutch oven until the onions are softened.
Step 3: Add the spices & broth
Next, add the spices (zested fresh ginger root, garlic powder, cinnamon) and the broth. Cover your pot and cook until the carrots can easily be mashed with a fork.
Step 4: Add the coconut milk and lemon juice
Once the carrots have softened, add the coconut milk and then use your immersion blender and blend everything up. Then add the lemon juice and extra ginger (or cayenne) if the carrot coconut milk soup isn't spicy enough for you.
Step 5: Blend your soup
When making a blended soup, either you ladle boiling soup into a blender and blend it in batches, trying not to burn yourself...OR...you keep the soup it in the pot on the stove and stick the immersion blender in it to blend it up.
Our kitchen has been a safer place since getting our immersion blender, that's for sure. Anyone ever had hot boiling soup splash out the top of the blender and burn your hand? Yep. Me too. Skip the burnt hands and use the immersion blender.
Step 6: Serve & Enjoy
Serve the soup with cilantro garnish and a drizzle of lemon juice. Enjoy!
FAQ & Recipe Tips
Why is ginger soup good for you?
Ginger has tons of health benefits, and is loaded with antioxidants. It's super healthy and this soup gets it into your body in a way that tastes great!
Can I use ground ginger in soup?
Powdered ginger can be used as a substitute, but the final product won't have the same flavor. The sharpness of fresh ginger is one of my favorite flavors. If you'd rather tone the ginger flavor down, go ahead and use the ground ginger.
Are carrots in soup good for you?
Absolutely! In fact, it's one of the healthiest additions to your diet. Carrots are beneficial to eyesight because of the beta carotene, lycopene, and lutein they contain. Plus, they've got sweetness that makes this soup super delicious.
Can you freeze carrot soup?
Can you freeze this soup? You betcha. I freeze my soups in mason jars. But be careful. They'll crack if you fill them too full or if they go from super hot in the pot to freezing cold in the jar too quickly.
My best tip is to let the soup cool off before adding it to your mason jar, then don't tighten the lid all the way at first. Instead, leave the lid loose in the freezer, with an inch of head space. That way if it does expand more than expected, it'll just pop the lid a bit instead of cracking the whole jar. You can go back and tighten the lid after it's frozen.
Related Recipes
If you're in the soup mood, and you're in need of more delicious and healthy soup recipes, you're in the right place.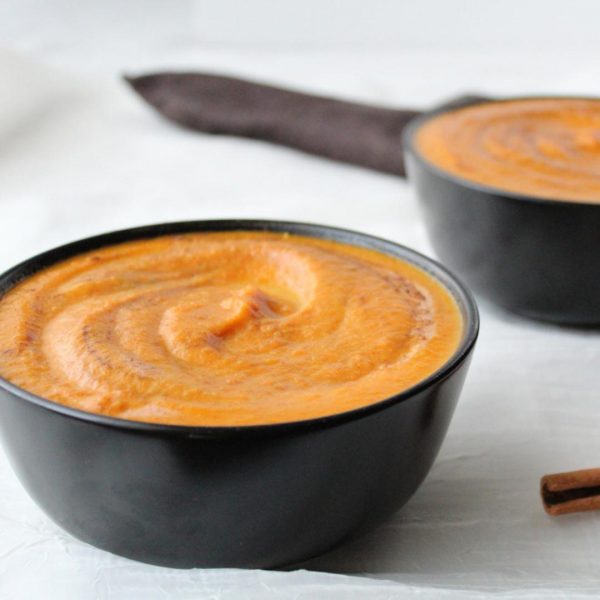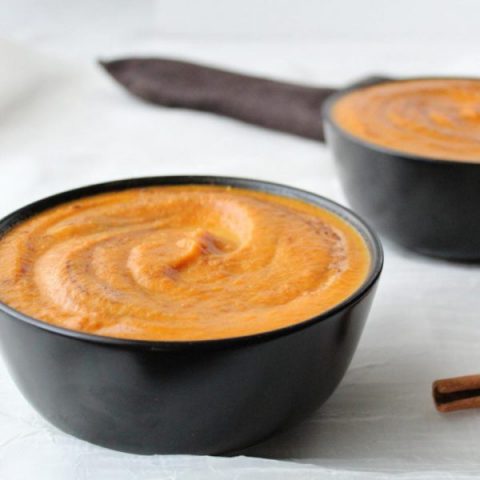 Creamy Coconut Carrot Ginger Soup
A delicious and simple weeknight soup that comes together easily. Made with coconut milk, carrots, and zested ginger, this one is a keeper!
Ingredients
1 Tbs avocado oil or coconut oil
1 yellow onion (about 1 lb), diced
2 lbs whole carrots, peeled and chopped into ½" pieces
1 teaspoon garlic powder (or granulated garlic)
1 teaspoon ground cinnamon
1 inch fresh ginger, peeled and finely diced (or zested)
3 cups stock or broth of choice.
1 cup coconut milk
salt, to taste
1 handful fresh cilantro (optional)
juice of ½ - 1 lemon
Instructions
Put oil in pot and turn the burner on medium heat
Add chopped onion and carrot to pot, season with salt
Saute on medium heat for about 5 minutes until onions are cooked
Add garlic powder, cinnamon, and ginger (finely diced or shredded using a zester)
Cook for another minute, stirring to coat the carrots and onions
Add the stock to the pot, cover, and cook until you can easily smash a carrot with a fork
When the carrots have softened, add the coconut milk to the pot
Use your immersion blender to blend the soup until smooth
Taste, add salt and pepper as needed
Garnish with cilantro and a drizzle of lemon juice
Nutrition Information:
Yield:

5
Serving Size:

1
Amount Per Serving:
Calories:

315
Total Fat:

18g
Saturated Fat:

12g
Trans Fat:

0g
Unsaturated Fat:

5g
Cholesterol:

6mg
Sodium:

537mg
Carbohydrates:

34g
Fiber:

7g
Sugar:

16g
Protein:

8g
Save This For Later on Pinterest